Always say yes to a great opportunity, even if it's outside your comfort zone… No, especially if it's outside your comfort zone.
Not all nurses work at the bedside, a fact that Dan Weberg can attest to. Weberg has dedicated his professional life to nursing and healthcare technology and innovation. His clinical training has paved the way for change in the industry, and at his current position as the Head of Clinical Innovation at Trusted Inc., he's able to put his leadership skills to use to inspire a strong, forward-thinking nursing workforce. Read more about Weberg's impressive career trajectory, as well as his thoughts on the Year of the Nurse.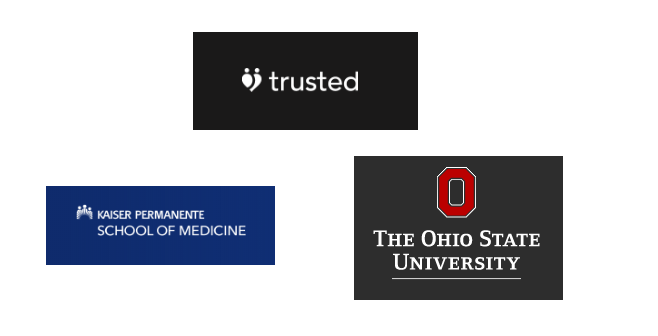 What is it that you do, and how does it relate to nursing?
In your own words, tell me about your journey. Be sure to include any required degrees or certifications for your specialty. Who, if anyone, inspired or mentored you? What were (or still are) the biggest challenges for you and is this role what you thought it would be in the end?
I started off thinking nursing was going to be back up for medical school but quickly realized that it was the profession that would change my life.  As a student, I volunteered to learn how to program patient simulators and later was hired back by Arizona State University to teach the nursing faculty how to run simulations on the manikin.  I am an ED nurse to the core.  I started as a new graduate at UCLA in the Emergency Department and fell in love with the specialty. On the anniversary of my first year as a nurse passed and earned my Certified Emergency Nurse certification.
I continued my passion with simulation and ASU hired part-time to help build their simulation program and I found myself moving back to Arizona.  I worked full-time nights in the ED and part-time days in the simulation center.
My faculty mentors, Bunny Kastenbaum, Ruth Brooks, and Deb Hagler supported my learning and pushed me to apply and get accepted to the Masters in Healthcare Innovation program.  I entered that program with an idea to build a new simulator but quickly found out that it was a leadership program.  I embraced and really resonated with the content and was in the first cohort to graduate from that program.  I met my career friends and mentors Tim Porter-O'Grady and Kathy Malloch in the program and they quickly suggested I apply to the PhD program.  So I did, and I was the first and only person to get into the innovation track that year.  I got 5 years of one on one mentorship from some of the most influential nurses on the planet.  It was just amazing.
I took a few leadership roles within the college of nursing at ASU, leading the continuing education department and teaching in the MHI Program.
One day, Bernadette Melnyk, the ASU Dean at the time, was hired to go to Ohio State as the new dean of nursing.  She asked if I could go with her and lead the hospital side department of nursing education.  I resisted at first, but it was an amazing opportunity.  I spent about a year in Columbus, OH working on refining nursing education across 4 hospitals and build engaging orientation to improve retention.
Through a long term connection on Linkedin, I received an email simply saying "you need to have my job".  It was from the Director of Nursing Innovation at Kaiser Permanente.  I was intrigued as my goals at the time were to lead innovation for a large health system.  I applied for the role, interviewed and was offered the job on the spot.  I found myself moving back to California and starting in my dream job.  It allowed me to link my interest in technology, innovation, change, and nursing all in one.  I spent 7 years at Kaiser Permanente leading innovation, moving into a regional research director role, and finally landing as the system director of nursing innovation.  In my last 2 years at KP I was asked to support the curriculum development of the new medical school and was the only nurse involved in that project.  It was amazing.
Most recently, I needed a change and a new challenge so I joined Trusted Inc as the Head of Clinical Innovation.  This role allows me to learn and grow in a new company focused on building a better and more impactful nursing workforce.  Its been amazing to see how a high performing team can come together and build the future.  During all of this, I still write and publish books on innovation and I am also the creator of the MHI program at The Ohio State University.
My biggest challenges now are to continue to disrupt and stay relevant as the nursing and healthcare landscape continues to change.  Looking for patterns and shifts that others might not see takes constant vigilance and then translating those signs into tangible initiatives and actions for our company and for my speaking work is always fun and a bit difficult.  Nursing needs an overhaul and I am excited to continue to push our profession forward.
It's 10 years in the future, where do you see this role taking you or where do you envision the expansion of your area of specialty?
The sky is the limit.  There is so much opportunity for nursing to change the healthcare system.  In 10 years, I hope to be mentoring other professionals in growing their ideas, their passions, and their careers to influence positive change.  I love speaking and sharing a message of innovation and I hope to be doing that long into the future.  I think there will be a massive expansion of nurses who take non-traditional and non-clinical roles as leaders in industry, systems, and startups that will shape the future of care and I hope I can be a part of that work.
What advice would you give to prospective nurses about the field of nursing, considering your unique career path?
It's very simple.  Don't let arbitrary boundaries ever stop you.  Follow your gut.  Network like crazy.  Deliver on what you say you will.  And always say yes to a great opportunity, even if it's outside your comfort zone… No, especially if it's outside your comfort zone.
Nursing needs an overhaul and I am excited to continue to push our profession forward.
How would you describe the significance of "The Year of the Nurse" for our profession?
It's a tipping point for the profession.  Not just because it's the year of the nurse but because healthcare is being fundamentally disrupted.  Nurses must leverage the attention 2020 will bring into something new and revolutionary.  If we simply sit and celebrate ourselves we will be left in the dust by other professions.  We need to fundamentally challenge the assumptions that have been driving our profession for the past 200 years and insert ourselves into conversations and leadership roles to build the future.  If we miss the boat… we may not have another perfect chance to change.