The Most Popular Professions on TikTok

While there are a variety of professionals on the app, we wanted to learn which careers gain the most attention from TikTok users. To determine this, we analyzed the number of views associated with each profession's hashtag on the platform. Read on to see if your dream career or current occupation is among the most popular on the platform and how nursing careers compare to others.
Key Takeaways
The most popular professions on TikTok are doctors, teachers, and nurses.
Other popular professions include chefs, dentists, and pilots.
There have been 364,072,312,000 views across all 35 professions' hashtags on TikTok.
TikTok users have spent nearly 4 billion hours viewing videos about the 35 professions.
The Careers TikTok Users View Most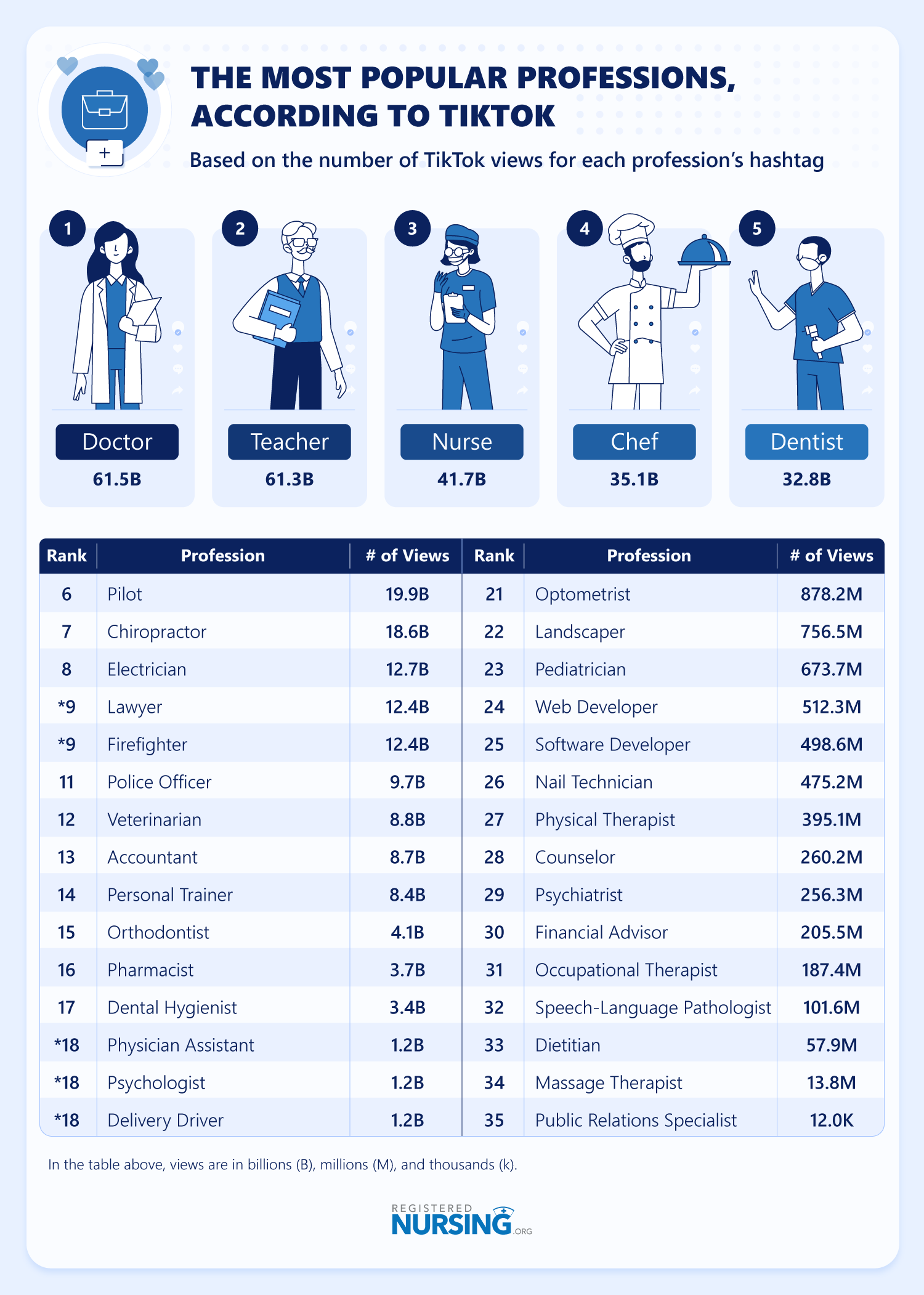 With many professionals taking to TikTok to share everything from funny situational skits to the benefits of their careers, there's no shortage of information. However, there is a shortage of employees in the most-viewed professions. Topping our list are doctors, teachers, and nurses.
Treatment explanations and "doctor reacts" videos are among the most-viewed physician content. You can find everything from pimple popping and earwax extraction to advice on when you need to seek medical attention for symptoms you are experiencing.
Similar to those in the medical field, the teacher shortage has added even more work to teachers' plates which could explain the added support on TikTok. Teachers have created popular videos showing tactics they use in the classroom and even videos joking about their daily experiences.
Estimated Time Spent on TikTok Supporting Different Careers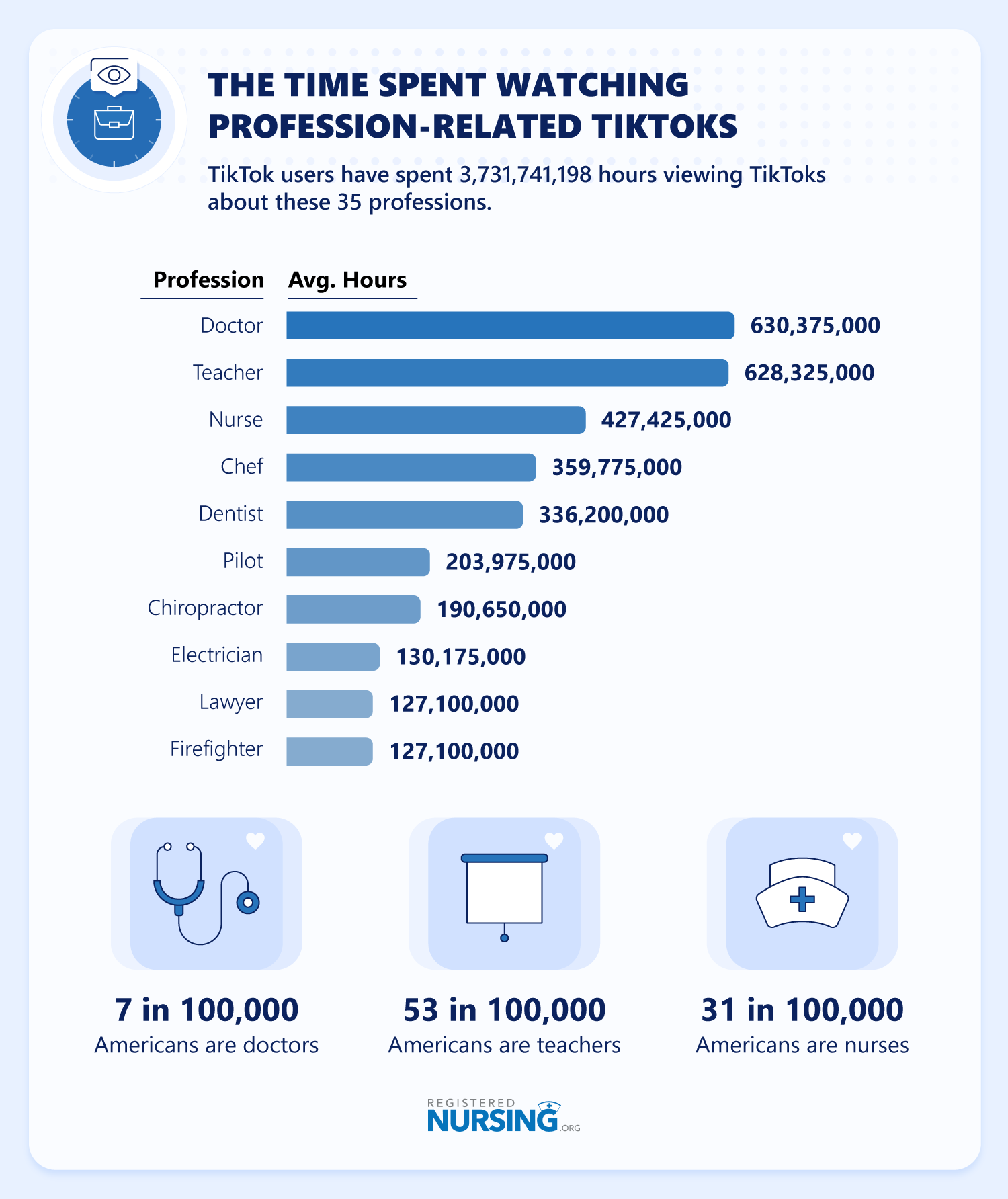 TikTok allows you to set reminders to take breaks from the app, but even with them, it can be easy to spend hours scrolling. With that in mind, we set out to find the average amount of time people spend watching videos about different careers.
At the top of our list are videos about doctors with more than 630 million hours. Following closely behind are teacher TikToks with more than 628 million hours of viewing the videos. While this includes all views since the app's creation in 2016, millions of hours of views is quite a time commitment. For reference, 630 million hours is the equivalent of nearly 72,000 years! In total, TikTok users have spent 3,731,741,198 hours viewing TikToks about the 35 professions in this study.
While these careers are all popular on TikTok, some of them are less common jobs than you may think. On average, about 7 in 100,000 Americans are doctors, compared to 31 in 100,000 who are nurses. Moving further down the list, 1 in 100,000 people are pilots and 1 in 100,000 are veterinarians. Not quite 1 in a million, but special nonetheless. About 4% of working Americans are employed as teachers, while 2% are delivery drivers and another 2% are nurses.
Conclusion
If you are among the billions of viewers on TikTok exploring videos about nursing careers, maybe it's time to take the next steps in pursuing a career in the field. RegisteredNursing.org has tools available to help you find nursing schools near you, as well as the ability to explore nursing degree programs offered to find the pathway that's right for you!
Methodology
In this study, we built a list of professions based on U.S. News 100 Best Jobs list. We narrowed down this list of 100 to 35 by removing professions with little to no representation on TikTok. We also removed careers that overlapped with others, such as management and analyst titles within the same field. To determine this ranking, we used hashtags for each profession (ex. #Doctor) to find the number of TikTok views associated with that topic as of May 9, 2023.

To get a general idea of how those views translate to time, we took the average length of a TikTok video and calculated the average number of minutes TikTok users spend watching videos about each profession.
Fair Use Statement: Please share our content for editorial or discussion purposes. All we ask is that you link back to this page and give proper credit to RegisteredNursing.org.