Bachelor of Science in Nursing (BSN) Degree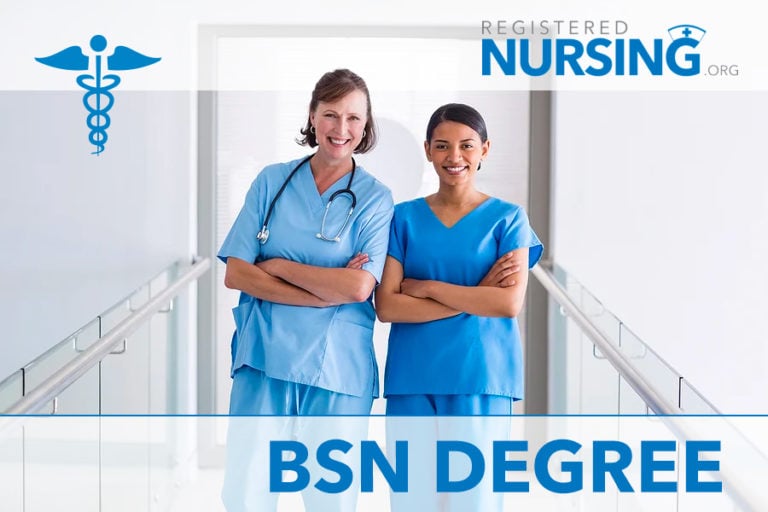 The field of nursing is one of the few career paths with the ability to change roles by adding relatively little amounts of education. And not just education from a school, but even adding certifications or agreeing to do an RN training program within the workplace can drastically change the nurse's day-to-day job duties. Because of this job flexibility many nurses work in the field until retirement, but may have worn many different hats along the way. This kind of flexibility is one of many reasons students choose nursing as a major.
An Associate's degree is the minimum degree required to become a registered nurse but many nurses find they want to add to this degree through an RN to BSN (Bachelor's of Science in Nursing) bridge program. Others choose to earn the BSN through an accelerated direct entry BSN or a traditional 4-year program without becoming an RN first.
Role of the BSN Educated Registered Nurse
The BSN-educated RN may work in the same roles as the Associate's degree-educated RN plus a few more. Many large teaching hospitals only hire BSN-educated RNs or require Associate educated RNs to earn the BSN within a certain amount of time after hire.
Roles for BSN educated RNs include:
Bedside RN

Emergency Department
Intensive Care Unit or Critical Care
Operating Room
Labor and Delivery
Medical-Surgical Floor
Orthopaedic Floor
Oncology Floor
Mental and Behavioral Health
Skilled Nursing Facility
Long-Term Care Facility

Education

Clinical Instructor
Professor to Associate's degree or Licensed Practical Nurse students
Nurse Educator

Director
Research
Informatics
Administration

Nursing Supervisor
Director of Nursing
Learn more about RN Careers & Specialties.
Direct Entry or Accelerated BSN
The Direct Entry or Accelerated BSN program is intended for those students who already hold a Bachelor's degree in another major. Instead of taking all the prerequisites required for every Bachelor's degree, such as English and Math, the Accelerated BSN focuses on nursing classes and nursing prerequisites only. These include Anatomy and Physiology and the sciences.
Some schools offer the Accelerated BSN in programs as short at 15 months. Tuition for these programs may be higher than traditional routes but the student can begin working as an RN faster and therefore earn more money over his or her lifetime.
Traditional BSN
The traditional BSN program is intended for students without a Bachelor's degree and for those who are not already RNs. For RNs with an Associate's degree or diploma, the RN to BSN Bridge program would be a better fit due to its shorter programs and easily accessible online formats.
Universities across the country offer BSN programs. With so many options it can be hard to know which one to choose.
The top 4 things to look for in nursing schools are:
Convenience
Affordability
Accreditation
NCLEX-RN eligibility and "pass rates"
Convenience
Being able to get to school and get clinical locations on time is very important. Many schools are extremely strict about attendance. They want to instill a sense of professionalism and responsibility in their students so that they become professional and responsible nurses. Often being just a minute or two late for class or clinical will get a student penalized. Having a reliable car or transportation and living within a reasonable distance of the school and clinical sites is something look for in a school.
Affordability
Nursing schools offer financial aid, scholarships, and grants. Most students can not afford to pay cash for school so schools are usually very helpful in helping students get money to attend.
Accreditation
Reasons to choose an accredited nursing school include:
Transferrable credits
NCLEX-RN eligibility
Transferrable credits
Graduate schools may not accept a student into their program who holds a Bachelor's degree from a school that is not accredited by the appropriate agencies. Nursing schools can be accredited by agencies regionally, nationally, or both.
The Council for Higher Education Accreditation (CHEA) recognizes agencies for regional accreditation for 2015-2016:
Accrediting Commission for Community and Junior Colleges (ACCJC)
 Western Association of Schools and Colleges
Middle States Commission on Higher Education (MSCHE)
Higher Learning Commission (HLC)
New England Association of Schools and Colleges (NEASC-CIHE)) Commission on Institutions of Higher Education
Southern Association of Colleges and Schools Commission on Colleges (SACSCOC)
WASC Senior College and University Commission (WSCUC)
CHEA recognizes 56 national agencies for 2015-2016 accreditation but the major national agencies are:
ACEN (formerly NLNAC) Accreditation Commission for Education in Nursing (ACEN) is a national accreditation body and is able to provide accreditation to schools offering diploma, Associate's, Bachelor's, and Post-Bachelor's degrees
CCNE Commission on Collegiate Nursing Education (CCNE) is a national accreditation body providing accreditation for Bachelor's, graduate, and residency nursing programs
NCLEX-RN Eligibility and "Pass Rates"
The NCLEX-RN is a national exam that must be successfully passed by nursing school graduates in order to be licensed by the state in which they live. Licensure is mandatory to begin practicing as an RN.
Eligibility for the NCLEX-RN is determined by the state's board of nursing. Before deciding on a nursing school check with the state board of nursing to determine eligibility requirements. Some states will not accept a degree from schools that are not accredited by the right agencies.
Successful "pass rates" of the NCLEX-RN exam are tracked carefully by the state nursing board as well as by nursing schools. This number is a measure of how well students are being prepared to pass the Exam, which is mandatory to start working, as well as how well-educated students are upon graduation. The information is public knowledge and can be found on the state's nursing board website.
Tuition
Most schools require 120-180 credit hours and credit hours can be anywhere from $300-1600.
Obviously, the range is huge. Check with local schools first because in-state tuition is drastically less expensive than out-of-state tuition.
Additional costs include:
Program fees
Uniform costs, including shoes
Equipment costs, such as a stethoscope
CPR certification fees
Lab fees
Transportation costs
Student health insurance is to be purchased through the school if the student does not have it
Meals during class and clinicals
Parking for school and clinical sites
To help pay for school financial aid, scholarships, and grants are available.
Financial Aid
Most schools, and certainly those which are accredited by the appropriate agencies, offer federal financial aid. To learn more about eligibility and to apply visit the financial aid office of the school and complete a FAFSA.
Scholarships and Grants
Nursing school scholarships are available to those who qualify. Many opportunities are available through the Sigma Theta Tau website, which is the Honor Society of Nursing.
Read more about the cost of RN programs.

Length of Time
Traditional BSN programs take about 4 years to complete. This includes all non-nursing prerequisite classes as well as nursing prerequisites and nursing classes. The nursing program itself is about 2 years.
Clinical hours are included in this time as well. Some schools require as many as 800 clinical hours to graduate from the program. This number is determined by the board of nursing for each state but many schools exceed this requirement.
Requirements for BSN Degree
Requirements for a BSN degree vary by university and include both general education requirements to complete prerequisites prior to nursing school admission and nursing school admission requirements.
General education requirements include:
College Academic Distribution Requirements (CADR) completion which is the completion of 6 subject areas

English
Mathematics
Social Sciences
World Languages
Lab Science
Senior Year Math-Based Quantitative Course

Fine, Visual, or Performing Arts
Academic Elective
Good GPA

Not always a specific number for Freshman

Personal achievements
Volunteering
Community service
Leadership activities
After-school activities
Requirements for the nursing school program include:
Cumulative GPA of 2.0 or higher
Completion of required prerequisite courses, usually some sciences, math, and English courses
Resume
Three reference letters
About 100 hours of healthcare experience as volunteer hours or employment
BSN Curriculum
Prerequisite coursework is completed during the first 2 years of the traditional BSN program then the student can apply to nursing school for the last 2 years.
BSN curriculum includes:
General education
Nursing prerequisites
Nursing school coursework
General education courses include:
English
Math
Foreign language
Computer literacy
Communications
Humanities
Natural Sciences
Social sciences
Nursing prerequisites include:
Anatomy and Physiology
Biology
Chemistry
Physics
Math
Microbiology
Nursing school curriculum varies by the school as well as course titles, but generally includes:
Nursing care for the geriatric adult
Nursing care of infants, children, and adolescents
Nursing care of adults
Maternal and Newborn Health
Pathophysiology
Pharmacology
Nursing Ethics
Wellness Promotion
Research and Evidence-Based Practice
NCLEX-RN Exam and Licensing
For any nursing school graduate to become a registered nurse he or she must pass the NCLEX-RN exam. This is true for Associate's degrees as well as BSN graduates. The NCLEX-RN is a national exam for which schools teach students the information they need to pass.
NCLEX-RN Exam Eligibility
The State will verify the student meets all the requirements and is eligible to take the NCLEX-RN examination through the application process. Prior to admission, most schools will verify the student is eligible to be licensed.
Eligibility is determined by each state but generally includes:
Receipt of Certificate of Completion from nursing school upon graduation
Criminal background without felonies or any violent or sexual crime
No current usage of chemical substances which impair the ability to practice nursing
No medical or psychological condition impairs the ability to practice nursing
US Citizen or legal alien
Receipt of official transcripts
AIDS Awareness class completion
RN Licensure
Immediately after graduation, the student must follow these steps to become licensed and eligible to begin seeking employment as an RN to take the NCLEX-RN exam:
Learn about eligibility to take the NCLEX from your state board of nursing
Register with Pearson Vue and pay the application fee
Receive the Authorization to Test from Pearson Vue
Schedule the NCLEX-RN exam through Pearson Vue at a testing center near you before the Authorization to Test expires to avoid additional fees
Once the NCLEX-RN exam is passed successfully the RN will officially be a licensed Registered Nurse. Most states participate in Nursys which verifies licensure for nurses but a paper license will be mailed out as well. Nursys verification is faster and students can immediately begin looking for work as an RN!
Check out our NCLEX-RN practice test with over 200 questions with rationales.
RN Salary
BSN-educated RNs typically make $67,000 to $77,000 per year. RNs usually work for an hourly wage. Over time, working the night shift which offers a shift differential, and taking educational classes are great ways to earn extra money. Salary also rises quickly with experience and certifications.
Location
Location tends to affect nursing salaries. The more desirable a location the fewer money RNs typically make. However, if the city has a high cost of living employers must pay higher wages to attract and keep RNs. Generally, New York and California RNs are some of the highest-paid in the country. Check out our RN Salary Tool to see salary information for your area.
Certifications
Many certifications are available to RNs. Often a year or so of experience is required to take certification exams.
RN Jobs to Expect
New graduate RNs should seek positions entitled:
New Grad RN
Nurse Intern
Nurse Internships
New Graduate RN Program
New graduate RNs need to be trained within a chosen specialty. Nursing school is designed to teach a very broad set of skills that are used in every area of nursing. When the graduate chooses a specialty the employer will teach new skills specific to the specialty and be sure the RN is safe before working without the direct supervision of a preceptor.
Search RN jobs.
RN Employment
Bachelor's educated nurses are able to work in a variety of healthcare environments. These include:
Hospitals
Clinics
Long-term care facilities
Skilled nursing facilities
Physician's offices
Education for Associate's level nursing students or below
Management
Nursing Leadership
Research
Large teaching hospitals which require a BSN for entry-level RN position
Read more about RN resumes, RN interview tips, and working as an RN.
OTHER NURSING DEGREE PROGRAMS