2023 - Best Nursing Schools in Georgia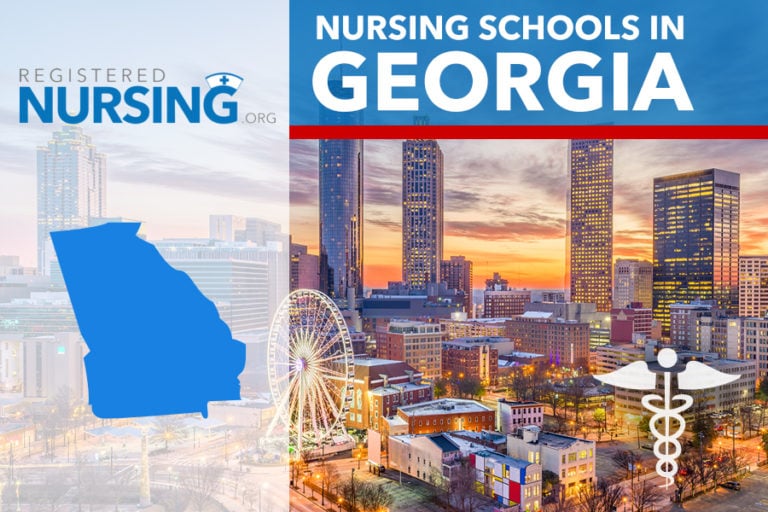 Georgia is on the upswing of the nursing profession, and the state is committed to providing highly trained nurses to their patients. State employers are offering higher than average salaries, and leadership roles to individuals that possess their Bachelor's of Science in Nursing (BSN). The annual salaries for this particular role averages $20,000 more than an individual with diploma only status. Patient-focused care is the future in Georgia and the state is fostering that philosophy with offering options to continue your education and potential.
For RN bridge programs visit:
2023 Best RN Programs in Georgia
ADN Programs in Georgia
Becoming a nurse is a time-honored career choice that is made easy by lots of program options and a looming industry shortage. Students who are looking for the fastest path to RN licensure may wish to consider an Associate's Degree in Nursing (ADN). Offered through many community colleges in Georgia, the ADN is usually two years in length, or four semesters, and students graduate eligible to sit the NCLEX-RN licensure exam.
Georgia has more than 20 colleges that offer nursing programs at the Associate's degree level. Local programs mean education is accessible for all.
What to Look For in an ADN Program in Georgia
Considering which ADN program to pursue can be overwhelming for students. We've compiled a list of the few key factors to examine to make your decision-making process easier.
Accreditation
Colleges and programs use accrediting institutions to help them meet and achieve educational standards. Specific to nursing, students should ensure that ADN programs carry accreditation from the Accreditation Commission for Education in Nursing (ACEN) or the American Association of Colleges of Nursing's Commission on Collegiate Nursing Education (CCNE). This information will be available on the nursing program webpage.
Licensing
Licensure is an important measure for your program of choice. The state is moving to a system wherein every school that offers an ADN program is required to be licensed, but at this time, students are encouraged to check via the school's website or the Georgia Board of Nursing website as to valid licensure status. Over the past few years, the rate at which students graduate and subsequently pass the NCLEX exam is greater than 85% through Georgia's nursing diploma programs.
Program Outcomes
Your college program's outcomes could greatly influence whether you choose to attend or not. Below are some criteria that will help make the selection process easier:
Annual NCLEX-RN pass rates compared to the state and nationally
Student engagement data
Post-licensure hiring data
Graduates vs enrollments each year
Part of the Technical College System of Georgia, West Georgia Technical College is part of a strong network of local colleges. WGT's program was designed to lead students toward an Associate Degree in Nursing, the National Council Licensure Examination for Registered Nurses (NCLEX-RN) and employment in the field as RNs.
ADN Program Admission Requirements in Georgia
To ensure the most qualified candidates from year to year, nursing programs do change their admissions criteria based on the year, labor demands, and faculty specialties. While each institution is unique, they do share some admission requirements:
Create an online account and complete the computer competency requirement
Have a grade of 'C' or better, depending on what is currently competitive for entry
Provide all official school transcripts via the Admissions office
Submit a personal statement
Show proof of current vaccination schedule
Confirm up-to-date CPR certification
Tuition and Costs of ADN Programs in Georgia
In recent years, colleges have become adept at showing tuition and cost information so that students have a clear understanding of their financial commitment to education. While costs do vary from school to school, the same elements have a price for each program. Items like uniforms, equipment, housing, texts and other fees may be rolled in with tuition, or may be computed separately.
The College of Coastal Georgia has a per-credit hour tuition rate of about $100, with the average student enrolling in 12 credits per semester. Additional mandatory fees total almost $800 per semester. Books, uniforms and equipment can be purchased separately through recommended third-party suppliers.
Advantages of ADN Programs
One of the reasons for the ADN's continuing popularity is that hands-on patient care learning is followed quickly by a job in the field. In about 2.5 years, students go from entry to RN. Additionally, local colleges are accessible to students in both urban and outlying communities, keeping housing costs and commuting costs reasonable when students are able to live at home.
LPN to RN Programs in Georgia
Many RNs begin as Licensed Practical Nurses (LPNs). For these nurses, specialty continuation programs exist to help bridge the gap between practical and registered nursing. These programs are popular because they take into consideration the LPN's prior education, making the total program shorter in length than a traditional RN program.
LPN to ADN/BSN Programs
Students have the choice to earn either an associate's or bachelor's degree in nursing through their LPN to RN program. The LPN to ADN is the fastest option, often taking just a few semesters of study to leave graduates eligible for the NCLEX-RN examination. Georgia Northwestern Technical College, for example, provides an LPN to ADN that takes just 3 semesters to complete.
With a little more time, students have the option to earn a bachelor's degree in nursing through an LPN to BSN program. Georgia Southwestern State College in Americus offers one such program, giving students a foundational general education alongside a rigorous nursing curriculum which culminates in a BSN degree.
All LPN to RN programs in Georgia will require a student to hold a current LPN license, be a graduate of an approved LPN program, and have completed any prerequisite courses with a passing grade, amongst other admissions requirements.
BSN Programs in Georgia
With an investment of two additional years of schooling beyond the ADN program, students can graduate with a Bachelor of Science in Nursing (BSN) degree from one of Georgia's more than 25 undergraduate nursing programs. Labor data show that RNs with a BSN degree are able to be more mobile and flexible with their role in patient care, and are frequently accepted to leadership or managerial positions.
What To Look For in a BSN Program in Georgia
BSN students look for a scientifically sound and culturally aware learning environment at their university. Faculty with leadership ability and deep experience in the field will help students access rich and collaborative learning opportunities both in the lab and throughout clinical rotation. As always, students are encouraged to make sure that the school is in good standing with accrediting bodies and that licensure after degree is an option.
Albany State University takes pride in grooming nursing students for positions of leadership throughout the United States. With a BSN program at the core of its offerings, Georgia is striving to meet patient care shortages through degree programs like this one.
BSN Program Length in Georgia
Typically, a BSN program is 4 years long, which allows students time to work through clinical and classroom blocks of study with some time to pursue work or volunteer interests in the summer. Each institution varies, however, and some offer accelerated programs or RN-to-BSN options to help bridge the gaps in RN education as the labor market requires.
BSN Program Admission Requirements in Georgia
Every school has its unique admission criteria to allow students into their programs; however, the following is a sampling of the most common admittance criteria:
Complete pre-requisites with a minimum grade of C or better
Submit a personal essay to be evaluated on structure, grammar and content
Provide evidence of updated vaccinations
Remain in good standing with the university
Provide a completed background inquiry and health history
Tuition and Costs of BSN Programs in Georgia
Undergraduate degrees are not cheap, but some would argue that they're good value, considering the range of jobs that are available once you have your degree. The total cost of attending school is sometimes hard to decipher, but schools advertise their tuition for in-state and out of state residents, and give estimates for housing, food, textbooks and nursing equipment. One example of tuition is Columbus State University where tuition per semester is about $4,000; other fees are calculated separately.
Advantages of BSN Programs
Students who earn their BSN degree have the advantage of providing more flexible career pathways that are only open to those who hold a BSN or higher. The trend in nursing is that as we age, we feel more equipped to move into administration or teaching and away from the hospital floor. This isn't possible with only an ADN degree. RNs can also access the RN to BSN bridge program to facilitate career growth.
MSN Programs in Georgia
Determined to lead in your field? MSN or Master of Science in Nursing graduate degree programs are increasingly available to qualified nurses. While programs are highly selective, today's MSN programs are guiding nurses toward tomorrow's leadership, administrative and advance practice nursing. With roles in informatics management, nurse anesthesiology, pediatric nursing and other highly specialized roles, candidates that are interested in research, clinical care, administrative or teaching are welcome to apply to Georgia's more than a dozen online and on-campus MSN offerings.
MSN Program Length in Georgia
About 4 semesters for full-time coursework, the MSN programs in Georgia are also available part-time. Students may choose to take some courses online as offerings allow.
MSN Admission Requirements in Georgia
Graduate level studies vary in their price range and admission requirements depending on the pathways a student chooses, demand, and space availability. There are some similarities in the core admissions criteria listed below.
Submit all required forms for admission to graduate studies
Provide transcripts of undergraduate studies
Submit a professional resume
Provide RN licensure information and indicate that you are 'in good standing' to practice as a nurse in Georgia
Have your colleagues and mentors submit letters of reference letters to your graduate Admissions officer
Conduct a professional interview with nursing faculty
Tuition and Costs of MSN Programs in Georgia
Tuition costs for MSN programs are much higher than their BSN counterparts with good reason. The quality and intensity of instruction is considerably more rigorous. For example, Clayton State University, located in Morrow, is about $600 per credit hour and students are expected to accrue a flexible amount of credit hours toward their degree depending on their specialty path.
For NP programs visit:
Getting a Georgia Nursing License
Georgia requirements for nursing licensure by examination or endorsement are as follows:
Application process must include a completed application form and fees paid, as well as this supporting documentation:
Criminal background check
Registration for NCLEX-RN exam
Register with COGENT - Live Scan fingerprint
Apply for endorsement of licensure can be done by providing the following information:
Completed application and fees paid
Completed criminal background check
Official transcripts
Verification of original licensure by examination
Verification of current state license
Proof of one of the following: verification of employment, proof of graduation within the last 4 years, completion of Georgia approved reentry program
Register with COGENT
Accelerated Nursing Programs in Georgia
If you are looking for more career advancement opportunities or a wider scope of options upon graduation, then you should look at accelerated degree programs. The state of Georgia has at least six known programs across the state. Accelerated programs have varying eligibility requirements, as some will require specific courses to be completed before entrance. These eligibility requirements could have an impact on the overall cost of the program, as most programs have a designated rate per course credit. Accelerated programs in the state are full-time commitments, but can be completed in as little as 15 to 24 months.
Latest Georgia NCLEX-RN Pass Rates and Statistics
Total Number of State Approved Schools: 51
Total Number of Test Takers in 2021: 4,785
2021 Average Statewide Georgia NCLEX-RN Pass Rate: 85.7%
Continued List of All RN Programs in Georgia
Here is a continued list of all RN Programs a continued list of all RN Programs a continued list of all RN Programs a continued list of all RN Programs a continued list of all RN Programs a continued list of all RN Programs.
Are we missing your school's program or need to update information listed? Please contact us so we can make the necessary changes.