Best Nursing Informatics Programs – 2023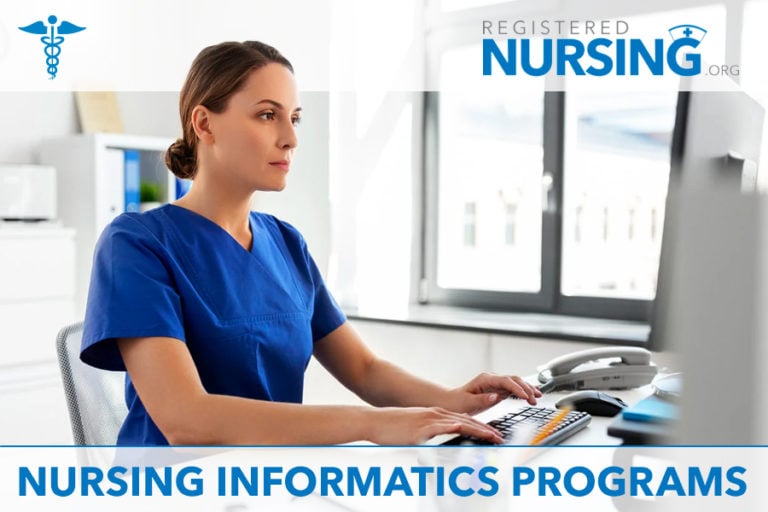 At the intersection of technology and medicine lies the nursing informatics field. Nurses who want to improve patient outcomes through the use of data and systems can advance to a nursing informatics role. With master's and doctoral degree levels available, prospective informatics nurses have a wealth of educational opportunities to choose from.
2023 - Best Nursing Informatics Programs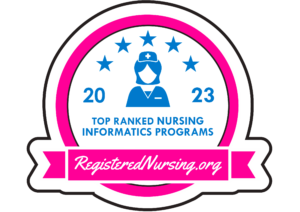 Nursing informatics is a growing field for RNs who want to take on a high-level role improving processes for optimal patient care outcomes. This highly analytical nursing career requires an advanced registered nursing degree with specialized training. Those interested in the pathway can enroll in a number of available online/hybrid programs to suit their growing careers. Take a look at our rankings for the top Nursing Informatics programs in the country below to get started on your educational pathway today.
For more information on our top nursing school rankings, visit our Methodology Page (https://www.registerednursing.org/rankings-methodology/).
Choosing a Nursing Informatics Program
Before choosing a nursing informatics program, nurses should consider the following:
Accreditation
Accreditations are an essential way of ensuring that a nursing informatics program is reputable. National organizations such as the Commission on Collegiate Nursing Education (CCNE) and/or the Accreditation Commission for Education in Nursing (ACEN) are the main accrediting bodies for graduate nursing programs. Some nursing informatics programs may also be accredited by local or regional organizations as well.
Program Cost
Advanced nursing informatics programs typically list their tuition fees by credit. For both MSN and DNP level programs, students can expect to pay tuition of roughly $400-$700 per credit hour, on average. Doctoral nursing informatics programs tend to be more expensive overall, as they require more credits to complete. Tuition costs often don't include additional expenses, such as books, course materials, and other mandatory fees.
Program Length
For MSN nursing informatics programs, students will need to complete around 37 credit hours, which equates to roughly 2-3 years of study. Both part-time and full-time options are typically available. For DNP programs, approximately 73 credit hours are required, and the degree can be achieved in around 3-4 years of dedicated study.
Internship/Externship Opportunities
A certain number of clinical hours are required for both MSN and DNP nursing informatics programs, so it's a good idea to see what kind of partnerships a prospective school has with area hospitals and medical facilities. Some schools will let students choose their own internship/externship sites for their clinical rotations.
Online/Campus Options
Many schools now offer both online and campus-based nursing informatics program options to accommodate a wider variety of students. Some schools even offer "hybrid" programs, where most coursework is completed online, but some lectures and labs are held on campus.
Nursing Informatics Degree Levels Offered
Prospective informatics nurses can choose between a Master's of Science in Nursing (MSN) or a Doctor of Nursing Practice (DNP) degree. Both degrees prepare nurses with the analytical and problem-solving skills needed to excel in this advanced role. DNP programs take things a step beyond the MSN curriculum to provide a more in-depth informatics education.
MSN Programs
Students enrolled in an MSN-level nursing informatics program will develop skills in clinical information systems, strategic planning, and more. The curriculum consists of both advanced core nursing courses and specialty courses, including Data Analytics, Synthesis of Specialty Practice, and Database Systems in Healthcare. For nurses seeking a health-based option see our MSN in health informatics guide.
DNP Programs
DNP-level nursing informatics programs add to the MSN curriculum, preparing students to function as managers and leaders within the specialty. Courses taken may include Knowledge Management in Healthcare, Interpreting Research for Applied Science, and Organizational Foundations for Leading Change. The University of Kansas Medical Center is an example of a school offering a DNP in Nursing Informatics.
Learn about post-master's nursing informatics certificate programs.
Online Nursing Informatics Programs
With technology being the main foundation of the nursing informatics specialty, it's no wonder that students are gravitating toward online programs. These online programs allow students to complete courses when and where they choose, making them ideal for today's hectic schedules. Many schools with campus-based nursing informatics programs also offer online options.
Advantages of an Online Program
The main advantage of an online nursing informatics program is the convenience factor. Students are able to complete coursework on their own time, allowing them to keep up with work, family, and other important obligations. Students based in rural areas may also find online programs advantageous, as it affords them the option to complete their education without a long commute. For those interested in lowering expenses, online programs allow students to virtually eliminate transportation expenses such as gas, tolls, and parking fees.
Program Accreditation
Like traditional campus-based programs, online nursing informatics programs should be properly accredited. ACEN and CCNE accreditations are recommended. These accreditations can give some peace of mind to students who may be apprehensive about enrolling in an online program.
Costs and Length
Credit requirements for online programs are the same as campus-based programs, though online options typically offer more flexibility in course completion. Therefore, program length for these online versions may fluctuate more based on the student's wants and needs. Tuition costs are also similar, though students may be able to find more affordable online options, and can also factor in transportation savings. Grantham University, for example, offers an online MSN in Nursing Informatics that charges tuition of around $350 per credit hour.
What Are the Admissions and Certification Requirements?
Students can generally expect the following admissions requirements from a nursing informatics program:
BSN or higher from an accredited university
Cumulative GPA of 3.0 or above
Satisfactory GRE scores may be required
One or more years of nursing experience
Current, active RN license
Current resume or CV
Letters of recommendation and personal statement
Informatics nursing certification (RN-BC) is offered by the American Nurses Credentialing Center (ANCC). Eligibility requirements for the examination include:
Must hold a current U.S. RN license
Must hold a BSN or higher
Must have practiced the equivalent 2 years as a full-time nurse
Must have completed 30 hours of continuing education in informatics nursing in the last 3 years
Must have practiced a minimum number of hours in the nursing informatics field
List of Nursing Informatics Programs
Nursing informatics programs can be found all over the country, including the following schools listed below.
Jump to Your State Listings
Alabama
Arizona
California
Colorado
Florida
Georgia
Illinois
Iowa
Kansas
Maryland
Massachusetts
Michigan
Minnesota
New Jersey
New York
North Carolina
Pennsylvania
Tennessee
Texas
Utah
Virginia
Washington
Wisconsin
Are we missing your school's program or need to update information listed? Please contact us so we can make the necessary changes.