Accelerated Nursing Programs – Considering the Degree Levels
To meet the high demand for Registered Nurses (RNs), more and more schools have started to offer Accelerated Nursing Programs. These are also known as Direct Entry programs. They are available to entry-level non-nurses who hold a Bachelor's degree in a non-nursing major. Both BSN and MSN degrees are available through accelerated programs.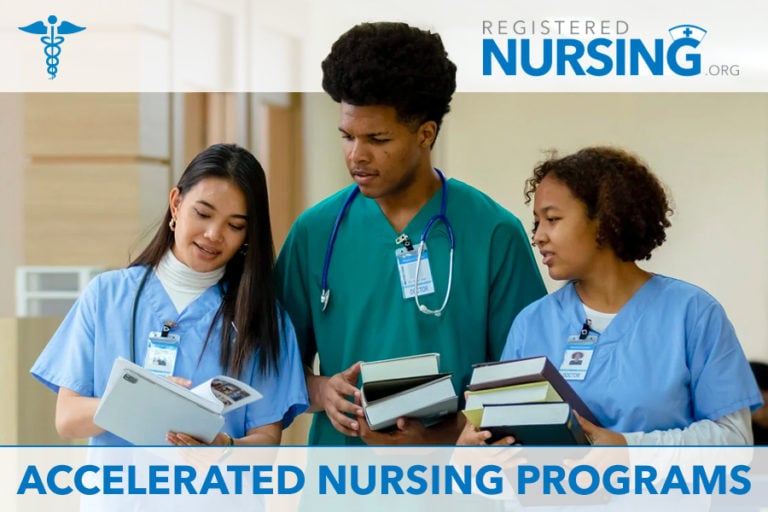 Why Enroll In an Accelerated Nursing Program?
Accelerated nursing programs (sometimes referred to as "second degree" nursing programs since applicants are required to have completed a non-nursing bachelor's degree) are designed to cover a copious amount of material in a very short amount of time. No breaks are scheduled and a day of classes may be longer than traditional programs. The upside is that motivated students can enter nursing practice in a fraction of the time it takes to complete a traditional nursing program. For entry-level non-nurses, accelerated Bachelor's of Science in Nursing (ABSN) and accelerated Master's degrees are available. There is also an option to enroll in a Master's Entry to Nursing Practice (MENP) for those who wish to specialize in a nurse practitioner area of practice. To qualify for these programs, the prospective student must have a bachelor's degree at minimum in a non-nursing major.
Upon graduating from an accelerated nursing program, students will need to pass the NCLEX-RN exam in order to become licensed. Accelerated MSN and MENP grads are also eligible to take any applicable advanced nursing or Nurse Practitioner examinations.


Accelerated Nursing Program Options
If you already have a non-nursing bachelor's degree (at minimum) and want to fast-track into a nursing career, you have several program options, depending on your goals. Check out these accelerated programs to get all the details.
The Accelerated BSN program allows students to complete a nursing bachelor's degree in just 11-18 months - much faster than the traditional 4-year program.
Accelerated BSN Programs
Motivated students who wish to pursue advanced practice nursing careers can complete an Accelerated MSN program in as little as 3 years of dedicated study.
Accelerated MSN Programs
For non-nurses who know they want to enter a specific advanced NP specialty, an MENP program can help them reach their goals in a shortened time frame.
MENP Programs