Best Nursing Schools in New York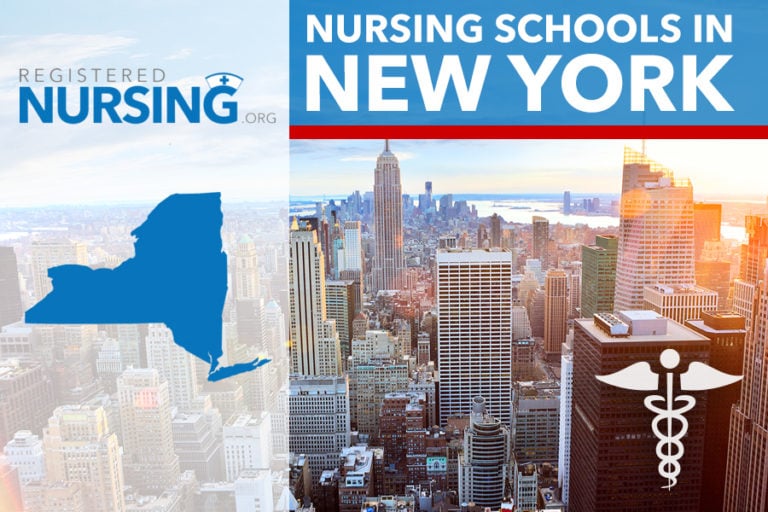 The state of New York is on track to becoming one of the top regions in the country for nursing employment. In fact, a report by the Center for Health Workforce Studies (latest update 2018) states 80% of deans and directors of nursing programs report "many jobs" are available for newly trained RNs. With the Bureau of Labor Statistics listing the mean average salary for an RN in New York at $93,320, an education in the field is more than just a wise career choice; it's a lucrative one as well.
For RN bridge programs visit:
Best RN Programs in New York
ADN Programs in New York
One of the quickest routes to becoming an RN is to earn an Associate's Degree in Nursing (ADN). This degree program lasts just 2 years, making it ideal for those who want to enter the workforce as soon as possible. It is typically offered at smaller colleges, such as community and/or technical schools.
New York boasts over 60 schools with ADN programs located in all regions of the state.
What to Look For in an ADN Program in New York
With the sheer number of ADN programs available in the state, it can be hard to choose. You'll need to vet each potential program carefully. Here are a few items in particular that you should consider:
Accreditation
An ADN program's reputation is as good as its accreditation. You'll want to look for endorsements from national organizations such as the Commission for Education in Nursing (ACEN) and/or the American Association of Colleges of Nursing's Commission on Collegiate Nursing Education (CCNE), among others. It's also crucial to make sure the program is registered with the New York State Board of Nursing.
Licensing
Once you complete your ADN program in New York, you'll have to take and pass the National Council Licensure Examination (NCLEX) in order to be eligible to receive your nursing license. Therefore, it's extremely important to consider your school of choice's program curriculum to ensure that it will fully prepare you for this exam.
Program Outcomes
A great way to ensure your school's legitimacy is to look at statistics on their program's outcomes to see how prior graduates have fared. You should look for favorable numbers in things like:
Graduation rates
Licensure exam pass rates
Graduate satisfaction
Employment rates
Bronx Community College in Bronx, NY, offers one of the many properly accredited ADN programs in the state.
ADN Program Admission Requirements in New York
There are many schools in New York, and each will have its own set of admission requirements. You can expect to find requirements similar to the following:
Minimum cumulative GPA of 2.70
Proficient score on the TEAS V Admission Examination
Completion of pre-requisite courses with a grade of C or higher
Tuition and Costs of ADN Programs in New York
Payment for an ADN program is composed of a few parts. First, you'll need to budget for tuition, which is usually the most expensive part of the program. Then, you'll have to factor in additional costs such as books, transportation, uniforms, and other miscellaneous fees. It's a good idea to break down all the costs of a potential school's program so that you aren't surprised by anything later.
As an example of cost, the tuition and fees for the ADN program at Erie Community College in Buffalo are roughly $5,935 annually, not including any additional expenses.
Advantages of ADN Programs
An ADN program is a great choice if you are looking to complete your schooling in a relatively short period of time so that you can enter the workforce. It's also ideal for those who are budget-conscious, as the faster timeframe and availability at smaller community colleges means that the program tends to be affordable. Another great reason to choose an ADN as your path to becoming an RN? The availability of programs at many different types of schools means that you can usually find a program near you, even if you are located in a more rural area of the state.
LPN to RN Programs in New York
LPN to RN bridge programs are popular pathways for licensed practical nurses in New York to transition to registered nursing practice. These programs expand upon the education that the LPN has already acquired, making it a shorter and more affordable pathway to the RN profession.
LPN to ADN/BSN Programs
New York LPNs can choose to earn either an Associate's Degree in Nursing (ADN) or a Bachelor's of Science in Nursing (BSN) through their bridge program. The LPN to ADN program is the quickest option, typically taking just a few semesters to complete (usually one calendar year). Schools like Batavia's Genesee Community College offer LPN to RN programs that culminate in an associate's degree.
LPNs who want to enter an expanded RN practice may choose the LPN to BSN program route. This type of program usually takes around 2 years to complete, but results in the coveted BSN degree, giving the graduate a much wider set of employment options. Rockville Centre's Molloy College, for example, offers an LPN to BS/RN Mobility Program for this very reason.
BSN Programs in New York
For more advanced nursing opportunities, a Bachelor's of Science in Nursing (BSN) will be needed. This program lasts the traditional 4 years and is typically offered at larger universities. Accelerated BSN programs and RN to BSN programs are also widely available.
Over 55 schools in New York state offer at least one version of a BSN program.
What To Look For in a BSN Program in New York
Choosing the BSN program that's right for you is important. You'll need to compare each program you're interested in, taking into consideration things like cost, accreditation, location, and more. If you already hold a bachelor's degree or higher in a different subject, you may want to see if your school of choice offers an accelerated program. Alternatively, if you are already an RN and have completed an ADN, finding a school that offers an RN to BSN program should be a top consideration.
St. Francis College, located in Brooklyn, NY, is a great example of a school with an accredited BSN program in the state.
BSN Program Length in New York
A traditional, pre-licensure BSN takes 4 years to complete. You will typically need to take a mixture of general education courses and specific nursing courses. Accelerated BSN programs, designed for those who already have a Bachelor's degree or higher in another field, take roughly 15 months to complete. For registered nurses wanting to advance their careers with a BSN, the wildly popular RN to BSN program option can take approximately 1-2 years from start to finish.
BSN Program Admission Requirements in New York
While you'll want to check with your school of choice for specific admission guidelines, the following is an example of what you can expect:
Minimum cumulative GPA of 2.8 or higher
Application and personal statement
Three letters of recommendation
Completion of three pre-requisite sciences
Tuition and Costs of BSN Programs in New York
Aside from a stellar education, a BSN degree comes with costs. You'll need to pay for tuition, as well as extras like books and transportation. If you require room and board, this will also be a separate fee. And things like uniforms and equipment are also typically the responsibility of the student.
As an example, tuition and fees for the BSN program at Stony Brook University are around $467 per credit for New York state residents.
Advantages of BSN Programs
BSN programs are a great way to go about getting your RN license. Many people like taking the direct 4-year route, with the end result being increased job opportunities and salary potential. This type of degree is also very adaptable to wherever you are in life, with accelerated and RN to BSN options widely available for those who want to start a second career or nursing or advance an existing nursing career.
MSN Programs in New York
A Master's of Science in Nursing degree (MSN) is a step beyond the BSN and is for those wanting an advanced nursing career. Jobs like Clinical Nurse Specialist, Certified Nurse Midwife, Nurse Practitioner, and more can be obtained with an MSN degree. In addition to this, nurses who hold an MSN also have the potential to make a higher salary.
Over 30 schools throughout New York state offer an MSN program.
MSN Program Length in New York
You can expect an MSN program to take 2-3 years from start to finish. This can fluctuate based on the school and the type of MSN specialty you choose, as some will require more credits for completion. MSN programs typically offer things like night classes and online courses to make it easier for busy working nurses to attend.
MSN Admission Requirements in New York
You can expect most MSN programs in the state to have some version of the admission requirements below:
Must have already earned a BSN
Minimum GPA of 3.0
New York State nursing license prior to beginning coursework
At least one-year of full-time clinical experience as a registered nurse
Tuition and Costs of MSN Programs in New York
Aside from the main cost of tuition, you'll need to account for extra mandatory fees for things like textbooks, labs, and more. Depending on what kind of specialty you go into, these tuition costs and fees can fluctuate, as some specialties require extra coursework. As an example, the cost for tuition and fees for an MSN at New York University is estimated at roughly $43,184 for 20 credits.
For NP programs visit:
Getting a New York Nursing License
New York State requires candidates to meet certain criteria, as well as provide specific information when applying for licensure either by examination or endorsement.
If applying by examination you must meet these criteria and provide the following information:
Be of good moral character
Be at least 18 years of age
Graduated from a state-approved school of nursing - official transcripts sent to the board directly from the school
Disclosure of Social Security Number
Register for the NCLEX - obtain a passing score
Licensure by endorsement requirement includes ALL of the above information, as well as:
Verification of licensure from originating state - via request or NURSYS
Learn more about NY RN license information at the New York State Education Department.
Accelerated Nursing Programs in New York
Candidates holding nursing or other degrees are being sought after by employers, which makes the decision to attend a 10 to an 18-month full-time course that much easier. Programs are offered as on-campus, full-time commitments, as the course load and clinical hours require the candidate's full focus, which means full-time outside work is not recommended. There are required courses that will have to be completed prior to the start date of the degree program. Additional courses will add to the overall time frame and can contribute to an increase in overall tuition. For more information on tuition and entrance requirements, contact the institution you wish to attend.
Continued List of All RN Programs in New York
Here is a continued list of all RN Programs a continued list of all RN Programs a continued list of all RN Programs a continued list of all RN Programs a continued list of all RN Programs a continued list of all RN Programs.
Are we missing your school's program or need to update information listed? Please contact us so we can make the necessary changes.