2023 - Best Nursing Schools in North Carolina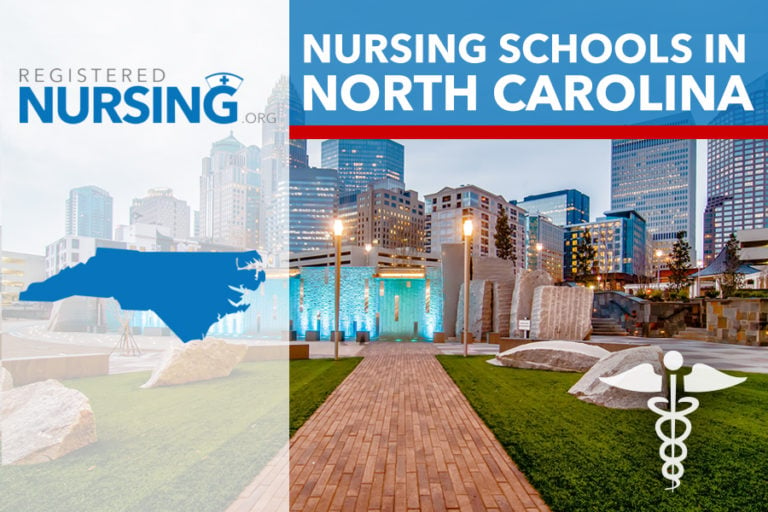 North Carolina is attracting potential and current nursing candidates by offering higher salaries, more room for advancement, and skill-specific job opportunities. The state is looking at a potential job increase of 3,500 per year over the next 5 years. Combine that with the average registered nurse's salary in the state, which the Bureau of Labor Statistics reports at $66,440, and you can see why nursing has become a desirable career field for many in the region.
For RN bridge programs visit:
2023 Best RN Programs in North Carolina
ADN Programs in North Carolina
An Associate's Degree in Nursing (ADN) is one of the fastest ways to attain a nursing license. This 2-year program is offered at a variety of community and technical colleges throughout the state and will qualify you to take your nursing licensure examination upon completion. ADN programs tend to be less expensive than longer nursing programs which take 4 or more years to complete.
There's no shortage of ADN programs in North Carolina, as over 50 schools in the state offer the degree.
What to Look For in an ADN Program in North Carolina
It's always advised to compare educational programs before deciding on the right one for you. You'll want to look into a variety of factors, including the following:
Accreditation
Proper accreditation is crucial for an ADN program's reputation. National organizations like the Commission for Education in Nursing (ACEN) and the American Association of Colleges of Nursing's Commission on Collegiate Nursing Education (CCNE) are just two of the organizations that offer legitimate accreditations. You should also check to see that your program of choice is approved by the local North Carolina Board of Nursing.
Licensing
To actually receive your nursing license, you'll have to pass the National Council Licensure Examination (NCLEX) once you complete your ADN education. When comparing schools and programs, check the curriculum to ensure that it will prepare you to take and pass the NCLEX. Many schools will even provide statistics on pass rates from graduates of their program.
Program Outcomes
You will also want to see what kind of statistics your school can provide on outcomes from prior graduates. Pay particular attention to favorable reports on things such as:
Graduation rates
Licensure exam pass rates
Graduate satisfaction
Employment rates
As an example, Durham Technical Community College is just one of the many schools in North Carolina that offers an accredited ADN program.
ADN Program Admission Requirements in North Carolina
Each school and program will have its own variation of admission requirements, but in general, you can expect to see things like:
Submit high school and any post-secondary transcripts
Achieve minimum English, Math, and Reading competencies on SAT or ACT exams
Achieve and maintain a minimum 2.5 cumulative GPA
Completion of one unit of high school biology and one unit of high school chemistry with a grade of C or higher
Tuition and Costs of ADN Programs in North Carolina
You will need to carefully consider a few items when looking into program costs. Tuition is one of the big ones, but you'll also need to factor in things like textbooks, transportation, and other miscellaneous mandatory fees.
To give you a general idea regarding cost, the total estimated ADN program fees at Wake Technical Community College in Raleigh are approximately $14,000 for in-state students.
Advantages of ADN Programs
If you are looking to complete your nursing training quickly so that you can enter the workforce and start your career, an ADN is ideal. It's also perfect for those who are cost-conscious, as the relatively short program length combined with its availability at smaller colleges tends to make it much more affordable than a longer nursing program. The sheer number of ADN programs available throughout the state of North Carolina makes it a snap to find an accredited program in a desirable location.
LPN to RN Programs in North Carolina
Those who are already Licensed Practical Nurses (LPNs) can enter the realm of registered nursing through a specialized LPN to RN program. Depending on the student's goals, they can choose between the LPN to ADN pathway or the LPN to BSN.
LPN to ADN/BSN Programs
For the quickest route to entry-level RN practice, RN to ADN programs in North Carolina is a great option. This program bridges the gap between LPN and RN practice in just a few semesters. For example, Bladen Community College in Dublin offers an RN to ADN program that requires just 33 total credit hours to complete. Those looking to earn a bachelor's degree in nursing may opt for the RN to BSN program pathway. Winston-Salem State University offers an LPN to BSN for students who have at least one year of direct patient care experience in the state.
Requirements for LPN to RN programs in North Carolina may include:
Minimum cumulative GPA (usually 2.5 or higher)
Must hold a current unencumbered LPN license
Graduate of an accredited LPN program
BSN Programs in North Carolina
A Bachelor's of Science in Nursing (BSN) is the next step up beyond an ADN and is great for those who have the time and resources for a longer program. This traditional 4-year degree opens the door to more advanced nursing careers and higher salaries. Many schools also offer shorter RN to BSN programs for those who already hold a nursing license but want to advance to higher nursing positions.
North Carolina boasts over 25 pre-licensure BSN programs, and more than 20 RN to BSN programs.
What To Look For in a BSN Program in North Carolina
You will want to compare each school and program you are interested in to make sure you find the right fit. Cost, location, accreditation, and program outcomes should all be top considerations. If you already hold a bachelor's degree or higher in another subject, you may want to look for a school with an accelerated BSN program, which is gaining popularity for those looking at nursing as a second career.
Pfeiffer University, located in Misenheimer, NC, is an example of a school with an accredited BSN program.
BSN Program Length in North Carolina
A regular, pre-nursing licensure BSN program will take you 4 years to complete. If you are doing an accelerated BSN, you can be done in as little as 15 months. RN to BSN programs, for those who already hold an ADN and want to advance, can take 1-2 years to complete depending on the school and the types of courses already completed.
BSN Program Admission Requirements in North Carolina
While requirements for each BSN program may vary, the following is a sample of the types of admission requirements you're liable to face:
Completion of all pre-requisite courses with a grade of C or better
Overall GPA of 2.8 or higher
Submission of one-page essay on the nursing profession
Clear criminal background check and drug screen
Tuition and Costs of BSN Programs in North Carolina
Tuition and other associated fees may fluctuate depending on the type of BSN you are applying to. Remember that you will need to cover tuition costs, as well as extras like textbooks and lab fees. There are usually other mandatory fees that you'll need to pay for that aren't necessarily included with the tuition price, so always double-check to make sure you understand the full cost of the program.
For example, the estimated tuition rate for a BSN at Queens University of Charlotte is roughly $800 per credit hour, plus additional fees.
Advantages of BSN Programs
If you are looking for a traditional university experience, and know that you want to work at a higher level of responsibility within the nursing field, a BSN is a great choice. The versatility of this type of degree is also a big draw, as you can earn one straight out of high school, or go through a specialized program if you already hold a bachelor's degree or a nursing license.
MSN Programs in North Carolina
To reach one of the highest and most respected areas of nursing, a Master's of Science in Nursing degree (MSN) is your ideal educational choice. An MSN is for those who want to go into more advanced nursing careers such as Clinical Nurse Specialist, Certified Nurse Midwife, or Nurse Practitioner, among others. Nurses holding this advanced degree also have the potential to earn much more money.
North Carolina has roughly 15 schools that offer a general MSN degree throughout the state, as well as about 7 schools that offer an MSN-Nurse Anesthesia program.
MSN Program Length in North Carolina
Many people wonder how long a graduate MSN program will take to complete since you must already hold at least a BSN in order to apply. Because these programs are designed for busy working nurses to complete, the length can vary. Generally speaking, it will take roughly 2-3 years to complete your MSN. Keep in mind that these programs sometimes offer flexible coursework in the form of night and/or online classes.
MSN Admission Requirements in North Carolina
Most MSN programs will have the following requirements in order to gain acceptance, although you should check with your school of choice to see what they specifically require:
Must possess a BSN from a regionally accredited college and a nationally-accredited nursing program
Minimum 2.85 cumulative GPA
Three letters of recommendation
Current RN license and one-year clinical experience within the last 5 years
Tuition and Costs of MSN Programs in North Carolina
Tuition and costs for an MSN can vary depending on the type of specialty you are interested in going into. You'll have to cover the cost of tuition of course, as well as additional fees for things like books and labs. To provide an idea about the cost of an MSN program in the state, the total estimated in-state cost for tuition and fees at the University of North Carolina in Chapel Hill is between $11,000 and $12,500 per semester, not including additional mandatory fees.
For NP programs visit:
Getting a North Carolina Nursing License
North Carolina regulations for licensure by examination or by endorsement require a candidate to demonstrate their eligibility by submitting a completed application, subsequent fees, and the following information:
If applying by examination you must meet these criteria and provide the following information:
Graduate of a state-approved school of nursing - transcripts automatically sent from school to board upon completion
Registration for NCLEX - obtain successful completion of the exam
Criminal Background Check - including fingerprints
If applying by endorsement you must include the following with a completed application:
Proof of education
Criminal Background Check
Successful completion of NCLEX or SBTPE
Verification of licensure from originating state
Previous Employment information
Learn more about NC RN license information at the North Carolina Board of Nursing.
Accelerated Nursing Programs in North Carolina
Investing in your career can be done before you even graduate, you can accelerate your learning and earn your degree faster making advancements and opportunities available sooner. Programs are offered throughout the state in more than 5 different colleges and run anywhere from 10 to 15 months in length. If you are currently working and are looking to upgrade your degree there are bridging options as well. Accelerated degree programs are intensive in nature due to the full-time commitment they require, and because clinical hours run consecutively. Entrance requirements and tuitions vary depending on the program, as well as the courses required prior to being accepted.
Latest North Carolina NCLEX-RN Pass Rates and Statistics
Total Number of State Approved Schools: 83
Total Number of Test Takers in 2021: 4,571
2021 Average Statewide North Carolina NCLEX-RN Pass Rate: 87.7%
Continued List of All RN Programs in North Carolina
Here is a continued list of all RN Programs a continued list of all RN Programs a continued list of all RN Programs a continued list of all RN Programs a continued list of all RN Programs a continued list of all RN Programs.
Are we missing your school's program or need to update information listed? Please contact us so we can make the necessary changes.