2023 - Best Nursing Schools in Illinois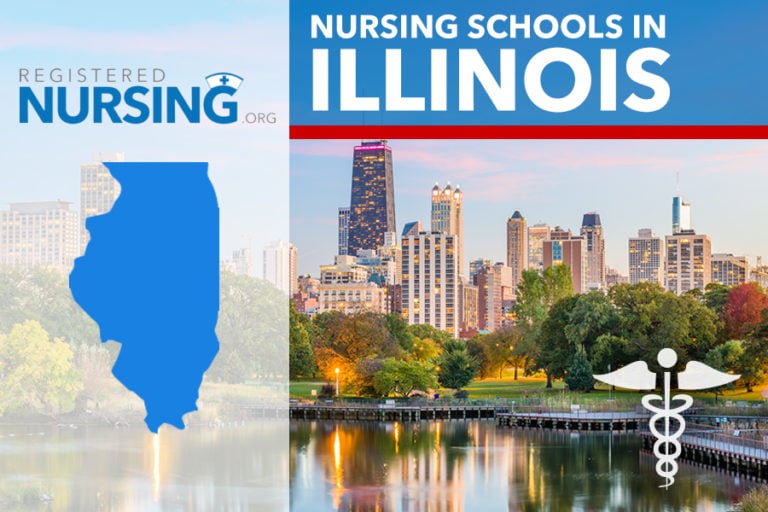 In the state of Illinois, they wholeheartedly believe in nursing care that provides a patient-focused philosophy, and to provide that level of care they support the industry's move toward furthering education. The state has a high rate of nurses holding or pursuing a Bachelor of Science in Nursing (BSN) degree, which has given them the benefit of earning higher salaries and improved their position to accept advancements. Candidates with a like-minded philosophy of patient-focused health care who strive to better the industry of nursing are called upon to help fulfill the future need.
For RN bridge programs visit:
2023 Best RN Programs in Illinois
ADN Programs in Illinois
With a history of strong and proactive nursing schools dating back as far as 1889, the state of Illinois is prepared to meet today's growing health care demands. With many students opting to graduate high school and begin their post-secondary path toward an Associate's Degree in Nursing diploma at a college convenient to them, the ADN program offers evidence-based, hands-on training toward licensure exams for those students who need or want a quick path to the first steps in their nursing career.
There are more than 40 ADN programs in the state, and program entry is offered one or more times per year for a two-year diploma.
What to Look For in an ADN Program in Illinois
With the sheer number of programs that are available and reasonably priced for in-state students, how do you decide which one is right for you? Data-based decision-making on some important student outcomes can help you make the right choice for your learning style and lifestyle.
Accreditation
Accreditation is a voluntary, non-profit measure that protects students as consumers. With accreditation in place, you're guaranteed that the degree you're buying with your money, time, and dedication is of a comparable standard throughout the state. Colleges are accredited through the North Central Association of Colleges and Schools as designated by the federal government, whereas ADN programs are accredited by the Accreditation Commission for Education in Nursing (ACEN) or the American Association of Colleges of Nursing (CCNE).
Licensing
The healthcare industry is subject to regulations, just like every other industry in our great country. For nurses, this means ensuring that the program they pick for ADN will fully prepare them to take the NCLEX. To this end, the Illinois Board of Nursing maintains a list of post-secondary programs that have program goals that are in line with industry standards and knowledge.
Program Outcomes
Perhaps the most telling pieces of information come from the institution's 'Progress and Outcomes' section of their website. From that data, compared from year to year and between colleges, you'll be able to form an opinion of how various colleges stack up. Look for:
Enrollment data
RN exam attempts per student
Student satisfaction survey data
In-field employment data
With campuses in both Danville and Hoopeston, Illinois, Danville Area Community College is a fully accredited institution with a nursing program that is licensed and in good standing with the Illinois Board of Nursing.
ADN Program Admission Requirements in Illinois
While ADN programs are similar throughout the state, there remain some differences in the admission processes and criteria between each institution. Prepare for the following types of requirements, but don't be afraid to contact your school directly if you're not sure:
Competitive GPA, verified by original transcript
Verification of any college-level courses taken
Have a TEAS score of 60% or greater
Carry current CPR certification
Have a grade of 'B' or better in core pre-requisite courses
Complete all forms on time
Tuition and Costs of ADN Programs in Illinois
The cost of college programs has remained reasonably stable over the last decade. Small increases in tuition, housing, food, materials, textbooks, and supplies have occurred but overall, in-state students can get great value from their 2-year program choice, especially since they are likely to land a job in their field soon after graduation and licensure. To give you an idea of the cost of tuition in Illinois, we've included a sample school below:
At Shawnee Community College, in-state students pay about $125 per credit hour, while out-of-state students pay considerably more. There are additional administrative and campus fees that also apply, such as technology and lab fees, and transcript fees. Due to fluctuations in the cost of living prices, the college doesn't publish data on the costs of residence and food for students.
Advantages of ADN Programs
Almost 50% of nurses in the United States were educated first through ADN programs. The numbers are even higher for nurses educated in the '90s. The fact remains that community colleges are important in boosting nurses from minority backgrounds throughout the country. Programs have a considerably lower cost than their BSN counterparts do.
LPN to RN Programs in Illinois
An increasingly popular pathway to registered nursing is the LPN to RN program. This allows Licensed Practical Nurses (LPNs) to take a specialized curriculum designed to expand upon their prior knowledge and experience in order to become registered nurses. Enrolled students enjoy shorter program times than traditional RN pathways and are able to choose which type of RN degree they wish to obtain.
LPN to ADN/BSN Programs
The first option nurses have for the LPN to RN pathway is an LPN to Associate's Degree in Nursing (ADN). These LPN to ADN programs are the fastest route to an RN degree, often taking just a few months to complete. Lincoln Land Community College, for example, offers an LPN to ADN program to transition students into a rewarding RN career.
LPN to BSN programs also exist for those who are interested in the popular baccalaureate route, though they tend to require a few more semesters than the ADN pathway. Chicago's Saint Xavier University offers an LPN to BSN, combining classroom study and clinical practice to bridge the student's learning.
No matter the pathway, LPN to RN programs typically require the following for admission:
Graduate of an approved LPN program
Current, unencumbered Illinois LPN license
Completion of prerequisite courses with a minimum GPA
BSN Programs in Illinois
When students consider their options for post-secondary school, often they think of a BSN or Bachelor of Science in Nursing degree when they consider nursing. Universities are found in larger centers and offer frameworks that are more theoretical for students who are interested in more than the practice of nursing. When their degree has been earned, however, BSN graduates must sit the same NCLEX licensure exam as their ADN counterparts – it's only this license that determines eligibility for nursing.
What To Look For in a BSN Program in Illinois
BSN grads and faculty strive to provide effective and evidence-based ethics in practice to their patients. More than a degree, nursing is a worldview and full-time practice. Nurses at all levels practice integrity and evidence-based care as part of a team. Graduates look forward to sharing new ideas with doctors, colleagues, and patients.
Since 1971, the University of Chicago's nursing program has continued to grow and expand. Faculty in the department provide experiences that meet the needs of student nurses to empower them and promote competence in all areas of their practice and professional development.
BSN Program Length in Illinois
Bachelors in nursing programs differ from their ADN counterparts in a couple of key ways, and one of them is the length. Generally, a BSN program requires that students attend and pass about 120 credit hours to be eligible for graduation and thus licensure. Generally divided into approximately 15 credit hours per semester, students take an average of four years to complete their degree.
BSN Program Admission Requirements in Illinois
BSN programs have unique admissions criteria that vary between institutions. Here's a selection of the most common requirements that you may see for your nursing program of choice:
Cumulative GPA of 3.0 or higher
Pre-requisite courses are complete with competitive marks
Personal essay
Up-to-date vaccination history
Complete a background and health inquiry screening
Tuition and Costs of BSN Programs in Illinois
With the nursing industry demands forecast to increase until 2020, students can safely gamble that the cost of a university degree in nursing, as well as their diligence, aptitude, and licensure, will pay off by landing them a job shortly after graduation. However, that doesn't mean that there's unlimited money to spend. Part of transitioning to adulthood and professionalism is carefully evaluating the costs of a major investment like a university. Luckily, all universities make this information publicly available. For example, Robert Morris University's BSN program in Moon, Illinois has a per-credit-hour cost of $990 not including room/board or additional fees.
Advantages of BSN Programs
Students who choose a BSN have ample time and the right technical environment to use reasoning and clinical judgment to improve patient outcomes. BSN graduates are well regarded in their demonstration of leadership through nursing activities. BSN grads are ideally positioned to grow in their career track or to undergo additional schooling toward an MSN degree.
MSN Programs in Illinois
Beyond the BSN, graduate degree programs can help nurses become leaders in their workplace or in a new role entirely. It's only at the Master of Science in Nursing (MSN) level that nurses can become Nurse-Midwives, advanced clinical nurses, or continue even further to a doctorate of nursing. Nurses who choose to begin their graduate course of study can choose from online, on-campus, and either full- or part-time options.
MSN Program Length in Illinois
With a focus on leadership and specialized practice, MSN programs in Illinois are offered on- and off-campus. The average program length is about 2 years of full-time study, and program admissions are very competitive. The high amount of clinical hours, as well as the low student-faculty ratio, ensures that clinical experiences are diverse and valuable.
MSN Admission Requirements in Illinois
MSN programs are often small and require competitive experience and undergraduate grades in order to enter the program. There are five or so programs throughout the state, and many more online offerings. Criteria for admissions often look like this:
Undergraduate degree from an accredited institution within the region
A current Illinois RN license in good standing
2-4 professional reference letters
Transcripts that reflect a GPA that exceeds the minimum cut off of 'C'
Official transcripts from each post-secondary and CE studies
Attend an interview with faculty
Tuition and Costs of MSN Programs in Illinois
MSN programs throughout the state can vary widely in their cost. One such example is that of Millikin University where tuition for the MSN – Master's Entry to Nursing Practice is about $890 per credit hour. The full-time program requires 83 total credit hours to complete the degree.
For NP programs visit:
Getting an Illinois Nursing License
State of Illinois nursing licensure requirements either by examination or endorsement must provide the following documentation:
Application must include the following sections to be completed, as well as supporting documentation:
Category Information
Identity Information
Nurse education and employment information
Record of Examination (if applicable)
Personal history
Child support/student loan information
Certifying statement
Criminal background check
ED-NUR form - completed by institution and sent to the board
Licensure by endorsement must include the same application form with completed sections, as well as the this additional information:
Record of licensure information
Record of Examination
CT-NUR form - certification of licensure by licensing state
Accelerated Nursing Programs in Illinois
Illinois nurses, prospective or existing, are looking at accelerated and bridging programs to obtain their degrees faster. You can fast track your career by taking one of these programs for as little as 10 to 18 months. The courses are intensive and require full-time commitments to fulfill program and clinical requirements. When looking into these programs, at one on the 11 or so offered over the state, you should take note of the requirements for entry. There are some programs that will require candidates to take specific course before the program start date. Tuition costs are subsequent to change, as any additional cost, such as prerequisite course, housing, etc., can all increase the overall costs.
Latest Illinois NCLEX-RN Pass Rates and Statistics
Total Number of State Approved Schools: 80
Total Number of Test Takers in 2021: 6,717
2021 Average Statewide Illinois NCLEX-RN Pass Rate: 83.3%
Continued List of All RN Programs in Illinois
Here is a continued list of all RN Programs a continued list of all RN Programs a continued list of all RN Programs a continued list of all RN Programs a continued list of all RN Programs a continued list of all RN Programs.
Are we missing your school's program or need to update information listed? Please contact us so we can make the necessary changes.