NICU Nurse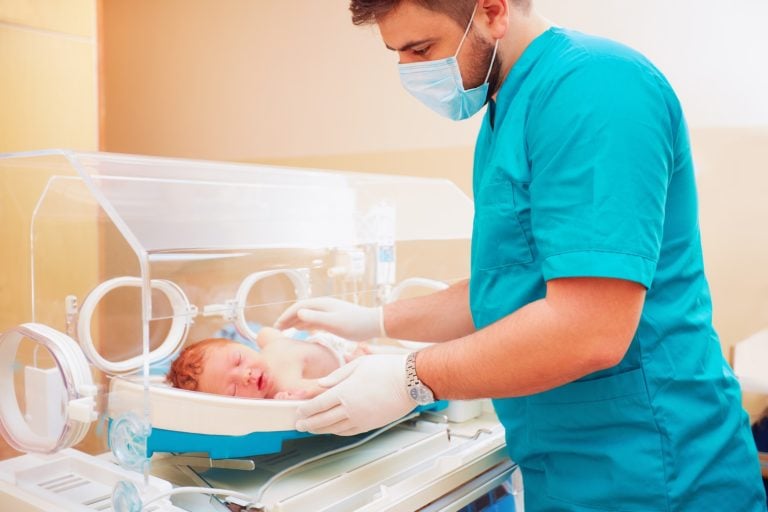 What Is a NICU Nurse?
Neonatal Intensive Care Unit (NICU) nursing is a field sub-specialty where nurses work with newborn infants who have a variety of medical ailments, such as premature congenital disabilities, cardiac malformations, dangerous infections, and other morphological or functional problems. Medical literature defines the first month of life as the neonatal period. NICU nursing typically encompasses care for infants with complications proximately after birth; however, that isn't to say that it excludes care for infants experiencing chronic long-term problems following their birth. NICU nurses will typically care for infants from the time of their birth until they're discharged from the hospital.
Becoming a NICU Nurse
What Are the Educational Requirements for a Neonatal Intensive Care Nurse?
To become a neonatal intensive care nurse, you first must be a registered nurse (RN) with either an Associate's Degree in Nursing (ADN) or a Bachelor's of Science in Nursing (BSN). Hospitals hiring for neonatal intensive care appointments will give priority to RNs who have obtained their BSN over those with only an ADN. Although certification is not always required for RNs to work in NICU settings, many NICU nurses must meet the requirement of having a minimum number of years of clinical experience in institutional contexts.
Are Any Certifications or Credentials Needed?
After obtaining an ADN or BSN, individuals are then eligible to sit for the National Council Licensure Exam (NCLEX-RN). Upon taking and passing the NCLEX-RN examination, individuals are subsequently able to apply for their registered nursing license.
The National Certification Corporation (NCC) requires the following credentials for individuals to be eligible to take the RNC-NIC examination specific to neonatal intensive care nursing:
Must currently be a registered nurse in the U.S. or Canada
Must have been employed in a neonatal-related field during the last two years
Must have at least one of the following: at least 2,000 hours of neonatal specialty experience in direct patient care, administration, education, or research. Or, at a minimum, two years of experience working directly with severely afflicted infants as a registered nurse
Read more for further clarification on neonatal nurse certifications.
NICU Nurse FAQs
A day in the life of a NICU nurse is unpredictable, and can be both overwhelming and rewarding. At the start of the shift, you walk through secure doors to a locked unit. You're required to first stop at the sink area to scrub your hands and arms from fingertips to elbows for a full minute with antiseptic, antimicrobial soap as if you are about to perform surgery. 
Most NICU assignments consist of one to three patients, depending on the acuity of the baby. You may have three "feeder growers" or one very ill baby on life support. Some days, you may find you are the admission nurse and start your day attending a very premature delivery. 
The NICU has a strict schedule for feedings and checking vital signs while minimizing the number of disruptions. NICU days are typically divided into three or four-hour periods, depending on "hands-on" care for the baby. Babies that are eating by mouth usually eat every three to four hours, whereas sicker babies or very premature infants receive less hands-on care to reduce overstimulation. All babies are continuously monitored in the NICU, and each baby is placed on a cardiorespiratory monitor to measure their heart rate and respiration. Other babies may require constant pulse ox monitoring, invasive blood pressure monitoring, and temperature or CO2 readings. 
Since more focused care is needed for acutely ill newborns, NICU nurses typically have a lower nurse-to-patient ratio than floor nurses. The number of babies a NICU nurse is responsible for can vary depending on state regulations as well as the facility. For example, mandatory nurse-to-patient ratio laws determine the maximum number of patients a nurse may care for at a given time. In California, for example, nurses in the neonatal care unit may only care for a maximum of two babies.
However, some facilities implement their staffing ratios based on acuity systems. NICUs classify patient acuity by "levels" usually 1-4. For example, neonates with more care needs (level 3 or 4) may be the only patient assigned to a NICU nurse. Intubated or post-op babies may even have two nurses assigned, depending on the case. Babies with less acute needs (i.e. "feeders and growers") may be one of two or three patients per nurse.
Being that intensive care requires more attention and bedside care, nurses should be aware of their state's ratio laws as well as their facility's ratio standards. Asking for help and speaking up for unsafe assignments is essential in an intensive care area, especially with vulnerable newborns.
It takes a special type of person to face the day-to-day challenges of working in a NICU. One of the most significant challenges, especially in the higher-level NICUs, is caring for babies who are struggling to survive. Sometimes, even when the most cutting-edge technology is employed, babies may not survive. Nurses and NPs establish a relationship with not only the baby but the parents and family. When a baby dies, the grief and loss felt by nurses can be significant. Nurses must be able to provide comfort to families and seek comfort from their support systems as well.
Caring for critically-ill infants is also emotionally draining. The challenge of caregiver stress and burnout is also significant. Nurses may feel depressed, anxious, or irritable at home. Being able to identify caregiver burnout and finding healthy outlets for stress is crucial for the mental well-being of NICU nurses.
Alarm fatigue is another challenge. Nurses and NPs work long hours. NICUs have multiple alarms sounding to guide caregiver interventions. While the alarms are set up to keep patients safe, sometimes alarm fatigue places patients at risk. Over time, caregivers can become desensitized to sounding alarms, risking them to be overlooked, ignored, or missed. Many times, repetitive alarms lose the urgency to caregivers who hear them for hours at a time. Luckily, many facilities employ strategies to reduce alarm fatigue among caregivers.
Where Do NICU Nurses Work?
NICU nurses will find employment in both privately owned as well as public hospitals. Once in a while, although infrequently, NICU nurses can be found working in home-health service settings or even as a part of medical emergency teams. Here is a list of the most common locations you will find NICU nurses:
Hospitals
Neonatal Intensive Care Units
Community Health Organizations
Medical Evacuation and Transport Services
Home Health Services
What Does a NICU Nurse Do?
Neonatal intensive care nurses typically take on the following duties:
Provide comfort, support, and care to newborn infants who may have serious health conditions
Communicate and cooperate with other healthcare professionals as part of a larger NICU team
Administer treatments and medication that have been prescribed by physicians
Educate the mothers and other family members of patients about infant care
Use cutting-edge equipment and technological machines and devices
What Are the Roles and Duties of NICU Nurses?
The following describes the distinct levels of neonatal care and the kind of work involved at each level:
Level I NICUs (Basic Newborn Care): RNs specialize in providing postnatal care for healthy newborn infants. In these facilities, RNs help to maintain the stability of newborn infants at 35 to 37 weeks' gestation who are physiologically sound. They help to stabilize infants who are born at less than 35 weeks' gestation and/or sick until they can be transferred to a healthcare facility that can provide an acceptable level of neonatal care.
Level II NICUs (Advanced Neonatal Care): RNs working at this level care for less critically ill newborns who may require breathing and feeding support, or special medication. Level II NICU units are found in smaller healthcare facilities called special care nurseries.
Level III NICUs (Sub-specialty Newborn Care): RNs working at these NICUs care for infants that have been born at less than 32 weeks' gestation and newborns suffering from severe afflictions at any gestational age. Typically, level III NICUs offer patients access to a complete spectrum of pediatric sub-specialties, respiratory support systems, and advanced imaging technologies.
Level IV NICUs (Regional NICU; Highest Level of Neonatal Care): These facilities provide the care for infants who are born as young as 22 to 24 weeks' gestational age. Level IV NICUs provide mechanical ventilation, including high-frequency ventilation, and a wide range of advanced surgeries including "open-heart" surgeries needed to correct congenital heart defects. Some level IV NICU facilities provide ECMO or extracorporeal membrane oxygenation.
NICU Nurse Salary & Employment
According to Payscale, RNs that work in the Neonatal Intensive Care Unit (NICU) make an average annual salary of $60,375, while Neonatal Nurse Practitioners make an average annual salary of $93,122. Individuals should be aware that salaries of NICU nurses and nurse practitioners can vary extensively depending on a wide variety of factors.
The demand for RNs is robust. The Bureau of Labor Statistics cites that RNs holding at least a Bachelor's of Science in Nursing (BSN) are more inclined to have better job prospects than those with an Associate's Degree in Nursing (ADN). Between 2012-2022, job growth for RNs in general is expected to grow by 19%.
Helpful Organizations, Societies, and Agencies