Travel Nurse
Last Updated/Verified: Aug 31, 2020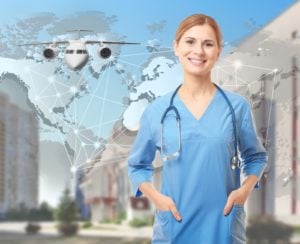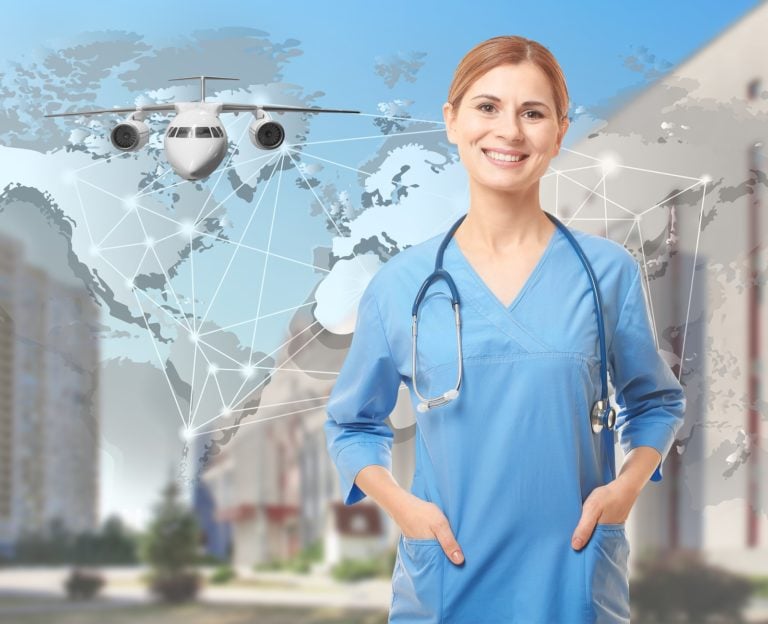 What Is a Travel Nurse?
Travel nurses are RNs from various clinical backgrounds who work for independent staffing agencies. They are assigned to different care areas on a temporary basis to fill in short-term employment gaps.
Travel nursing is a specialty that took root when the field of nursing faced a nationwide shortage. Hospitals, clinics, and other care areas had unfilled positions, yet had patients needing care. To try and attract nurses to the open positions, employers offered higher pay, housing, and covered the cost of relocating.
Due to these shortages, health care facilities have vacancies that need to be filled—and travel nurses are often the ones to fill open positions. Not only do travel nurses work in health care in any state in the country, but they also work outside of the United States as international travel nurses. The adventure and excitement of new opportunities, along with higher-than-average pay, are facets of travel nursing that many RNs find attractive.
Why Are Travel Nurses Important?
Travel nurses are an important part of the health care team because they help bridge the gap between supply and demand in the field of nursing. Mandatory nurse-patient ratios have led to increased patient safety and lower patient mortality. While this is a positive finding, and more and more states are passing legislation to implement staffing ratios, there are not enough nurses to fill the openings. Travel nurses assigned those open positions help to increase patient safety and improve patient outcomes.
Additionally, nurses from different educational backgrounds, care areas, and geographic location brings a great deal to the practice of nursing. Sharing ideas and practices not only benefits patients, but also other nurses.
How to Become a Travel Nurse
A travel nurse should have the following characteristics to excel in the role:
Enjoys experiencing new cities, towns, and organizations
Enjoys freedom. Travel nurses choose when and where they work, and choose their duration of employment
Enjoys flexibility. Travel nurses create their schedules, benefits packages, and income based on which agency they choose to work
Thrives on challenges. Moving to different states or overseas and being "the new nurse" repeatedly is challenging. Learning new organizational systems and workflows are particularly challenging
Loves learning new things. Each assignment takes travel nurses to new health care facilities, some with higher levels of technology or different standards of practice. Each experience helps nurses build upon their knowledge base
Additionally, travel nurses should have supportive families and friends. It's difficult to either pack up and move an entire family or leave your family and friends behind. The flip side to this is that new relationships are formed in each new location.
What Are the Educational Requirements for Travel Nurses?
Those interested in the specialty of travel nursing should first pursue a nursing degree through a two or four-year university. Obtaining an associate's degree (ADN) or bachelor's degree (BSN) in nursing is required. A BSN is not required to be a travel nurse, but some health care facilities only hire BSN-prepared nurses. The staffing agency in which the nurse is employed should match the nurse appropriately based on educational requirements.
After completion of an accredited nursing program, successful completion of the NCLEX-RN is required for licensure.
Most travel nurse agencies require a minimum of one year of hands-on experience in the chosen specialty of nursing. Additionally, some agencies will only hire BSN-prepared RNs. International travel nurses should speak the language of the country they are to practice in, as communication is an important part of effective healthcare delivery. Nurses are encouraged to research agencies when considering travel nursing.
Are Any Certifications or Credentials Needed?
No additional exams are required for travel nursing. Based on the specialty, certification(s) may be required. Examples include:
Medical/Surgical nursing

Basic Life Support (BLS)
Advanced Cardiac Life Support (ACLS) may be required
Stroke care certification
Telemetry certification

Intensive Care (ICU) nursing

Basic Life Support (BLS)
Advanced Cardiac Life Support (ACLS)
Pediatric Advanced Life Support (PALS)
Critical care nursing (adults, pediatric, neonatal)

Women's Health/Labor and Delivery nursing

Basic Life Support (BLS)
Advanced Cardiac Life Support (ACLS) may be required
Pediatric Advanced Life Support (PALS) may be required
Neonatal Resuscitation Program (NRP) certification

Emergency Room nursing

Basic Life Support (BLS)
Advanced Cardiac Life Support (ACLS)
Pediatric Advanced Life Support (PALS)
Neonatal Resuscitation Program (NRP)
Trauma Nurse Core Course (TNCC) certification
Additional specific requirements may be necessary for international travel nurses. These include:
Acquiring a passport and work visa (usually handled by the agency)
Additional immunizations
Learning a new language
Learning about diseases unique to the area
Travel Nurse FAQs
What Does a Domestic or International Travel Nurse Do?
Travel nurses have a broad range of responsibilities and duties, and specific tasks depend on the specialty in which the nurse is trained. General nursing responsibilities and duties include:
Using the nursing process of assessing, diagnosing, planning, implementing, and evaluating to care for patients in a variety of healthcare settings
Administering medications, fluids, assisting with activities of daily living and patient mobility
Reviewing and interpreting diagnostic tests such as lab work and imaging
Provide monitoring and oversight in all aspects of patient care
Collaborating with physicians in developing a plan of care
Assessing the psychosocial needs of patients and families
Recognizing and intervening in clinically unstable patients
Providing resources for patients and refer as necessary
Educating patients and families in all areas of healthcare maintenance and prevention
Working in assignments anywhere from eight to thirteen weeks (on average) in the U.S., one to two years if outside the U.S.
Learning various patient care systems/documentation
Providing immediate medical care and aid for large populations during times of war or disaster
Domestic and international travel nurses also have different characteristics specific to their role.
Domestic Travel Nurses
Work within the U.S.
Typically work assignments that range from eight to thirteen weeks
Can respond to areas of the U.S that experience natural disaster or disease outbreak
International Travel Nurses
International travel nurses should have excellent communication skills, should be open to new experiences and challenges, and should have a strong desire to learn. These nurses are responsible for performing a wide array of duties. As stated previously, the tasks an international nurse will have to perform depend entirely upon their medical specialty. Some of the more general or everyday tasks that international travel nurses will perform include administering medication, wound care, and providing emergency medical services and care. Since there are often nursing shortages in many of the regions that international nurses travel to, another general role of these nurses is to educate family members and caretakers about the appropriate patient and medical care. In summary, international travel nurses:
Work outside the U.S.
Typically work assignments that range from one to two years
Respond to areas that experience natural disaster or disease outbreak, such as the Ebola outbreak in West Africa
Provide medical care and aid to underserved, rural, and remote populations
Usually, must wait for document processing before traveling
Travel Nurse Working Conditions
As with any career, there are positive and negative aspects to working as a travel nurse. Nurses can suffer from stress as they may carry a heavy patient load and have many critical decisions to make. Additionally, travel nurses may suffer from feelings of isolation since they tend to relocate often. Having a strong sense of independence and a support system available, even remotely, can help.
Additionally, nurses may work in high-risk areas that may expose them to workplace violence, blood borne pathogens, and chemicals. Travel nurses must always familiarize themselves and adhere to safety standards set by the organization.
International travel nurses can face different challenges. Travel nurses must be familiar with the country's laws, geographic-specific diseases, and always keep their overall safety as a priority.
Despite these considerations, travel nursing can be immensely rewarding. Many organizations and staff nurses appreciate the help travel nurses offer. Travel nurses help relieve staff nurses from burnout, as can happen when working short-staffed.
International travel nurses are also highly appreciated. They provide medical care and assistance to many patients in remote settings who otherwise would have no access to healthcare. They help with relief efforts in war zones or after disaster events, which can be both rewarding and enriching.
Travel Nurse Salary and Employment
According to the American Nurses Association, as of 2015 fourteen states had mandatory nurse-patient ratios. Nurses are pushing for federal legislation supporting safe staffing and because of this, and if more states pass safe-staffing laws, nurses will be in even more demand. Travel nurses will help mend the current and projected nursing shortage. The Bureau of Labor Statistics projects a 16% overall growth for nurses until 2024, which is a much faster-than-average growth for all occupations.
RELATED: RN License Transfer and eNLC Guide
Travel nursing has many incentives for nurses regarding pay and benefits including:
Travel reimbursement
Free housing
Bonuses
Medical, dental, and vision coverage
Retirement plans
Assistance in obtaining passports/work visas
Choice of location
Selection of hours/shifts worked
Competitive pay
Higher-than-average pay for RNs
According to Indeed, the average yearly salary for a travel nurse is $75,109. However, since pay is competitive in travel nursing, some companies are offering salaries of around $100,00 annually for domestic travel nurses.
International travel nurses tend to have lower salaries than domestic, except for assignments in some middle eastern countries. This is because, for the most part, nurses tend to make less outside of the U.S.
Salary is dependent on the agency, and nurses should research each company to find the right salary and benefits that best fit their needs.
Helpful Organizations, Societies, & Agencies