Best Pediatric Nurse Practitioner (PNP) Programs – 2023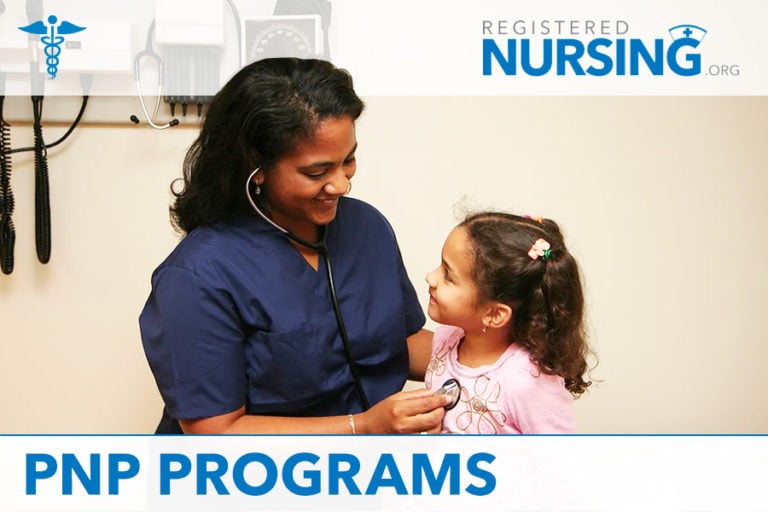 The highly revered and rewarding pediatric nurse practitioner role is a popular choice for nurses who want to make a difference in the health of children. This advanced nursing career can be achieved through a master's or doctoral level pediatric nurse practitioner program, and most allow students to choose between primary or acute pediatric care. With online and campus-based options available, RNs wanting to enter a higher level of nursing practice will find that it is well within reach.
2023 - Best Pediatric Nurse Practitioner Programs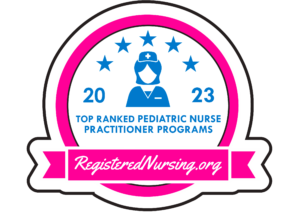 The field of pediatrics is a particularly rewarding one for advanced practice RNs. Building lasting relationships with children who are ill or injured is just one of the aspects of the role that Pediatric Nurse Practitioners get to enjoy. Choosing the right Pediatric NP program is of great importance, and our rankings of the top online/hybrid Pediatric Nurse Practitioner programs help students find their perfect fit.
For more information on our top nursing school rankings, visit our Methodology Page (https://www.registerednursing.org/rankings-methodology/)
Choosing a Pediatric Nurse Practitioner Program
With many pediatric nurse practitioner programs available, finding the right one can be challenging. Prospective students should keep the following in mind:
Accreditation
Any decent, reputable pediatric nurse practitioner program will be accredited by the Commission on Collegiate Nursing Education (CCNE) and/or the Accreditation Commission for Education in Nursing (ACEN). Local and regional accreditations may also be available. Accreditations help programs demonstrate that they are up to par with their academics.
Program Cost
Schools typically list tuition for pediatric nurse practitioner programs by credit. Master's and doctoral programs in the field typically charge anywhere from $485 to over $1,000 per credit hour, depending on location, school, and degree level is chosen. Doctoral programs tend to be on the more expensive end and require more credits to complete. Tuition costs typically do not include additional expenses such as program fees, course materials, and other items.
Program Length
MSN-level pediatric nurse practitioner programs are the shortest option, requiring roughly 50 credit hours and taking anywhere from 15 months to 3 years to complete, depending on the full-time or part-time study. Doctorate programs require around 80 credit hours and take approximately 3-4 years to complete. Both degree levels also require a minimum number of clinical hours in order to graduate.
Internship/Externship Opportunities
Many schools have pre-approved clinical preceptor sites for students at both the masters and doctoral levels to complete their hands-on education. Students can inquire about these relationships when they apply for the program, and can also find out about the process for performing clinical hours at a facility of their choosing.
Online/Campus Options
With pediatric nurse practitioner programs growing in popularity, many schools offer both online and campus-based options to accommodate busy students. Some schools even offer a "hybrid" program, allowing students to take many courses online but also offering classroom-based lectures and labs.
PNP Degree Levels Offered
There are two pathways students can choose from in order to become a pediatric nurse practitioner: the Master's of Science in Nursing (MSN) or the Doctor of Nursing Practice (DNP). While both programs give students the fundamentals of advanced practice in pediatrics, there are some differences between the two. Students should consider which program fits their needs before they start their applications.
Pediatric NP MSN Programs
MSN-level pediatric nurse practitioner programs typically offer students the option to specialize in acute or primary care. The curriculum mixes core advanced courses with specialty courses and may include classes such as Introduction to Pediatric Acute Care, Advanced Nursing Assessment, and Pharmacology for Advanced Practice Nurses. The University of South Alabama, for example, offers an MSN in both Pediatric Acute Care Nurse Practitioner and Pediatric Primary Care Nurse practitioner specialties.
RN to MSN Programs
Another route to becoming a pediatric nurse practitioner for nurses who have not yet completed their bachelor's degree in nursing is an RN to MSN program that is specially designed for registered nurses who have an associate's degree in nursing or a non-nursing bachelor's degree. These RN to NP programs allow nurses to complete both the BSN and MSN degrees in less time than two separate programs. Some programs, like the one at Regis College, allow nurses to specialize their studies in pediatric nursing by taking advanced practice nursing courses on health management and promotion of patients ages newborn to 21.
Pediatric NP DNP Programs
The doctoral pediatric nurse practitioner program offers more coursework than the MSN level degree, with classes focused on management and leadership. This pathway is suited to those who want to enter the highest levels of pediatric nursing practice. The curriculum includes classes such as Management of Complex and Chronic Problems in Pediatric Care, Biostatistics, and Well Child Advanced Practicum. Arizona State University is an example of a school that offers a DNP Pediatric Nurse Practitioner program.
BSN to DNP Programs
For nurses with their BSN who want to advance their careers to the doctoral level of pediatric nursing, many schools offer an alternative path: the BSN to DNP program. These specialized bridge programs allow nurses to earn their master's degree in nursing and doctoral degree in nursing simultaneously, in less time than two separate programs. Upon graduation from a BSN to DNP program, nurses will be prepared for leadership roles and advanced practice careers in their chosen field of nursing. For nurses who are interested in becoming pediatric nurse practitioners, schools like Maryville University offer BSN to DNP programs with concentrated studies in pediatric nursing.
See our list of post master's PNP graduate certificate programs.
Online Pediatric Nurse Practitioner Programs
Due to today's increasingly busy lifestyles, online learning programs have begun cropping up for many specialties, pediatric nurse practitioner programs included. Online programs allow students who may find it troublesome to attend classroom courses the chance to complete their graduate degrees from the comfort of their own homes. Students should thoroughly research online programs, as some do have a minimal amount of on-campus requirements.
Advantages of an Online Program
Many students find the flexibility and convenience of an online pediatric nurse practitioner program invaluable. Those enrolled in online courses are generally able to complete courses when and where they choose, making it ideal for those who work or have family obligations. Online programs are also perfect for students in rural areas with no convenient in-person option nearby. There are also monetary advantages to online programs, as students save on commuting, gas, and parking fees that campus-based programs often require.
Program Accreditation
Online pediatric nurse practitioner programs should be properly accredited. Like campus-based programs, ACEN or CCNE accreditation is recommended. Looking for proper, nationally recognized accreditations is an especially important way for students to check the validity of online options.
Costs and Length
Online pediatric nurse practitioner programs will require the same amount of credits as campus-based schools do, but the total length of these programs may fluctuate more as students tend to have more flexibility in coursework completion. Tuition costs for online MSN and DNP pediatric nurse practitioner programs fall in the $500 to $1,000 per credit range, but students don't have to worry about transportation or relocation costs with distance-based learning. Maryville University, for example, offers online MSN and DNP Pediatric Nurse Practitioner program pathways.
What Are the Admissions and Certification Requirements?
Admissions requirements for most pediatric nurse practitioner programs include:
BSN or higher
Scholastic GPA of at least 3.0 from an accredited college or university
The written expression of goals
Letters of recommendation
Current resume/CV
Current active RN license
There are pediatric nurse practitioner certification pathways through the Pediatric Nursing Certification Board (which offers the Certified Pediatric Nurse Practitioner credential, or CPNP-PC) and the American Nurses Credentialing Center (which has offered the Pediatric Primary Care Nurse Practitioner-Board Certified, or PPCNP-BC credential, in the past – but now is available for renewal only). Eligibility requirements for each include:
Must hold a current, U.S. RN license
Graduate of an accredited pediatric nurse practitioner program (MSN or DNP)
Pediatric NP FAQs
Caring for children with cancer is extremely delicate. Parents and families are usually understandably in shock after a diagnosis is made. Pediatric oncology NPs can assist families in managing the diagnosis by offering resources such as support groups, social work referrals, financial planning, and even arrange care with a psychiatrist as needed. Stress, anxiety, and grief are common in families of children with cancer, so a pediatric oncology NP needs to be able to utilize the available resources to support a patient's medical as well as psychosocial needs.
While pediatric oncology can be an emotional challenge for NPs, it is also extremely rewarding. The NP can help support families on their journey by acting as a lifeline. Having a "constant" in the chaos of cancer treatment is extremely necessary for parents. Moreover, assisting patients and families during the grief of a terminal diagnosis as well as during the joy of remission is invaluable.
Pediatrics is a specialized population.  There are differences in anatomy, disease processes, and treatments that are not the same as in the care of adults. Therefore, prior experience is critical to becoming a pediatric nurse practitioner.
When nurses enroll in an advanced degree nurse practitioner program, they must choose a specialty track to focus on. It could be adult-gerontology, pediatrics, acute care, or family medicine. Some programs require a year or two of previous staff nurse experience in pediatrics before enrollment, while others allow for concurrent experience. Students are encouraged to check the school website to determine specific admission criteria.
Staff nurses who have no pediatrics experience and who wish to become pediatric nurse practitioners should consider cross-training to pediatrics. The more experience attained, the smoother the transition to a pediatric nurse practitioner in the future.
Pediatric nurses differ from pediatric nurse practitioners in many ways. Pediatric nurses perform essential nursing functions to care for pediatric patients. This includes physical assessment, developing a nursing care plan, implementing nursing care and treatment, and evaluating response. They administer medications and vaccines as well as other procedures in the hospital or ambulatory care setting.
Pediatric nurse practitioners are advanced-practice nurses. This means they have earned a bachelor's degree and moved on to a master's or doctoral degree nurse practitioner program. Pediatric nurse practitioners have also completed a pediatric NP "track" within their advanced-degree program, which prepares them to care for the pediatric population. Additionally, they must obtain pediatric nurse certifications.
Pediatric nurse practitioners can perform the same functions as a pediatric nurse, but they mainly are responsible for the overall management of care of pediatric patients. They conduct physical exams, take a history, diagnose, and can prescribe medications. They can also act as a patient's primary care provider.
Both pediatric staff nurses and pediatric NPs are highly specialized. Children are not just "small adults." They have anatomical differences and specific disease processes that require specially trained nurses and NPs to care for them.
List of Pediatric Nurse Practitioner Programs
Pediatric nurse programs can be found throughout the country, including the following schools listed below.
Jump to Your State Listings
Alabama
Arizona
California
Colorado
Connecticut
Florida
Georgia
Illinois
Indiana
Iowa
Kentucky
Louisiana
Maryland
Massachusetts
Michigan
Minnesota
Mississippi
Missouri
Nebraska
New Jersey
New Mexico
New York
North Carolina
Ohio
Oregon
Pennsylvania
Tennessee
Texas
Virginia
Washington
West Virginia
Wisconsin
Are we missing your school's program or need to update information listed? Please contact us so we can make the necessary changes.