Best Family Nurse Practitioner (FNP) Programs – 2023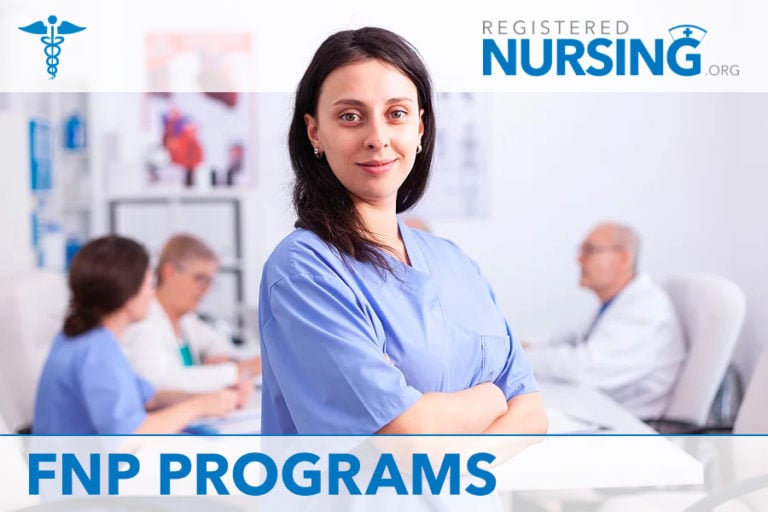 A popular advanced practice nursing career choice, the family nurse practitioner (FNP) is a valuable member of the healthcare team. As they are the lifelong medical point of contact for many families, FNPs enjoy lasting relationships with many of their patients. Luckily, there are many family nurse practitioner programs throughout the country to prepare nurses for this rewarding career.
2023 - Best Online FNP Programs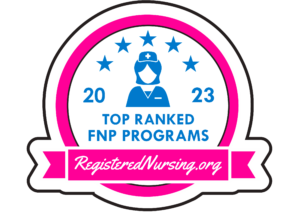 For nurses who wish to promote and advance family health initiatives, earning an advanced degree as a Family Nurse Practitioner is a rewarding and fulfilling career choice. Students have many choices when considering FNP programs, including the increasingly popular online/hybrid pathways. Still, deciding on the right online FNP program can be daunting. That's why we have ranked the top online FNP programs to help students make the decision that helps them meet their professional goals. Check out the full rankings below, and find the right FNP program today!
Check out our methodology page for more information on our FNP rankings process.
Choosing an FNP Program
In order to choose a great family nurse practitioner program, prospective students should consider the following:
Accreditation
The Commission on Collegiate Nursing Education (CCNE) and the Accreditation Commission for Education in Nursing (ACEN) are two nationally recognized accrediting bodies that students can look for when researching FNP programs. Local and regional accreditations may also be available. These accreditations ensure that the program is held to high standards.
Program Cost
As most post-baccalaureate programs list their tuition cost by credit, family nurse practitioner programs can cost anywhere from $600 to well over $1,000 per credit hour, depending on the location and degree level chosen. Overall, doctoral FNP programs tend to be more expensive, as they require more credits. Keep in mind that tuition cost often doesn't cover additional expenses including mandatory fees, course materials, and more.
Program Length
For those interested in the Master's of Science in Nursing (MSN) route for their FNP education, approximately 48 credits are required. Part-time and full-time study options are typically available, and students can finish the program in 2-3 years. For Doctor of Nursing Practice pathways, roughly 68 credits are required, and students generally finish within 4 years of study. Both degree options also require that a certain number of clinical hours be completed.
Internship/Externship Opportunities
Due to the clinical rotation requirements of both FNP – MSN and DNP family nurse practitioner programs, many schools have relationships with local hospitals and medical centers where students can complete their hands-on training. Prospective students can ask for a list of facilities that have affiliations with their school of choice.
Online/Campus Options
With today's busy lifestyles, both online and campus-based FNP programs are usually options. Some schools even offer a "hybrid" program, allowing students to take many courses online but also offering classroom-based lectures and labs.
Family Nurse Practitioner (FNP) Degree Levels Offered
There are two ways a student can enter the FNP specialty: via an MSN or a DNP. Both programs offer excellent opportunities for nurses to advance, though the DNP program is a bit more in-depth. Students should consider which pathway is for them before applying to programs.
MSN – FNP Programs
The master's-level family nurse practitioner program is readily available in many schools. Students enrolled in the program will take a mix of general advanced nursing courses along with specialized classes, such as Advanced Practice Nursing in Family Practice Patients Synthesis, Advanced Practice Nursing Care in Older Adult Patients, and Advanced Practice Nursing: Pediatric Primary Care Essentials. As an example, Duke University offers an MSN Family Nurse Practitioner program that prepares nurses for clinical family practice.
RN to MSN Programs
For nurses who have completed their Associate's Degree in Nursing (ADN), RN to MSN programs provide an accelerated pathway to earning both the BSN and MSN degrees. RN to MSN bridge programs that offer a concentration in Family Nurse Practitioner careers prepare nurses for leadership roles providing primary care to families and individuals of all ages. As an example of an RN to MSN Family NP program, George Washington University offers an RN to NP program that includes both online and in-person coursework that can be completed in around three years.
FNP – DNP Programs
Doctoral programs are also available for the FNP specialty. These programs go beyond a master's-level program to prepare nurses for the highest roles as FNPs. With an emphasis on leadership, DNP family nurse practitioner programs offer classes such as Population Health for DNPs, Interprofessional Collaboration in Healthcare Teams, and Advanced Primary Care. The University of Arizona is an example of a school that offers a Family Nurse Practitioner DNP program.
RN to DNP Programs
For nurses who aspire to leadership positions in family nursing and have completed their Bachelor of Science in Nursing degree, specially-designed BSN to DNP programs may provide the perfect path forward. BSN to DNP programs provide an education in family medicine across the lifespan and prepare nurses for leadership positions as DNPs, often in less time than taking separate master's and doctorate nursing programs. One example of a BSN to DNP Family NP program is the one at Georgetown University, which is offered on a full-time or part-time basis.
Read about post master's FNP graduate certificate programs.
Online FNP Programs
Online FNP-MSN programs have gained traction in the last few years, as demand for distance learning has grown. Busy nurses who previously thought they didn't have time for higher education can now complete coursework from the comfort of their homes. Keep in mind, however, that some programs may require a few campus trips, and that clinical hours must be completed in person.
Advantages of an Online Program
For sheer convenience alone, online programs are wildly popular. Students with hectic schedules and family obligations can move through the coursework when and where they choose. For those who don't live near a college or university, online programs allow them the option to gain the education they need without having to relocate. Online programs also eliminate the cost of commuting for many students, thereby making them less expensive overall. Many students find the increased flexibility a big draw for distance-based FNP programs.
Program Accreditation
As with campus-based FNP programs, accreditation is extremely important for online programs. Students should look for ACEN or CCNE accredited programs when researching distance-based FNP programs.
Costs and Length
Online FNP programs will require the same amount of credits as their classroom-based counterparts will, although length is more variable with this option due to increased flexibility with courses. Those wanting to finish quickly, or who may need extra time, are encouraged to consider online FNP programs. Cost also rivals campus-based programs, though online students have the benefit of eliminating "on-campus" costs such as parking passes. Simmons College, for example, charges approximately $1,210 per credit hour for its online MSN Family Nurse Practitioner program.
What Are the Admissions and Certification Requirements?
Admissions requirements for most FNP programs include:
BSN or MSN from an accredited college or university
Current U.S. RN license
Current resume
One to two-page personal statement
Two or three letters of recommendation
Personal statement/essay
Undergraduate GPA of at least 3.0
FNP certification can be obtained via examination through the American Academy of Nurse Practitioners Certification Board, or through the American Nurses Credentialing Center. Eligibility requirements generally include:
Must hold a current, active RN license
Must hold a master's, post-graduate, or doctorate degree from an accredited FNP program
List of Family Nurse Practitioner (FNP) Programs
There are a variety of family nurse practitioner programs available, see a state-by-state list of all campus, hybrid, or online MSN-FNP or DNP-FNP programs.
Jump to Your State Listings
Alabama
Alaska
Arizona
Arkansas
California
Colorado
Connecticut
Delaware
Florida
Georgia
Hawaii
Idaho
Illinois
Indiana
Iowa
Kansas
Kentucky
Louisiana
Maine
Maryland
Massachusetts
Michigan
Minnesota
Mississippi
Missouri
Montana
Nebraska
Nevada
New Hampshire
New Jersey
New Mexico
New York
North Carolina
North Dakota
Ohio
Oklahoma
Oregon
Pennsylvania
Rhode Island
South Carolina
South Dakota
Tennessee
Texas
Utah
Vermont
Virginia
Washington
Washington, DC
West Virginia
Wisconsin
Wyoming
Are we missing your school's program or need to update information listed? Please contact us so we can make the necessary changes.