APRN Programs
Advanced Practice Registered Nurse (APRN) programs prepare students to gain greater independence in carrying out their day-to-day responsibilities. They include a blend of nursing theory, direct patient care, and clinical components related to their area of specialty. Nursing theory courses, such as nursing concepts, ethics, research, evidence-based practice, and statistics comprise most APRN programs, regardless of the specialty.
These foundational courses are followed by advanced practice courses, which tend to include physiology and pathophysiology, clinical pharmacological, and health assessments. Once these advanced foundational courses are completed, students move to their clinical-heavy specialties.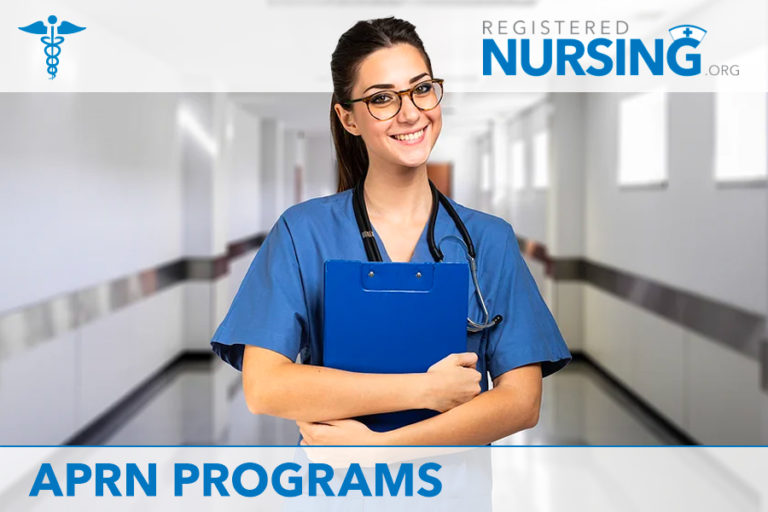 APRN Program Structure
APRN programs can be offered online, in-person, or a hybrid of the two. It's important to note that online programs require in-person clinicals and may require some in-person experiences due to the hands-on nature of this advanced degree.
Most programs are structured to be compatible with the working nurse's busy schedule. They tend to be arranged in a sequential manner with a straightforward, degree-completion plan. Picking and choosing courses is rare. They are routinely offered as intensives in which students take one class at a time. For example, one course might be 8 weeks in length followed by a test to show subject matter mastery. Breaks are limited to enable rapid course progression.
MSN Programs and Post-Master's Nursing Certificate Programs
When seeking APRN career advancement, nurses have a few different educational pathways available to them, including MSN APRN Programs and APRN Post-Master's Certificates. Both options enable nurses to specialize in an area or population of their choosing. Moreover, both allow nurses to become experts in their specialty often advancing into leadership positions that command higher salaries.
Overview of MSN Programs
MSN programs are typically divided into clinical (APRN) and non-clinical pathways.
APRN MSN programs prepare nurses to practice independently in a number of healthcare settings. They include core nursing courses that build upon bachelor's level learning, such as advanced physiology/pathophysiology and advanced health assessments. Such fundamentals, which make up the first 9-12 months of the program, are similar across all specialty areas. Some programs may add nursing leadership courses while others may add nursing ethics or research courses. These theory-based courses may be offered online for greater flexibility.
Once these advanced fundamentals are completed, the APRN MSN breaks out into one of four specialty areas:
Nurse Practitioner (NP)
Certified Registered Nurse Anesthetist (CRNA)
Clinical Nurse Specialist (CNS)
Certified Nurse-Midwife
Each specialty has its own curriculum and academic goals that must be achieved for the student to graduate and become certified. These specialty areas are comprised of mostly clinicals so most coursework must be completed in person. Depending on the program, students must complete as many as 500 clinical hours to earn the certification.
Overview of Clinical MSN Degree Options
Non-clinical MSN degree options include Nursing Leader/Administrator, Nurse Educator, Public Health Nursing, or Nursing Informatics. Such areas of study focus on nursing across the larger healthcare system rather than on providing individualized patient care. Because these programs are non-patient-facing and don't require clinicals, they can often be completed 100 percent online. Some can be completed in as few as 15 months.
Overview of Post-Master's Certificates
These certificates are designed for APRN nurses with a master's degree who want to gain certification in an area outside of their current specialization. Upon successful completion of the Post-Master's Cert, which includes completion of supervised clinical hours, students test for certification in their designated area.
In this way, a master's prepared APRN nurse who is a certified Family Nurse Practitioner can complete a Post-Master's Cert in the Nurse-Midwife specialty to add Certified Nurse-Midwife certification to their domain of competencies. With two advanced certifications in two different specialty areas, these APRNs have vast and diverse employment opportunities.
APRN MSN vs. Post-Master's Nursing Certificate
Moreover, completing a post-master's nursing certificate takes less time than completing a second APRN master's program. It typically takes less than 18 months, depending on previous coursework completed and the program. Post-Master's Cert programs tend to cost less as well because students commonly only have to complete the specialty coursework and clinicals rather than the foundational classes. The post-Master's APRN Certificate also takes less time to complete than a DNP program, which tends to take at least 2.5 to 3 years.