RN to NP Programs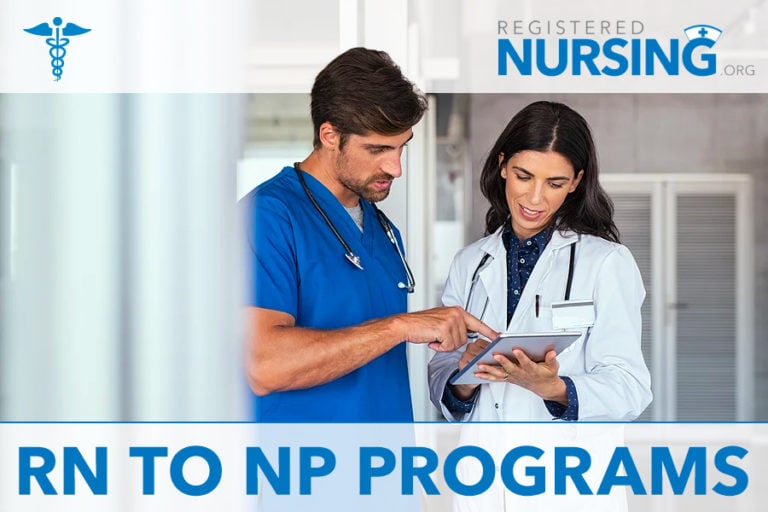 Registered nurses ready to move up the healthcare ladder are increasingly opting to go into advanced practice as a nurse practitioner (NP). Nurse practitioners are able to take on more responsibility than a regular RN, work autonomously, specialize in niche areas of medicine, and earn a substantially higher salary. The nurse practitioner role can be achieved by earning a Master's of Science in Nursing (MSN) or a Doctor of Nursing Practice (DNP) degree. With pathways for RNs who currently hold an ADN or a BSN, the dream of becoming an advanced practice nurse practitioner is within reach.
How Does an RN Become a Nurse Practitioner?
There are a number of ways for current registered nurses to become nurse practitioners. Many schools have programs designed specifically for ADN-educated RNs to become an NP, or pathways for a BSN to NP. If you are an RN who currently holds an ADN, you'll need to complete BSN coursework first, but many schools build this in to an accelerated ADN to MSN program in order for these RNs to earn their advanced degree more efficiently. RNs must also decide whether they want to earn an MSN, or the even more advanced DNP.
What Are the Education Requirements?
An RN has a few different options when considering an NP career, but the main thing to remember is that either an MSN – Nurse Practitioner or a DNP – Nurse Practitioner degree will need to be obtained. The following programs are offered specifically with the registered nurse in mind:
ADN to MSN – Nurse Practitioner
This program sometimes referred to as an RN-BSN to MSN, is for the ADN-educated RN who wants to become a nurse practitioner. The advantage of this type of program is that most of them allow the student to receive both a BSN and an MSN degree so that they don't have to take each program separately. Once the BSN portion of the program has been completed, some schools require students to declare which specialty niche they'd like to enter for the MSN – Nurse Practitioner section of the degree. Adult Gerontology Nurse Practitioner, Emergency Nurse Practitioner, Family Nurse Practitioner, and Neonatal Nurse Practitioner are just a few of the specialties available. Depending on whether the student opts for part-time or full-time study, this program can be completed in 2-4 years.
Vanderbilt University offers an ASN/ADN to MSN program where students can choose from the following NP specialties: Adult-Gerontology Acute Care NP, Adult-Gerontology Primary Care NP, Emergency NP, Neonatal NP, Family NP, Pediatric NP, Psychiatric Mental Health NP, and Women's Health NP.
BSN to MSN – Nurse Practitioner
For those who have already completed a BSN program, the BSN to MSN pathway to becoming a nurse practitioner is a popular option. This program typically requires between 50 and 55 credits to complete the graduate degree and can be completed in roughly 2 years (depending on part-time or full-time attendance). Much like the ADN to MSN program, students enrolled in a BSN to MSN program have their choice of nurse practitioner specialties.
The University of Missouri-Kansas City offers a BSN to MSN program with the following specializations: Adult Gerontology Nurse Practitioner, Family Nurse Practitioner, Pediatric Nurse Practitioner, Psychiatric Mental Health Nurse Practitioner, and Women's Health Nurse Practitioner.
BSN to DNP – Nurse Practitioner
The BSN to DNP program is designed for BSN-educated nurses to earn a Doctor of Nursing Practice (DNP) degree. This degree is more advanced than an MSN, as students will earn a doctorate. Like the MSN program, many NP specializations are available. The curriculum can range from 78-84 credits, depending on the focus of study, and takes roughly 3 years to complete.
The University of San Diego offers a BSN to DNP program with a choice of Family Nurse Practitioner, dual Pediatric/Family Nurse Practitioner, dual Adult-Gerontology/Family Nurse Practitioner, and Psychiatric-Mental Health Nurse Practitioner concentrations.
Are Any Credentials or Certifications Needed?
With many NP specializations available, individual credentialing for an RN's desired concentration is highly recommended, and in many cases required. Once an RN graduates with either an MSN or DNP in their specialty area, they will be eligible to take the credentialing exam in that field. The American Nurses Credentialing Center offers certifications for the following NP concentrations:
Interested in a traditional nurse practitioner program?
Is There Online RN to NP Programs?
With today's busy schedules, many RNs who would like to advance to a nurse practitioner role feel that they can't swing a full load of classes on campus. Enter the online RN to NP program. This option is perfectly suited to the time-crunched RN who may wish to continue working, has family or other commitments, or doesn't live close enough to a university to make going back to school feasible. With flexible online classes and access to staff and faculty, RNs can complete the RN to NP coursework on their own time. As a bonus, any clinical requirements can usually be arranged in the student's hometown.
Spotlight Online RN to NP Programs
Loyola University New Orleans
New Orleans, Louisiana
RNs can earn an MSN with a Family Nurse Practitioner (FNP) concentration online from Loyola University. Full-time students can expect to graduate in two years. At the conclusion of the program, graduates will have the opportunity to become certified as an FNP. Other features include:
48 credit hours, including 720 practicum clock hours, are required
The program is fully accredited
No BSN required (ADN and RN license are required)
https://www.loyno.edu/academics/colleges/loyola-online/master-science-nursing-online
George Washington University
Washington, D.C.
The GW School of Nursing offers an online RN to MSN in which an ADN-educated nurse will earn both a BSN and an MSN. Students can choose either the Adult-Gerontology Primary Care Nurse Practitioner concentration, or the Family Nurse Practitioner concentration. The program takes about 3-4 years to complete. Other features include:
Courses are online but some campus visits may be required depending on the specialization
Clinical hours are to be arranged with an approved preceptor
Online programs may be subject to state authorization requirements; check to see if your state qualifies
https://nursing.gwu.edu/online-rn-msn
University of South Alabama
Mobile, Alabama
The University of South Alabama offers both MSN and DNP online nurse practitioner pathways for RNs who hold either an ADN or a BSN degree. Students can specialize in NP areas such as Family Nurse Practitioner, Women's Health Nurse Practitioner, Pediatric Acute Care Nurse Practitioner, and more. Other features include:
Some clinical experience may be required to be accepted into certain programs
Classes are offered online; some on-campus visits may be required
Dual-role NP concentrations available (such as FNP/Adult-Gerontological Acute Care)
http://www.southalabama.edu/colleges/con/online.html
Medical University of South Carolina
Charleston, South Carolina
MUSC offers an online post-BSN to DNP program where students can choose between Adult-Gerontology NP, Pediatric NP, Family NP, or Psychiatric Mental Health NP concentrations. Full-time or part-time study options are available. Other features include:
No GRE scores required
Roughly 1,040 to 1,310 clinical hours are required for graduation
A practice improvement project will be completed during the last year of the program under the direction of faculty
https://academicdepartments.musc.edu/nursing/academics/DNP/post-bsn-dnp.htm
Program Requirements
No matter the degree level they hold, nurses who want to enter an RN to NP program must be a graduate of an accredited institution with either an ADN or BSN degree and hold an active RN license. Other requirements for acceptance into a program depend on the type of degree chosen. Common program requirements include:
Completion of certain prerequisite courses
Current resume
The minimum amount of professional nursing experience may be required
Transcripts of all colleges attended
Personal statement or essay
Multiple letters of recommendation
Minimum GPA (typically 3.0 or higher)
RN to NP Classes and Courses
Students enrolled in either an MSN or DNP-based NP program can expect to take a mix of advanced core nursing courses along with specialized courses in the concentration of their choice; for instance, an RN to FNP program may include courses on pediatrics and women's health. Once this coursework is completed, there are usually a minimum number of clinical hours required in which the student will gain supervised, hands-on experience.
The following courses are offered as part of the MSN – Nurse Practitioner program at Michigan State University:
NUR 802: Theoretical Foundations and Role Development for the Advanced Practice Nurse
NUR 806: Research for Practice Nurses
NUR 807: Clinical Decision Making
NUR 814: Health Care Policy and Politics
NUR 838: Care for Aging Individuals
The following courses are offered as part of the BSN to DNP – Psychiatric Mental Health Nurse Practitioner program at the University of Pittsburgh:
The Science of Health Care Delivery
Introduction to Genetics and Molecular Therapeutics
The Diagnostic Physical Exam Across the Lifespan
Neurobiology of Psychiatric Disorders
Psychopharmacology
Management of Chronic Health Problems of Psychiatric Patients
Tuition and Costs of RN to NP Programs
Whether pursuing a master's degree or a doctorate, online or in-person, students will need to cover the costs associated with an RN to NP program, including tuition, school/program fees, and course materials. These costs will fluctuate based on the school and type of NP degree chosen. Online students have the advantage of not needing to factor in the costs of commuting and parking. To provide an example on what to expect expense-wise, Frontier Nursing University quotes the following for their NP programs:
Tuition for MSN – Family Nurse Practitioner: $36,160
Tuition for ADN to MSN – Family Nurse Practitioner: $48,025
Tuition for Post-Master's DNP: $15,820
These estimates do not include extra mandatory expenses, including lab fees, technology fees, and more.
Job Outlook for Nurse Practitioners
With nurses in general in great demand, skilled advanced RNs such as nurse practitioners have favorable employment opportunities. The Bureau of Labor Statistics predicts a 31% growth in the profession between 2014 and 2024; much faster than other occupations. The aging population is increasing the need for quality healthcare, so NPs have a lot of job security. In addition to this, NPs can work in a variety of healthcare settings, including:
Physicians' offices
Hospitals
Outpatient care centers
Colleges/universities
Specialty hospitals
Consulting services
Potential NP Careers
Nurse practitioners have the education and experience needed to be eligible for a wide variety of nursing roles that require an elevated level of responsibility. Some of these job titles include:
RN to NP Salary Comparison
Aside from the increased autonomy and rewarding levels of responsibility, becoming a nurse practitioner is a great way for a current RN to reach new salary heights in the field. While general registered nurses earn an average of $68,450 per year, nurse practitioners earn an average of $107,460 annually. Of course, these figures can fluctuate based on location, type of employer, level of experience/education, and other factors. Many RNs consider the increased salary a more than worthy trade-off for investment in higher education.
Helpful Links
OTHER RN BRIDGE PROGRAMS