Psychiatric Nurse Practitioner Programs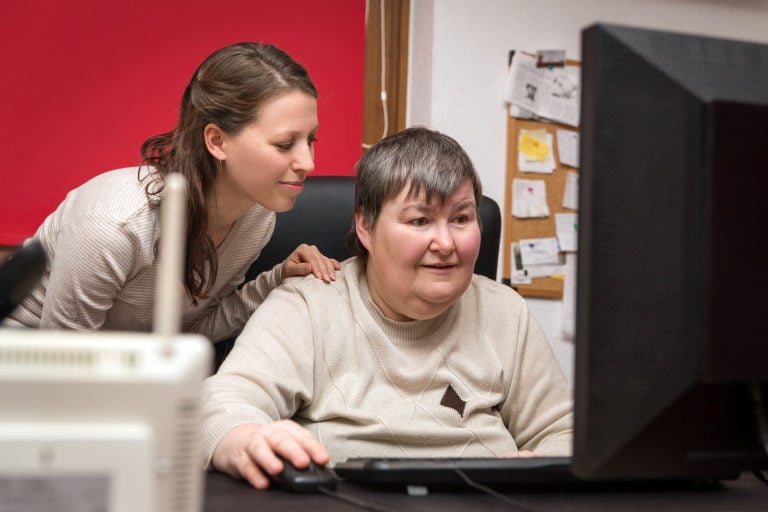 Nurses with a passion for mental health who want to take their careers to a higher level can opt to become a psychiatric nurse practitioner. With both Master's of Science in Nursing (MSN) and Doctor of Nursing Practice (DNP) pathways, students have a wealth of educational program options for the specialty. With just a few years of schooling, a rewarding psychiatric nurse practitioner career can be achieved.
Choosing a Psychiatric Nurse Practitioner Program
Students who want to choose a great psychiatric nurse practitioner program should keep the following in mind when researching schools:
Accreditation
It's important to pick a psychiatric nurse practitioner program that's accredited by a nationally recognized organization, such as the Commission on Collegiate Nursing Education (CCNE) and/or the Accreditation Commission for Education in Nursing (ACEN). Programs may also hold various local and regional accreditations as well. Accreditations demonstrate that the program is held to rigorous standards.
Program Cost
Psychiatric nurse practitioner program tuition is typically listed per credit hour. Both MSN and DNP level programs can cost anywhere from $500 to $1,000 or more per credit, depending on the school, state, and degree level chosen. DNP programs are generally more expensive, as they require more credits than MSN programs. Tuition costs usually do not include extra expenses, such as books, program fees, and other mandatory fees.
Program Length
A typical MSN-level psychiatric nurse practitioner program requires roughly 50 credits for completion. Part-time and full-time study options are readily available, so students can finish in anywhere from 8 to 11 semesters. Doctoral programs require closer to 75 total credits and can take 3-5 years to complete, depending on whether a student attends full or part-time. Both program options require a minimum number of clinical hours as well.
Internship/Externship Opportunities
With clinical hours being a requirement of psychiatric nurse practitioner programs, many schools have special relationships with nearby hospitals and medical facilities to facilitate this. Students can inquire about what internship opportunities are available and where, and may even be able to choose their own preceptor sites.
Online/Campus Options
In this age of technology, many schools are now offering online psychiatric nurse practitioner programs in addition to traditional, campus-based programs. Some schools even offer a "hybrid" program, allowing students to take many courses online but also offering classroom-based lectures and labs.
Psychiatric Nurse Practitioner FAQs
Public health emergencies and disasters often have unique challenges that require flexible solutions. Different disasters and emergencies necessitate different health service needs, depending on who they impact and how.
Exposure to disasters, including hurricanes, fires, floods, and contagious disease outbreaks can severely affect many individuals' mental health, which can add to the rising needs of services that are already stretched thin.
During times of crisis, it is critical that mental health professionals, including psychiatric nurses and psychiatric-mental health nurse practitioners (PMHNPs), provide services immediately after the event. Populations exposed to traumatic events frequently experience anxiety, depression, grief, and mental stress. It is not uncommon for people to attempt to regulate their mental disorders through alcohol and substance abuse. If mental health professionals cannot make themselves available physically - for instance, due to road closures after a natural disaster - telehealth options can be utilized to ensure that patients are able to access care quickly.
Following an emergency or natural disaster, it is normal for mental health administrators to be overextended. Through careful planning, implementation, and community efforts, clinics can apply trauma knowledge to their communities. Survivors of natural disasters must get the PTSD care they need, along with other mental health needs.
Mental health professionals, especially psychiatric nurses, are in high demand in the face of shortages, especially in rural areas. According to reports, one in five Americans has a mental health or substance abuse issue. Across the country, many patients are burdened with unmet needs, which is where telehealth comes in.
Mental health treatments do not rely on a physical exam or contact to treat medical conditions. Most mental health sessions rely on emotional connections and the ability to hold conversations. Often, a video or phone platform is sufficient for creating a safe space. During times of crisis or natural disasters, telehealth psychiatric sessions can remove stress and fears that come with traveling beyond the safety of one's home.
Telehealth services can impact mental health by addressing the nationwide shortage of mental health professionals. Now, a psychiatric nurse can extend their geographic sessions and treat patients who are hundreds of miles away. This allows our telehealth psychiatric care to grow and meet the demands of many Americans.
Access to mental health services is critical, especially for mobility-challenged patients, those unable to leave the house, those lacking dependable transportation, and those who live in remote areas. Many psychiatrists and therapists are able to lower their hourly fees to treat low-income patients without having to leave their homes.
Depending on where a psychiatric nurse practitioner works, the dress code can be variable.
Psychiatric NPs working in acute care (i.e., emergency rooms or inpatient units) may wear scrubs and a lab coat with the facility logo. They can also wear professional, business attire with or without a lab coat. It depends on the facility.
Psychiatric NPs working in the clinic setting can wear business attire. A lab coat may or may not be required by the organization. Some feel that providers who do not wear scrubs and a lab coat are more "approachable" therefore allowing patients to be more receptive to care. It helps place patients at ease and makes them feel more comfortable. Many psychiatric nurse practitioners prefer a less "clinical" environment when treating patients, and shunning the scrubs and lab coat helps build a quiet, comforting environment.
Regardless of the setting, psychiatric nurse practitioners must also consider safety when choosing professional attire. Sometimes patients experience acute mental illnesses and may view the provider as a threat. Dangling jewelry, lanyards, strings, neckties, and even belt loops can be grabbed and used to harm a provider. Dressing for safety as well as professionalism is essential in the field of mental health.
Psychiatric Nurse Practitioner Degree Levels Offered
Two advanced nursing options are available for those interested in becoming psychiatric nurse practitioners. A master's level program, which gives students the high-level education needed to enter this advanced field, and a doctoral program for those who want an even more elevated educational experience.
MSN Programs
The master's level psychiatric nurse practitioner program prepares nurses to perform mental health assessments and interventions on children, teens, and adults. The curriculum consists of both advanced general nursing courses and specialized psychiatric nursing courses. Classes taken may include Integrated Behavioral Health Care and Common Psychiatric Presentations, Diagnoses and Management of Adults for the Psychiatric Mental Health Nurse Practitioner, and Advanced Pharmacology and Therapeutics. The University of Colorado, for example, offers both full-time and accelerated MSN Psychiatric Mental Health Nurse Practitioner programs.
RN to MSN Programs
For nurses who are interested in pursuing a career as a psychiatric NP but have not completed their Bachelor of Science in Nursing (BSN) degree, an RN to MSN bridge program may be a good first step. RN to MSN programs allow registered nurses who have an ADN or non-nursing bachelor's degree to complete their BSN and MSN simultaneously. There is also certain RN to MSN programs that specialize in the psychiatric nurse practitioner role by offering courses in psychotherapy with individuals, psychotherapy with groups, and psychopharmacologic approaches to the treatment of psychopathology. One example of these programs is offered at Walden University, which prepares students to provide care for patients with psychiatric disorders, medical brain disorders, and patients with substance abuse problems.
DNP Programs
Doctoral psychiatric nurse practitioner programs take a more complex approach to the curriculum, preparing nurses to utilize a full scope of therapies and emphasizing leadership. Courses taken may include Theory of Psychopharmacology from a Neurological Basis, Therapeutic Modalities, and Organizational Systems and Leadership. Washington State University, as an example, offers a DNP-level Psychiatric Mental Health Nurse Practitioner program.
RN to DNP Programs
Another route to a career as a psychiatric nurse practitioner for nurses who have completed their Bachelor of Science in Nursing (BSN) degree is a BSN to DNP bridge program. BSN to DNP programs are specially designed to allow students to complete their master's and doctoral degrees in nursing simultaneously. Some BSN to DNP programs are tailored for aspiring psychiatric nurse practitioners, such as the one at the University of Nebraska Medical Center, which offers courses in advanced psychiatric mental health nursing, counseling models for advanced practice psychiatric nursing, and neuroscience of pharmacology for advanced practice nursing.
See our list of post master's psychiatric NP graduate certificate programs.
Online Psychiatric Nurse Practitioner (PMHNP) Programs
Prospective psychiatric nurse practitioner students are often incredibly busy with work, family, and other obligations. This has prompted many schools to offer online programs to accommodate these students. Keep in mind, however, that some online programs may still require a few trips to campus for various orientations, and clinical hours will still need to be completed in person.
Advantages of an Online Program
Online psychiatric nurse practitioner programs offer the most convenience and flexibility. Students enrolled in these programs are able to take courses from the comfort of their own homes, at times that suit their schedules. This is particularly ideal for those who don't have a university within feasible commuting distance. Speaking of commuting, online programs also eliminate the expenses associated with transportation, including gas, parking fees, and more.
Program Accreditation
Those apprehensive about opting for an online psychiatric nurse practitioner program should look for schools that offer fully accredited programs. Like campus-based programs, CCNE and ACEN are two reputable accreditations to search for. Many large universities offer an online or hybrid version of their programs.
Costs and Length
Credit requirements are the same for online psychiatric nurse practitioner programs as they are for campus-based versions. Total length can be more variable for online programs, though, as they tend to offer more flexibility when it comes to program entrance and course completion. Tuition also falls in a similar range, from $500 per credit and up, though students tend to have a lot more options when it comes to online programs. As an example, Drexel University offers an online MSN Psychiatric Mental Health Nurse Practitioner program which charges approximately $1,046 per credit.
What Are the Admissions and Certification Requirements?
Admissions requirements for most psychiatric nurse practitioner programs include:
BSN or higher from an accredited university
Active, unencumbered RN license
Resume or CV
1 or more years of clinical experience may be required
Official transcripts from all schools attended
Reference letters
Certification as a Psychiatric-Mental Health Nurse Practitioner (PMHNP-BC) can be obtained through the American Nurses Credentialing Center (ANCC). Eligibility requirements include:
Must hold a current, U.S. RN license
Graduate of an accredited psychiatric nurse practitioner program (MSN or DNP)
Must have completed clinical training in at least two psychotherapeutic treatment modalities
List of Psychiatric Nurse Practitioner Programs
Psychiatric nurse practitioner programs are available across the country, see the following campus, hybrid, and online nurse practitioner programs by state.
Jump to Your State Listings
Alabama
Alaska
Arizona
Arkansas
California
Colorado
Connecticut
Delaware
Florida
Georgia
Idaho
Illinois
Indiana
Iowa
Kansas
Kentucky
Louisiana
Maine
Maryland
Massachusetts
Michigan
Minnesota
Mississippi
Missouri
Montana
Nebraska
Nevada
New Hampshire
New Jersey
New Mexico
New York
North Carolina
North Dakota
Ohio
Oregon
Pennsylvania
South Carolina
South Dakota
Tennessee
Texas
Utah
Vermont
Virginia
Washington
West Virginia
Wisconsin
Wyoming
Are we missing your school's program or need to update information listed? Please contact us so we can make the necessary changes.