Best Nurse Educator Programs (CNE) – MSN, DNP, PhD – 2023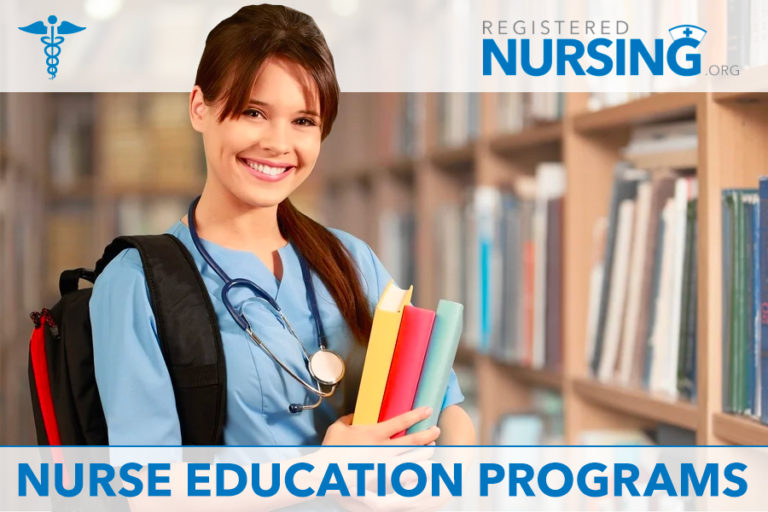 One of the most sought-after programs colleges are looking to fill in 2021 is nursing education. Not only is this program in high demand, but hospitals and professional healthcare settings also seek nurse educators as the need for nursing professionals is at an all-time high.
Nurse educators hold highly respected, extremely important roles within registered nursing. These high-level nurses teach and shape nursing curricula at colleges, universities, and even hospitals. Those with a passion for nursing and education find this specialty particularly rewarding, as they train future generations of nursing professionals. Nurse educators can generally choose between earning a Master of Science in Nursing (MSN), a Doctor of Nursing Practice (DNP), or a Doctor of Nursing Philosophy (Ph.D.) degree program. Schools across the country offer these nurse educator pathways to prepare RNs for a fulfilling career in teaching.
Do you have an interest in teaching? If so, advancing your credentials as a nursing education professional is the next step.
2023 - Best Nurse Educator Programs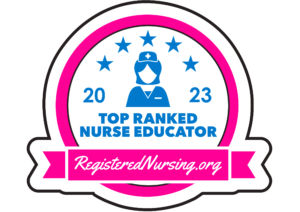 Registered nurses who wish to devote their careers to teaching, research, and other educational ventures often pursue a Nurse Educator specialization. This advanced practice program prepares nurses for faculty positions in colleges and teaching hospitals, and can be found at the master's (MSN) level or beyond. To help RNs choose the right Nurse Educator program, we've ranked the best and brightest programs across the country below.
Check out our methodology page for more information on our nursing program rankings.
Choosing a Nurse Educator Program
Similar to an undergraduate nursing program such as a BSN, those interested in enrolling in a nursing education program should do some research on schools to ensure that they select a quality program. Things to keep in mind include:
Accreditation
All prospective students should ensure that their nurse educator degree program of choice is properly accredited. These accredited programs are rigorously evaluated for academic excellence, giving students peace of mind that they are of a high caliber. The most popular accrediting agencies for nurse educator programs are the Accreditation Commission for Education in Nursing (ACEN) and the Commission on Collegiate Nursing Education (CCNE). Choosing a school/program accredited by either of these organizations is a wise bet.
Program Cost
Many things will impact program costs, including degree level, location, and school of choice. Students should thoroughly consider all the associated costs of each nursing education degree, including tuition expenses, fees, course materials, and any other incidental costs. Generally speaking, tuition is listed per credit as around $700/credit for an MSN nurse educator program and $1,000 or more per credit for a doctoral program. Those concerned about cost should inquire with their school of choice's financial aid department to see what kind of assistance is available.
Program Length
There are program options for students who want to finish their degree program quickly, and some for those looking to take their time (perhaps due to work or family obligations). Part-time and full-time schedules are often available for all nurse educator degree types. Typically, MSN-level programs can be completed in 1-2 years, while a doctoral nurse educator program can take 2-3 years from start to finish.
Internship/Externship Opportunities
Residencies and clinical experiences are often required as part of the nurse educator curriculum. Students are encouraged to inquire about their school of choice to see how the clinical practicum is handled. For online students, this part of the program is often arranged in their local area. Nurse educator internships may be held in an academic or healthcare setting.
Online/Campus Options
Students should consider whether they'd prefer a traditional, on-campus nurse educator program or an online option. Online nurse educator programs are convenient and flexible, and ideally suited for those who are working or have family obligations. Traditional classroom-based programs are great for those who want the classic learning experience and value face-to-face interaction with professors and other students. Some schools offer both types of programs, and some offer "hybrid" options consisting of both online courses and on-campus lectures/intensives. Students interested in an online nursing education degree program should be aware that clinical preceptorships will need to be completed in person.
Nurse Educator Degree Levels Offered
Depending on a nurse's goals, they may opt to enroll in an MSN nurse educator program or a doctoral-level pathway. No matter which degree type is chosen, students can expect to take a mix of academic classes and supervised clinical experiences/fieldwork. Students are encouraged to carefully consider their career goals before settling on a degree pathway.
MSN in Nursing Education
Master's in Nursing Education programs are typically designed for the BSN-educated nurse to advance to this post-grad specialty. Part-time and full-time schedule options are readily available, and students can also opt for online learning in some cases. Most students can complete the MSN nurse educator program in 2-3 years from start to finish, or around 40 units. Classes taken may include Theoretical Perspectives in Nursing Practice, Assessment and Evaluation of Nursing Education, and Seminar in Nursing Research. As an example, California State University-Fullerton offers students an MSN Nurse Educator program.
Post-Master's Nursing Education Certificate
For those who have completed an MSN program in a different specialty, but wish to gain training to become nurse educators, post-master's graduate certificates in nursing education are a great option. These programs can be much less expensive than full degrees, while still allowing the MSN-educated nurse to enter their preferred specialty.
DNP in Nursing Education
The Doctor of Nursing Practice (DNP) pathway is typically geared toward clinical practice, though DNP Nurse Educator programs do exist. For current nurse practitioners and other advanced practice nurses, the DNP-level nursing education program can help them enter the highest ranks of teaching. Most programs require a master's degree in order to be eligible to enroll. Roughly 27 credits are needed to complete the program, and course titles may include Seminar in Teaching and Learning for Nurse Educators and/or Instructional Methods in Nursing Education, amongst others. Regis College of Greater Boston offers a DNP with a Nursing Education concentration that can be taken online or in person.
Ph.D. in Nursing Education
The Doctor of Philosophy (Ph.D.) in Nursing Education is designed to guide students into high-level nursing education careers. Graduates of this type of program are nurse scholars who go on to find employment in academic institutions, research environments, and other education-based roles. Students can enter a Ph.D. in Nursing Education program once they've earned an MSN, and post-DNP pathways also exist. Approximately 50 or more credits may be needed to complete the Ph.D. degree. The curriculum may include courses such as Writing a Research Grant Application, Developing and Evaluating Curriculum for Nursing Education, and more. The University of Nevada-Las Vegas offers multiple Ph.D. in Nursing Education opportunities.
While both are considered terminal nursing degrees, the Ph.D. in Nursing Education degree differs from a DNP degree in that it is more focused on academics and medical research than clinical practice. Those interested in becoming nursing instructors or professors at universities tend to choose the Ph.D. pathway to reach their goals. Ph.D. in Nursing Education programs are more widely available across the country than their DNP counterparts.
Find out more about other high-level nursing specialties, such as nurse midwifery and nurse anesthetists.
Nurse Educator Program Admission Requirements & Certifications
Prospective nursing education students should ensure that they are fully qualified applicants before settling on a program. Requirements for admission will vary due to school and degree type, but will generally include the following:
BSN or MSN degree from an accredited college/university
Cumulative GPA of 3.0 or higher
Current, unrestricted United States RN license
Official transcripts from all universities attended
GRE scores may be required
2-3 professional letters of recommendation from professors, nursing supervisors, etc.
Personal statement/essay outlining the student's academic goals
Resume or CV
Upon graduating from a nurse educator program, students can gain certification through the National League for Nursing (NLN) as Certified Nurse Educators. The NLN currently offers two certifications: one for nurse educators (CNE), and one for academic clinical nurse educators (CNE®cl).
List of MSN, DNP, and PhD in Nurse Education Programs
Many nursing education programs are available across the country. We've compiled a list of programs available in each state for your convenience.
Jump to Your State Listings
Alabama
Alaska
Arizona
Arkansas
California
Colorado
Connecticut
Florida
Georgia
Idaho
Illinois
Indiana
Iowa
Kansas
Kentucky
Louisiana
Maine
Maryland
Massachusetts
Michigan
Minnesota
Mississippi
Missouri
Nebraska
Nevada
New Hampshire
New Jersey
New Mexico
New York
North Carolina
North Dakota
Ohio
Oklahoma
Pennsylvania
Rhode Island
South Carolina
South Dakota
Tennessee
Texas
Utah
Vermont
Virginia
Washington
Washington, DC
West Virginia
Wisconsin
Wyoming
Are we missing your school's program or need to update information listed? Please contact us so we can make the necessary changes.