RN to MSN Programs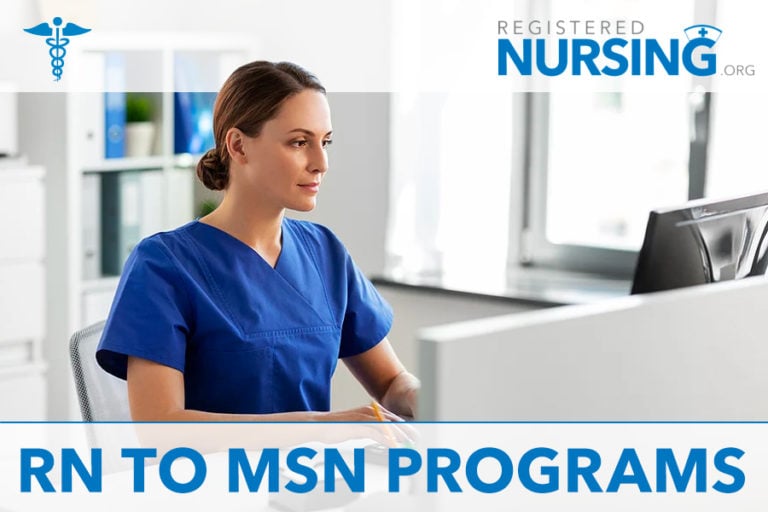 After working for many years (and for some not even this long!), some registered nurses have the desire to change job functions and earn more money while staying within the field. This is especially true for bedside nurses in critical care areas and other areas with high emotional stress and high rates of burnout.
Completing a Master's degree in nursing (MSN) is one way to completely change job functions and earn more money while staying within the field of nursing. RN to MSN degrees are popping up in colleges and universities across the nation.
Why Should I Enroll In an RN to MSN Program?
The field of registered nursing provides many opportunities for growth and change without advancing education. The RN can work in many different settings from clinical education to physician's offices to insurance companies to home health to hospitals. If the nurse grows weary of one department of a hospital he or she can simply apply to work in a different department which may change the day-to-day functioning dramatically. So, why would a nurse want to earn a Master's of Science in Nursing (MSN)?
Autonomy
More money
Improved job satisfaction
Autonomy
The MSN-educated nurse is able to care for patients without direct physician supervision, depending on state laws, whereas the RN role requires it. Depending on the specialty chosen, autonomy is taught and performed in different ways. Popular degrees include acute care/family nurse practitioner and clinical nurse specialist.
More Money
Advancing education in nursing brings more money for most nurses. This is largely due to the MSN-educated nurse having more responsibilities and more liability. With many MSN specialties, the nurse works longer hours than the RN but is compensated more than adequately.
Improved Job Satisfaction
Advanced degrees in nursing will change the role of a bedside nurse to that of a practitioner. Instead of fulfilling orders written by the provider the nurse with the MSN will be writing the orders. This is especially attractive for nurses who believe they can provide patients with the best possible care and wish to follow through and see outcomes. Bedside nurses take care of patients for less time over the long-term than primary care practitioners and seldom know the full outcome and follow-up details of the patient. This can make some bedside nurses feel dissatisfied and opt for pursuing an advanced degree.
Select your state from below and view a full list of accredited RN to MSN programs both online and campus based.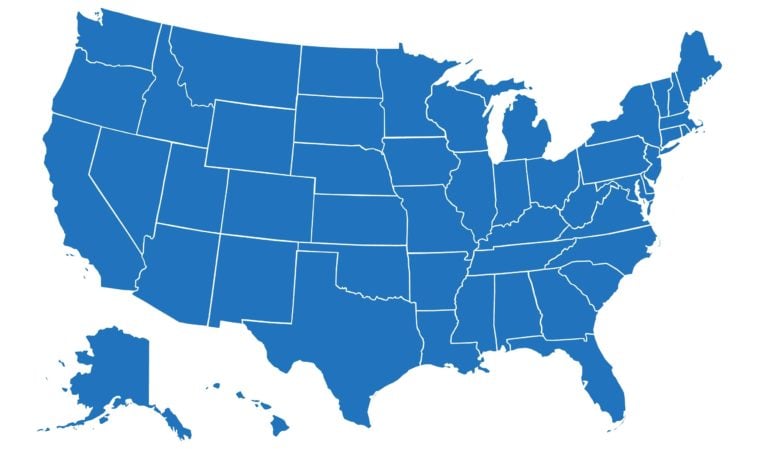 Read about the difference: RN to MSN vs RN to BSN to MSN programs.
What Specialties Exist for the RN to MSN Educated Nurse?
Many specialties exist for the RN to MSN educated nurse. Specialized programs may teach the nurse to become a primary care practitioner, or focus on administration, teaching, and more.
Find out more about nursing specialties here.
Healthcare/Nurse Administrator
These MSN or Ph.D. educated nurses are the leaders and shapers of healthcare facilities. Considering data and patient outcomes they assist in creating facility policies and protocols, monitoring and creating budgets, overseeing operations, and managing employees. This nurse is often the go-to person for multiple departments within a facility. They may be employed at hospitals, medical clinics, skilled nursing facilities, long-term care facilities, or sometimes schools.
Nurse Practitioner (NP)
Whether the NP holds a degree as an Acute Care Nurse Practitioner, Family Nurse Practitioner, or other NP specialty, the focus on prevention, wellness, and education remains at the core. An Acute Care NP works in an acute care setting, usually a hospital, diagnoses prescribe medications when necessary, and manages a patient's illnesses. They will treat the patient during the hospital stay and usually follow up after discharge. The Family Nurse Practitioner usually works in the non-acute care setting, usually, a physician's office or clinic, and diagnoses, treats, prescribes medications, and manages a patient's illness. Both roles are growing in popularity and employment. Other NP specialties include Adult Gerontology NP, Neonatal NP, Pediatric NP, Psychiatric NP, and Women's Health NP. Direct physician supervision may be required depending on the state in which the NP is licensed.
Certified Nurse Midwife (CNM)
The midwife creates and maintains a relationship with the mother and later the child. This graduate degree nurse works with the pregnant woman during pregnancy and labor and follows up after the child is born. The midwife's role differs from a physician by being more involved with the pregnancy and birthing process. Midwives are present during labor and may be helpful in assisting the mother to avoid an epidural, or C-section, and monitoring closely for complications. Midwives are often employed by birthing centers and hospitals.
Nurse Educator
Depending on the place of employment, nurse educators may teach student nurses in a classroom, in the clinical setting, or may monitor and educate experienced nurses in a facility. In the school setting, nurse educators may teach online or in-classroom and are responsible for ensuring quality education to students. They create curricula and bring new methods of learning to eager future nurses. In a facility, usually a hospital, nurse educators create and monitor new graduate RN programs, assist in creating policies and procedures, monitor processes for quality, and stay up-to-date on current research and process improvement methods.
Clinical Nurse Specialists (CNS)
The CNS provides direct patient care as a provider and chooses one of three areas of focus: direct patient care, management, and administration. By contrast, the NP is trained to provide direct patient care.
Certified Registered Nurse Anesthetist (CRNA)
The CRNA provides care to surgical patients during all stages of the process: pre-op, intra-op, post-op, and follow-up. As an anesthesiologist, the CRNA is trained to insert advanced airways and administer anesthesia during operative procedures. They are responsible for monitoring vital signs and respiratory status for safe and effective care. This MSN or Doctorate nurse is among the highest paid in the field.
Advanced Practice Registered Nurse (APRN)
The term APRN is an umbrella term for nurse practitioners, midwives, nurse anesthetists, and clinical nurse specialists. These are nurses who have obtained a graduate degree and focus on preventive care and wellness for the community.
Are Clinical Hours Required for the RN to MSN?
The NP, CNS, and CNM specialties require state licensure to practice because the role requires providing direct patient care. For this, the state requires a certain amount of clinical hours to be eligible to take the licensure exam. Schools offering these programs may have some coursework available online but the student is often required to find a preceptor to complete clinical hours. This may prove to be difficult for some students.
MSN degrees in nursing education and healthcare administration may not require clinical hours. While this depends on the state, these degrees are not for nurses interested in providing direct patient care so they are not required to obtain state licensure to practice. Because of this, many schools offer these MSN specialties 100% online. This may be ideal for the working RN.
MSN specialties that do not prepare graduates for direct patient care will usually require a preceptorship or internship. Most schools require working with a professional in the field to gain experience prior to graduation.
How Long Are RN to MSN Programs?
Specialties that do not require direct patient care are traditionally much shorter than those which do.
Administration and education are usually available 100% online and are often less than 2 years. These programs are designed for the working nurse.
NP, CNS, and CNM Programs
NP, CNS, and CNM programs tend to be 2-3 years in length including clinical hours. Usually, about 60 credit hours are required, either for all graduate courses or only some, but this can vary by state and school. Each state requires a certain amount of clinical hours to be eligible for the licensure exam.
CRNA Programs
CRNA programs also vary by school and state but generally are about 2-3 years in length. These are almost always full-time programs requiring in-classroom coursework and preceptorship. Tuition costs range widely and state licensure is required. Most schools do not allow students to work during school due to the intensity of the curriculum. Taking years off of work may be financially difficult for some students but many students take out loans to ease the burden.
How Do I Select the Best RN to MSN Program for Me?
Potential graduate students may feel overwhelmed with options. Many programs are available both in-classroom, online, part-time, and full-time.
After working as an RN in any chosen specialty for a while, most nurses will have an idea of what they like and don't like about day-to-day job functions. Finding the true motivator and vision for the future is an important step in selecting the right graduate program. Some self-discovery may be in order!
Questions to ask yourself:
Are you thinking about a graduate degree to completely change course and become a provider?

Consider provider roles such as NP, CNS, CNM, and CRNA

Do you want to have a more hands-off approach to patient care?

Consider nursing administration, education, or research

Do you think you can help more patients by making policies and procedures and monitoring outcomes and processes from an administrative level?

Consider nursing administration

Do you want to influence patient care by teaching future nurses how to be great?
Other considerations are:
Time

How much time are you willing to spend on coursework each day? Are you planning on working throughout the program or are you financially able to work less or not at all?

Money

Are you willing to take out student loans if necessary? Consider how much are you going to make in the chosen specialty versus how much the program costs.

Preceptorship

Many Nurse Practitioner programs require students to find their own preceptors in the area. This is usually accomplished by cold-calling physician's offices or clinics looking for a willing NP who will take a student. Are you willing to spend the time and energy to do this?

Online versus in-classroom

Do you need face-to-face interaction with other students and an instructor to really understand the material or are you able to learn by reading, writing, and using online classroom discussions and email? Most schools have easy-to-use software so being super tech-savvy isn't required but being somewhat computer literate or willing to learn is required.
Changing Specialties
Many specialties exist within the field of nursing without earning a graduate degree. Some nurses may find earning a certificate in something new can change their day-to-day functions dramatically and increase job satisfaction this way. Case management, wound care, pain management, and legal nurse consulting are some very different options for bedside nurses. For MSN-educated nurses, post-master's certificate programs are available, which help them change specialties without having to earn another graduate degree. These are often less expensive and shorter than earning an MSN or DNP degree as well.
Sometimes a nurse may find he or she already qualifies to apply for a new position without even earning a new certification and the workplace offers training. For example, changing roles from ICU to Recovery Room or Medical-Surgical to Emergency Department is a common practice.
Interested in an RN Job?
Online Programs for RN to MSN
Finding the right fit for any education format is important. If the format does not cater to the student's learning style the student is set up for failure or at least may have a harder time being successful.
Online RN to MSN Considerations
Tutoring vs in-person help
Autonomy
Learning-Style
Audio
Visual
Kinesthetic
Tutoring vs In-Person Help
Determine whether you are the type of student who needs a lot of help understanding the material. How much after-class assistance did you require during your RN or BSN program? If you were constantly in the Teaching Assistant's office or were raising your hand frequently with questions during class, then an in-classroom style may be a better choice than the online format.
Autonomy
If you are willing and able to research answers to your own questions without too much difficulty and are fairly good at sending E-mails or using Help forums to contact instructors for help, then you may be able to be successful in finding the help you need with an online format.
Learning-Style
Consider your personal learning style. Remember audio, visual, and kinetic styles and of course, most people are not just one or another, but a blend of two or all three styles. The important point here is to consider the style from which you learn best and how it applies to online versus in-classroom formats.
Audio Learning Style
The auditory learner is one who comprehends materials best when they have spoken aloud, usually in a lecture format. Traditionally the in-classroom format is best for this learning style but many online programs have adjusted their curriculums to cater to this type of learner by offering recorded or live lectures. If this is your strongest learning style be sure to check into each individual online program and find out if they offer recorded lectures.
Visual Learning Style
Those with a visual learning style benefit most from seeing material demonstrated in text or visual aids. This type of learner can do well in either online or in-classroom formats. Both formats offer written text and visual aids.
Kinesthetic Learning Style
Kinesthetic learners comprehend material best by "acting out" concepts or being able to experience educational materials in a concrete manner. Learning well from an online format may require some creativity to come up with ways to make it easier to understand. Field trips and hands-on laboratory time are not usually part of the online format but might be part of in-classroom formats for some classes.
So, when choosing the right format to fit your needs, ask:
Are you the type of student who needs to hear, see, or experience educational material to really grasp it?
Are you comfortable reading text and then advancing comprehension with chat room discussions or homework assignments?
Do you need to be physically present with other students and an instructor in order to learn?
Online programs have been evolving for years and have become convenient and effective methods of advancing education for many students. Because they are formatted to allow the student to read text materials and then demonstrate or promote comprehension of those materials through online discussions, team projects, homework assignments, or other tasks, they are not always ideal for every learner.
While this is similar to in-classroom comprehension activities the biggest difference is the lack of a lecture and not having both a speaker and visual aids to help understand key concepts. However, some online programs offer online lectures within their curriculum to help students who require of learning.
How Much Will Tuition Cost for an Online RN to MSN Program?
Tuition costs vary by college, specialty, location, and salary, but generally, the total tuition is $20,000 to $60,000 for an RN to MSN degree. Most employers offer tuition reimbursement for some of the classes.
Format
Online programs may be the same price as in-classroom formats because costs incurred by the school to host classes and the number of students enrolled may not be much different than in-classroom styles. Due to their convenience and depending on the specialty, however, some students may be able to work and earn money throughout the program which makes online programs more attractive.
Specialty
Each specialty has different required course credit hours. For example, the Certified Nurse Midwife degree requires about 87 credit hours and 900 clinical hours whereas the healthcare administration degree requires about 42 credit hours. Colleges charge per credit hour but not for clinical hours.
Location and Salary
What a college decides to charge per credit hour often factors in location and salary. MSN-educated nurses in a particular part of the country may earn a higher salary when compared to a nurse with the same education in a different area. To charge for education fairly, many schools take these factors into account.
How Long Will an Online RN to MSN Program Take to Complete?
The length of an RN to MSN program varies by specialty and college, but generally, for the Bachelor's educated nurse an additional 30 credit hours will be required to complete the Master's degree for most specialties. For the Associate's educated nurse, an additional 60 credit hours will be required. That is 30 credit hours for the Bachelor's and 30 credit hours for the Master's degree.
Each semester is roughly 12-15 credit hours of full-time school, so a BSN to MSN degree may be completed in about 1-3 years. Some specialties require clinical hours which will add time to the completion of the degree.
What Are the RN to MSN Curriculums Like?
The RN to MSN curriculum depends on the chosen specialty.
Nurse Practitioner
The Nurse Practitioner curriculum has a core focus on wellness, prevention, and holistic healing. The NP is trained to treat the patient as a whole person not just as a disease. A focus on nutrition, medications, exercise, maintaining good health, and treating disease processes quickly and effectively is at the core of this training. Many nurses who have cared for patients with advanced diseases may find reward in helping others to prevent these illnesses from advancing. Educating patients and helping them create a solid plan for creating and maintaining a healthy lifestyle can be very fulfilling.
Nurse Practitioner students learn how to:
Perform comprehensive head-to-toe assessments
Diagnose chronic and acute medical problems
Prepare a plan for treatment by working with patients and families
Prescribe medications in states which allow it
Work with insurance companies for repayment
Nurse Midwife
The Nurse-Midwifery curriculum has a core of complex and comprehensive assessment of both mother and newborn through each stage of childbirth. A special focus on community health for mothers and children is often highlighted.
Nurse-Midwifery students learn how to:
Perform complex and comprehensive head-to-toe assessments of both mother and newborn
Diagnose and treat complications of pregnancy and childbirth
Promote proper health and nutrition throughout pregnancy, childbirth, and after childbirth
Manage and maintain an independent practice
Certified Registered Nurse Anesthetist
The Certified Registered Nurse Anesthetist curriculum has a core curriculum focused on regional and general techniques of anesthesia as well as ancillary methods like pain management, conscious sedation, and advanced airways during an emergency.
Certified Registered Nurse Anesthetist students learn how to:
Administer and monitor various types of anesthesia
Place advanced airways for procedures and during an emergency
Recognize and treat anesthesia emergencies
Are Any Exams Required Before I Can Practice with an MSN Degree?
The three specialties require an exam for state licensure to practice:
Nurse Practitioner Certification
Certified Nurse Midwife
Clinical Nurse Specialist
Nurse Practitioner Certification
The American Academy of Nurse Practitioners (AANP) issues and manages exams for nurse practitioners. This includes the Emergency Nurse Practitioner Specialty for Family Nurse Practitioners, which became available in January 2017. As of now, available certifications for NPs are:
Acute Care NP
Adult Nurse NP
Adult-Gerontology Acute Care NP
Adult-Gerontology Primary Care NP
Adult Psychiatric–Mental Health NP
Family NP
Gerontological NP
Pediatric Primary Care NP
Psychiatric–Mental Health NP
School NP
Nurse Midwife Exam
The American Midwifery Certification Board (AMCB) offers the certification exam for nurse-midwives. This exam ensures the graduate is able to provide care to patients safely at a beginner level.
Clinical Nurse Specialist The American Nurses Credentialing Center (ANCC) issues and maintains CNS examinations. Certifications for CNS are:
Adult Health CNS
Adult-Gerontology CNS
Adult Psychiatric–Mental Health CNS
Child/Adolescent Psychiatric-Mental Health CNS
Gerontological CNS
Home Health CNS
Pediatric CNS
Public/Community Health CNS
See our complete overview of nursing certifications.
List of Online RN to MSN Programs
Listed below are online RN to MSN programs from across the country, get more details about each program by visiting the school's webpage.
Jump to Your State Listings
Alabama
Alaska
Arizona
Arkansas
California
Colorado
Connecticut
Delaware
Florida
Georgia
Hawaii
Illinois
Indiana
Iowa
Kansas
Kentucky
Louisiana
Maine
Maryland
Massachusetts
Michigan
Minnesota
Mississippi
Missouri
Montana
Nebraska
Nevada
New Hampshire
New Jersey
New Mexico
New York
North Carolina
North Dakota
Ohio
Oklahoma
Oregon
Pennsylvania
South Dakota
Tennessee
Texas
Utah
Vermont
Virginia
Washington
West Virginia
Wisconsin
Are we missing your school's program or need to update information listed? Please contact us so we can make the necessary changes.
OTHER RN BRIDGE PROGRAMS