2023 - Best Nursing Schools in Pennsylvania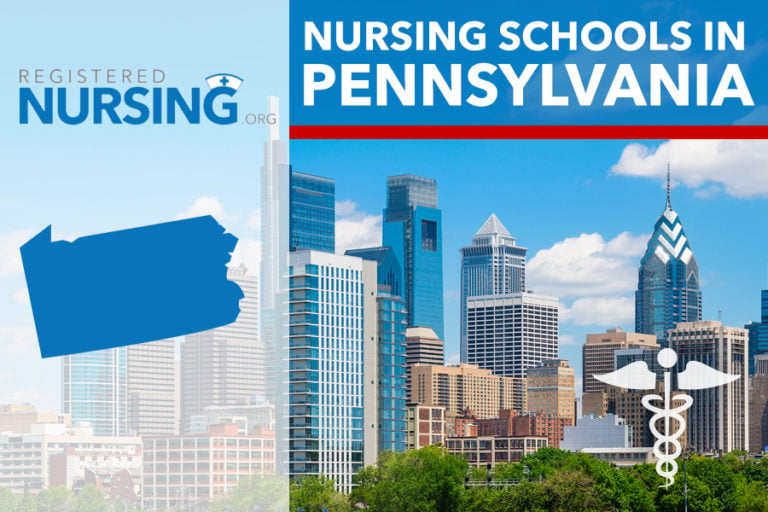 The healthcare system in Pennsylvania is currently in need of highly skilled nurses. A nursing degree can provide higher pay scales and can poise you for a successful and rewarding career in the booming healthcare industry. The state has an approximate annual need of 4,800 nurses. Combine this with the fact that the Bureau of Labor Statistics reports the average annual salary for a registered nurse in the state at roughly $76,000, and a career in registered nursing starts to look very enticing.
For RN bridge programs visit:
2023 Best RN Programs in Pennsylvania
ADN Programs in Pennsylvania
A starting point for many in the nursing industry is an Associate's Degree in Nursing (ADN). At 2 years in length, an ADN is a fairly quick program, making it great for those who have limited time for school. You will typically find ADN programs offered at smaller schools like junior colleges and technical schools, which makes it a widely accessible program no matter where in the state you are located.
Over 25 schools in Pennsylvania offer ADN programs, making it easier than ever to earn your nursing degree.
What to Look For in an ADN Program in Pennsylvania
With an abundance of ADN programs to choose from, it's wise to look for some of the following things when comparing schools:
Accreditation
Accreditation lends credibility and legitimacy to programs. It's good to check that organizations such as the Accreditation Commission for Education in Nursing (ACEN) and/or the American Association of Colleges of Nursing's Commission on Collegiate Nursing Education (CCNE) fully endorse the program. In addition to this, it's important to be sure the program is approved by the Pennsylvania Board of Nursing.
Licensing
Your ADN program of choice should prepare you to take the National Council Licensure Examination (NCLEX), which is the test you'll need to pass in order to apply for your nursing license.
Program Outcomes
One of the best ways to ensure that the program you are interested in is a good one is to check out their post-program statistics, paying particular attention to things like:
Graduation rate
Licensure exam pass rate
Graduate satisfaction
Employment rate
The Pennsylvania College of Health Sciences in Lancaster is one example of a school in the state that offers an accredited ADN program.
ADN Program Admission Requirements in Pennsylvania
Specific program admission requirements vary; check with any prospective college as to what they require. Here is a sample of common requirements to give you an idea of what to expect:
Two years of high school algebra with a grade of C or better
Submit TEAS V test results
Minimum GPA of 3.0
Tuition and Costs of ADN Programs in Pennsylvania
Breaking down the costs of an ADN program can be confusing. First, you'll need to factor in the cost of your school's tuition. In addition to this, you'll have extra fees that may or may not be rolled into the tuition cost, like textbooks, uniforms, lab fees, and other miscellaneous fees. You'll also need to factor in room and board costs if this applies to you. These costs are typically separate from tuition.
To give you an example of cost, a full-time ADN student at the Reading Area Community College in Reading, PA can expect tuition costs of $3,030 per semester if they are a resident of Berks County, and $5,235 per semester if they are a resident of another Pennsylvania county.
Advantages of ADN Programs
The main advantages of ADN programs are the length of duration and cost. At 2 years, an ADN takes half the time of a traditional bachelor's degree in nursing, making it ideal for those who want to enter the workforce as soon as possible. Because of this shorter length, along with the fact that ADN programs tend to be offered at community colleges, they tend to be much more affordable as well. If time and budget are big considerations, an ADN might be the perfect route to becoming a registered nurse.
LPN to RN Programs in Pennsylvania
There are specialized programs available for current Licensed Practical Nurses (LPNs) who wish to become RNs. These LPN to RN transition programs build upon the knowledge and experience that LPNs already possess, making for an overall shorter pathway to registered nursing.
LPN to ADN/BSN Programs
Depending on the nurse's goals, they may wish to enter either the more basic LPN to ADN program, or the slightly more advanced LPN to BSN option. LPN to ADN programs usually take just a few semesters to complete, such as the one offered through Harrisburg Area Community College. LPN to BSN programs may be a bit longer in length but result in the coveted bachelor's degree in nursing. The Indiana University of Pennsylvania offers an LPN to BSN program which emphasizes a smooth transition into registered nursing care.
LPN to RN programs may have the following admissions requirements:
Graduate of an approved LPN program
Current, active LPN license
Completion of any prerequisite courses
BSN Programs in Pennsylvania
A Bachelor's of Science in Nursing (BSN) is the classic 4-year route to a nursing degree. Typically found at larger universities, these programs are ideal for those looking for more advanced nursing careers with larger paychecks. Many schools also offer shorter RN to BSN programs for those who already hold a nursing license and want to advance.
Pennsylvania boasts an astonishing 40+ schools that offer a BSN program.
What To Look For in a BSN Program in Pennsylvania
When comparing BSN programs, you'll need to consider the essentials like cost, accreditation, program outcomes, and more. Because there are so many BSN programs scattered throughout the state, the location may also be a factor, as you may want to choose a school that's close to your current location. If you are already a licensed nurse via an ADN or LPN, you'll want to find out if your school of choice offers an RN to BSN program. Finally, if you have a bachelor's degree in another field, you may be eligible to take an accelerated BSN program, so you'll need to find a school that offers this option.
Wilkes University in Wilkes-Barre, PA, is an excellent example of a school in the state that offers accredited programs for traditional BSN, accelerated BSN, RN to BSN, and LPN to BSN.
BSN Program Length in Pennsylvania
You can expect a traditional BSN to take 4 years to complete. An accelerated BSN can take as little as 16 months to complete in some cases, and RN to BSN programs can take around 2 years from start to finish, depending on the school. It's always advised to check with your prospective school to see how long each of their BSN options will take to complete.
BSN Program Admission Requirements in Pennsylvania
Admission requirements for BSN programs can vary, but here is a sampling of what you can expect:
Minimum 1450 combined SAT (or ACT score of 21 or higher)
Letter of recommendation
Submit official high school and/or university transcripts with GPA
Tuition and Costs of BSN Programs in Pennsylvania
Paying for college can be stressful. Remember that you'll need to budget for tuition fees as well as other miscellaneous fees including books and lab fees. Most schools will give you a general breakdown of additional mandatory fees that aren't covered under tuition.
As an example, the University of Pennsylvania School of Nursing's BSN program will cost you approximately $56,212 – not including additional fees or housing.
Advantages of BSN Programs
Earning your BSN will give you the opportunity to gain more advanced nursing jobs, and greatly increase your salary range. There are excellent nursing programs at world-class universities all throughout the state, making it ideal for someone wanting a traditional college experience. There are also a multitude of ways to earn your BSN, whether it's the classic program, the RN to BSN program, or even an accelerated program.
MSN Programs in Pennsylvania
If you're really looking for an advanced nursing degree, a Master's of Science in Nursing degree (MSN) is the route for you. You'll need an MSN to land nursing jobs such as Clinical Nurse Specialist, Certified Nurse Midwife, and Nurse Practitioner, among other specialties. The pay scale for these types of jobs will also increase exponentially.
Over 25 schools in the state of Pennsylvania offer properly accredited MSN programs.
MSN Program Length in Pennsylvania
You can expect a typical MSN program to last roughly 2-3 years. This can vary as many schools offer flexible programs designed around the schedules of busy working nurses. Online and night courses are often available at many of the universities offering this type of program.
MSN Admission Requirements in Pennsylvania
While requirements vary, you can expect to find one or more of the following for most MSN programs in the state:
Minimum 3.0 undergrad GPA
Official transcript verifying completion of BSN degree
Copies of a current resume and valid RN license
Admissions essay
Tuition and Costs of MSN Programs in Pennsylvania
Costs for MSN programs can vary wildly, depending on the type of school you choose and the type of MSN program. Generally speaking, you'll need to pay for tuition costs and various miscellaneous expenses like textbooks and lab fees. The tuition for the MSN program at Chatham University, located in Pittsburgh, PA, will run you an estimated $822 per credit hour, or approximately $27,126 total.
For NP programs visit:
Getting a Pennsylvania Nursing License
Pennsylvania State Board of Nursing regulations are clearly laid out and require candidates to provide pertinent information regarding applying by examination or endorsement.
If you are applying by examination you will need to complete the appropriate application and provide this documentation:
Registration of NCLEX exam - with eventual successful completion
Education verification - sent directly from the school to the state Board
Criminal History Records Check
When applying by endorsement you are required to send these documents:
Verification of education - official transcripts sent directly to the Board via the school
Verification of Licensure
Criminal History Records Check
Learn more and PA RN license information at the Pennsylvania Department of State.
Accelerated Nursing Programs in Pennsylvania
Pennsylvania state has several options for accelerated BSN/MSN programs, as well as options for bridging your degree. An accelerated program can be expected to run up to 18 months in certain colleges and is offered on a full-time basis. While the direct entry to an MSN program can be taken full-time or part-time, it has to be completed within 5 years. To proceed directly into the programs there are required courses that must be completed prior to the start date, as each program is a bit different so are their prerequisite courses. Fees associated with the programs can vary depending on these courses, and other factors such as required housing.
Latest Pennsylvania NCLEX-RN Pass Rates and Statistics
Total Number of State Approved Schools: 77
Total Number of Test Takers in 2021: 8,374
2021 Average Statewide Pennsylvania NCLEX-RN Pass Rate: 88.4%
Continued List of All RN Programs in Pennsylvania
Here is a continued list of all RN Programs a continued list of all RN Programs a continued list of all RN Programs a continued list of all RN Programs a continued list of all RN Programs a continued list of all RN Programs.
Are we missing your school's program or need to update information listed? Please contact us so we can make the necessary changes.