Family Nurse Practitioner (FNP)
Last Updated/Verified: Oct 27, 2020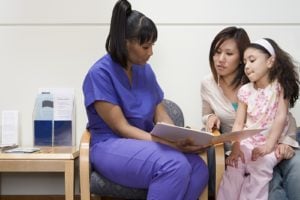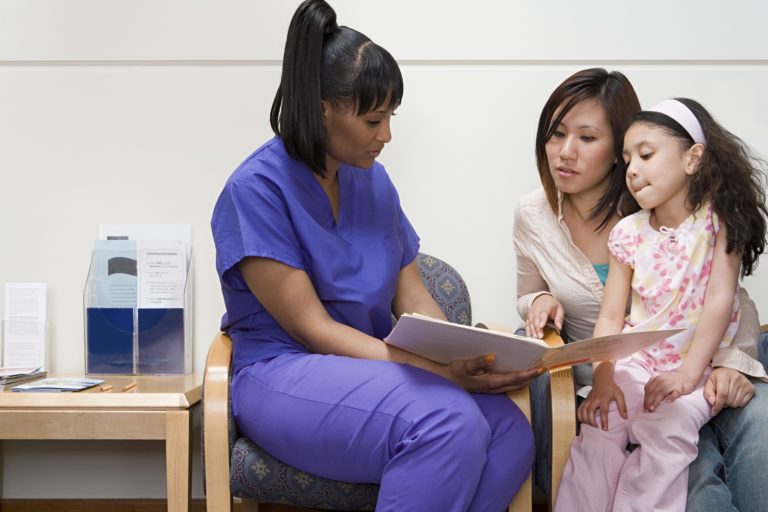 What Is a Family Nurse Practitioner?
A family nurse practitioner, or FNP, is a highly educated registered nurse who provides primary or specialty care for patients of all ages. These advanced-practice registered nurses (APRNs) typically work under a physician but with a high degree of autonomy, and in some cases, have their own private practices. They provide most of the same services a doctor provides, and are the primary source of care for many patients. FNPs conduct health exams, provide health education, diagnose illnesses, and prescribe medication, among many other tasks.
How to Become a Family Nurse Practitioner
Family nurse practitioners go through extensive educational training, including completing a Master's degree in nursing. They typically complete a variety of courses in things like epidemiology, pharmacology, health policy, and more due to the broad nature of the position. FNPs need to be excellent at critical thinking and have superb communication skills to succeed in the role.
Most FNP job descriptions include the following requirements and skills:
Experience with electronic health records
Ability to work effectively in a team setting providing relationship-based care
Well-organized and detail-oriented with the ability to establish relationships with coworkers, patients, and the public
Emotional intelligence and critical thinking skills
Effective oral and written communication skills and excellent interpersonal skills
ACLS, BLS or CPR certified
To search and apply for open family nurse practitioner positions, visit our job boards.
What Are the Education Requirements for Family Nurse Practitioners?
Most FNPs first earn a Bachelor's Degree in Nursing, then take and pass the NCLEX-RN to become a licensed RN. Once this is completed, a Master's degree (MSN) is necessary to land a job as an FNP. Many schools have MSN programs specifically designed for Family Nurse Practitioners that take 1-3 years to complete. Experience as an RN is mandatory, and knowledge of specialized equipment such as nebulizers or cardiac monitoring devices is a plus.
See a complete list of available FNP programs, post master's FNP graduate certificate programs, RN to NP programs.
Are Any Certifications or Credentials Needed?
Certification as a family nurse practitioner is offered through both the American Association of Nurse Practitioners (AANP) and the American Nurses Credentialing Center (ANCC). These exams usually require an RN to be a graduate of an accredited graduate, post-graduate, or doctoral level FNP program. The test covers a wide range of medical topics including informatics, research methodology, illness and disease management, and more. Upon passing the exam, a nurse is awarded the credential: Family Nurse Practitioner-Board Certified, or FNP-BC. This credential is valid for 5 years and then must be renewed.
Family Nurse Practitioner FAQs
Where Do Family Nurse Practitioners Work?
A family nurse practitioner can be employed in a variety of healthcare settings and clinics, as they provide many advanced medical services across the lifespan. They are extremely valuable since they are able to perform many of the tasks that physicians usually handle. In fact, in many rural areas where there aren't enough doctors to serve the community, FNPs fill the role of primary care provider. FNPs sometimes go on to careers as hospital administrators due to their advanced medical knowledge and clinical experience.
FNPs are commonly employed in the following settings:
Hospitals
Clinics
Private practice physicians' offices
Outpatient facilities
Public/community health centers
Health insurance companies
Telemedicine
What Does a Family Nurse Practitioner Do?
Family nurse practitioners see patients of all ages for a variety of medical ailments, from mild illnesses to serious conditions. They stress prevention and wellness, but have the medical expertise to perform diagnoses and even prescribe medication. FNPs are expected to communicate clearly and effectively with patients and other healthcare providers, be analytical and decisive, and above all else provide accurate, compassionate care. Many FNPs develop lasting relationships with their patients and see them throughout the course of their lives, from childhood to adulthood and beyond, and may even care for multiple family members. Each state has its own guidelines and regulations for what duties an FNP is allowed to complete, so these nurses can work independently or under the supervision of a physician depending on which state he or she is located in.
RELATED: The States with the Largest Nursing Shortages
What Are the Roles and Duties of a Family Nurse Practitioner?
Perform medical exams
Examine medical histories
Develop treatment plans
Diagnose illnesses or diseases
Run diagnostic tests and evaluations
Educate patients on prevention methods and general health and wellness
Perform or assist with minor procedures
Manage and oversee patient care
Maintain patient records
Prescribe/administer medication
Act as a primary care point of contact for patients (especially in underserved or rural settings)
Collaborate with and work alongside other care providers, including physicians, nurses, pharmacists, psychologists, healthcare administrators, and more
Make referrals to specialists as needed
Family Nurse Practitioner Salary & Employment
According to PayScale, the average annual salary for a family nurse practitioner lands around $94,232. Salaries can range, though, from approximately $79,000 to upwards of $117,000 per year. The biggest contributors to FNP salaries are geographical location, type of employer, and the individual nurse's level of experience (including any additional certifications or credentials held).
The employment outlook for FNPs is favorable, and growth is slated at 26% by 2028, according to the Bureau of Labor Statistics. The increasing emphasis on preventive care and the high demand for healthcare services by the aging population make FNPs sought-after healthcare providers. The salary and potential to develop lifelong relationships with patients make it a rewarding career choice.
Get more insight into nurse practitioner salaries.
Helpful Organizations, Societies, and Agencies