What Is an LPN/LVN?
LPNs and LVNs are typically responsible for more basic kinds of patient care and comfort measures. They report directly to registered nurses (RNs) and physicians. Treatment plans for patients that are guided by RNs are generally based on the data and observations collected by LPNs.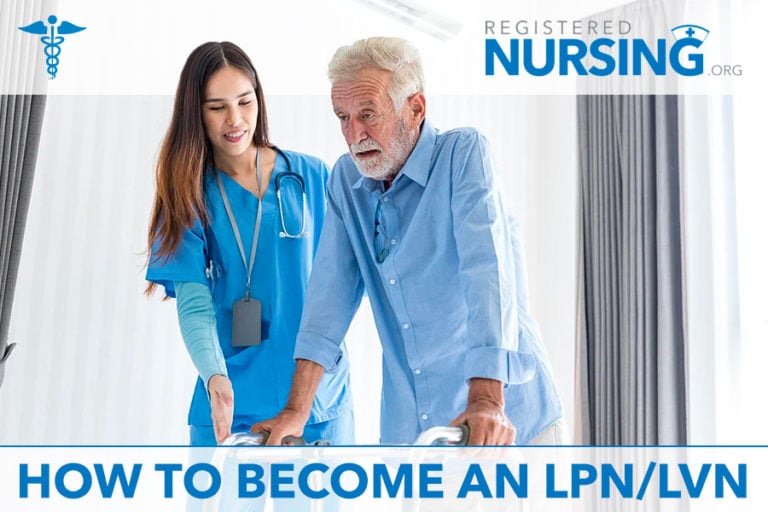 LPNs and LVNs are generally used to describe the same occupation interchangeably. LPNs/LVNs have the exact educational and licensing requirements and typically perform the same duties. The primary difference between LPNs and LVNs lies in which state a nurse practices in. For example, those practicing in Texas and California are called LVNs. Conversely, all other states use the term LPN.
Becoming an LPN/LVN
Those considering an LPN/LVN position should have experience and interest in caring for various patients. Additionally, they should be responsible, accountable, compassionate, and caring individuals. Lastly, they should have adequate time management skills and should be flexible.
What Are the Education Requirements for an LPN/LVN?
Before beginning the process, aspiring LPN/LVN students must earn a high school diploma or GED certificate before starting the process. The next step in becoming an LPN/LVN requires that individuals obtain a diploma via a community college or an accredited online course. LPNs, in some states, don't need to have any diploma but are required to pass the National Council Licensure Examination (NCLEX-PN), which provides them a certification allowing them to work as an LPN in the United States. Courses that practical nurses must complete to work within the United States are generally one year in length. However, certain positions may also require additional field experience before being hired.
Are you looking to save some money on an LPN to RN program? Read all about affordable LPN to RN programs.
Are Any Certification or Credentials Needed?
LPNs/LVNs must take and pass the National Council Licensure Examination. Once they have passed, they can obtain a certification to be placed on their state's registry and work as an LPN in the United States.
Once an LPN/LVN starts climbing through the ranks and professional ladder, they may wish to consider an LPN to RN program or an LPN to BSN program.
Where Do LPN/LVNs Work?
A wide variety of settings exist where LPNs and LVNs can be found working. Examples include but are not limited to the following:
Physicians' offices
Nursing homes
Hospitals (both private and public)
Military organizations
Correctional facilities
Schools and Universities
In-home healthcare
Residential care facilities
LPNs who choose to work as home health nurses or in nursing homes often can perform more duties autonomously without the constant supervision that LPNs working within hospital settings will have.
What Does an LPN/LVN Do?
LPNs/LVNs carry out tasks such as taking patients' vital signs, administering medication, and performing other treatments under the supervision of medical professionals like RNs and doctors. Additionally, they may provide meals and clean/manage medical instruments and equipment. Other everyday tasks an LPN/LVN might carry out include tracking patients' medical history, changing bandages and wound care, helping patients bathe and dress, discussing medical care and concerns with patients, and sometimes assuming leadership roles.
See the difference between an LPN and an RN.
 What Are the Roles & Duties of an LPN/LVN?
Take vital signs
Organize and compile patient health history and information
Feed and provide primary care for infants and geriatric patients
Provide personal hygiene assistance to patients
Administer medication – monitoring frequency and measuring amounts
Supervise nursing aides and assistants
Take blood pressure and conduct other essential care treatments
Set up, clean, and use catheters, oxygen suppliers, and other equipment
Who Do LPN/LVNs Report To?
An LPN/LVN is not an independent practitioner; they practice under the direction of a physician or Registered Nurse (RN). Each state has a designated Licensed Practical/Vocational Nursing Board that determines the scope of the Practical/Vocational Nursing Practice Act. While the LPN/LVN practices under their license, they are still, by law, practicing under the direction of the RN. Therefore, the Registered Nurse is accountable for the care delivered by the LPN/LVN regardless of whether or not the RN is in a formal supervisory position.
Through the Nurse Practice Act, each state's Board of Nursing allows RNs to delegate tasks and oversee assistive staff such as LPNs/LVNs. RNs are also authorized to assess staff competency to ensure the jobs that are charged will be performed safely for the patient. Suppose an RN determines or suspects a subordinate is incompetent in an assigned task. In that case, it is the obligation and expectation that the RN will intervene and assume the responsibility for the task until other care arrangements can be made.
The RN is also responsible for listening to and assisting in problem-solving concerns brought forward by the LPN/LVN. For example, suppose an LPN/LVN raises a question about a physician's order. In that case, the RN must properly problem-solve and clarify the order with the LPN/LVN or risk being held liable if a medical error occurs.
RELATED: Difference in Workplace Roles of LPN's and RN's of Varying Education Levels
LPN/LVN Salary & Employment
Earnings for a Licensed Practical Nurse or Licensed Vocational Nurse vary widely from state to state and according to experience, service, and further education/training. They are also employed across various industries and sectors – thus influencing the mean salaries.
According to the United States Bureau of Labor Statistics, practical nurses have a possible job outlook of 9%, which is as fast as average compared to the rate of growth for other positions within the country and the field of nursing. The pay rate for positions within the practical nursing field averages $48,070 per year or $23.11 per hour but fluctuates based on experience, specialization, training, and certification. Individuals concerned should be aware that national long-term projections of employment growth may not reflect local and/or short-term economic or job conditions.
Helpful LPN Organizations, Societies, and Agencies