Adult Gerontology Nurse Practitioner Programs (AGNP)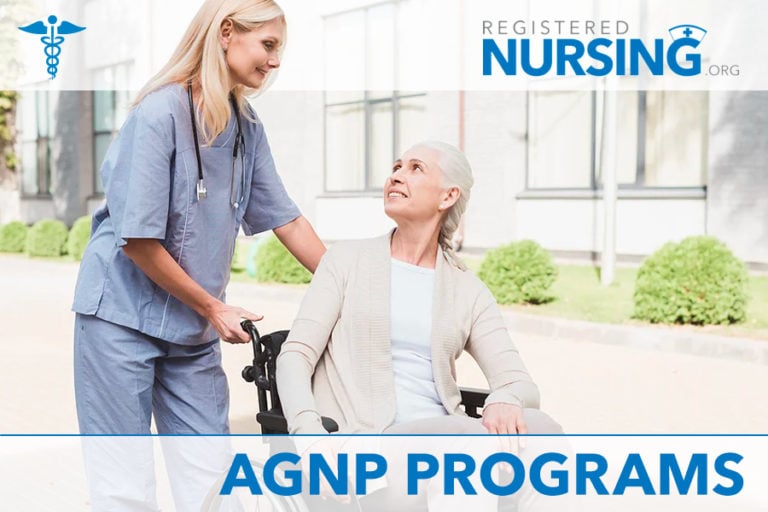 Those with a passion for caring for adult patients in an advanced practice setting can consider a career as an adult gerontology nurse practitioner (AGNP). These nurses can work more autonomously to prescribe medication and devise treatment plans for their patients in both acute and primary care environments. Luckily, there are a wide variety of quality adult gerontology nurse practitioner programs with both acute and primary care subspecialties for interested parties to choose from.
Choosing an AGNP Program
Students should consider the following factors when trying to choose an appropriate AGNP program:
Accreditation
Good adult gerontology nurse practitioner programs will be accredited by national accrediting organizations such as the Commission on Collegiate Nursing Education (CCNE) and the Accreditation Commission for Education in Nursing (ACEN). Local and regional accrediting bodies may also endorse programs.
Program Cost
Adult gerontology nurse practitioner programs typically list tuition costs by credit hour. Standard tuition rates fall in the $600 to $1,000 or more per credit hour range, depending on location and degree-level chosen. Doctoral programs generally require more credits, thus making them more expensive than master's programs.
Program Length
MSN-level adult gerontology nurse practitioner programs typically require around 45 credit hours or units, with part-time and full-time study options available. DNP-level programs require close to 92 credit hours, with many of these coming from clinical practicum hours. Both master's and doctoral programs require a certain amount of hands-on clinical training hours in addition to classroom courses.
Internship/Externship Opportunities
Many schools have relationships with local hospitals and medical centers in which students can complete their hands-on training. Students can inquire with prospective schools to see what kind of internship/externship opportunities are available to them.
Online/Campus Options
At the request of increasingly time-strapped students, many programs now offer both online and campus-based acute care nurse practitioner programs. Some schools even offer a "hybrid" program, allowing students to take many courses online but also offering classroom-based lectures and labs. All students, whether online or classroom-based, will be required to complete clinical hours at a hospital or other medical facility.
AGNP Degree Levels Offered
Adult gerontology nurse practitioner students have two educational choices to choose from: the Master's of Science in Nursing (MSN) or the Doctor of Nursing Practice (DNP). Each pathway has rewarding outcomes, but nurses must think about their ultimate goals and choose the one that makes sense for them.
MSN Programs
There are a number of adult gerontology nurse practitioner programs that provide the option to specialize in acute or primary care. Regardless of the subspecialty, students enrolled in the program can expect to take courses such as Advanced Nursing Practice Role, Pharmacology in Advanced Nursing Practice, Gerontology, and more. Atlanta's Emory University is an example of a school that offers an MSN Adult Gerontology Primary Care Nurse Practitioner program.
RN to MSN Programs
RN to MSN programs are designed for registered nurses with an Associate's Degree in Nursing (ADN), allowing them to earn their Bachelor of Science in Nursing (BSN) and Master of Science in Nursing (MSN) degrees simultaneously. Some programs are meant for nurses who already hold a bachelor's degree in a non-nursing field, but offer an accelerated track for completing both the BSN and MSN curriculum.
DNP Programs
For those wanting to hold the highest positions as adult gerontology nurse practitioners, DNP programs take the curriculum beyond the MSN-level program. Graduates of the doctoral degree program will be prepared to evaluate, diagnose, and manage acute and chronic illnesses and conditions. Courses taken include Diagnostic Health Assessment, Management of Adults, and Common Adolescent Health Problems. The University of Washington is a good example of a school that offers an accredited Adult Gerontology Primary Care Nurse Practitioner DNP program.
RN to DNP Programs
For RNs who hold a BSN degree and wish to earn their Doctorate of Nursing Practice degree, specialized BSN to DNP programs offer nurses an accelerated path that includes a curriculum from a master's program in nursing as well as a doctorate program. Several schools, such as the University of Pittsburgh, offer BSN to DNP programs that allow students to specialize in primary care for adults across the lifespan from teens to aging adults. These programs prepare nurses to assist with the diagnosis and management of acute and chronic illnesses, promote wellness, and take on roles as advanced practice nurse leaders.
See our list of adult gerontology post master's NP graduate certificate programs.
Online AGNP Programs
With today's hectic lifestyles, online learning has begun to grow at a rapid pace. Online adult gerontology nurse practitioner programs allow students who didn't think they could swing a graduate-level program the chance to earn an advanced nursing degree.
Advantages of an Online Program
Most students credit the convenience and flexibility of online programs as the reason they chose that pathway. With online learning, students take courses in their own homes, and generally on their own time schedule. Online programs also have the advantage of reducing commuting costs, as students don't have to deal with gas, parking, and other transportation expenses.
Program Accreditation
Just like classroom-based adult gerontology nurse practitioner programs, online programs should be fully accredited. ACEN and CCNE accreditation is the gold standard for this type of program.
Costs and Length
Online adult gerontology nurse practitioner programs have the same credit requirements as campus-based programs do, but online programs tend to be more flexible about full-time or part-time attendance. Because of this, many students are able to tailor the length of online programs to suit their needs. Cost is also similar to campus programs; for example, tuition for Spring Arbor University's online MSN adult gerontology nurse practitioner program costs approximately $712 per credit hour. Online students, however, have significantly reduced transportation costs.
Adult Gerontology Nurse Practitioner FAQs
The answer is that it depends - on the facility and department as well as the title (nurse or NP). For nurses, some departments only hire those with acute care experience, and often set a time frame for experience, such as "six months of acute care experience in the last five years required." However, some employers offer cross-training programs for nurses. Cross-training programs are set up similar to new grad programs, although they may be shorter in duration. Off-site as well as on-the-job training is common, depending on the department.
Nurse practitioners looking to gain acute care experience may have a longer path, depending on their background and certification. In most states, specialty certification is required for licensure as a nurse practitioner. NP graduates can become certified in family medicine, women's health, acute care, etc. Those looking for a career change may be required to complete another NP program in their new area of interest. For example, a nurse practitioner who holds certification in family medicine is trained in caring for patients of all age groups, but with a preventive care approach. An FNP looking to work in acute care may need to complete an NP program to become certified as an acute care NP.
Acute care nurse practitioners can work in a variety of inpatient settings. They can choose to work in ICU, ERs, Trauma, and can specialize in hospitalist or intensivist acute care. The question of whether ICU experience is necessary has variable answers.
In short, the answer is that it depends.  Specifically, it depends on the school, NP program, and desired end goal for the NP student. Some schools require 1-3 years "acute care experience." This pretty much means any area of acute care - med/surg, telemetry, orthopedic, peri-operative care, etc. ICU means critical care as well as acute care. Depending on the desired specialty, NPs must be able to care for patients in any acute care setting- whether it's med/surg or ICU (for example, if working as a hospitalist).
Nurses who know they want to advance their career and become acute care NPs are advised to find positions in critical care settings to get a jump on NP program admissions. As well as gain essential skills in both critical and acute care. However, prospective NP students should research schools to determine the specific admission requirements.
Each family and its dynamics are different, as familial structures are different. Some families are close-knit while others may have estrangement. In this case, hostility, strife, and disagreement can interfere with the care of a patient. Nurse practitioners must utilize the nursing process to identify the individual needs of families and address the concerns they may have. They must:
Assess - It's important to listen objectively and validate concerns. When meeting with the patient and family, NPs can assess the family's knowledge base, willingness to learn, and even the stage of the grieving process.
Educate - It's also important to educate the patient and family, whether it is regarding the disease process, treatment, or prognosis. Every attempt should be made to involve the family in developing a plan of care as feelings of loss of control are common, especially in end-of-life care. Ultimately, NPs must uphold the patient's health care wishes, even if they differ from what the family wants.
Implement treatment - NPs must implement treatment plans that align with the patient's wishes - whether it is to stop all treatment or to employ every treatment possible. Bringing in assistance from counselors or social workers also may be necessary.
Evaluate - Gerontology nurse practitioners should continuously evaluate not just the patient's response to the treatment plan, but the family dynamics as well to identify any additional needs.
What Are the Admissions and Certification Requirements?
Admissions requirements for most adult gerontology nurse practitioner programs include:
BSN or MSN from an accredited university
Minimum GPA of 3.0
Written expression of goals
Current resume/CV
Must submit evidence of current RN license
Professional letters of recommendation
Certification as an Adult Gerontology Acute Care Nurse Practitioner or Adult Gerontology Primary Care Nurse Practitioner is through examination via the American Nurses Credentialing Center (ANCC). Eligibility requirements for these exams include:
Current, active RN license
Master's, postgraduate, or doctoral degree in the field
List of Adult Gerontology Nurse Practitioner Programs
There are many AGNP programs available, including the following schools.
Jump to Your State Listings
Alabama
Arizona
Arkansas
California
Colorado
Connecticut
Delaware
Florida
Georgia
Hawaii
Idaho
Illinois
Indiana
Iowa
Kansas
Kentucky
Louisiana
Maine
Maryland
Massachusetts
Michigan
Minnesota
Mississippi
Missouri
Nebraska
Nevada
New Jersey
New Mexico
New York
North Carolina
North Dakota
Ohio
Oklahoma
Oregon
Pennsylvania
Rhode Island
South Carolina
Tennessee
Texas
Utah
Vermont
Virginia
Washington
Washington, DC
Wisconsin
Are we missing your school's program or need to update information listed? Please contact us so we can make the necessary changes.