Advanced Practice Registered Nurse (APRN)
Last Updated/Verified: Nov 9, 2020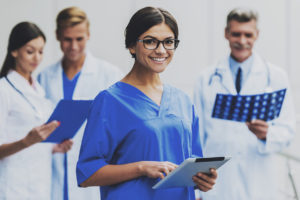 What Is an APRN?
Simply put, an APRN is an Advanced Practice Registered Nurse. This means that this type of RN has earned a graduate-level degree such as a Master's of Science in Nursing (MSN) or a Doctor of Nursing Practice (DNP), and has been specially trained in one of the four recognized APRN roles. Many RNs who hold an ADN or BSN and wish to progress their careers choose to become APRNs so that they can dive into a more focused nursing practice with a higher degree of autonomy.
According to the APRN Consensus Model, there are four roles an APRN can hold: certified nurse midwife (CNM), certified registered nurse anesthetist (CRNA), clinical nurse specialist (CNS), and nurse practitioner (NP). While many people use the terms 'APRN' and 'NP' interchangeably, it's of note to remember that while an NP is an APRN, an APRN isn't always an NP, as described above.
Learn more about RN vs NP.
APRN in Specialized Population Foci
Beyond these four APRN roles, there are several population foci that nurses can specialize in. This means that APRNs will complete education in one of the four roles, and can also gain specialized knowledge in one of the six population foci, which include:
Family/Individual Across Lifespan
Adult-Gerontology
Neonatal
Pediatrics
Women's Health/Gender-Related
Psychiatric-Mental Health
For example, a popular APRN role is a pediatric nurse practitioner, where the NP practices within the pediatric population.
While licensure as an APRN is granted at the role and population foci levels, students also have the option of entering an APRN specialty, which are areas of healthcare that exist outside the role and population foci. Examples of APRN specialties include oncology, emergency, nephrology, and more. Research various nursing terms and abbreviations.
APRN Roles
Some of the most rewarding and prestigious nursing positions are APRN roles. The following four roles encompass the APRN title, and a myriad of educational opportunities and programs exist for them:
Certified Nurse Midwife (CNM)
This type of RN specializes in childbirth and performs a host of women's health medical services. Learn more about Certified Nurse Midwives
Certified Registered Nurse Anesthetist (CRNA)
This RN administers anesthesia for patients undergoing surgery or other medical procedures, while ensuring patient safety. Learn more about Nurse Anesthetists
Clinical Nurse Specialist (CNS)
This RN provides leadership and high-level clinical expertise in a specialty area of medicine (for example, community health or geriatrics). Learn more about Clinical Nurse Specialists
Nurse Practitioner (NP)
This type of RN provides advanced, comprehensive care to patients. Many NPs enter a population focus, such as family nurse practitioner or psychiatric nurse practitioner. Learn more about Nurse Practitioners
APRN Programs
To enter any of the APRN roles, students must complete a graduate-level program. Both MSN and DNP programs are available, so RNs can decide which route is right for them. To be eligible for these programs, students must hold an active RN license and meet the school's criteria for admission.
APRN program courses usually consist of a mix of advanced general nursing classes, along with specialized courses that relate to the role or focus that the student has chosen. Beyond this, a minimum number of supervised clinical hours are also required.
Both classroom and online APRN programs are available across the country. Check out the following for more detailed information:
Current, MSN-educated APRNs who wish to change foci or specialties can opt to complete a post-grad certificate program in the specialty they wish to enter or obtain specialized nursing certifications.
APRN Job Outlook
According to the Bureau of Labor Statistics, APRNs including nurse practitioners, nurse midwives, and nurse anesthetists can expect job growth of 31% through 2024, which is an extremely favorable outlook. With the aging population, demand for highly skilled advanced practice RNs will keep job security stable. Medically underserved areas also value APRNs, as they can often serve in primary care roles, and can perform some of the diagnostics and procedures that doctors normally provide.
APRNs also enjoy higher salaries, with the national average salary landing at $107,460 per year. Some of the biggest employers of APRNs include hospitals, outpatient centers, and offices of physicians and other healthcare practitioners.
Learn more about:
APRN Resources
For further information about APRN roles, foci, and specialties, the following resources can offer assistance: