Women's Health Nurse Practitioner Programs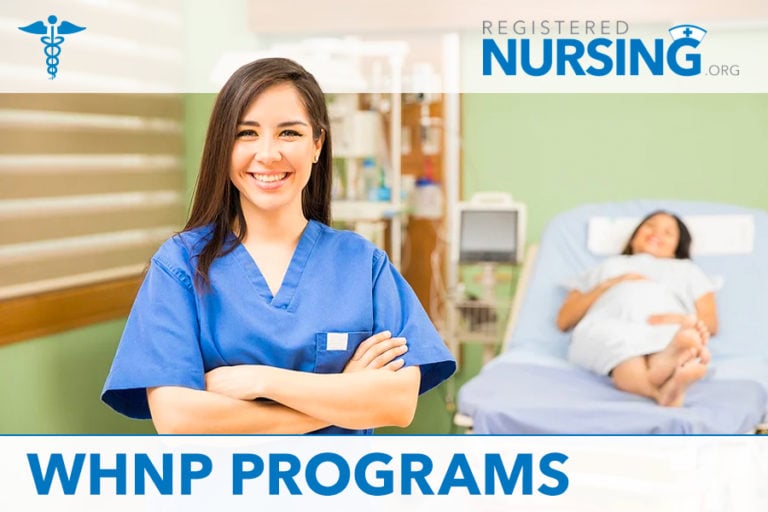 For nurses with a keen interest in women's health, there are numerous pathways available to ascend to the role of women's health nurse practitioner (WHNP). This advanced practice nursing career can be achieved by entering a master's or doctoral program, and many schools even offer online learning options in addition to traditional campus-based courses. Read on to learn about how to pick the right women's health nurse practitioner program for you.
Choosing a Women's Health Nurse Practitioner Program
When researching potential WHNP programs, it's helpful to keep the following key items in mind:
Accreditation
Properly accredited WHNP programs are a much safer bet when it comes to where a student chooses to spend their time and money. National organizations such as the Commission on Collegiate Nursing Education (CCNE) and/or the Accreditation Commission for Education in Nursing (ACEN) are two of the main ones to watch for. In addition to this, some women's health nurse practitioner programs may also be accredited by local or regional organizations.
Program Cost
Women's health nurse practitioner program tuition can fluctuate wildly based on state, school, and degree level chosen. Generally, for both MSN and DNP level programs, tuition falls anywhere from $600 to well over $1,000 per credit hour. DNP programs will be more expensive overall, as they require more credits to graduate. Most programs also have additional mandatory fees for things like course materials, labs, and more. Most schools are happy to provide a detailed tuition schedule outlining all the program fees.
Program Length
For a Master's of Science in Nursing (MSN) as a WHNP, students are required to complete roughly 50 credit hours, which equates to around 2-3 years of study. Part-time and full-time options are usually available. For a Doctor of Nursing Practice (DNP) program, around 80 credit hours are required for students starting out at the BSN level, and the program can typically be finished with 3-4 years of dedicated study.
Internship/Externship Opportunities
Both MSN and DNP women's health nurse practitioner programs require a minimum number of clinical hours. Therefore, most schools have relationships with hospitals and health centers in the vicinity from which students can choose a preceptor site. Prospective schools can provide a list of affiliations in the area, or students can inquire regarding the process to choose their own internship site.
Online/Campus Options
Due to high demand, many schools offer both online and campus-based WHNP programs. It's a wise idea to see what options a prospective school has before deciding on a program. Some schools even offer "hybrid" programs, where most coursework is completed online, but some lectures and labs are held on campus.
Women's Health Nurse Practitioner Degree Levels Offered
Nurses can choose between the MSN and DNP pathways in order to complete their WHNP education. Both programs provide the foundation for advanced practice in the field of women's health, but the DNP program provides more in-depth coursework. Students should weigh the pros and cons of both and consider long-term goals in order to choose the right degree level for them.
MSN Programs
An MSN women's health nurse practitioner program is designed to prepare nurses to provide care to women across the lifespan, and consists of general advanced nursing courses and specialty women's health courses. The curriculum may include classes such as Advanced Nursing Assessment, Antepartum Care, and Advanced Management of Women's Health. Frontier Nursing University, for example, offers an MSN level Women's Health Nurse Practitioner program.
RN to MSN Programs
An alternative pathway to becoming a women's health nurse practitioner is through an RN to MSN program designed for nurses who have their Associate's Degree in Nursing (ADN), or a bachelor's degree in a non-nursing field. These RN to NP programs combine the curriculum of the BSN and MSN programs into one curriculum, and often allow students to concentrate their studies in a particular practice area, such as women's health. The online RN to MSN program with a concentration in the Women's Health Nurse Practitioner role at Regis College is one example of these specialized programs.
DNP Programs
The WHNP doctoral program takes the MSN curriculum a step farther, offering more courses and focusing on nursing leadership. Classes in this program may include Simulation for Women's Health Care Providers, Childbearing Complications, and Gynecologic Management. The University of Utah is a good example of a school that offers a DNP Women's Health Nurse Practitioner program designed to provide comprehensive care to women.
RN to DNP Programs
One pathway to becoming a women's health nurse practitioner for nurses who have already earned their bachelor's degree in nursing is via a BSN to DNP program for women's health NPs. These specialized degree programs provide students with an advanced practice nursing education with an emphasis in women's health to prepare them for leadership positions in nursing. Following graduation from a BSN to DNP program, students will have earned both the MSN and DNP degrees. One example of such a program is offered at the University of Colorado Anschutz Medical Campus, which offers full-time and part-time options as well as distance learning courses.
Online Women's Health Nurse Practitioner Programs
Online programs have grown in popularity due to the increasingly busy lives of students, and WHNP programs are no exception. With work and family obligations, online women's health nurse practitioner programs give nurses the chance to earn an advanced nursing education on their own time. Keep in mind, however, that some minor campus trips may still be required with online WHNP programs, and that clinical hours must be performed at a preceptor site in person.
Advantages of an Online Program
There are numerous advantages to online women's health nurse practitioner programs. First and foremost, the convenience and flexibility of this type of program is second to none. Students are able to take courses from home, and generally on their own time schedule. For those who don't have a university nearby, or who don't want to have to relocate to complete their schooling, online programs are an invaluable option. All online students receive the benefit of reduced transportation costs, as parking, gas, and other commuting expenses are virtually eliminated with this type of program.
Program Accreditation
Much like their traditional, classroom-based counterparts, online women's health practitioner programs should be fully accredited. CCNE and ACEN accreditations are the ones to look for in order to ensure a reputable learning experience.
Costs and Length
Both MSN and DNP online WHNP programs have the same credit requirements as campus-based programs versions do, but generally allow for more flexibility in when and where the courses are completed. Due to this, the total length of online program varies more, as students are able to customize the learning experience around their schedules and needs more readily. Tuition costs are also similar, and fall into the $500 to $1,000 per credit price range, though students may find it easier to find an online program that fits within the budget. As an example, the University of Minnesota offers an online Women's Health Nurse Practitioner DNP that charges approximately $973.75 per credit.
What Are the Admissions and Certification Requirements?
Students can generally expect the following admissions requirements from a WHNP program:
Minimum of a BSN from an accredited college or university
Official transcripts of all previous college work
One or more professional recommendations outlining clinical experience and ability
Valid RN license
Personal statement or essay
GPA of 3.0 or higher may be required
Certification as a Women's Health Nurse Practitioner (WHNP-BC) can be obtained via examination by the National Certification Corporation. Eligibility requirements include:
Current U.S. RN license
Graduate of an accredited women's health nurse practitioner program (MSN or DNP)
Must take the exam within 8 years of program graduation
Official transcripts and diploma must be submitted
List of Women's Health Nurse Practitioner Programs
WHNP programs can be found from coast to coast, including the following schools listed below.
Jump to Your State Listings
Alabama
Arizona
California
Colorado
Georgia
Illinois
Kentucky
Louisiana
Massachusetts
Minnesota
Missouri
Nebraska
New Jersey
New York
North Carolina
Ohio
Pennsylvania
Tennessee
Texas
Utah
Virginia
Washington, DC
Are we missing your school's program or need to update information listed? Please contact us so we can make the necessary changes.