RN to BSN Programs: What's the Right School for You?
Within the last few years, the push to hire bachelor's educated registered nurses has gained momentum. It seems likely that in the future, a bachelor's degree will be the minimum education requirement for registered nurses.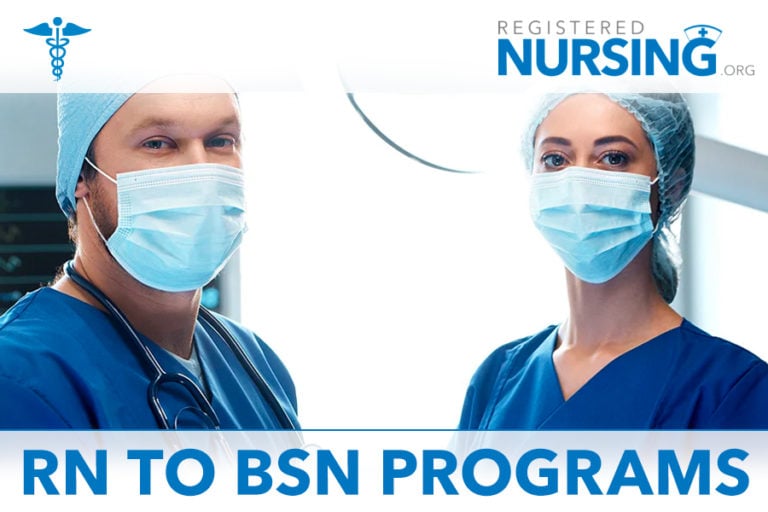 For decades, leaders in the field of nursing have encouraged associate's and diploma level nurses to pursue a Bachelor's of Science in Nursing (BSN) degree. Research has proven that nurses with this degree experience improved job satisfaction, improved patient outcomes, and fewer clinical errors.
Interested in an online RN to BSN program?
2023 - Best Online RN to BSN Programs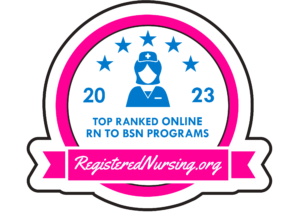 As hospitals and healthcare systems make the push to hire more BSN-educated nurses, many RNs are considering a return to school to advance their education. Luckily, online RN to BSN programs make this process quicker and easier than ever, and many RNs are able to continue working while they complete these programs. Finding the right online program can be tricky, which is why we have ranked the top online RN to BSN programs across the nation. Check out our rankings below to find a great program, and you'll be on your way to a higher salary and expanded employment opportunities in no time.
For more information on our top nursing school rankings, visit our Methodology Page (https://www.registerednursing.org/rankings-methodology/).
Select your state from below and view a full list of accredited RN to BSN programs both online and campus based.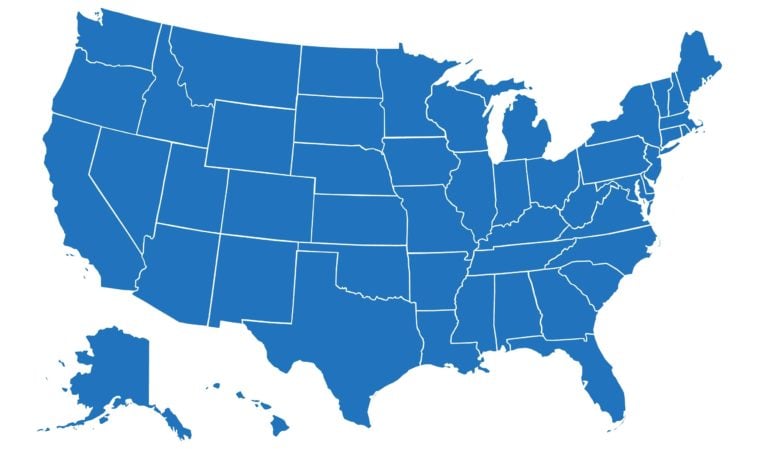 Is an RN to BSN Bridge Program Right for Me?
For the registered nurse who enjoys the field of nursing and wishes to either:
Stay competitive in the field
Learn even more about how to be a great nurse and help people, or
Wishes to shift gears to a non-clinical position
The answer is "absolutely!"
How Long Are RN to BSN Programs?
The general requirement for an RN to BSN program is 120 credit hours – this includes undergraduate hours already completed during the associate's degree program.
So, for most students, an RN to BSN program is really just 30 upper-level courses.
The breakdown is generally:
60 undergraduate credit hours (which is the associate's degree you already have)
30 upper-level BSN courses
Most schools will require employment as an RN while enrolled in the program.
Are Clinical Hours Required for the RN to BSN Program?
Clinical hours are not required for the RN to BSN program in order to meet state requirements. Because the bachelor's educated nurse works clinically in the same capacity as the associate's educated nurse, no additional clinical hours are required by the state. The only reason clinical hours are required is to qualify for state licensure, meaning to qualify to sit for the NCLEX-RN exam and become registered as a nurse. The BSN program is exempt from this because the RN is already licensed. However, there are RN to BSN programs that do include clinical learning modules to enhance nursing skills. It's always a good idea to check the specific requirements of any RN to BSN program you may be considering to see exactly what the curriculum entails.
In most cases, RN employment maintained throughout the RN to BSN program is required. Equivalency testing is available if the student will not be employed as an RN throughout the program, but this is definitely something to confirm prior to enrolling in a program.
RN to BSN Program Requirements, Tuition, and Curriculum
While specific program requirements will vary by school, some basics most schools will share are:
RN Licensure
Criminal background check
General admission criteria
Full-time RN employment or equivalency exams
Licensure
RN to BSN programs require students to be registered nurses in good standing. This means no disciplinary action without explanation and follow-up. If you have had issues with disciplinary action against your license, be sure to check the school's policy on this.
Criminal Background Check
As with associate's degree programs, a clean criminal background check is required for the RN to BSN program. Along with this, some schools may require a drug test or physical.
General Admission Criteria
Based on undergraduate transcripts from accredited institutions, many schools have a minimum 2.0 GPA requirement. Most students have satisfied the general admission requirements as these were also required to pass the associate's degree program.
Full-Time RN Employment or Equivalency Exams
About 30 hours of clinical/practical hours or equivalency exams are required for many RN to BSN programs. If the student is a full-time working RN throughout the program, this will satisfy the requirement for most schools. For RNs who are not working during the program, schools may offer exams or other ways to satisfy the 30-hour requirement. The best thing to do is to discuss this with the school's advisor.
How Much Does an RN to BSN Program Cost?
RN to BSN program costs will depend on the state and school type. Private nursing schools and universities vary greatly in regard to program costs. With that said, it is best to check with each school prior to enrolling.
How Can I Pay for My RN to BSN Program?
Scholarships, grants, private loans, and cash payment programs are available for those who qualify. Accredited online nursing schools have financial aid available for those requiring student loans. Most schools meet these criteria.
Before taking out student loans or a private loan, it may be wise to think about the pros and cons of accepting student loans to pay for school.
Will the degree help you to make more money?
Have more job flexibility?
Is it a stepping stone to attending a graduate program eventually?
The answer to all these questions in transitioning from an RN to BSN program is "yes!"
Many students find it makes sense to take out student loans to pay for the program if the employer offers a raise, allows the nurse to apply for management positions that are higher-paying, or when the end goal is to become a Master's degree educated advanced practitioner, which has a higher salary base than bedside nursing with an Associate's degree.
If the end goal is to attend a Master's program then consider how much of a pay increase this will be and the necessity of having the BSN as a stepping stone. There is some RN to MSN programs available but they are less common than RN to BSN and BSN to MSN programs. Also, the requirements and length of these programs will vary greatly.
Scholarships and Grants
Scholarships and grants are available for nursing students. A little research into this goes a long way. Many nursing organizations offer help with paying for nursing school in the hopes that more and more students will choose nursing as a major. This is good for the long-term health of the field because it alleviates the current nursing shortage and helps prevent a worsening nursing shortage in the future.
Some great organizations offering nursing scholarships and/or grants include:
Bear in mind that scholarships and grants may come with stipulations and requirements for keeping the money they provide. This is usually a GPA requirement or requirement for completion of the program. If something happens and the student has to withdraw from school or fails school, he or she could be responsible to repay the money. So be sure to read and approve of the stipulations before accepting the money.
For the working RN, many places of employment will provide tuition reimbursement for BSN bridge programs, both online and in-classroom styles. This may cover one class a semester or be 100% repayment. Ask your human resources department about tuition reimbursement.
Private Loans
Private loans may also be available for those who qualify. The student may find that tuition at some nursing schools, especially private schools, may exceed the amount of federal financial aid awarded. The thought of taking out another loan, such as a private loan, may seem intimidating. These are usually at a higher interest rate than federal loans. But, again, consider that an increase in salary will offset the cost of student loans and the long-term earning potential for a Bachelor's educated registered nurse is higher than an Associate's degree educated registered nurse.
If student loans, scholarships, or grants are not possible, or not desirable, most schools offer incremental cash payment programs.
Cash Payment Programs
These programs are offered and managed by the school. The total cost of tuition for a semester is broken up into the number of months a semester is and the student pays for each semester monthly or weekly. For example, if tuition for a semester is $2000 and the semester is 5 weeks long, the weekly payment would be $400. Interest usually does not apply since it is not a loan.
What Classes Are Required for an RN to BSN Program?
RN to BSN programs build on knowledge and experience nurses need to help grow in critical thinking, leadership, and clinical skills.
Whether nurses are seeking to advance in their current role or explore other areas, nursing programs are designed to equip nurses with the knowledge and training they need to excel.
RN to BSN program curriculum varies by school, but generally includes courses such as:
Community Health Nursing
Evidence-Based Practice
Statistics for Nurses
RN Collaborative Healthcare
Nursing Management
Healthcare Informatics
Nursing Ethics
Nursing Leadership
Nutrition
RN to BSN FAQs
Yes! And not only can you work, but most schools require it!
Maintaining full-time employment as a registered nurse during the RN to BSN program is encouraged by most schools. Not only does this satisfy the 30 "clinical hours" requirement of many RN to BSN programs, but it allows for the nurse to take advantage of the employer's tuition reimbursement programs and qualify for certain nursing scholarships and grants.
Many online RN to BSN programs are flexible enough to allow for full-time employment hours without a lot of adjustment. If the course requires daily or 3-4 day a week participation log-ins, this usually only takes 15-30 minutes maximum. This can be annoying after a long day at work at the bedside but it's definitely doable. Besides, most bedside nurses work 3 twelve-hour shifts a week. This allows for entire days of working on projects and assignments.
Many, many registered nursing positions are waiting to be filled throughout the country's healthcare facilities. For many years now, the nursing community has been pushing to eliminate the Associate's Degree in Nursing (ADN) in favor of the Bachelor's of Science in Nursing (BSN).
The Future of Nursing report issued by the Institute of Medicine in December of 2010 outlined 8 recommendations for advancing the field of nursing for the future.  The fourth recommendation is that by 2020 80% of all RN's should hold a Bachelor's degree.
Major reasons for this shift to higher education include:
Research to support better patient outcomes by RNs with a BSN
Increasing availability of BSN programs and RN to BSN bridge programs
Europe, New Zealand, and Australia already require a BSN for entry-level RN jobs
Highly complex healthcare environment requires higher education
Barriers to accomplishing this change in the past have been the tremendous registered nursing shortage. Hospitals have been more focused on filling the open RN positions to ensure adequate nurse to patient ratios and quality patient care, but less focused on encouraging or hiring registered nurses with higher education. Thanks to the wide availability of RN to BSN programs as of late, more highly educated RNs are becoming the norm.
Online RN to BSN Programs
Luckily, there are many online RN to BSN programs available for nurses who want to take the next step in their careers. Finding the right online RN to BSN program has never been easier. From online programs to a traditional classroom setting – the right fit is accessible for all nurses.
Online education has become a viable option for working students. Online courses offer an element of convenience as students are not required to physically attend class – they can complete coursework from the comfort of their own home or during breaks at work. Think about your own learning style when considering completing an online RN to BSN program.
Finding help while enrolled in an online class is usually quick and easy. Schools want you to succeed and are motivated to provide any additional resources or answer any questions. Some platforms even offer an online 24/7 chat option.
Advantages of Online RN to BSN Programs
Some advantages to online learning include:
Flexibility
Opportunities to earn a degree from a prestigious school regardless of geographic location
Learning from the comfort of your own home
Flexibility
Attending classes from the comfort of your living room can't be beaten. Participation in classes can be completed around a work schedule – which allows full-time working students the opportunity to complete requirements on their own time. The flexibility alone is enough to pursue online education.
Raising a family as well as working and maintaining a social life is certainly possible with the flexibility of internet-based learning. Some schools require full-time registered nurse employment status to be maintained throughout the program.
Online RN to BSN programs offer the same courses and rigor as their brick-and-mortar counterparts. Most online schools require daily or 3-4 day week log-ins for class participation. This may be cumbersome after a long day of working bedside as a nurse!
Weekly projects with group participation are usually required as well. This may be in the form of a Powerpoint presentation, group chat, essay, research paper, or some other participation component. Reading from a text and proving comprehension in some form is also part of online learning.
Virtual Location
Because the RN to BSN bridge program is usually available 100% online, the student can live anywhere and attend classes. Clinicals are not required by the state for an RN to BSN program, however, some programs may require full-time employment as an RN.
This opens up the possibility of attending competitive universities outside of one's state – some of which have wonderful reputations within the nursing community. When considering the cost of these universities versus other schools, think about what the end goal is and whether it matters to have a degree from an expensive university with a well-known name or if a less well-known but accredited school serves your needs.
If the end goal is to attend graduate school or pursue nurse education, then having a more prestigious bachelor's degree might be more advantageous. Also, some employers, such as research facilities or schools, may only hire nurses with a more prestigious degree.
Eliminates Language Barriers
In a traditional English-language classroom setting, international students have a harder time understanding the course content and following along with lectures. With online school, either the school can provide a platform with the student's native language or translation programs are available. Sometimes just using Google Translate is enough.
Information Previously Discussed is Still Available for Review Later
In online courses, information the instructor went over during the class is saved and available for students to access at their need. Unlike a traditional classroom, a virtual "chalkboard" is never erased and the speed at which a student comprehends the information is less of a factor. Everything is typed and communicated through the E-classroom. This information is stored until the class is over and sometimes longer than that. Information can also be printed at home.
What Should I Consider When Choosing an Online RN to BSN Program?
The main points of consideration include:
Accreditation
Length of program
Program model
Tuition cost
Accreditation
Ensuring the proper accreditations are in place for an RN to BSN program is essential – otherwise, your degree may not be valid. Additionally, moving on to a graduate school may not be an option if the bachelor's degree was not obtained at an accredited college or university. See our overview of nursing school accreditation.
Length of Program
While schools may vary in length, most require approximately 30 credit hours of upper-level BSN courses. This does not include prerequisite classes, which vary by school. Most prerequisite courses are completed with the ADN.
For many online RN to BSN programs, the courses are 5-7 weeks long and are taken one at a time. Program completion length may vary depending on each school's curriculum and how motivated the student is to complete all requirements. Some online programs are more self-paced, which is great for flexibility – but some students may find it difficult to stay motivated with this structure.
Program Model
Various types of RN to BSN programs exist, as discussed above. Traditional versus online programs as well as hybrid courses are available. And within these models are self-paced and structured curricula. The best way to decide which model best suits each student is to consider the style of learner and the amount of time required to finish the program.
Are you a person who needs to be strongly guided through each course in order to finish?
Are you a self-motivated person who wants to complete the program as fast as possible?
Tuition Costs
When determining a budget for school, consider the end goal. Will a raise in pay and tuition assistance or reimbursement be possible? Many hospitals offer a 5% raise with about $2,000 a semester in reimbursement, although this varies by company. Consider the financial aid payments and interest rates with regard to the increase in pay.
List of Online RN to BSN Programs
Listed below are online RN to BSN programs from across the country. Get more details about each program by visiting the school's webpage.
Jump to Your State Listings
Alabama
Alaska
Arizona
Arkansas
California
Colorado
Connecticut
Delaware
Florida
Georgia
Hawaii
Idaho
Illinois
Indiana
Iowa
Kansas
Kentucky
Louisiana
Maine
Maryland
Massachusetts
Michigan
Minnesota
Mississippi
Missouri
Montana
Nebraska
Nevada
New Hampshire
New Jersey
New Mexico
New York
North Carolina
North Dakota
Ohio
Oklahoma
Oregon
Pennsylvania
Rhode Island
South Carolina
South Dakota
Tennessee
Texas
Utah
Vermont
Virginia