2023 - Best Nursing Schools in California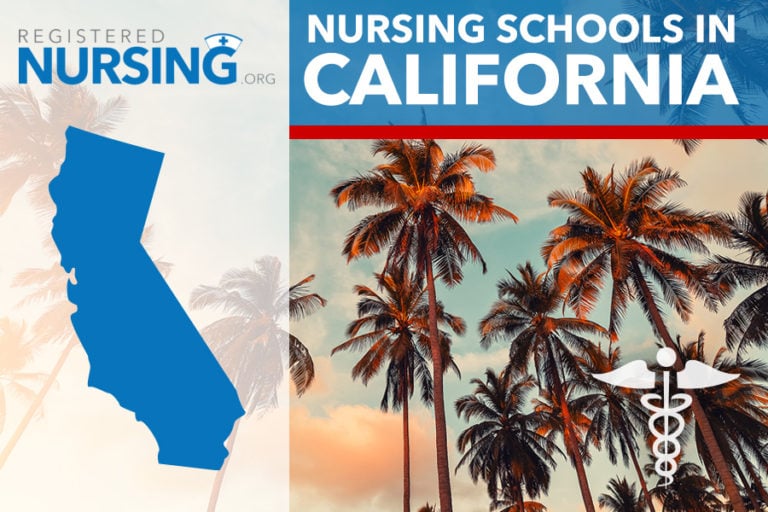 The state of California is continually ahead of the curve and striving to provide the best patient-oriented nursing care. When obtaining RN status, California is encouraging students to look further into the future of nursing and the direction in which their career path may take them. A BSN gives candidates the advantage to accept job opportunities more readily, as well as provides a competitive edge when applying for advancements. The market currently shows an upward trend of an estimated 15% increase in BSN nursing opportunities, salaries, and professional development over the next 5 years. You could be part of the movement toward innovative patient-oriented nursing.
For RN bridge programs visit:
2023 Best RN Programs in California
ADN Programs in California
With more than 50 ADN programs throughout the Golden State, California helps students meet the demand for more licensed RNs. Graduates from accredited programs are able to take the NCLEX-RN licensure exam and once passed are fit to practice anywhere in the state. Many nurses begin their career with an Associate's Degree in Nursing (ADN) diploma and strive for upward professional mobility in order to retire from a personally, professionally, and financially rewarding career. With an ADN as the first step, nurses often take continuing education courses and further degrees as their professional and life circumstances suit.
What to Look For in an ADN Program in California
California ADN programs are renowned globally for progressive education and evidence-based practice that they impart to graduates. For students who are beginning the research process to select a community or private college for post-secondary education, consider the following to ensure that the program outcomes are a match with their expectations:
Accreditation
A nationwide evaluation system of ADN programs ensures that every program is created and managed with the state's best practices and patient protection processes in mind. Each ADN program is accredited through the Accreditation Commission for Education in Nursing (ACEN), which has a national evaluation framework for nursing programs. Community and private colleges are also part of the Accrediting Commission for Community and Junior Colleges (ACCJC), which oversees colleges and 2-year programs that award Associates' Degrees in a variety of disciplines.
Licensing
A division of the California Department of Consumer Affairs, the California Board of Registered Nursing has grown in scope and authority since its creation. With several main branches including advocacy for patients, resources of applicants and the public, regulatory enforcement, and assistance for nurses who require intervention, the Board also manages and regulates ongoing licensure of RNs and teaching programs for RNs.
Program Outcomes
Just like every other industry, ADN programs have a series of performance indicators that students can measure to see how one program compares to another. The value of this comparison means that students as consumers can use the information to pick the program that suits their goals the best.
Rate of graduation
Job market statistics
RN licensure pass rates
Salary and career information
Satisfaction data from each school
Allan Hancock College offers a 2-semester ADN program for students to train in the clinical environment and in the classroom to become an RN. Located in Santa Maria, the college offers a 30-unit program that prepares students for the NCLEX-RN examinations to gain licensure status.
ADN Program Admission Requirements in California
Ensuring that there are adequate entrance criteria helps both the college and the entire nursing profession, by ensuring that individuals have the right pre-requisite skills and knowledge to graduate successfully. In many ways, the entrance criterion is an important factor in the advancement of the nursing profession. Here are some of California's ADN admission requirements:
Submit completed diplomas or certificates
GPA with a minimum of 2.5 in core science courses
Submit personal history/relevant life experience
Exhibit proficiency in languages other than English
Documentation that supports the first attempt and scoring of an applicant's TEAS results
Successfully complete the application for the ADN program
Tuition and Costs of ADN Programs in California
Yearly tuition and clinical costs for nursing students can be difficult to generalize. Typically, students who attend private colleges or accelerated programs do pay more for some aspects of their programming which can result in overall higher tuition. Whether a student sees value in higher costs is a reflection of his or her professional goals and timelines. Some ADN programs include a number of the clinical and equipment expenses like an ID tag, uniform scrubs, shoes, analog watch, and stethoscope, while others choose to keep these expenses 'a la carte' and have students buy items separately from school costs. To get an idea of a sample tuition amount, Glendale Community College has a yearly (2-semester) tuition fee of about $5,600, which does not include ADN equipment or fees.
Advantages of ADN Programs
ADN programs have a few advantages over other program types, though there is no 'one size fits all' for post-secondary education. Amongst the main benefits cited for the style and length of the program at the ADN level is the quality of teachers. Community colleges are built on the strengths of faculty that have extensive in-field experience in their chosen area of expertise. At the college level, faculty are fully committed to students and do not have to compete for research interests or pressure to publicize their work in order to gain job security, known as tenure.
LVN to RN Programs in California
For current California Licensed Vocational Nurses (LVNs), there are a few educational pathway options to enter registered nursing. Depending on a nurse's unique career goals, they can opt for an LVN to ADN, LVN to BSN, or even an LVN to RN certificate program.
LVN to ADN/BSN Programs
The traditional "bridge" option for LVNs to become RNs, these programs have become increasingly popular. Students can choose from an LVN to ADN program, which can be completed in as little as 3 semesters and is suited for entry-level RN employment, or the LVN to BSN program, which can take closer to 3 years to complete but culminates in the coveted bachelor's degree. Exact program lengths will differ based on how many credits a student can transfer over from their original LVN program. San Bernardino Valley College, for example, offers an LVN to RN (ADN) program, while California State University San Marcos offers an LVN to BSN program. Entrance requirements for both types of programs may include:
Licensure as an LVN in the state of California
At least one year of work experience as an LVN
Completion of all prerequisite courses with passing grades
Minimum cumulative GPA (typically 2.5 or higher)
LVN to RN Certificate Program (30 units)
One of the most recent program offerings on the scene is the LVN to RN certificate program. This differs from a traditional LVN to RN program in that it results in a certificate and affords students the eligibility to take the California NCLEX-RN exam; it does NOT culminate in a nursing degree (such as an ADN or BSN degree). The advantage to this program is that it allows LVNs to take the minimum number of units, which happens to be 30, required by California to be eligible for the NCLEX exam. Schools such as Rio Hondo College in Whittier are adding these 30-unit LVN to RN certificate programs to their departmental offerings.
Students should be aware, however, that graduates of an LVN to RN certificate program may not be eligible for licensure in other states, and may not meet every employment qualification (since students won't technically be graduates of an approved degree program). It's always a good idea to thoroughly research all programs to ensure that they meet your needs and goals.
BSN Programs in California
In order to get the most highly qualified nurses, the state has determined that it is imperative to help nurses achieve a BSN, or Bachelor of Science in Nursing degree whenever possible. Some students choose to start with a 4-year BSN degree as freshmen; others upgrade their qualifications through an RN-to-BSN program. Still, other candidates will choose an accelerated BSN option. Some of the reasons cited by nurses as to why they choose to pursue a BSN are that tuition, while definitely higher than at the ADN level, is well covered in many cases by financial aid and scholarships, leading to a more credentialed degree for not that much more money. Further, in a four-year degree, there is more time and opportunity for clinical rotation and volunteer opportunities.
What To Look For in a BSN Program in California
Offered at more than 35 locations throughout the state, BSN programs are geographically accessible to most students, and several offer online courses to aid distance and part-time students as well. In choosing a BSN program that meets your needs, students should create a list of criteria to help them evaluate important factors in their education. Some considerations are the size of classes and size of clinical rotations, the cost of tuition, and whether the school has a large enough population to engage experienced professors, excellent clinical experiences for teaching purposes, and adequate facilities.
With a few campuses including the Sacramento location, California State University, Sacramento offers a well-regarded nursing program. The university's College of Nursing is poised to capitalize on the massive changes that are occurring in healthcare delivery at this time. The school is accredited by the American Association of Colleges of Nursing (CCNE) and offers several programs and pathways for those who are exploring a career in nursing. Nurses who want to build their skill set by expanding on the theoretical and evidence-based practice of nursing are able to take advantage of the programs offered therein. Clinical experiences that focus on community health, as well as that of the individual, are valued and reflected in the program numerous semesters. Accelerated and online options are available to flexibly meet the demands of today's students.
BSN Program Length in California
The program length for a typical BSN degree is four years. In recent years to meet the need for qualified nurses and to support the state's push to increase regulation, programs have started to offer RN-to-BSN programs and the Accelerated BSN track. Students are able to gather their qualifications, transcripts, and prior professional experience and apply them to fill gaps in their education and certification while achieving a BSN, a process that usually takes about half the time of a regular 4-year degree.
 BSN Program Admission Requirements in California
Specific program prerequisites and graduation criteria are different from program to program however BSN program admission requirements for Californians are generally as follows:
Minimum GPA of 3.0 with B grades in maths and sciences
SAT or ACT scores within an acceptable range
All application forms and transcripts submitted within the issued timeframes
Original transcripts provided to the Admissions office
Evidence of up-to-date vaccinations
Tuition and Costs of BSN Programs in California
While BSN tuition costs are carefully controlled and are offset by state and federal subsidies and grants, there is still some consideration for students for whom tuition is a factor. Each school offers a comprehensive breakdown of the tuition costs; housing, equipment, course fees, and special program fees may or may not be included. For example, the University of San Francisco has tuition that averages about $45,000 per two semesters.
Advantages of BSN Programs
Pursuing a BSN is often seen as the first step away from home for many students. The baccalaureate degree has a number of benefits; among them, there are numerous student support services to help students adjust to the rigors of adult-style workloads and stressors. There is also a range of choices for students who have an interest in a particular minor field of study that may augment their major.
MSN Programs in California
Master of Science in Nursing (MSN) programs are gaining visibility as Americans grapple with a looming shortage of qualified nurses and healthcare workers. The medical field has expanded greatly in the last decade or so as medical advances are made almost weekly – this means that knowledgeable nurses are increasingly valuable. Like the BSN, there are a number of professional pathways to help RNs achieve their career goal of a graduate degree through accelerated, part-time, or distance coursework. There are more than 20 such programs in California; Sonoma State University is a great example of one that offers the core MSN program, a Nurse Practitioner program, and other specialties that help nurses assume leadership roles in facilities and communities around the state and beyond.
MSN Program Length in California
Approximately three years in length, the RN to MSN pathway – available to students who already hold a BSN – can be a busy time. Full-time students are encouraged to devote their time to their studies; part-time students may have the flexibility to both work and learn.
MSN Admission Requirements in California
MSN admission requirements are exacting and require a number of specialized prerequisites. The process is lengthy and programs admit only a small number of promising candidates each year or semester, depending on how schedules are constructed. Criteria may look like the following:
Be accepted to your school of choice as a graduate student
Be licensed as an RN with no restrictions; able to practice in California
Have two years experience as an RN
Have a BSN degree with a minimum GPA of 3.0
Have completed the online application and supplemental applications
Have submitted all official transcripts
Tuition and Costs of MSN Programs in California
Graduate degree programs are more expensive than their undergraduate is and college counterparts are, however, the autonomy, authority and upward mobility of the role make up for the cost. MSN graduates are able to help more people more often than their BSN or ADN colleagues. Tuition depends on the institution you may wish to attend and often does not include books, lab costs, clinical costs, or equipment since grad school nurses are assumed to have these items before entering the program. Per year, tuition is about $16,000 for a full-time course load.
For NP programs visit:
Getting a California Nursing License
California regulations for nursing licensure within the state by application and those from another state by endorsement:
A completed application along with the following items should be submitted:
Social Security Number or Individual Taxpayer Identification Number
Fingerprint documentation – Live Scan or Hard Card
Recent passport picture (2" x 2")
Request for transcript
Request for Accommodation of Disabilities (if applicable)
Application for endorsement of licensure can be done by providing all of the above documentation, as well as the following:
Current/active license from another state
NURSYS Verification Application completed
NCLEX-RN or State Board Test Pool Examination – passing score
Accelerated Nursing Programs in California
There are more than 10 different accelerated BSN programs offered throughout the state. The programs vary in length, but all generally run for 12 to 24 months, depending on the college attended. Most of these programs require a full-time commitment, and have required courses that must have been passed before admission to the accelerated program will be granted. The prerequisites vary depending on the degree previously attained, as well as which college program being taken. Total costs for an accelerated degree can run as much as $65,000, this is dependent upon the program, how many prerequisite courses needed, and if housing costs need to be factored in as well.
Latest California NCLEX-RN Pass Rates and Statistics
Total Number of State Approved Schools: 131
Total Number of Test Takers in 2021: 12,396
2021 Average Statewide California NCLEX-RN Pass Rate: 89.3%
Continued List of All RN Programs in California
Here is a continued list of all RN Programs a continued list of all RN Programs a continued list of all RN Programs a continued list of all RN Programs a continued list of all RN Programs a continued list of all RN Programs.
Are we missing your school's program or need to update information listed? Please contact us so we can make the necessary changes.