Direct Master's Entry to Nursing Practice (MENP)
Master's Entry to Nursing Practice programs (MENPs) are designed for students without any nursing education or experience who have completed their bachelor's degree in another subject. Also known as direct-entry master's programs, MENPs prepare students to enter the nursing profession without first earning their Bachelor of Science in Nursing (BSN). These challenging programs combine the curriculum of BSN and Master of Science in Nursing (MSN) programs and generally take around three years to complete, saving students the time and cost of two programs. Upon graduation, nurses are prepared for advanced-practice nursing careers in research, leadership and patient care. Below is a full listing of master's entry nursing programs, as well as tips on how to choose the right program for you.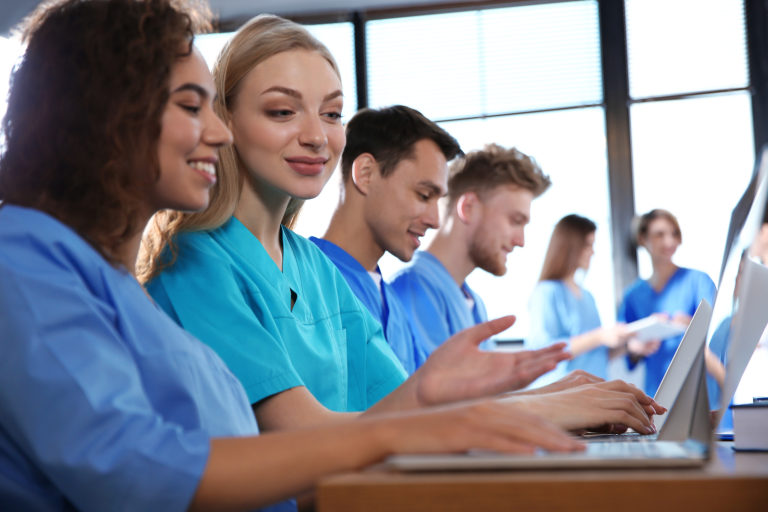 Choosing a Master's Entry to Nursing Practice Program
With a large number of direct entry MSN programs to choose from, selecting the right school can be a challenge. In order to make that decision easier, we have outlined a few factors to consider when researching schools. Keep these program elements in mind to make choosing the right school a simpler decision.
Program Accreditation: Your first step when considering an MENP school is finding out whether the program is properly accredited. Program accreditation by an organization such as the Commission on Collegiate Nursing Education (CCNE) or the Accreditation Commission for Education in Nursing (ACEN) ensures the program has been evaluated according to strict quality standards. A program that has been properly accredited will provide you with a high quality nursing education that will prepare you for the next step in your career.
On Campus vs. Distance Learning: MSN-level nursing programs may be offered in fully online or traditional on campus formats, and even in hybrid formats that combine online coursework with face-to-face learning. Online, or "distance learning" programs, may be particularly attractive for students who are working or caring for family members while completing their degree because classwork can often be completed on your own schedule.
Curriculum: When researching a school, review the sample curriculum to make sure the course subjects cover what you are hoping to learn for the next step in your career. Typical courses for a master's entry nursing program include pharmacology, physiology, healthcare policy, advance care nursing principles, nursing leadership skills, as well as clinical practice hours.
Time Commitment: Most direct entry MSN degrees take around 3 years to complete. However, the exact timing can vary from school to school. For example, a program may be completed in more or less time if classes are taken on a full- or part-time basis, or if a distance learning format allows you to complete coursework at your own pace.
Program Cost: Tuition for a master's entry nursing program varies from school to school, based on factors such as geographic location, online versus classroom format, a student's residency status and the type of school. Before you choose a school, make sure you have calculated the full cost of the program, including tuition, mandatory fees, materials costs and housing and/or the cost of commuting.
Online Master's Entry to Nursing Practice Programs
Online master's entry nursing programs provide students with several advantages, most notably the flexibility to complete coursework whenever and wherever it is convenient. With distance learning programs, students can often continue to work or fulfill family obligations and attend classes or complete assignments on their own schedules. Online program benefits also include:
Affordable Education: Distance learning programs may also be more cost-effective options for students, when compared with classroom programs. While tuition rates vary from school to school, online programs eliminate the cost of commuting to campus and campus housing from the full price of the program. Additionally, many schools provide financial aid options for students who need help paying for their education.
Flexible Schedule & Program Length: Online direct entry nursing programs provide students with the convenience of completing their courses when it works with their schedules, and self-paced learning means that programs can often be completed a quicker pace. For example, Marquette University's Direct Entry MSN program can be completed in as little as 18-21 months.
What Are the Admissions & Certifications Requirements?
Admissions requirements for direct entry nursing programs will vary slightly from school to school and in different states, but in general will include:
Completion of a bachelor's degree with a GPA of 3.0 or higher
Letters of recommendation
Completion of college-level pre-requisite courses, which may include statistics, human anatomy, biology and chemistry
Personal statement or essay
In some cases, schools may also require scores from standardized entrance exams such as the Graduate Record Examination (GRE)
Program Curriculum
The master's entry nursing program curriculum combines coursework from BSN and MSN programs, and prepares students to take the national licensing test for registered nurses, the NCLEX-RN. While exact course titles may vary from school to school, below is an example of some of the classes offered as part of the MSN Direct Entry program at Trinity College of Nursing & Health Sciences:
Art & Science of Nursing Practice
Pharmacology
Pathophysiological Basis for Nursing Practice
Adult Health Nursing
Nursing Leadership, Management & Organizations
Technology in Health Care
Maternal/Newborn Nursing
Nursing Theory & Research-Based Practice
Healthcare Policy, Trends & Issues
Clinical Practice in the Community
In addition to coursework completed online or in a classroom, direct entry programs also include clinical practice hours for students to gain professional nursing experience.
MENP vs. Traditional Master's Degree Route
Students pursuing an MSN through a master's entry nursing program are able to complete their studies at an accelerated rate by building on the foundation of their previous education and work experience. Schools know that a student who has already completed a bachelor's degree in another field is able to handle the rigorous coursework and accelerated pacing of a direct entry program. In addition, students have the benefit of completing their studies and beginning a new career faster than if they were to take a BSN and MSN program separately. In addition to a shorter completion time, these programs can also be more cost-effective than two separate degree programs. Upon graduation, these nurses are ready for higher paying and more advanced nursing positions than those who have not completed their master's degree.
There are a couple of caveats to a direct entry nursing program that prospective students should be aware of. First, accelerated nursing programs are very challenging and academically rigorous. Students need to be committed to becoming a nurse and disciplined enough to complete challenging coursework and long practice hours. In addition, any master's level education is a significant cost investment in your future. While many schools offer financial assistance to those who qualify, it can be a financial hurdle to pay for a master's degree in nursing.
List of Direct Entry MSN Programs