2023 - Best Nursing Schools in Texas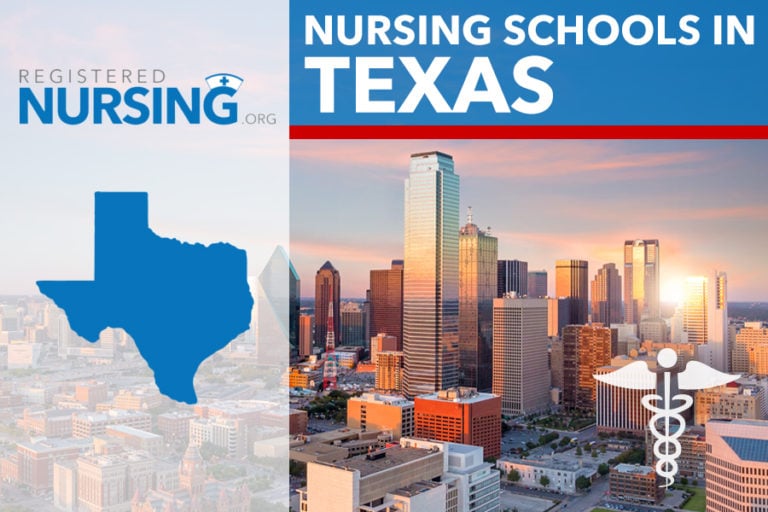 They say everything is bigger in Texas, and this includes the state's nursing needs. The Texas Center for Nursing Workforce Reports that the state's supply of registered nurses will fall short of demand for each year through 2030. This creates an incredible opportunity for anyone thinking about becoming a registered nurse. With a median salary of $79,120 annually (per the Bureau of Labor Statistics), starting a career as a registered nurse in Texas is not only rewarding, it's lucrative as well.
For RN bridge programs visit:
2023 Best RN Programs in Texas
ADN Programs in Texas
An Associate's Degree in Nursing (ADN) is a great way to break into a career as a registered nurse. These programs are extremely popular due to their affordability and relatively short duration of just 2 years. Since ADN programs are commonly offered at community and technical colleges, they are widely accessible as well.
There are over 65 schools in Texas that offer ADN programs all throughout the state.
What to Look For in an ADN Program in Texas
With the abundance of ADN programs in the state, you'll want to do your research to pick the best option for you. Here are a few important things to consider when researching schools:
Accreditation
Choosing a properly accredited school is crucial. A few national organizations to look for when checking a school's accreditations include the Accreditation Commission for Education in Nursing (ACEN) and the American Association of Colleges of Nursing's Commission on Collegiate Nursing Education (CCNE). It's also important to ensure that the program is recognized locally by the Texas Board of Nursing.
Licensing
You'll want to be sure that the ADN program you select will fully prepare you to take the National Council Licensure Examination for licensure as a Registered Nurse (NCLEX). It's wise to take a look at your prospective school's curriculum to ensure that their courses and instructors will help you reach this goal.
Program Outcomes
You can tell a lot about a school and its programs by taking a look at its success rate statistics, which many schools will provide. The following are all good indications of the school's reputation:
Graduation rate
Licensure exam pass rate
Graduate satisfaction
Employment rate
Dallas College – Brookhaven is just one of the many ADN programs in the state that is properly accredited.
ADN Program Admission Requirements in Texas
Each ADN program will vary slightly regarding admission requirements. The following are some example requirements to give you an idea of what to expect:
Overall GPA of 2.7 or higher, and a 2.5 GPA on pre-requisite courses
Current BLS Healthcare provider level CPR-American Heart Association
Passing HESI exam scores
Tuition and Costs of ADN Programs in Texas
There are many things to factor in when considering the cost of an ADN program. Tuition is the biggest one, along with additional costs like uniforms, textbooks, and other supplementary fees, many of which are not included in the tuition cost. It's always smart to inquire with your school of choice about what exactly is covered in the tuition fee so that you can factor in any additional expenses.
As an example, the ADN program at Navarro College in Corsicana, TX works out to roughly $11,024 in tuition for in-district students, not including additional expenses like lab fees, books, or other supplies.
Advantages of ADN Programs
Going forward with an ADN program is an excellent choice if you are looking to start a career in healthcare. At roughly 2 years in length, it gets you into the working world much more quickly than a traditional 4-year degree, and it also tends to be much more affordable. It is also widely available at many junior and technical colleges, meaning that you'll be able to find a program near you whether you live in a highly populated city or in a more suburban or remote area.
LVN to RN Programs in Texas
Many Licensed Vocational Nurses (LVNs) in the state of Texas have aspirations of becoming registered nurses. For these nurses, LVN to RN programs are a perfect choice, as they take into consideration the student's prior nursing education and experience. There are a number of choices for those wishing to enroll in an LVN to RN program.
LVN to ADN/BSN Programs
Some nurses decide to pursue an LVN to ADN program, which culminates in the basic associate degree in nursing. These are popular programs because they often take just a few semesters to complete. The Chicago School (formerly known as the Dallas Nursing Institute), for example, offers an LVN to ADN program that shaves nearly 6 months off their traditional ADN pathway. For those interested in a baccalaureate nursing degree, the LVN to BSN program pathway is ideal, with a curriculum that bridges the gap between vocational nurses and registered nurses. Sam Houston State University in Huntsville offers an LVN to BSN for those wanting to pursue the coveted bachelor's degree.
Both LVN to ADN and LVN to RN programs will typically require an active LVN license, a minimum GPA, and official transcripts/test scores to be eligible for admission.
BSN Programs in Texas
If you are interested in a more advanced nursing degree, a Bachelor of Science in Nursing (BSN) is the way to go. Earning a BSN will take longer than earning an ASN – BSN programs are traditionally 4 years in length. However, a BSN opens the door to increased earning potential and greater career opportunities; for example, jobs such as public health nurse and nurse educator can be obtained if you hold a BSN. Some schools offer an accelerated program that can get you out of school much quicker, and if you are already an RN, there are shorter RN to BSN programs rising in popularity as well.
With over 50 schools in Texas that offer BSN programs, finding one to suit your needs is easier than ever.
What To Look For in a BSN Program in Texas
With so many options for BSN programs, you'll need to do a bit of research to ensure you are choosing the right one for you. Things like cost, accreditation, program outcomes and location are all important factors to consider. You may also want to inquire with prospective schools about whether they offer online courses. If you are already an RN looking to complete a BSN, or if you'd prefer an accelerated BSN program, you'll need to be on the lookout for these program options as well.
Midwestern State University, located in Wichita Falls, TX, is just one example of a school that offers a properly accredited BSN program in the state.
BSN Program Length in Texas
A traditional BSN program lasts 4 years. Some schools also offer accelerated BSN programs which can dramatically shorten the length to as little as 16 months. If you are already an RN, you can look into RN to BSN programs, which are typically shorter at roughly 1-2 years in length.
BSN Program Admission Requirements in Texas
BSN program admission requirements can vary widely. Here is a sampling of requirements that you can expect to see for this type of program:
Completed all pre-requisite courses with a cumulative GPA of 3.0 or higher
Completed HESI A2 assessment with minimum scores of 80% in Math and composite English language
Personal statement
Tuition and Costs of BSN Programs in Texas
You can expect to incur some expenses when going to school for your BSN. Tuition, along with extras like books, uniforms, lab fees, and more will all have to be accounted for when you are budgeting for a BSN program. As an example, the estimated cost for in-state tuition and fees for a traditional BSN at Texas A&M University, which has locations in Bryan, Round Rock, McAllen, and Lufkin, is approximately $32,472.
Advantages of BSN Programs
A BSN is ideal for someone looking for increased job opportunities in the world of registered nursing. The potential for higher pay and more responsibility are just 2 of the reasons why a BSN might offer a competitive edge over other types of nursing programs. It's also a great way to advance if you are already an RN and looking to move forward in your career.
MSN Programs in Texas
A Master's of Science in Nursing degree (MSN) is the next step in nursing education beyond a BSN. This advanced degree can lead to nursing jobs including Clinical Nurse Specialist, Certified Nurse Midwife, and Nurse Practitioner, among other specialties. Please keep in mind that in order to go for an MSN, you must already hold a BSN degree.
There are more than a few MSN programs at schools scattered all throughout the state.
MSN Program Length in Texas
On average, an MSN can take 2-3 years to complete, depending on the school and type of schedule you choose. Most MSN programs are designed for busy working nurses and therefore offer flexible schedules; some even offer night and/or online courses. If you are considering an MSN, it's a good idea to inquire with your school of choice about what types of coursework schedules they offer.
MSN Admission Requirements in Texas
Admission requirements may vary from school to school, but here's what you can expect for an MSN program:
GPA of 2.75 in the last 60 hours of coursework toward the undergraduate nursing degree and a minimum GPA of 3.0 in all prior graduate course work
Submit GRE scores taken within the last 10 years
Submit 3 letters of recommendation
Individual interview with graduate faculty
Tuition and Costs of MSN Programs in Texas
Tuition and fees for schools that offer MSN programs can vary widely. For example, the estimated tuition for an MSN at the University of Texas Medical Branch in Galveston is around $1,417 per credit hour, including fees.
For NP programs visit:
Getting a Texas Nursing License
Texas has clear regulatory conditions for licensure by either examination or endorsement that include graduating from a state-approved School of Nursing and passing the NCLEX exam.
For licensure by examination candidates are to submit the following information with their application:
Criminal Background Check - with fingerprints (electronically submitted)
Passing score on 'Nursing Jurisprudence Examination'
Affidavit of Graduation
Registration for NCLEX exam - passing score upon completion
For licensure by endorsement, candidates are required to submit further documentation with their application, such as:
Criminal Background Check - electronically submitted if residing within Texas
Passing score on 'Nursing Jurisprudence Examination'
Verification of Licensure from originating state - NURSYS (if applicable)
Learn more about TX RN license requirements at the Texas Board of Nursing.
Accelerated Nursing Programs in Texas
Some nurses desire more advanced nursing roles. This transition can be done via accelerated programs or direct-entry MSN programs, both of which are available within the state. Direct-entry to an MSN program does require a 3-year full-time commitment, whereas an accelerated program can be completed full-time in 10 to 15 months. Both programs are full-time due to their rigorous nature and have prerequisite courses prior to entrance. Courses and fees are dependent upon which program and college you will be attending.
Latest Texas NCLEX-RN Pass Rates and Statistics
Total Number of State Approved Schools: 121
Total Number of Test Takers in 2021: 14,933
2021 Average Statewide Texas NCLEX-RN Pass Rate: 86.9%
Continued List of All RN Programs in Texas
Here is a continued list of all RN Programs a continued list of all RN Programs a continued list of all RN Programs a continued list of all RN Programs a continued list of all RN Programs a continued list of all RN Programs.
Are we missing your school's program or need to update information listed? Please contact us so we can make the necessary changes.