Best Ph.D. in Nursing Programs – 2023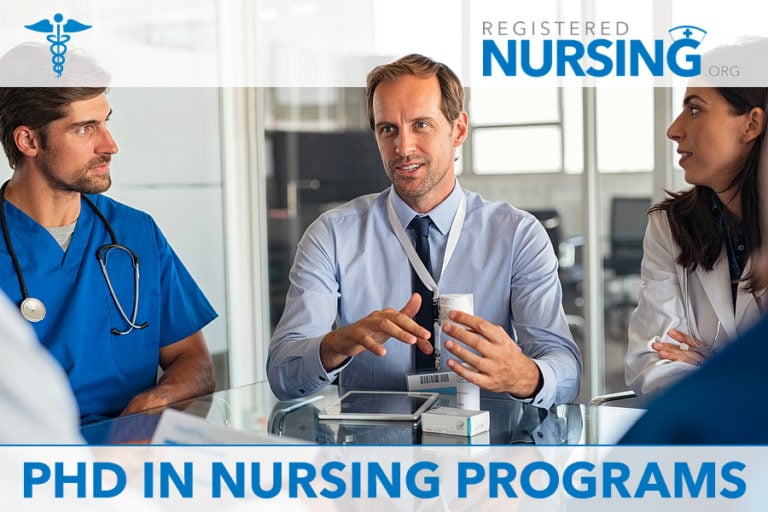 Many nurses, after working at the bedside, seek different ways to utilize their knowledge and clinical skills. Some prefer to advance their career and become nurse practitioners and earn either an MSN or DNP. However, some nurses hope to take their knowledge and apply it to something a bit different than a clinical focus – research and education. Ph.D. prepared nursing helps address critical issues in healthcare and even helps shape policies and legislation.
Nursing knowledge in healthcare and research is essential. Nurses provide a unique perspective and use a patient-centered approach to various issues in healthcare. This perspective helps to benefit both patients and organizations and improves care outcomes. Since many who choose the Ph.D. in a nursing pathway do so to become educators, this degree type paves the way to shape the next generation of nurses.
2023 - Best Ph.D. in Nursing Programs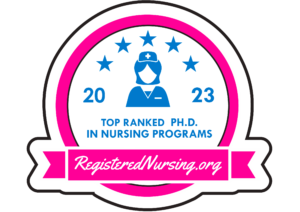 For highly skilled and ambitious nurses, the Ph.D. in Nursing pathway is the pinnacle of registered nursing education. Many RNs feel called to research and academia, and a Ph.D. can provide ample opportunities for success in these areas. There are few things more important than choosing the right Ph.D. program, which is why we have ranked the top online/hybrid Ph.D. in Nursing programs available across the country. Check out our rankings below and take the first step toward a high-level nursing career.
For more information on our top nursing school rankings, visit our Methodology Page (https://www.registerednursing.org/rankings-methodology/).
Which Ph.D. in Nursing Program is Right for Me?
Selecting a Ph.D. program can be challenging. Each nurse has individual work and family demands, so the school needs to fit into the nurse's busy life. There are a few considerations nurses should take into account when looking for a Ph.D. program:
Online Learning vs. Classroom Learning – Selecting an online program vs. an on-campus program is a personal choice. While some prefer the convenience and flexibility of online learning, some enjoy face-to-face, interactive learning, along with peer support. Some programs are 100% online, and some require minimal campus visits (often referred to as "hybrid" programs). Whichever the learning method, nurses should choose the one right for them.
Accreditation – National accreditation is critical when selecting a Ph.D. program. Proper accreditation ensures the school meets strict quality standards and allows the nurse to pursue future degree options. Also, nursing boards in some states require national (as opposed to local) accreditation for licensure. Students should look for accreditation by the Commission on Collegiate Nursing Education (CCNE) or the Accreditation Commission for Education in Nursing (ACEN) when researching schools.
Program History – Some nursing programs, including online programs, are popping up left and right. Students should be cautious and do their research when looking at Ph.D. programs. Schools that have been around a long time tend to be more reputable, and they also likely have enough data (for example, graduation rates) that the student can use to measure the program's success.
Program Cost – Cost is a significant factor when deciding to return to school. Most websites are transparent with the tuition cost and associated expenses, so there won't be any surprises. Many schools offer financial aid options as well as the choice to attend part-time. However, students should also prepare for additional expenses such as immunization requirements, technology equipment requirements, supplies, parking fees, and graduation or university fees.
Residency/Internship Requirements – Studying course material is one part of Ph.D. programs, but nurses must also apply what they've learned to real life. Nurses should make sure that whichever program they choose, they are able to meet the practicum requirements. Ensuring they have resources and mentors in the community and surrounding organizations is crucial to the student's success.
RELATED: Dual DNP/PhD Programs
On-Campus vs. Online PhD in Nursing Programs
As stated earlier, choosing an online program vs. an on-campus depends on the needs of the student. Below are some advantages of both online and on-campus programs:
Online Ph.D. Nursing Program Advantages
Flexible schedule – Nurses can work around the clock. They may work weekends, holidays, swing shifts, and graveyard shifts. For this reason, a school must be flexible. Online programs allow nurses to study course material when they can as well as learn at their own pace. They can submit assignments and correspond with instructors and peers electronically, not having to wait until the class or the instructor's office hours.
Tuition and Costs – An advantage of online Ph.D. programs is cost. In some cases, students may select a school that is based outside their state. Schools sometimes don't charge different tuition rates for out-of-state students in their online programs, which is a significant cost-saver and allows more education options. Students are encouraged to research this thoroughly, however.
Accessibility and Convenience – As stated earlier, online programs are far more flexible than campus programs. At the touch of a button, students can access learning materials, peers, instructors, and online learning modules. They can study in the middle of the night, on holidays, on weekends, or whenever it's convenient. They are not limited to certain hours on certain days. Plus, they don't need to waste time commuting, parking, and walking to class.
Fast Completion – Many online programs boast rapid completion. While students need to be wary of schools that advertise this (specific curricula must be completed), some legitimate online programs do allow students to finish faster than traditional, campus programs. This is because students can study at their own pace. If eager to start out in their new role, online learning might be the way to go.
On-Campus Ph.D. in Nursing Program Advantages
While more and more online nursing programs are popping up, some students still prefer traditional campus learning. Some advantages of on-campus education include:
The ability to interact face-to-face with peers and instructors
Not having to worry about technology issues
Not needing to spend extra money on electronic or technological supplies
Accreditation is usually not a concern
Admission Requirements & Curriculum
While admission requirements for a Ph.D. in nursing program may vary between schools, prospective students may be required to:
Hold a current, unencumbered RN/APRN license
Hold a BSN or MSN from an accredited university (some schools allow admission for BSN nurses)
Have completed a specific number of clinical hours
Provide transcripts from all schools attended
Have a GPA of 3.5 or higher (specific GPA requirements may vary between schools)
Submit a written goal statement to include research career goals
Interview with faculty
Ph.D. in Nursing Course Topics
Since the Ph.D. in nursing is more research and education-focused, the course topics differ from that of a more clinically-focused degree program (such as the DNP). Course topics may include:
Qualitative and quantitative research
Scientific inquiry
Synthesis and application of nursing knowledge
Research development
Statistics
Chronic illness and care systems
Program Length
The didactic/clinical portion of the Ph.D. program can take around 1-3 years to complete depending on if the nurse starts from a BSN or MSN. The first year is reserved for core courses, while the following year and beyond focus on electives specific to the student's goals and the completion of a teaching practicum. Students are also required to complete a dissertation as well; the dissertation period may take another 1-3 years to complete, depending on the student's area of focus.
Which Nursing Careers Require a Ph.D.?
While some nurses choose to earn a Ph.D. to fulfill their educational goals, sometimes it is a requirement for certain positions. Examples include:
Some may even consider a Post-Doctoral Nursing Fellowship Program.
List of Ph.D. in Nursing Programs
Popular with nurses interested in teaching and research, Ph.D. nursing programs have grown in popularity and are available at schools across the United States. Below you will find a state-by-state guide on available Ph.D. in nursing programs.
Jump to Your State Listings
Alabama
Arizona
Arkansas
California
Colorado
Connecticut
Delaware
Florida
Georgia
Hawaii
Idaho
Illinois
Indiana
Iowa
Kansas
Kentucky
Louisiana
Maryland
Massachusetts
Michigan
Minnesota
Mississippi
Missouri
Nebraska
Nevada
New Jersey
New Mexico
New York
North Carolina
North Dakota
Ohio
Oklahoma
Oregon
Pennsylvania
Rhode Island
South Carolina
Tennessee
Texas
Utah
Virginia
Washington
West Virginia
Wisconsin
Are we missing your school's program or need to update information listed? Please contact us so we can make the necessary changes.