2023 - Best Nursing Schools in Florida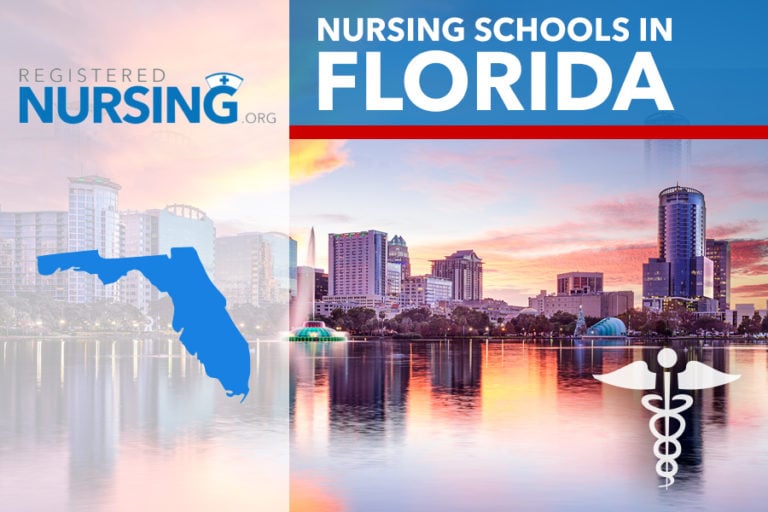 The state of Florida has established a well-documented dedication to the enhancement of skills and qualifications in the realm of nursing. Florida is on an upward trend of requiring nurses at an approximate rate of 20% per annum, which translates into about 6,000 new nursing positions per year. Nurses that have their Bachelor of Science in Nursing (BSN) are earning on average 40% more than nurses with a diploma only. The upward trend of these positions shows a growing need for nurses with a more skill-specific education, and are being compensated with more career advancement opportunities, higher pay scales, and diversity of specialties.
For RN bridge programs visit:
2023 Best RN Programs in Florida
ADN Programs in Florida
The ADN or the Associate's Degree in Nursing pathway is a great option for those students who wish to complete their diploma and become an RN in the shortest period of time possible. Generally, 2 years in length, ADN courses are widely available at community colleges throughout the state. Successful completion of an accredited ADN program enables students to write the NCLEX-RN licensure examination post-graduation and start their exciting careers as a nurse. With almost 150 colleges that offer this type of program, it's easy to find the nursing program that matches your needs.
What to Look For in an ADN Program in Florida
There are many factors to consider when researching ADN programs. A few indicators of a good program are listed below:
Accreditation
The Florida State Board of Nursing helps ADN programs complete regulatory requirements with the assistance of Accreditation Commission for Education in Nursing (ACEN) and the American Association of Colleges of Nursing (AACN). Colleges in the state are accredited through the Southern Association of Colleges and Schools Commission on Colleges. Students are encouraged to make sure that these accreditation standards are in place before making a financial commitment to their school of choice.
Licensing
Whichever ADN program you choose should enable you to take the NCLEX-RN exam for licensure once you graduate. With a satisfactory score on your exam, you will receive your Florida RN license and be eligible to practice as a nurse – this means you can apply for jobs! Last year about 85% of candidates at the college level were successful in their examination for licensure.
Program Outcomes
It's important to ensure that your chosen school's academics are on par with your other possible selections. Here are a few criteria you may want to check out before making a final decision:
How many students graduate each year of the total enrolled
How many students successfully pass the NCLEX on their first attempt
How satisfied are students with courses and student services
How many students obtain jobs in the field during the first year post-licensure
Established in 1959 in Fort Lauderdale, Broward College was founded as an initiative to broaden 2-year diploma offerings in Florida. The ADN program is designed to prepare students for licensure by combining a strong general college education with select community clinical experiences.
ADN Program Admission Requirements in Florida
It's important to remember that each of your school choices likely has slightly different admissions criteria, however, the following is a general list that will help give you an idea of what they may be looking for:
Be of good standing in the college of your choice
Have a GPA of 2.5 or higher
Complete the online application
Submit all official transcripts
Have up to date vaccinations and health forms completed
Satisfactorily pass all background inquiries
Tuition and Costs of ADN Programs in Florida
It's critical to understand how much an ADN program costs, both in terms of tuition and associated expenses like room and board, equipment, uniforms, and other school fees. Some schools roll these costs into the 'total cost of attendance' however many do not, citing greater transparency for students and parents when costs are listed separately. Students are encouraged to check each year for updated costs.
Florida Gateway College, located in Lake City, Florida, has a tuition cost of around $103 per credit hour for in-state residents. Out-of-state residents have additional costs. Books, equipment, and housing are separate for each individual.
Advantages of ADN Programs
There are a number of advantages to getting your ADN degree. Foremost, the costs associated with an ADN are much lower than the equivalent BSN and the starting wage is roughly the same. Second, smaller class sizes make for a more personal learning environment – a great way to learn and share empathetic tactics for nursing care.
LPN to RN Programs in Florida
It is not uncommon for Licensed Practical Nurses (LPNs) to pursue registered nursing. In this instance, interested practical nurses can enroll in an LPN to RN program. The LPN to RN pathway takes into consideration a student's prior practical nursing education and experience, making the total program length shorter than a traditional RN program.
LPN to ADN/BSN Programs
LPNs can choose a program that culminates in either an ADN or a BSN degree. The quickest option is the LPN to ADN route, which can usually be completed in under a year. The College of Central Florida offers an LPN to ADN which takes just three semesters to complete and costs around $10,000 for in-state students. Those wanting a more in-depth RN education can opt for the RN to BSN pathway, which awards the employer-preferred bachelor's degree upon completion. West Coast University offers an LPN to BSN at their Miami campus which students can complete in just 34 months.
Florida LPN to RN programs will typically require the following for admission:
Completion of a board-approved LPN program
Current, unobstructed Florida LPN license
Minimum GPA (usually 2.5 or above)
BSN Programs in Florida
Stacking four additional semesters of schooling on top of an ADN can net students a Bachelor of Science in Nursing degree (BSN). While costs and timing are higher, many students consider the BSN to be of greater value as it leads to job prospects that are more upwardly mobile and more lucrative. Florida is home to more than 60 baccalaureate programs in nursing throughout the state.
What To Look For in a BSN Program in Florida
A strong BSN program should teach both medical and patient care skills closely related to evidence-based practices, communication, and leadership. BSN programs that have experienced and credentialed nursing faculty, students will naturally thrive in a system that creates natural opportunities for mentorship, communication, and empathetic practice.
Located in beautiful Tallahassee, Florida A&M University offers a BSN program that is built on the institution's long history of academic excellence. FAMU is one of several universities that offer a BSN to Florida students.
BSN Program Length in Florida
BSN programs in the state are often 4 years long, or 8 semesters with summers off. Each institution can offer accelerated courses depending on labor market needs, faculty interest, and student demand. Accelerated courses are increasingly popular as the government moves to bring every RN to the BSN level.
BSN Program Admission Requirements in Florida
BSN programs do vary in their admission requirements; however, what follows is an average sampling of what your university may require in order to admit you:
School application, completed and submitted ahead of deadlines
Fee waiver application with attached ACT, SAT or NACAC
Submit ACT or SAT scores with a minimum of 19 or 500 respectively
Submit high school or GED transcript
Submit TOEFL score if applicable
Tuition and Costs of BSN Programs in Florida
The total cost of attendance for a BSN degree in Florida can vary significantly depending on whether you attend a public state college or have another option in mind. Additionally, tuition credits are given regularly to in-state residents. Consider that beyond tuition, you'll be responsible for housing, food, equipment, and books. To provide an estimate, the Jacksonville University annual tuition is around $43,520 not including housing, food, and additional fees.
Advantages of BSN Programs
With the Bureau of Labor Statistics forecasting a strong upward trend in nursing jobs, many students feel it's a good value to invest in their education by pursuing a BSN. Like the ADN program, the BSN prepares nurses to attend to a patient's immediate needs but the additional nursing theory makes these candidates suitable for the management or other leadership roles. BSN candidates are also well-positioned to continue their studies and achieve their MSN.
MSN Programs in Florida
How do you differentiate your resume in a sea of RN licensures? Try pursuing your MSN or Master of Science in Nursing. MSN programs are blooming across the country as our healthcare system undergoes radical personnel and policy changes while the medical field makes new gains in knowledge every month. These pressures have shown that there is a great opportunity for highly educated nurses to act as facilitators and administrators, as well as nursing in advanced care roles such as Nurse-Midwifery or Advanced Practice. Similarly, to the BSN achievement structure, RN to MSN programs are flexible in their offerings and scheduling and are increasingly available. Florida offers more than 10 MSN programs – some of which are on-campus, online, or part-time to accommodate busy individuals.
MSN Program Length in Florida
Florida State University offers the RN to MSN program over 24 months of course and clinical placement, or two years of full-time study. RNs are advised that balancing shifts on the hospital floor with the rigors of graduate work is highly stressful and not recommended.
MSN Admission Requirements in Florida
Admission requirements vary from program to program at the MSN level; however, some of the core criteria remain the same. Generally speaking, you will have to provide the following:
Graduate from an accredited BSN program with a GPA of 3.0 or higher
Submit a current resume with references
Submit evidence of your RN licensure with 2+ years of practice
Be in good standing at your choice university
Have practiced as an RN for two or more years
Submit all transcripts from undergraduate institutions
Tuition and Costs of MSN Programs in Florida
Tuition costs vary throughout the country, depending on program and faculty availability, clinical costs, and associated fees. At the University of Central Florida in Orlando, for example, the MSN program has a $369.65 per credit hour tuition cost for in-state students. Out-of-state students can expect to pay $1,194.05 per credit hour.
For NP programs visit:
Getting a Florida Nursing License
Florida requirements for nursing licensure by examination or endorsement are as follows:
Licensure through application must include the following documentation:
Completed application - fees paid
Proof of graduation from a state approved institution
Electronic fingerprints - Live Scan
Applying for endorsement of licensure can be done by providing the following information:
Completed application - fees paid
Electronic fingerprint scan - Live Scan appointment
Request current state licensure board to send verification to Florida Board
Accelerated Nursing Programs in Florida
Taking a degree program can advance your career quite rapidly, which means if are looking to become a nurse you may want to consider taking an accelerated degree program. If you are already practising as a Registered Nurse, you may want to look into a bridged degree program. These programs are offered at a few colleges throughout the state and most can be completed within 12 to 16 months. Accelerated programs can be quite intense in nature and are full-time, on campus commitments. Entrance requirements vary from one program to another and can impact the cost of tuition, as some eligibility criteria might require additional courses.
Latest Florida NCLEX-RN Pass Rates and Statistics
Total Number of State Approved Schools: 149
Total Number of Test Takers in 2021: 15,619
2021 Average Statewide Florida NCLEX-RN Pass Rate: 69.2%
Continued List of All RN Programs in Florida
Here is a continued list of all RN Programs a continued list of all RN Programs a continued list of all RN Programs a continued list of all RN Programs a continued list of all RN Programs a continued list of all RN Programs.
Are we missing your school's program or need to update information listed? Please contact us so we can make the necessary changes.