Nurse Practitioner
Last Updated/Verified: Nov 15, 2020
Jump to Section
Use the drop down menu below to jump to a specific section.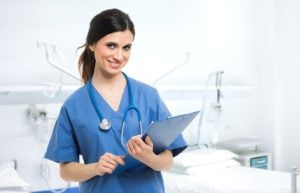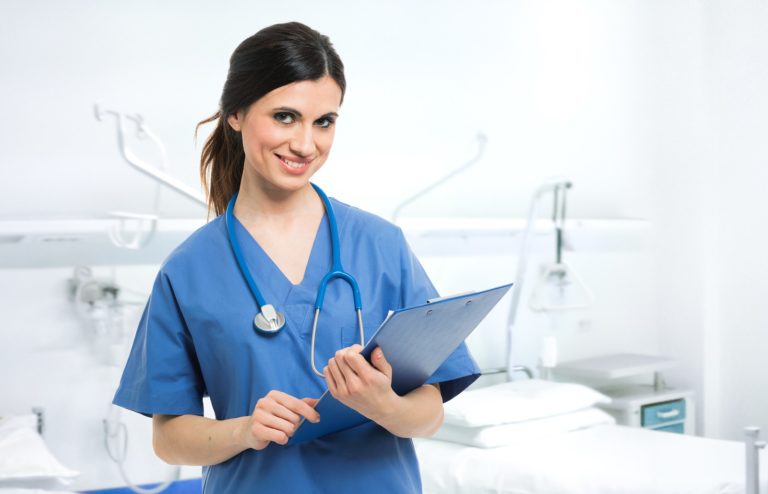 What Is a Nurse Practitioner?
Nurse Practitioners (NPs) are advanced practice registered nurses who provide comprehensive care to patients. Not only do nurse practitioners provide diagnostic care and treatment, but they also focus on preventive health maintenance. Nurse practitioners are first and foremost nurses, which means patient education and holistic care is a large part of their practice. Depending on the state in which they practice, oversight by physicians may or may not be required.
Why Are Nurse Practitioners So Important?
Nurse practitioners can diagnose and treat patients as well as perform procedures. They differ from physicians in that their patient care approach is more holistic. Being nurses, they gather information about a patient not only to include physical symptoms but psychosocial and environmental information as well. They are skilled in education and therefore can spend time teaching patients and family about disease processes, treatments, and healthcare prevention as well as diagnosing acute health issues.
According to the American Association of Nurse Practitioners, nurse practitioners can also help lower the cost of healthcare, as patients who use NPs as their primary care provider have fewer emergency room visits and shorter hospital stays. Additionally, they help to fill the gap with the primary care physician shortage in the United States. They also tend to have high patient satisfaction.
RELATED: The States with the Largest Nursing Shortages
How to Become a Nurse Practitioner
Nurse practitioners are advanced practice registered nurses who have completed a Master's of Science in Nursing (MSN) or a Doctor of Nursing Practice program (DNP).
To advance to a master's degree or doctoral in nursing, a student must complete an accredited nursing program and obtain a Bachelor's of Science in Nursing (BSN). Upon graduating with a nursing degree, successful completion of the NCLEX-RN is needed for licensure. The length of time it takes to obtain an MSN depends on the nurse's starting point:
Nursing students enrolled in a BSN program complete in about four years
RN to BSN takes about two years
BSN to MSN takes about two years
BSN to DNP takes three to four years
MSN to DNP takes one to two years
Additionally, both online programs and classroom programs are available to accommodate students. Both types have pros and cons depending on students' needs, therefore researching individual schools is encouraged.
Research nurse practitioner programs.
Nurse Practitioner Schooling and Education Requirements
Nurses who enjoy practicing independently and who wish to diagnose and prescribe while still utilizing nursing skills can advance to the field of advanced practice nursing. Nurses who seek to pursue their NP should value autonomy, integrity, and leadership.
Educational Prerequisites
Some graduate programs require nurses to gain a few years of clinical experience before enrollment. Some schools allow nurses to work concurrently during the program. Regardless, obtaining clinical experience is crucial as it prepares the future nurse practitioner to be able to address a multitude of medical concerns and situations.
Nurses are also required to have a baccalaureate nursing degree (BSN). Nurses who hold an Associate's Degree in Nursing (ADN) will need to obtain a BSN. There are many opportunities to obtain a BSN. Many healthcare organizations also assist employees in advancing degrees and assist in tuition reimbursement, cost of books, and granting time off for nurses.
Nurse Practitioner Program Specialties
There are many clinical areas in which a nurse practitioner can work. From primary care to specialty care, acute care, and long-term care, nurse practitioners are valuable members of the patient care team. Some NP programs include training in certain specialties; otherwise, certification can be obtained through the American Nurses Credentialing Center (ANCC). Some areas include:
Post-master's certificate programs and nursing certifications are available for current NPs who wish to switch or expand specialties.
Examination, Licensure, and Certification
Certification in a specific specialty area can be completed concurrently within the MSN/DNP program or obtained via an independent study from the ANCC or other learning institute. Not all specialties offer formal certifications. In this case, the NP student can choose areas of specialization to work on during the program to obtain clinical competency. Eligibility for certifications obtained outside of an MSN/DNP program can differ and students are encouraged to research requirements when choosing a specialty.
Once a specialty program is completed, the nurse may take an examination for certification. For example, a nurse can take the Family Nurse Practitioner Exam to earn an FNP-C (Family Nurse Practitioner Certified) title.
Licensure and certification are different—certification means the NP is competent to perform care in their chosen specialty; licensure means they are legally permitted to practice in their state of residence. For example, a nurse living in California can obtain certification in acute care but needs to apply for licensure to practice in the state of California. State nursing boards list the requirements for testing and can vary from state to state. The certified nurse practitioner can, after meeting the specified requirements, apply with the state board for licensure.
Nurse Practitioner FAQs
Nurse Practitioner Careers and Outlook
Nurse practitioners are valuable members of the healthcare team. As providers, teachers, leaders, and patient advocates, nurse practitioners approach patient care in a holistic manner to ensure patient needs are met at the time of visit.
Nurse Practitioner Responsibilities & Duties
NPs have many responsibilities and duties. These may include:
Provide acute (i.e. illness) and preventive care (check-ups)
Take a patient history
Maintain their own patient panel
Order diagnostic testing/therapies
Order prescriptions
Assist in surgery
Admit, transfer and discharge hospitalized patients
Collaborate with specialty departments as needed, refer patients appropriately
Assess patient/family needs
Provide education to patients/families
Promote family-centered patient care
Nurse Practitioner Specialties
There are many areas in which a nurse practitioner can specialize. The following are areas in which an NP can obtain formal certification:
Acute Care NP: may work in the emergency room, ICU, urgent care clinic, or operating room. They may perform duties such as:

Rounds on hospitalized patients
Managing the patient's hospital stay
Assisting in surgical procedures
Inserting central lines, intubating, suturing, performing lumbar punctures
Ordering diagnostic tests/treatment and formulating a plan based on the results
Writing orders for nursing/ancillary staff
Learn more about ACNP careers
Adult-Gerontology NP: Specializes in young adults to elderly patients. May work in clinics, long-term care facilities, or specialty departments. Specific duties may include:

Performing routine physicals
Ordering preventive tests/screenings
Managing chronic conditions
Educating patients and families on preventive health
Learn more about AGNP careers
Emergency NP: primarily works in emergency departments, may also work in urgent care departments. Specific duties may include:

Diagnosing and treating patients needing emergent care
Admitting patients from the ED to the floor
Ordering diagnostic tests/treatments
Learn more about ENP careers
Family Nurse Practitioner: may work in primary care clinics, hospitals, specialty departments, or long-term care facilities. Specific duties may include:

Caring for a patient population from birth through aging/death
Performing exams on acute complaints
Performing routine physicals
Preventive health maintenance
Ordering diagnostic tests/procedures
Learn more about FNP careers
As baby boomers age, and health care needs continue to grow, nurse practitioner opportunities are opening up nationwide. According to the Bureau of Labor Statistics, nurse practitioner careers are expected to increase by 26 percent between 2018 and 2028, a growth rate that is much faster than most professions.
See the difference between an RN and a nurse practitioner.
Working Conditions
The working conditions of nurse practitioners, as with any career, have positive and negative aspects. Nurse practitioners can suffer from stress as they may carry a heavy patient load and have many critical decisions and diagnoses to make. As with physicians, there is no room for error, which can put a lot of pressure on nurse practitioners. Some NPs must work swing or graveyard shifts, and some may need to be on call, leading to erratic schedules that can take their toll.
Additionally, nurse practitioners, as with other healthcare workers, may work in high-risk areas that can expose them to workplace violence, bloodborne pathogens, and chemicals.
Not all work areas are risky, such as research and education. Regardless of the chosen work area, workplace safety training is mandatory and ongoing, and most organizations strive to protect the health and safety of its workers.
Nurse practitioners are highly respected and appreciated in their workplaces. They provide a holistic approach to patient care which complements conventional medicine. While NPs may not have full unrestricted practice, the collaborative team approach is appreciated not only by physicians but by the patients they serve.
Additionally, according to the American Association of Medical Colleges (AAMC), there will be a projected shortage of physicians by the year 2030, ranging between 46,900 and 121,900 physicians. Nurse practitioners are already beginning to fill the gaps to meet the needs of the growing and aging population, especially in primary care. The American Association of Nurse Practitioners reports that 89.7% of NPs are certified in primary care medicine. The addition of NPs to primary care helps to offload primary care physicians while ensuring patient care needs are met.
Salary and Employment
Because of the physician shortage, aging population, and healthcare legislation, demand for nurse practitioners is expected to rise 26 percent by 2028, which is faster than average. The BLS projects that 242,200 nurse practitioners will be employed by 2028, compared to the 189,100 NPs who were employed in 2018.
As for compensation, indeed.com reports the average annual salary for a nurse practitioner is $111,705. The Bureau of Labor Statistics reports the highest-paying states for NPs are California, Alaska, Massachusetts, New Jersey, and New York. Salary is also dependent on any specialty certifications held years of experience and the organization in which the NP is employed.
Read more about nurse practitioner salaries and all forms of RN salaries.
Helpful Organizations, Societies, & Agencies