Nursing Certifications
Nursing certifications allow RNs to expand their scope to work in niche areas of care. Certifications, whether required for licensure and employment or not, add value to an RN's role and resume. They signify the commitment to lifelong learning and the delivery of quality, specialized nursing care.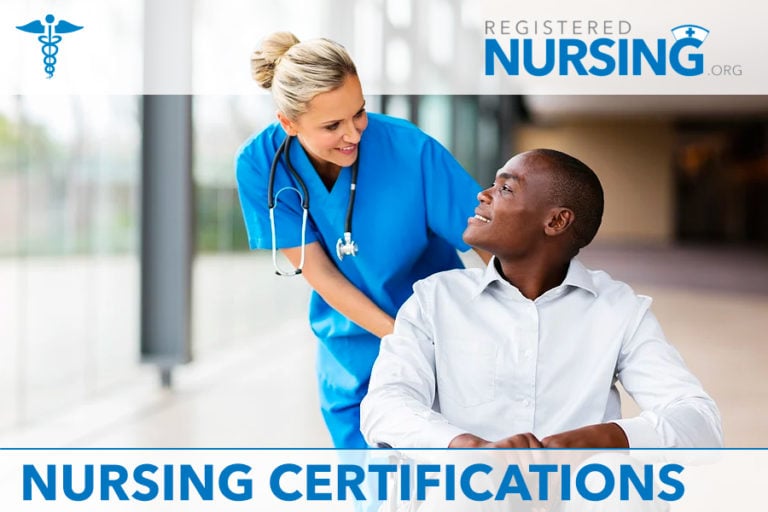 What Are Nursing Certifications?
Attending and completing a nursing program or advanced-practice nursing (APRN) program provides a great foundation for nurses. However, some nurses and APRNs wish to further define their role and practice by earning specialized certifications in their care area. Certification can be as broad as adult/gerontology, or as specialized as pediatric oncology. It's important to note that a nursing certification is different from a post-master's certificate program, where a master's-prepared RN receives the necessary education to enter an entirely new advanced specialty without having to complete an additional full-length nursing program.
Why Get Certified?
Earning certification in a specific care area is usually required for licensure as an APRN. These are typically in the form of board certifications, and usually have the abbreviation "BC" in the title (for example, a board-certified family nurse practitioner is an FNP-BC). Some specialties don't require certifications, although having one demonstrates that the nurse or APRN has received further education in the care of specific patients, and is considered an "expert" in the field. Also, while not always required for licensure, some employers require specific certification depending on their role. Many nurses find that having certification in their specialty of choice only enhances employment opportunities, whether it's a hard requirement or not.
Certification Requirements
Each certification will have its own specific certification requirements, so it's important for nurses to thoroughly research their area of expertise to ensure that they meet the conditions for certification. An RN degree (sometimes an advanced degree, like an MSN), an unencumbered RN license, a minimum number of direct-care hours in the specialty, and a certification test are usually all required for a nurse to become certified in an area of care. Nurses should also keep in mind that certification renewals will be required to keep them up-to-date; a certification is usually good for a few years until re-certification is necessary, and may require some continuing education credits and/or clinical practice hours.
List of Certifications
The following is a list of some of the most popular certifications available to RNs. Click on each link to find out more about each certification: