Medical Assistant (MA) to RN
Are you a Medical Assistant looking at your advancement options? The MA to RN bridge program can be a quick and efficient pathway if you have your sights set on registered nursing.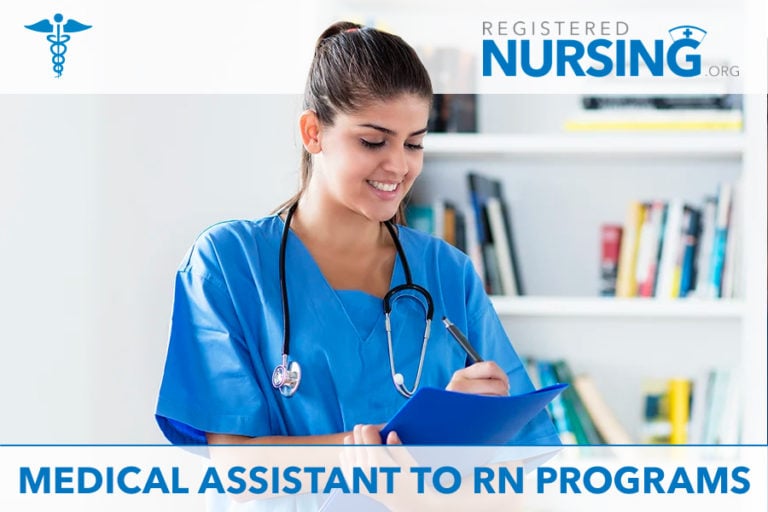 Medical Assistants (MAs) are an integral part of the healthcare team. They are the front-line staff in multiple care areas, including medical offices and sometimes inpatient units. MAs perform skilled administrative tasks such as coding and billing, making appointments, and maintaining medical records. However, they are also trained in clinical duties such as:
Taking vital signs
Collecting pertinent medical data from patients
Simple wound care
Administering injections
Applying orthopedic appliances
Many medical assistants strive to pursue a clinical role with more responsibility and autonomy and wish to pursue work as a registered nurse.
Differences Between MA and RN Roles
Before pursuing an RN degree, it's important to understand what the medical assistant's role will be. It is a misconception to believe that MAs "do the same things as nurses." While there is overlap with specific tasks, RNs are trained in the nursing process; they assess patients, determine a nursing diagnosis, create a care plan, implement actions, and evaluate the patient's response. This process is one that needs to be practiced as RNs perform it continuously, and sometimes under pressure. Essentially, it involves developing a whole new way of thinking critically.
Additionally, RNs are considered leaders of the care team. They are responsible for nurse assistants, LPNs, and other ancillary staff. They direct and oversee the care team to ensure patient care needs are met. As leaders, they hold more responsibility and have a great deal more independence. They can offer care advice and perform extensive patient education without physician involvement.
MA vs. RN Employment & Salary
According to the U.S. Bureau of Labor Statistics (BLS), both registered nurses and medical assistants, as well as most healthcare occupations, are in high demand and will continue to experience above-average career growth over other occupations for the years to come. According to 2019 data from the BLS, the median annual salary for registered nurses is $73,300 compared to $34,800 for medical assistants.
Generally, registered nurses with a BSN make a higher salary than nurses from ADN programs, and certified medical assistants can expect a higher wage than non-certified. Additionally, registered nurses can become certified in specialties like labor & delivery or critical care, which depending on the state and employer, typically enjoy a slight increase in pay as well.
While registered nurses and medical assistants share some patient care similarities, these two careers have some very distinct differences. Registered nurses frequently work in hospitals, clinics, long-term care facilities, surgical centers, and can also venture into non-traditional nursing roles away from direct patient care, such as chart review positions with insurance companies. Normally, job duties for registered nurses are focused solely on patient care with related chart documentation and don't cross-train into administrative-type tasks as medical assistants frequently do. Registered nurses report to a supervising physician and carry-out patient care as directed by the doctor's orders while working within the scope of their own licensure. Medical assistants typically work in clinic settings under the direct supervision of a registered nurse or physician while assisting in patient-centered clinical duties as well as performing administrative tasks within the office setting.
Learn more about MA Salaries and RN Salaries
Why Should an MA Pursue an RN Degree?
Becoming an RN allows for more autonomy. Medical assistants operate under the direction of a physician, nurse practitioner, or physician assistant. They cannot work independently. RNs are also skilled in critical thinking and education. Those interested in a career with independence and a component in patient education would enjoy working as an RN.
How Does a Medical Assistant Become an RN?
There are several pathways for medical assistants to become an RN. Luckily, they have many of the basics already done. Students enrolled in nursing programs spend the first part of the program learning basic nursing tasks such as injections, collecting data, and taking vital signs. MAs have already been trained to perform these tasks in their MA program. Therefore, MAs may benefit from MA to RN bridge programs or other alternative pathways to become an RN.
MA to ADN Pathway
This is the quickest way for an MA to become an RN. Associate degrees (ADN/ASN) are typically offered through community colleges and can take two to three years to complete. However, medical assistants may be able to apply some of their prior coursework from an MA program towards the nursing prerequisites. Courses that may be transferred are dependent on the MA program/school. If the courses were taken through a community college, it might be easier to apply the classes.
MA students with a long-term goal of becoming an RN can simplify (and possibly shorten) the path by completing an MA program with transferrable courses. Sometimes, MA programs will outline which courses are transferable to other educational institutions.
MA to BSN Pathway
This is a bit more of an extended pathway. Bachelor's degrees in nursing (BSN) may be earned in three to four years. BSN-prepared RNs may have an edge when it comes to getting hired and may also be recruited into leadership roles. They can also work in areas such as public health. Additionally, if the MA eventually wants to pursue a master's degree (MSN) or become an NP, a BSN program is probably the best option.
Depending on the BSN program as well as the MA's previous education, courses may be transferrable – but students should always check with the school.
MA to LPN to RN (BSN or ADN)
This pathway may take a little longer, but it is beneficial if the MA wishes to gain experience along the way or determine if nursing is still the desired goal. For MAs wanting to become RNs, becoming an LPN (licensed practical nurse, referred to as a licensed vocational nurse or LVN in some states) is a great "stepping stone." It is a shorter path to the nursing field – programs may be as short as twelve months and as long as two years (depending on the LPN program).
Students should be cautious; some organizations allow for the "MA to LPN bridge"- but it's vital to ensure the program is accredited, and that the school is an acceptable learning institution per the individual's state nursing board. Again, some MA courses may be transferable to the LPN program.
Once the MA has become an LPN and has gained clinical experience, he or she may move on to an LPN to RN program.
"Testing Out"
Another option for MAs looking to become RNs is to "test out" of certain required courses. For example, Achieve Test Prep offers a program in which medical assistants can test out of required prerequisite nursing courses, thereby shortening the time it takes to complete an RN program. The program is not 100% online – some classroom attendance at a community college is required. Examples of courses that MAs can test out of are Sociology, English, Psychology, and Algebra.
It's important to note that this is not a bridge program; students may essentially test out so they will not have to take a full semester of the applicable courses. However, students should ensure that the program is recognized in their state and by the RN program, they eventually choose.
How Long Is an RN Program If MA Courses Can Be Transferred?
The length of time it takes for an MA to complete an RN program depends on several factors. First, it depends on the program itself. BSN programs will take longer than ADN programs. It generally takes three to four years to complete a BSN program and two years to complete an associate's program. However, this is from start to finish. If the school allows courses from the MA program to count towards the prerequisites, the nursing program will be a bit shorter.
Second, the length of time to complete depends on which and how many courses can be transferred. Several semesters can be shaved off if a few prerequisites are not needed. According to Achieve Test Prep, those who choose to "test out" specific prerequisites can reduce their length of time in school by nine to twelve months, which is significant for those looking to get out into the workforce quicker.
What Types of Schools Offer This Program?
Because there is no direct MA to RN bridge programs, medical assistants would need to pursue the traditional education route, including:
Community Colleges
Universities
Vocational Schools
Test Out / Self-Paced Instruction
It's important to note that not all components of an RN program can be completed online, or in the distance-learning format. Nursing school requires hands-on education and supervised practical experience to become licensed, which can only be achieved at an institution or medical facility.
Medical assistants have an edge when transitioning to the RN role. They have patient care experience and work closely with medical providers. Experience as an MA may also help admission to nursing programs. However, MAs should recognize that becoming a registered nurse is not only about technical skills. RNs develop a whole new way of assessing and problem-solving as well as developing a unique patient care approach. These non-technical skills take practice as well as time.
Find information about other entry-level nursing programs.
Entry Level Bridge Programs
Those in certain allied healthcare careers looking to make the jump into registered nursing can enroll in specific entry-level RN bridge programs. These programs are shorter than a traditional RN program and take into consideration the prerequisite courses the student has already completed.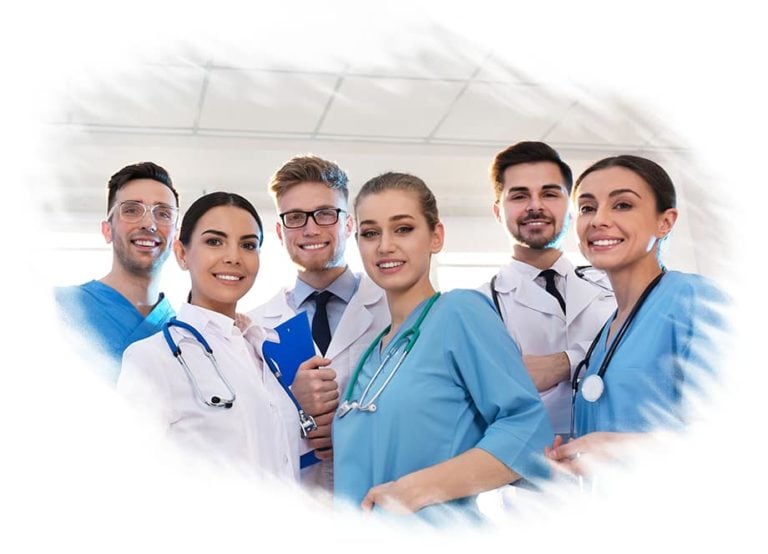 These programs are designed for Licensed Practical Nurses and Licensed Vocational Nurses to bridge into an Associate's Degree in Nursing (ADN).
This bridge program prepares Licensed Practical/Vocational Nurses to earn a Bachelor's of Science in Nursing (BSN) - often considered the gold standard of nursing degrees.
This program is designed specifically for Certified Nursing Assistants (CNAs) to earn a nursing degree at either the ADN or BSN level.
Medical Assistants (MAs) can enroll in a bridge program to earn either an ADN or BSN degree to practice registered nursing.
Current paramedics who wish to enter the registered nursing field may opt for this bridge program, which will result in either an ADN or BSN degree.