LPN to BSN Programs – Accredited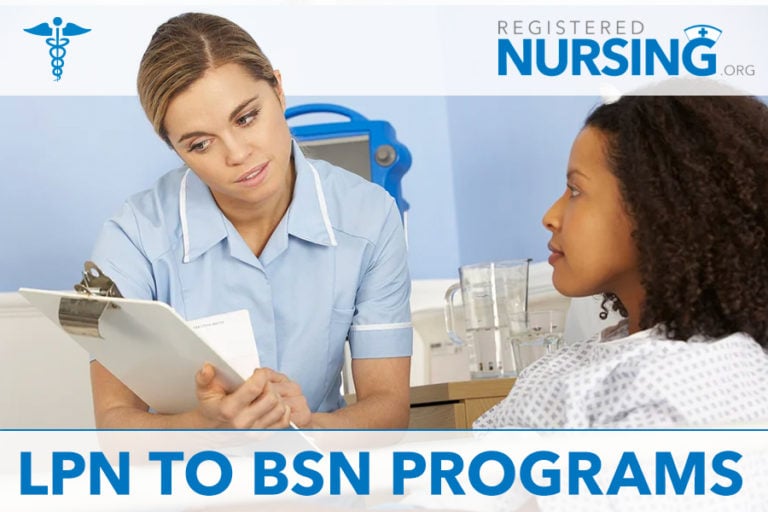 Earning a bachelor's degree in nursing (BSN) opens the door to higher salaries and a wide range of career possibilities. Across the country, there is a demand for skilled registered nurses (RNs) with bachelor's degrees or higher levels of education. According to the U.S. Bureau of Labor Statistics, employment of registered nurses is expected to grow 12 percent in the next 10 years, which is much higher than the expected growth for all occupations in the country. Additionally, many hospitals and healthcare employers are changing the minimum education requirements for RN positions from an associate's degree to a BSN.
If you are a licensed practical/vocational nurse (LPN/LVN) who is serious about pursuing a career as an RN, specially designed LPN to BSN programs can help you realize those goals.
PLEASE NOTE: All California and Texas programs are titled LVN to BSN programs.
Why Pursue a BSN Degree?
As an LPN or LVN, you may be wondering, why should I get a bachelor's degree in nursing when I can become an RN by completing an associate's degree program that would save me time and money? While you can begin working as an RN with only an associate's degree (ADN), there are a few important reasons to consider earning your bachelor's degree instead:
More Job Opportunities: Many of the nation's top hospitals and healthcare facilities have increased the minimum education requirements for career advancement to the BSN degree level, including the nation's Magnet hospitals and the U.S. Veteran's Administration. In many cases, you'll find that in order to advance to a nurse manager, educator, or administrator position, nurses are required to hold a bachelor's degree.
Higher Pay: BSN-educated nurses earn higher salaries than nurses with an associate's degree. In addition to being qualified for higher-paying management positions, BSN-educated nurses can expect to earn an average of $14,000 per year more than their ADN-educated counterparts, according to PayScale.
Industry Support: Overwhelmingly, professional nursing and healthcare associations are pushing for an increase in BSN-educated nurses. The Institute of Medicine's Committee on the Future of Nursing released a recommendation calling for an increase in BSN-educated nurses, a sentiment shared by the National Advisory Council on Nurse Education and Practice and others. This demand for BSN nurses is being driven at least partly by research that shows improved patient outcomes when nursing staff holds a bachelor's degree or higher.
RELATED: RN's Working with LPN's
Choosing an LPN to BSN Program
When researching LPN to BSN program options, there a few key factors to keep in mind, including:
Accreditation
The best way to ensure the quality of an LPN to BSN program is accreditation by a reputable industry group. Third-party accrediting organizations, like the Accreditation Commission for Nursing Education (ACEN) and the Commission on Collegiate Nursing Education (CCNE), fully vet a nursing program and make sure the school is meeting or exceeding quality standards and delivering valuable education to its students.
Program Cost
The cost for an LPN to BSN program varies from school to school depending on geographic location, school reputation, a student's residency status, and whether a program is delivered online or in person. As one example of program costs, the online LPN to BSN program at Indiana State University costs $11,656. When researching schools make sure to include supplies, lab fees, RN exam fees, and the cost of housing and/or commuting in the total cost. Also, make sure to contact a school's office of financial aid for information about cost-saving options including scholarships and grants for which you may be eligible.
LPNs and LVNs are generally used to interchangeably describe the same occupation. LPNs/LVNs both have the same educational and licensing requirements and typically perform the same duties. The primary difference between LPNs and LVNs lies in which particular state a nurse practices in. For example, those practicing in Texas and California are referred to as LVNs. Conversely, all other states use the term LPN.
Looking to save some money on an LPN to RN program? Read all about affordable LPN to RN programs here.
Becoming an LPN/LVN
Those considering a position as an LPN/LVN should have experience and interest in caring for a wide variety of patients. Additionally, they should be responsible, accountable, compassionate, and caring individuals. Lastly, they should have adequate time management skills and should be flexible
What Are the Education Requirements for an LPN/LVN?
Before beginning the process, aspiring LPN/LVN students must first earn a high school diploma or GED certificate. The next step involved in becoming an LPN/LVN requires that individuals must obtain a diploma via a community college or an accredited online course. LPNs, in some states, aren't required to have any kind of diploma but are required to pass the National Council Licensure Examination (NCLEX-PN) which provides them a certification allowing them to work as an LPN in the United States. Courses that practical nurses must successfully complete in order to work within the United States are generally one year in length. However, certain positions may also require additional field experience prior to being hired.
Looking to save some money on an LPN to RN program? Read all about affordable LPN to RN programs here.
Are Any Certification or Credentials Needed?
LPNs/LVNs must take and pass the National Council Licensure Examination. Once they have passed, they can obtain a certification allowing them to be placed on their state's registry and work as an LPN in the United States.
Once an LPN/LVN starts climbing through the ranks and professional ladder, they may wish to consider an LPN to RN program or LPN to BSN program.
Where Do LPN/LVNs Work?
There exists a wide variety of settings in which LPNs and LVNs can be found working in. Examples include but are not limited to the following:
Physicians' offices
Nursing homes
Hospitals (both private and public)
Military organizations
Correctional facilities
Schools and Universities
In-home healthcare
Residential care facilities
LPNs who choose to work as home health nurses or in nursing homes often are able to perform more duties autonomously without the constant supervision that LPNs working within hospital settings will have.
What Does an LPN/LVN Do?
LPNs/LVNs carry out tasks such as taking patients' vital signs, administering medication, and performing other treatments under the supervision of medical professionals like RNs and doctors. Additionally, they may provide meals and clean/manage medical instruments and equipment. Other everyday tasks an LPN/LVN might carry out include tracking the medical history of patients, changing bandages and wound care, helping patients bathe and dress, discussing medical care and concerns with patients, and in some cases assuming leadership roles.
See the difference between an LPN and an RN.
What Are the Roles & Duties of an LPN/LVN?
Take vital signs
Organize and compile patient health history and information
Feed and provide basic care for infants and geriatric patients
Provide personal hygiene assistance to patients
Administer medication – monitoring frequency and measuring amounts
Supervise nursing aides and assistants
Take blood pressure and conduct other basic care treatments
Set up, clean, and use catheters, oxygen suppliers, and other equipment
Who Do LPN/LVNs Report To?
An LPN/LVN is not an independent practitioner; they practice under the direction of a physician or Registered Nurse (RN). Each state has a designated Licensed Practical/Vocational Nursing Board that determines the scope of the Practical/Vocational Nursing Practice Act. While the LPN/LVN practices under their own license, they are still, by law, practicing under the direction of the RN, and therefore the Registered Nurse is accountable for the care delivered by the LPN/LVN regardless of whether or not the RN is in a formal supervisory position.
Each state's Board of Nursing, through the Nurse Practice Act, allows for RNs to delegate tasks and to oversee assistive staff such as LPN/LVNs. RNs are also authorized to assess the competency of staff to ensure the tasks that are delegated will be performed in a manner that is safe for the patient. If an RN determines or suspects a subordinate is incompetent in an assigned task, it is the obligation and expectation that the RN will intervene and assume the responsibility of the task until other care arrangements can be made.
The RN is also responsible to listen to and provide assistance to problem-solve concerns brought forward by the LPN/LVN. For example, if an LPN/LVN brings forward a question about a physician's order, the RN must properly problem-solve and clarify the order with the LPN/LVN or risk being held liable if a medical error occurs.
RELATED: Difference in Workplace Roles of LPN's and RN's of Varying Education Levels
LPN/LVN Salary & Employment
Earnings for a Licensed Practical Nurse or Licensed Vocational Nurse can widely vary from state to state and according to experience, service, and further education/training. They are also employed across a variety of industries and sectors – thus influencing the mean salaries.
According to the United States Bureau of Labor Statistics practical nurses have a possible job outlook of 9%, which is as fast as average compared to the rate of growth for other positions within the country, and within the field of nursing. The rate of pay for positions within the practical nursing field averages $48,070 per year or $23.11 per hour but fluctuates based on experience, specialization, training, and certification. Individuals concerned should be cognizant that national long-term projections of employment growth may not reflect local and/or short-term economic or job conditions.
Helpful LPN Organizations, Societies, and Agencies
Completion Time
Most LPN to BSN programs take around 2 years of full-time study to complete. For programs that are offered on a part-time basis, the amount of time it takes to complete increases to 3 or 4 years. In some cases, particularly in self-paced online formats, students may choose an intensive program option that allows them to earn their degree in less than 2 years. Be sure to ask your top school(s) what the options are for completion time.
Online vs. On-Campus Options
A growing number of schools are now offering LPN to BSN programs in an online or combination of online and on-campus "hybrid" format, making it more convenient for working LPNs to complete their coursework around their busy work schedules. In these online or hybrid programs, students complete most or all of their instruction online and then perform their clinical practice hours in a healthcare facility near their homes. If you plan to continue working while you study or if you have family obligations that limit your availability for college classes, an online or hybrid program may be a good fit for you.
LPN to BSN Curriculum & Classes
LPN to BSN "bridge" programs begin with foundational nursing practice courses followed by baccalaureate-level coursework in nursing practice, leadership, and theory. Programs also include clinical practice hours in which student nurses can put their learning into practice. Following are a list of classes typically offered as part of an LPN to BSN program:
Human Anatomy & Physiology
Pharmacology
Research Skills
Comprehensive Health Assessment
Nursing Leadership
Public Health Nursing
Mental Health Nursing
Fundamentals of Nursing Care for Geriatrics
Adult Health Nursing
Pediatric / Maternal Nursing
Internships & Clinical Practicum
An important part of the LPN to BSN curriculum is the required clinical practice hours. These hours take the form of hands-on labs (including lab simulations) as well as internships and clinical experiences at local healthcare facilities. Most schools have partnerships with area hospitals and medical centers for students to complete these clinical requirements; occasionally, finding an internship or practicum will be the responsibility of the student. In this case, the school's career center, job boards, or alumni network may be of assistance. Often, students employed as LPN/LVNs are able to complete their clinical experiences in their workplace. For those enrolled in an online LPN to BSN program, clinical practicums can typically be arranged in the student's hometown or the local area, pending the school's approval.
The purpose of the clinical portion of the LPN to BSN curriculum is to give students a chance to practice what they've learned in a supervised, hands-on, real-world setting. The exact nature of clinical experiences will vary based on the school, state, and program specifics. Prospective students are advised to inquire with their school of choice regarding clinical practicum requirements.
NCLEX-RN Examination
At the successful completion of the LPN to BSN program, students must take and pass the NCLEX-RN examination in order to become fully licensed as registered nurses (something LVN/LPNs will be familiar with, as they would have taken the NCLEX-PN previously). The NCLEX-RN is a comprehensive, computerized exam consisting of anywhere from 75 to 265 questions covering a variety of nursing topics. Test categories include:
Safe and Effective Care Environment
Health Promotion and Maintenance
Psychosocial Integrity
Physiological Integrity
Students must register for and pay the examination fee in advance. On the day of the exam, they will have a maximum of 6 hours to complete the questions (with a few optional break periods). Students receive the results of the exam within 2-6 weeks. In the event that a student fails the NCLEX-RN, they are typically permitted to re-test; the total number of times a student may re-test differs by state, but the exam generally must be passed within 3 years of graduation from a nursing program.
Students are encouraged to check out the first-time NCLEX-RN pass rates of their school's nursing programs; many schools will list these stats on their websites. In addition, many NCLEX-RN practice tests are available to help students study for this important examination.
LPN to BSN Admissions Requirements
Once you have decided to pursue an LPN to BSN program you'll need to make sure you meet the admissions requirements for the school of your choice. Specific requirements vary from school to school, so make sure to check with your top schools well in advance of the application deadline to ensure you have met all requirements. In general, LPN to BSN programs have the following admissions requirements:
Valid, unencumbered LPN license
High school diploma or GED
Transcripts of high school and undergraduate coursework with a cumulative GPA of at least 2.5. Some schools require a cumulative GPA of 3.0.
Completion of required pre-requisite courses, which vary from school to school
Resume showing the professional nursing experience of at least one year
Submission of required test scores e.g. SAT or ACT
Completed application including professional recommendations and personal statement
RELATED: LPN to RN Programs
Online LPN to BSN Programs
As more students try to balance work and life with their academic goals, many nursing schools have increased the number of online program offerings to meet the growing demand. Today, students can find online LPN to BSN programs across the country, many of them with minimal or even no on-campus requirements. Keep in mind that if you choose an online LPN to BSN program that's based in a different state than where you live, you must ensure that you are eligible for the program, as some states have rules regarding program and licensure eligibility. For example, Indiana State University's online LPN/LVN to BSN program website maintains a list of states that are approved for enrollment.
Advantages of an Online LPN to BSN Program
Some LPNs/LVNs are under the assumption that enrolling in a BSN bridge program is just not feasible for them; employment, family commitments, and the busy pace of everyday life may make an LPN to BSN program feel like a pipe dream. Enter the online LPN to BSN bridge program. These programs allow students to take courses online, from the comfort of home or wherever they choose, and usually whenever they wish. This makes fitting coursework in much easier.
In addition to the convenience, online LPN to BSN bridge programs are often less expensive, especially since students don't have to worry about "indirect" costs such as transportation/commuting expenses and parking fees. The University of Arkansas' online LPN to BSN program's tuition runs approximately $298.22 per credit hour (not including fees). Students enrolled in this program are able to arrange clinical hours in their own geographic area.
List of Campus and Online LPN to BSN Programs & LVN to BSN Programs
Jump to Your State Listings
Arizona
Arkansas
California
Colorado
Florida
Georgia
Hawaii
Idaho
Illinois
Indiana
Iowa
Kansas
Louisiana
Massachusetts
Michigan
Mississippi
Missouri
Montana
Nebraska
Nevada
New Jersey
North Carolina
Ohio
South Dakota
Texas
West Virginia
Are we missing your school's program or need to update information listed? Please contact us so we can make the necessary changes.
OTHER RN BRIDGE PROGRAMS