RN Salary – What to Expect
Note: The amount of money Registered Nurses (RNs) make varies by state, specialty, experience, certifications held, degree held, and facility.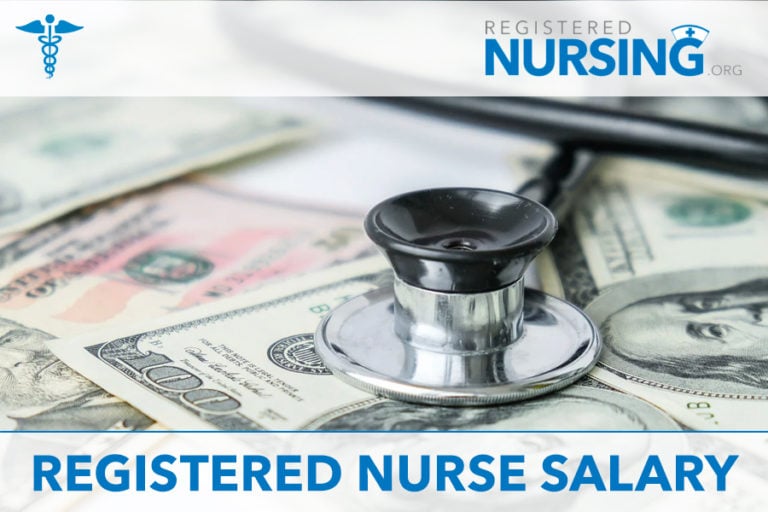 Salary Comparison Tool
This tool will allow you to easily search and compare the average salaries of nurses for many cities and locations across the U.S. You can search by city and state. Salary data is provided through the BLS.
Select Career Type
Select State
Select City
Featured Nursing Programs
How is Salary Determined for RNs?
Pay for RNs varies by location of employment, education, and experience level.
Salary by Location
The base salary for registered nurses can vary widely, as can the cost of living for cities and states across the country. Locations that are more expensive to live in, such as San Francisco, Los Angeles, and New York City, pay RNs more than places where housing and other costs are more affordable. Similar to other professions, healthcare and medical employers want to pay nurses competitive wages that more than keep up with the costs of living in those areas.
Highly sought-after locations where people tend to vacation, such as Hawaii, may have a high cost of living but pay less because so many nurses want to work in these tropical paradises. The supply of nurses is high, so facilities can pay less and still attract skilled nurses simply because of the location. However, the same also holds true for the opposite types of locations, such as rural small towns or communities with a lower quality of life. That is, hospitals and clinics in these less sought-after locations tend to pay more to attract and retain good nurses.
So, it's a smart move to weigh the pros and cons of various cities and states when searching for a nursing job. For some nurses, the benefits of taking a high-paying job in a rural community that has a tremendous need might be worth the downsides. For others, taking a high-paying position in an expensive city might be the preferred option. Either way, the nursing salary should be considered with the cost of living in that area.
Nurses with an adventurous spirit may consider becoming travel nurses. These well-compensated nurses journey to high-need facilities and clinics to provide urgent patient care. Sometimes, room and board is included. During Covid-19, travel nurses gained recognition when they ventured to cities to support local RNs coping with community surges. Becoming a travel nurse can be a great way to experience the full spectrum of the nursing profession.
RELATED: RN License Transfer and NLC Guide
RN Salary By Experience
In addition to formal education, registered nurses can earn more as they gain more years of experience. For the licensed registered nurse, experience can sometimes trump education. That is, RNs with associate's degrees and several years of experience will often earn more than new graduate nurses with BSNs. However, bachelor's-educated nurses will likely catch up and advance their careers more quickly. Moreover, many hospital systems are now opting to hire RNs with a BSN at minimum, which means that bachelor's-educated nurses may have more job opportunities than their ADN and nursing diploma counterparts.
When starting out, many facilities have a set pay scale, and years of experience is the largest factor in determining starting salary. Hospitals with nursing unions can influence this pay structure.
Eventually, the nurse with the higher education level will be able to take on leadership and specialty roles and therefore earn a higher salary. Nurses with ADNs will likely stay in the same or similar roles and be assigned routine positions with less authority. Bridge programs such as the RN to BSN and RN to MSN can help ADN and diploma-educated nurses advance if they wish to expand their earning potential.
RN Salary By Nursing Degree or Education
Over time, nurses with greater education levels tend to get paid more than nurses with less education. Research has shown that hospitals that employ nurses with higher education levels such as BSNs have reduced mortality rates, better patient outcomes, and improved job satisfaction. This, and the ever-growing supply of nurses with advanced degrees, motivates healthcare employers to seek and hire registered nurses with more education.
To ensure maximum salary-earning potential over the long term, it is wise for nurses to earn bachelor's or advanced degrees and certifications. The investment made into attaining a BSN, MSN, or certificate in nursing will pay off in the long run; it will never be viewed as negative on a resume. Nurses who increase their education level and clinical expertise are rewarded on a personal and professional level.
RNs who earn higher degrees can take on greater patient care and clinical responsibilities, which therefore earns them higher salaries. They can also serve as team leads or work in preferred units rather than in those that are assigned to them.
Nurses with bachelor's degrees can complete certifications to specialize. Though it can vary, obtaining a certification often enables the nurse to earn higher compensation over time. Read more about available nursing certifications.
BSN Salary and Job Outlook
Certifications and education level play a major role when determining pay. Typically, nurses receive a pay bump of 3-5% of their salary for earning a higher-level degree.
For example, critical care nurses with the CCRN certification (Certification for Adult, Pediatric, and Neonatal Critical Care Nurses) can add a 3-5% increase in hourly pay depending on the facility. Similar certifications are available for almost every specialty. See our section on Certifications in nursing.
Registered nurses who hold a BSN instead of an ADN can also attain higher salaries. The amount of increase depends on the facility, but a 3-5% raise is standard.
In addition to annual pay increases, more hospitals and employers are offering sign-on bonuses to nurses, particularly in areas experiencing acute shortages. Such bonuses, which tend to range from $2,000 to $10,000, tend to come with conditions that require the nurse to maintain the job for a certain number of years. Bonuses are typically awarded over time rather than as a lump sum; they are usually offered for challenging jobs that are hard to fill.
Associate's Degree RN vs BSN Salary Comparison
Generally speaking, a nurse with an Associate's Degree will be offered a lower salary than a nurse with a Bachelor's Degree provided they have similar experience levels. Nurses with associate's degrees who enroll in a bachelor's program will typically be given a bump in pay once the BSN is completed. Some hospitals and employers will incentivize nurses to return to school by offering partial tuition reimbursement.
Regarding salary, nurses with years of experience can make up for the lack of a bachelor's degree. It's common for such a nurse to earn more than a less experienced bachelor's educated RN who is just starting out. Over time, however, the bachelor's-prepared nurse will likely earn more.
It's important to note that nurses with BSNs are fast becoming preferred job candidates for top-rated hospitals and medical facilities. As the BSN becomes the standard degree for RNs, more high-paying opportunities will be awarded to these nurses.
MSN Salary and Job Outlook
As nurses gain experience, many find themselves wanting to pursue graduate degrees to either specialize or become unit leaders. Nurses with a Master of Science in Nursing (MSN) may work in private practices, emergency or acute care settings, outpatient settings, and more.
Specialties are dependent upon the type of program the nurse chooses to pursue. Such nurses can opt to stay within their realm of experience or choose to pursue a different specialty altogether.
Earning a master's degree enables an RN to become an advanced practice RN or nursing leader. By becoming nurse practitioners or clinical nurse specialists, they take on greater patient care responsibilities and can practice nursing with greater autonomy.
As such, these advanced practice nurses are offered higher compensation levels. For example, the median salary for a certified nurse practitioner is $120,680; earning a master's degree can often pay off exponentially.
DNP Salary & Job Outlook
Read our overview of DNP salary.
The Doctorate in Nursing Practice (DNP) is a relatively new degree in the field of nursing. Many nurses with a DNP choose to pursue a career in research or education. Others pursue leadership careers in healthcare policy development or public health. Some nurse practitioner programs are offering the DNP in anticipation of it becoming the standard in the future.
Salary tends to increase in nursing with increased education. That is, the DNP-educated nurse likely will have the opportunity to earn more than a nurse with a lower degree.
More about APRN salaries: nurse practitioner salary, nurse midwife salary, nurse anesthetist salary
RELATED: Male vs Female Nurse Salary
Average RN Salary Breakdown by State in 2023
As mentioned previously, the salary breakdown for an RN can vary widely by state. Cost of living as well as nursing supply and demand play a critical role in determining salary. Pay can also vary by specialty, as hospitals try to recruit RNs in a particular area based on where they have shortages. Labor and delivery, operating room, emergency, oncology, and intensive care nurses can earn higher wages as they are more in demand. Medical-surgical or pediatric nursing positions may pay slightly less due to lower demand and ample supply.
Each facility usually has a set compensation range to offer new graduate nurses. From there, it can go up with annual raises. Many facilities have an established pay structure based on years of experience.
Registered Nursing Salary Table
| Location | Total Employment | Annual Salary |
| --- | --- | --- |
| United States | 2,951,960 | $71,730 |
| Alabama | 49,490 | $57,930 |
| Alaska | 5,730 | $87,650 |
| Arizona | 54,690 | $75,770 |
| Arkansas | 25,380 | $59,650 |
| California | 294,510 | $104,410 |
| Colorado | 51,760 | $72,870 |
| Connecticut | 31,400 | $79,920 |
| Delaware | 11,840 | $73,030 |
| District of Columbia | 11,110 | $88,800 |
| Florida | 177,600 | $64,400 |
| Georgia | 76,640 | $67,870 |
| Hawaii | 11,310 | $105,300 |
| Idaho | 13,790 | $66,780 |
| Illinois | 129,400 | $72,250 |
| Indiana | 67,870 | $62,330 |
| Iowa | 33,770 | $58,170 |
| Kansas | 27,810 | $59,680 |
| Kentucky | 46,130 | $61,780 |
| Louisiana | 43,110 | $62,400 |
| Maine | 14,460 | $65,630 |
| Maryland | 54,080 | $75,660 |
| Massachusetts | 80,630 | $86,860 |
| Michigan | 96,680 | $70,590 |
| Minnesota | 69,000 | $77,940 |
| Mississippi | 29,860 | $57,440 |
| Missouri | 71,770 | $62,270 |
| Montana | 10,100 | $65,960 |
| Nebraska | 22,970 | $62,730 |
| Nevada | 22,560 | $85,210 |
| New Hampshire | 13,630 | $71,640 |
| New Jersey | 79,530 | $81,820 |
| New Mexico | 16,730 | $71,310 |
| New York | 182,490 | $85,300 |
| North Carolina | 102,500 | $62,940 |
| North Dakota | 8,770 | $63,870 |
| Ohio | 125,380 | $64,200 |
| Oklahoma | 29,330 | $61,750 |
| Oregon | 36,020 | $91,220 |
| Pennsylvania | 148,520 | $69,170 |
| Rhode Island | 12,630 | $77,650 |
| South Carolina | 44,350 | $62,910 |
| South Dakota | 12,760 | $57,510 |
| Tennessee | 60,360 | $60,120 |
| Texas | 210,350 | $72,000 |
| Utah | 21,700 | $63,570 |
| Vermont | 6,460 | $65,740 |
| Virginia | 64,750 | $68,000 |
| Washington | 56,290 | $79,920 |
| West Virginia | 19,930 | $60,890 |
| Wisconsin | 59,030 | $70,150 |
| Wyoming | 5,010 | $65,100 |
| Guam | 600 | $57,320 |
| Puerto Rico | 19,230 | $32,800 |
| Virgin Islands | 350 | $60,950 |
Table data taken from 2018 BLS (http://www.bls.gov/oes/current/oes291141.htm)
How Much Does an RN Make per Hour?
According to the U.S. Bureau of Labor Statistics (BLS), RNs made an average of $37.31 per hour in 2021 (latest available data). California RNs led the way with a whopping $59.62 mean hourly wage, with the San Jose, CA Metro Area coming in with an hourly mean wage of $74.63; all of the top-paying metro areas were in California. The state also has one of the highest costs of living in the country, a fact that should not be overlooked by RNs considering relocation.
RN Employment Projections
The table below shows the projected employment growth of nurses over the next decade. As can be seen, the nursing profession is expected to see quite a sizable growth.
| Occupation | 2019 Employed | 2029 Projected | % Growth |
| --- | --- | --- | --- |
| Nurse Anesthetists, Midwives, Nurse Practitioners | 263,400 | 381,100 | 45% |
| Registered Nurses | 3,096,700 | 3,318,600 | 7% |
Featured Nursing Programs