2023 - Best Nursing Schools in Ohio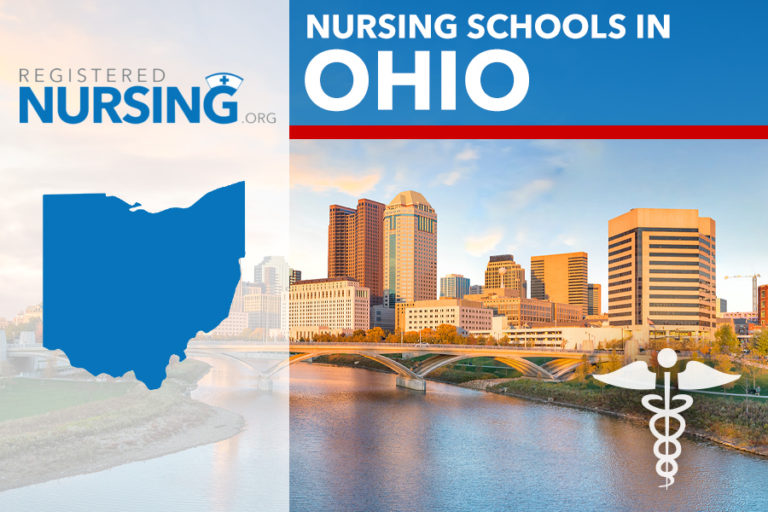 The state of Ohio is forecasting a need for more highly skilled nurses to bolster the current science-based health care system. The state is looking at an estimated 4,200 annual increase in open job opportunities and is looking for well-qualified candidates. Luckily, there is no shortage of schools with nursing programs in Ohio. With the Bureau of Labor Statistics reporting the average annual salary for a registered nurse in the state at $71,640, gaining an education in the field is a smart move for those seeking gainful employment in the booming world of healthcare.
For RN bridge programs visit:
2023 Best RN Programs in Ohio
ADN Programs in Ohio
While there are many educational routes to becoming a registered nurse, an Associate's Degree in Nursing (ADN) is a great place to start. This popular program takes just 2 years to complete, making it a relatively quick route to your RN, and typically less expensive than other programs due to its short duration. ADN programs are commonly found at community and/or technical colleges.
Ohio has over 40 schools that offer accredited, board-approved ADN programs.
What to Look For in an ADN Program in Ohio
With so many programs to choose from, you'll need to be able to determine which is the best for you. The following are some things to look for when comparing schools for your ADN:
Accreditation
Plain and simple, a legitimate ADN program will boast accreditations from national and local educational nursing organizations. A few to look for on the national level are the Accreditation Commission for Education in Nursing (ACEN) and the American Association of Colleges of Nursing's Commission on Collegiate Nursing Education (CCNE). You will also want to be sure that any program you consider has local approval from the Ohio State Board of Nursing.
Licensing
To receive a nursing license, you'll need to first earn your ADN degree, and then you'll need to pass the National Council Licensure Examination (NCLEX). If you don't pass the NCLEX, the Ohio State Board of Nursing cannot give you a nursing license. It's a good idea to check out the curriculum of the ADN program you are interested in to ensure that it will thoroughly prepare you to pass the exam.
Program Outcomes
Most long-standing nursing programs will have statistics about their program's outcomes. Check to see what success they've had with the following:
Graduation rate
Licensure exam pass rate
Graduate satisfaction
Employment rate
Stark State College, located in North Canton, OH, is just one school in the state offering a properly accredited ADN program.
ADN Program Admission Requirements in Ohio
You will want to check for specific admission requirements at each school you consider, but the following is a sampling of some common requirements:
Graduate of an accredited high school or hold a GED
Grade of C or higher in high school or college biology, chemistry, and algebra
Minimum college placement test scores
Cumulative GPA of 2.75
Tuition and Costs of ADN Programs in Ohio
There's a lot to think about when considering program costs. You'll need to budget for the main fee of tuition, but don't forget that there are often other associated fees, including textbooks, uniforms, parking, and more. Be sure to do your due diligence when inquiring about a program's fees so that you aren't surprised by any extra costs.
To provide an example of cost, the estimated ADN program tuition at Ohio University is $621 per credit hour for in-state residents.
Advantages of ADN Programs
An ADN program is a great choice for those who want a shorter amount of time in school so that they can go right into working as an RN. This program is also ideal because it is so widely available at smaller schools like junior colleges, meaning that you don't need to reside in a larger city with a big university in order to attend. ADN degrees also tend to be less expensive than other nursing programs.
LPN to RN Programs in Ohio
Nurses currently credentialed as Licensed Professional Nurses (LPNs) can enroll in special programs to become registered nurses. These LPN to RN bridge programs have multiple options: the LPN to ADN for the most basic pathway, or the LPN to BSN for a bachelor's degree.
LPN to ADN/BSN Programs
For the fastest route to become an RN, many LPNs opt for the LPN to ADN degree option. In just a few semesters, students can be on their way to a registered nursing career. For example, Newark's Central Ohio Technical College offers a 4-semester, 65-hour LPN to ADN program where students take courses in Advanced Adult Health and Microbiology. Students wanting more employment options may choose the LPN to BSN program, which culminates in a baccalaureate degree. The University of Akron offers an LPN to BSN program that can be completed in 3 years of full-time study. Common requirements for LPN to RN programs in Ohio include:
Must be a graduate of an accredited LPN program
Must hold an active LPN license
Minimum GPA requirements (usually 2.75 or above)
Completion of any prerequisite courses
BSN Programs in Ohio
With a little more schooling, a Bachelor's of Science in Nursing (BSN) can be achieved. This traditional 4-year program is most often found in larger universities and will lead to higher salaries and more advanced nursing careers. If you are considering nursing as a second career, accelerated BSN programs are available to those who already hold a bachelor's degree or higher in another field. Many schools also offer an RN to BSN program for registered nurses that want to advance their careers.
There are roughly 45 schools throughout Ohio that offer some type of BSN program, giving students in the state a wealth of choices.
What To Look For in a BSN Program in Ohio
It's advisable to look into any prospective school before deciding on where to spend your hard-earned money for a BSN degree. Things like cost, proper accreditation, and favorable program outcomes should be at the top of your list when comparing different programs. Because Ohio has an abundance of schools offering a BSN, the location should also be part of your consideration, as you'll want a school that's conveniently located.
Youngstown State University is one Ohio school offering an accredited BSN program.
BSN Program Length in Ohio
There are a few different types of BSN programs, each with a slightly different duration. A traditional, pre-licensure BSN program will last 4 years. An accelerated BSN program, which is gaining in popularity throughout the country, is designed for those who already hold a bachelor's degree in another subject and will take approximately 15 months to complete. Lastly, an RN to BSN program is an option for those who already hold a nursing license and requires about 120 credit hours.
BSN Program Admission Requirements in Ohio
While BSN program requirements vary, here is an example of what to expect:
Cumulative GPA of 2.5 or better
Grade of C or better in pre-requisite courses
Current CPR certification
Tuition and Costs of BSN Programs in Ohio
You'll need to calculate the costs of attending a BSN program with great care. Not only will you need to cover tuition, but other costs such as lab fees, books, and uniforms will need to be accounted for. Depending on your school, these additional miscellaneous costs may or may not be included with tuition, and room and board fees are usually separate as well.
Advantages of BSN Programs
The main advantage to earning a BSN is the expanded career opportunities it provides. If you have any intentions of advancing in your nursing career and earning at the top of the pay scale, you'll need a BSN at the very least. BSN programs are also highly adaptable to wherever you are in life, whether you are a high school graduate going for a traditional BSN, a bachelor's or master's degree holder in another field wanting to start a new career in nursing, or an RN with a diploma or ADN wanting to advance.
MSN Programs in Ohio
If you've earned a BSN but still want to advance in your nursing career, a Master's of Science in Nursing degree (MSN) is the next step. Earning an MSN is required for advanced nursing jobs such as Clinical Nurse Specialist, Certified Nurse Midwife, and Nurse Practitioner, among other specialties. These nursing careers definitely offer the potential for increased earnings.
There are more than 5 schools in Ohio offering an MSN program.
MSN Program Length in Ohio
Typically, you can expect an MSN to take you 2-3 years to complete from start to finish. These programs tend to have a lot of flexible coursework options, as they cater to full-time working nurses. Night, weekend, and/or online courses are not unusual offerings. It's a good idea to check out all the scheduling possibilities when comparing MSN programs.
MSN Admission Requirements in Ohio
This advanced nursing degree can be competitive. Individual school requirements may vary, but you'll generally need to have the following:
Cumulative GPA of 3.0 or higher
Previously earned a BSN
Active registered nursing license
Personal interview with the program director
Tuition and Costs of MSN Programs in Ohio
Program costs for an MSN can vary from school to school, and will also vary depending on what kind of specialty you'd like to pursue. Generally speaking, though, you'll need to pay for tuition costs and additional miscellaneous fees for things like textbooks. For example, the estimated cost of tuition for an MSN at Mount Carmel College of Nursing in Columbus is around $750 per credit hour, not including additional mandatory fees.
For NP programs visit:
Getting an Ohio Nursing License
Ohio State Board of Nursing requires that all candidates applying for licensure either by examination or endorsement follow the guidelines outlined below.
Licensure by examination can be obtained by:
Completing an application and submitting fees
Verification of Education - transcripts sent electronically from school to state Board
Registration with Pearson VUE - NCLEX exam
Criminal Background Check with Fingerprints- both electronically sent to the Board
Licensure by endorsement requires the following to accompany your application and fees:
Verification of Education - transcripts sent to the Board via the school or via NURSYS
Verification of originating Licensure - via NURSYS or paper request
Criminal Background Check with Fingerprints - electronically sent to the Board
Learn more about OH RN license information visit the Ohio Board of Nursing.
Accelerated Nursing Programs in Ohio
Bridging your degree can be done in the state of Ohio, as well as accelerating your degree at one of the 10 colleges throughout the state. Accelerated BSN programs are intensive in nature due to offering full-time studies while finishing clinical hours. These programs range in length from 12 to 18 months depending on the college, and if you meet the entrance criteria. Entrance criteria are different within each program, but all programs stipulate they must be completed before the start date of the degree program. Any additional courses will add to the time frame and the tuition costs associated with the program. Check the requirements and fees more closely at the college you have chosen.
Latest Ohio NCLEX-RN Pass Rates and Statistics
Total Number of State Approved Schools: 94
Total Number of Test Takers in 2021: 7,479
2021 Average Statewide Ohio NCLEX-RN Pass Rate: 79.0%
Continued List of All RN Programs in Ohio
Here is a continued list of all RN Programs a continued list of all RN Programs a continued list of all RN Programs a continued list of all RN Programs a continued list of all RN Programs a continued list of all RN Programs.
Are we missing your school's program or need to update information listed? Please contact us so we can make the necessary changes.