What Are Some Entry-Level Nursing Career Options?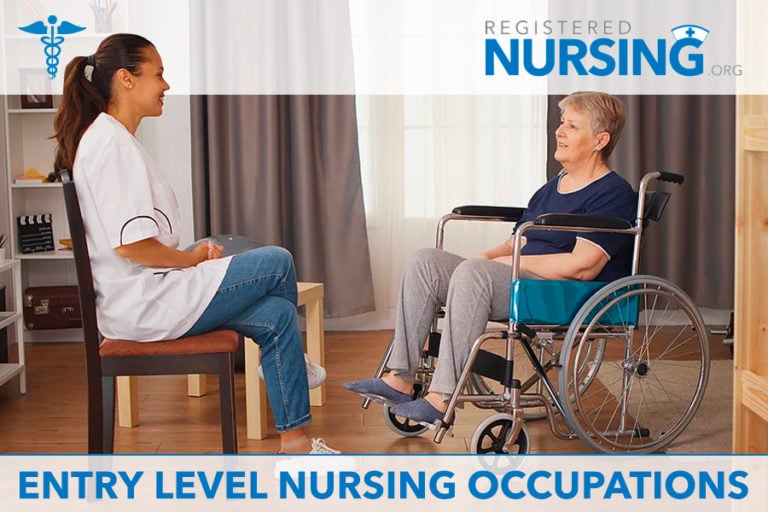 For most nurses, nursing is a calling. The day-to-day life of a nurse is challenging, gritty, and as far from "glamorous" as a career could be. Not everyone is cut out to be a nurse, but nurses are a unique breed that, despite having a ringside seat to some of the ugliest situations, go to work day in and day out to try and make a complete stranger's life a little bit better.
Many people know they want to be a nurse from the very beginning and head straight through school to get out into the field in their early twenties. Some may have always wanted to be a nurse, but due to individual circumstances, they are unable to achieve that dream until later in life. Regardless of when someone starts on their journey to be a registered nurse, different stepping stones and levels of nursing occupations will help get them there. There is no proper path a person can take to become a registered nurse; it depends on where they are in life, and what time and money they can invest in the process.
What Does "Allied Health" Refer To?
Many great stepping-stone careers for future nurses are in the allied health field. The term "allied health" is used to describe the multitude of healthcare workers that do not include physicians, nurses, dentists, or pharmacists. In fact, allied health professionals actually make up the majority of all healthcare workers. They perform both direct and indirect patient care and can also be highly specialized. Allied healthcare workers include:
Medical assistants
Phlebotomists
Nursing assistants
Dental hygienists
Radiology technicians
ER technicians
Pharmacy technicians
Medical billers
Any many more!
Allied healthcare workers can work in various environments. Examples include hospitals, clinics, nursing facilities, and dental offices. They are vital to the healthcare industry because patient care is so multi-faceted – one patient may need care from multiple disciplines. For example, a patient admitted for a stroke may need physical therapy, medication regimens/adjustments, dietary services, spiritual services, and assistance with ADLs. Therefore, the physician will need to involve allied health professionals such as physical therapists, pharmacy technicians, dieticians, social workers, and nurse assistants.
There are several reasons for choosing an allied health profession. First, many of these programs are shorter in length than non-allied health programs. Additionally, there is a wide variety of specialties to choose from. No matter what interests a potential allied healthcare student may have, there is a career opportunity available for them to strive for. For more information on allied health, the National Center for Biotechnology Information (NCBI) has a great resource on the history of allied health, and how allied health professionals help meet the growing healthcare needs in the U.S.
Popular Entry-Level Nursing Roles
Volunteer
A good starting point for those wanting to become registered nurses is to volunteer. For teenagers from about age 14-15 to age 18, applying to become a "Candy Striper" is a valuable way to start in the healthcare field. Some of the requirements are to be up-to-date in immunizations, submit a letter of recommendation, and complete an interview. "Candy Stripers" (called that historically due to the striped pinafores they wore) perform non-medical tasks such as passing out reading materials, assisting visitors to find an area of the hospital or clinic, working in gift shops, and transporting items throughout the hospital. While direct patient care can be limited depending on the facility, it allows the volunteer to observe workflows and experience the day-to-day routine of a specific area of a healthcare facility.
Volunteering is not just limited to teenagers; adults can also volunteer. Many senior citizens also enjoy volunteering. The duties are similar to that of a teen volunteer.
Volunteering in the healthcare field can be critical when it comes time to apply to nursing school. Many nursing programs are impacted, meaning there are more applicants than available spots in the program. Some programs count volunteer experience as "points" that may increase a student's chance of being admitted into the program. Additionally, it gives the future nurse a glimpse into various healthcare settings.
Medical Assisting (MA)
For some, graduating high school and going right to college (and subsequently a nursing program) is not an option. Financial concerns or family obligations may not allow a student to meet the demands of college coursework. Medical Assisting is a career in which training is short, and jobs are readily available. MA programs can take six months to a year to complete. Medical assistants usually work in a clinic or office-type settings. Duties are both clinical and administrative and can include preparing patients for their exams, taking vital signs, taking and delivering messages to and from a provider, and sometimes even giving vaccinations.
Because of the more hands-on experience, MAs gain important on-the-job healthcare experience that may help them when it comes time to apply for nursing programs. As stated earlier, prior healthcare experience may increase a student's chance of getting admitted to a nursing program. Additionally, once in the nursing program, the skills learned as a medical assistant can make it easier for the student nurse to transition from an "assistant" role to a "nurse" role.
Learn more about how to become a medical assistant. 
Sponsored Listings
Certified Nursing Assistant (CNA)
Certified Nursing Assistants (CNAs) are typically based in inpatient settings such as hospitals or skilled nursing facilities. Training and certification can take anywhere from a few weeks to nine months. Duties are less administrative and more clinical as compared to an MA and may include feeding and bathing patients, assisting with mobility (ambulating or repositioning patients), taking vital signs, and sometimes administering ordered medications under the supervision of a physician or RN.
Becoming a CNA can be a great starting point for those hoping to become a registered nurse. CNAs can work in many different clinical areas and provide hands-on care to diverse patient populations. This helps them not only when it comes time to apply for a nursing program, but when they begin the program as well. Much of the first few months of nursing school is learning the duties that a CNA performs. A CNA would already have an advantage in the early part of nursing school.
Moreover, CNAs work very closely with nurses – both LVN/LPNs and RNs. They become familiar with their roles and can become quite adept at recognizing potential complications and reporting to the RN. They may be present during physician rounds and nurse-to-nurse reports. In short, they learn quite a bit about patient care and nursing as they spend a lot of time at the bedside of patients. Becoming a CNA is a great way to lay the foundation for a future in nursing.
Learn more about how to become a CNA.
Emergency Medical Technician (EMT)
For those who aren't interested in pursuing a lengthy college degree or want to start working right after high school, becoming an Emergency Medical Technician (EMT) is a great option within the healthcare field. In addition to a high school diploma or GED, this career only requires completion of a course usually lasting less than six months, and often provided by several institutions in every state. With the passing of this state-approved course, you can obtain your certification and licensure through exams, and begin work. EMTs can be found working for hospitals, city or county governments, private ambulance services, or firehouses, so the opportunities are diverse and the job description will likely vary with each day's events.
After gaining sufficient work experience, many EMTs go on to pursue a more advanced career as a paramedic, which allows you to expand your scope of practice and often pays a higher salary. Becoming an EMT is also a great career option as they are generally in demand no matter what part of the country you live in. While the job is often very exciting, it can also be stressful, and requires professionals who work well under pressure and can communicate effectively.
There is specialty EMT to RN programs designed for those who decide they do want to advance to a registered nursing role.
Learn more about how to become an EMT.
Paramedic
A paramedic offers a great opportunity for someone who is interested in healthcare or medicine and has a knack for responding to emergencies, but may not be financially or mentally committed to the long road of education and training required to become a nurse or physician. While paramedic programs do take longer than basic emergency medical technician (EMT) courses, they can often be completed in one year, allow you to learn and use more advanced skills and also receive a higher salary.
Many paramedics start out as a more basic EMT and gain experience in the field before deciding to pursue this more advanced course. Either way, as long as you have a high school diploma or GED and are 18 years old, the state-approved educational courses are followed by sitting for national certification exams and obtaining a license to practice in your state. Once this is completed, you have many options for work environments including hospitals, city or county government, firehouses, private ambulance services, and more. While the job is often very exciting, it can also be stressful, and requires professionals who work well under pressure and can communicate effectively. There is specialty Paramedic to RN programs designed for those who decide they do want to advance to a registered nursing role.
Learn more about how to become a paramedic. 
Licensed Vocational/Practical Nurse (LVN/LPN)
LVN/LPNs are entry-level nurses. It can take one to two years to complete the program, depending on the school. Vocational schools and colleges may offer LVN/LPN programs. Once the program is completed, the student may test and become licensed in their state. They can also go on to work in a variety of high-paying specializations.
LVN/LPNs work in a variety of settings. They may work in hospitals, clinics, and skilled nursing facilities. They must work under the direction of a registered nurse. Duties may include everything a CNA performs, plus medication administration, wound care, and assessments/data collection (which is then reported to the RN to develop a plan of care). In many healthcare settings, LVN/LPNs and RNs work together in a "team nursing" model. This means that the RN and LVN/LPN are assigned a set of patients, and each role performs its duties to their respective scope of practice.
RELATED:
Prior experience as an LVN/LPN may allow for preferred admission to an RN program, depending on the school. Additionally, LVN/LPNs perform many of the same functions as an RN does, which makes the transition to an expanded role easier.
Learn more about how to become an LPN/LVN.
LVN/LPN to RN
Because LVN/LPNs work alongside RNs and in a variety of healthcare settings, they gain the critical knowledge needed to eventually transition to an RN role. LVN/LPNs who wish to become an RN have an advantage – there are many LPN/LVN to RN bridge programs available that allow an LVN/LPN to become an RN in a reduced amount of time- usually about a year.
Although the job functions of LVN/LPNs and RNs can be similar, there are critical differences that reflect their scope of practice. For example, RNs are responsible for administering and monitoring IV medications, developing and revising a plan of care, and performing advanced life support in various populations. They also assume a supervisory role, overseeing LVN/LPNs and CNAs.
RELATED: RN vs LPN
Phlebotomist
A career as a phlebotomy technician is a great pathway for those who want to enter the medical field without having to complete a lengthy training program. Most phlebotomy certificate programs can be completed in just 8-12 weeks of study and are offered regularly at community colleges and vocational training schools. Phlebotomy techs are trained in venipunctures and skin punctures, drawing blood for medical tests, research purposes, blood donations, and more. Phlebotomists are also trained in proper labeling for blood samples as well as maintaining clean equipment and a sanitary environment. Job prospects for phlebotomists are good, with employment opportunities in hospitals, clinical labs, nursing homes, blood donation centers, and more.
Phlebotomy programs are available to those with no prior medical experience, including those who have just graduated high school. Having phlebotomy certification is a definite plus for those who wish to move on to nursing or other medical careers down the line. Programs are also available for those with some medical experience who want to become certified to expand their skill sets, such as certified nursing assistants and medical assistants.
Learn more about how to become a phlebotomist.
Sponsored Listings
Other Entry-Level Nursing Routes
Bachelor of Science (BS) to Bachelor of Science in Nursing (BSN)
This transition may be considered a "linear" move towards becoming an RN. Those who hold a BS in a non-nursing field can take advantage of a BS to BSN bridge program. Bridge programs are usually accelerated and offer online options, although clinical hours are required. The length of time to complete a BSN is about four semesters.
One of the benefits of a BS to BSN career move is that much of the prerequisite coursework is already completed, and can be transferred. The catch is that the prerequisites often must be completed with a grade of "C" or better, or admission into the BSN program will not be considered.
Learn more about BSN Degrees, Accelerated BSN Programs, and LPN to BSN Programs. 
Military Nursing
Becoming an RN through the military is an alternate path to nursing. The process to become a military nurse is similar to traditional methods, with a few exceptions. For example, the cost of education is usually paid for by the government, as with additional expenses. According to goarmy.com, military nursing can also offer specialized training in leadership that reflects army doctrine. Military nurses are also provided with benefits and bonuses. Also, the military strongly prefers BSN-prepared nurses.
Luckily, nursing is a career in which there are many paths that allow people from all backgrounds to become an RN. In today's world, increased demand for healthcare services means more nurses are needed. Students are fortunate to have so many options available.
Read more in our military nursing education and service guide.
CNA vs. LPN: Which Is the Best Entry-Level Route to Nursing?
Many registered nurses (RNs) claim that their pre-nursing experience in healthcare was a tremendous benefit to them in performing well in nursing school, passing the NCLEX-RN, and easing into the nursing profession. There are many solid choices of entry-level roles for those who are considering a career as a Registered Nurse and need a stepping-stone plan that includes working in healthcare while enduring prerequisite courses and nursing school. Two common roles are that of the Certified Nursing Aide/Assistant (CNA) or Licensed Practical (or Vocational) Nurse (LPN or LVN). However, of these two pathways to becoming a thriving RN, which one is the best?
Certified Nursing Assistants are healthcare team members who are trained to provide basic care for patients' activities of daily living (ADL) such as bathing and grooming. CNAs are also trained in how to measure vital signs like blood pressure, temperature, pulse, and respiration. As part of the healthcare team, the CNA's scope of employment is designed to provide support to the RN and LPN staff by assisting patients with tasks such as getting to the bathroom, walking in the hallways, answering call lights, and refreshing bedside water and assisting patients with eating.
CNAs are certified by the state in which they work after completing a state-approved training program and passing a two-part exam that includes written and practical testing. The cost of a CNA program ranges from free to $2,000 depending on the location program details. The 240-hour curriculum and coursework for nursing assistants is monitored by the Commission on Collegiate Nursing Education (CCNE) and may include:
Communication Skills
Professionalism Skills
Medical/Surgical Asepsis
Body Mechanics
Resident Rights
Rehabilitation Care
Restorative Care
Emergency Procedures
Catastrophe Prevention
Patient Care Skills
Death and Dying
Vital Signs
Resident Care Procedures
Weights and Measures
Nutrition
Observation and Charting
Once certified, CNAs work in a variety of settings including home health, in-home support services, hospitals, long-term care facilities, and rehabilitation facilities. This can also lead to developing a CNA specialzation which could lead to a higher paying salary. The average median annual salary for nursing assistants in 2020 was $30,830 with a job growth rate expected to increase around 8% each year, according to the United States Bureau of Labor Statistics. Considering a commitment of 6 weeks of full-time coursework and a salary range that continues to improve each year, the CNA route to becoming an RN can be a quick and affordable option.
Licensed Practical Nurses (also referred to as Licensed Vocational Nurses in some states) are required to have additional training and coursework that is more in-depth than that of a CNA. LPNs are healthcare team members who have their own scope of practice that is separate from the RN, and they cannot practice independently without clinician or RN oversight. The LPN's role can be task-oriented such as performing wound care, inserting a urinary catheter, administering medications (except for intravenous in most states), or collecting lab specimens. LPNs can also be in charge of multiple patients who are medically stable in a long-term care facility and execute the plan of care created by RNs, nurse practitioners, or physicians. Since the LPN has less training in complex medical issues, their scope of practice is limited to basic assessment and reporting skills.
LPNs are licensed in the state in which they practice after completing an accredited LPN program and passing the NCLEX-PN exam. Programs for LPN students will vary depending on the area and individual programs. For example, courses taught through an adult learning format where no college credit is awarded are typically less expensive than LPN programs at a technical school that also earn the student an associate of science (AS) degree. Students can complete LPN school in as little as 12-18 months which includes classroom didactic training and can cost anywhere from $4,000 to $20,000 depending on the program. Courses for the LPN program (regulated by the Accreditation Commission for Education in Nursing) include what is learned in the CNA course as well as:
Fundamentals of Nursing
Human Biology
English Composition
Microbiology
Pharmacology and Drug Calculation
Nutrition and Diet Therapy
Introduction to Psychology
History of Nursing
LPN Scope of Practice
Overcoming Barriers to Therapeutic Communication
Once licensed, LPNs can work in any healthcare setting such as hospitals, emergency rooms, outpatient clinics, home health, and long-term care or rehabilitation facilities. The average salary for an LPN varies by state and region, but according to the Bureau of Labor and Statistics, LPNs earned a median wage of $48,820 in 2020 which is expected to grow by 9% in the next 10 years.