Acute Care Nurse Practitioner (ACNP)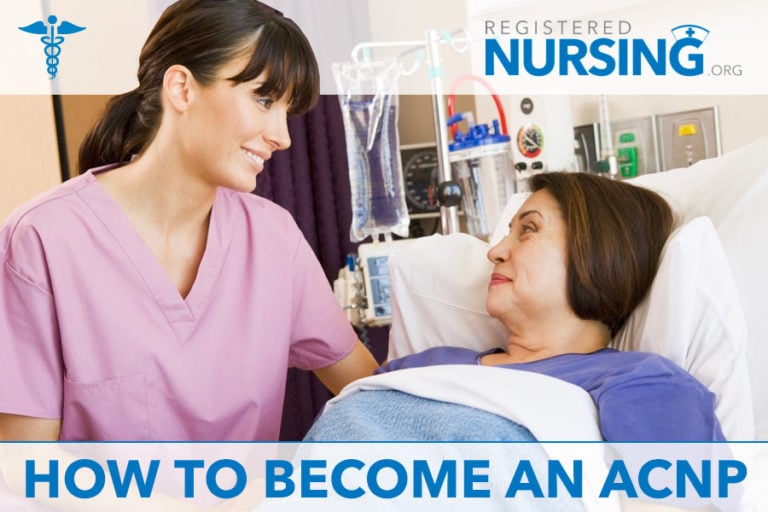 What Is an Acute Care Nurse Practitioner?
An acute care nurse practitioner (ACNP) is an advanced-practice registered nurse (APRN) who specializes in the care of acutely ill or injured patients. They work primarily in hospitals and urgent care centers. They diagnose medical problems and order treatments and medications to help patients recover from sudden illness/injury or exacerbated chronic conditions.
Why Are Acute Care Nurse Practitioners So Important?
Currently, the United States is amid a physician shortage. The American Association of Medical Colleges (AAMC) projects a shortage of 40,800 to 104,900 physicians by the end of the next decade. Additionally, more patients are seeking healthcare services primarily due to an aging population and recent healthcare legislation. As more patients utilize health care services, the number of physicians available to address their needs is not sufficient. Nurse practitioners are valuable members of the health care team to fill the gap between patient care needs and the physician shortage.
RELATED: The States with the Largest Nursing Shortages
Additionally, nurse practitioners start off as nurses—which means they are highly skilled in educating patients. This valuable trait leads to higher patient satisfaction and improved patient care outcomes. It also helps reduce health care costs, as nurse practitioners provide comprehensive care at the first service point.
Becoming an Acute Care Nurse Practitioner
Acute care nurse practitioners are required to complete an advanced-practice program to earn either a master's degree (MSN) or a doctoral degree in nursing (DNP). A bachelor of science degree (BSN) is required for admission to a graduate program. It can take two years for a BSN-educated nurse to earn a master's degree, and three to four years to obtain a doctoral degree.
Many graduate programs offer online learning, which is helpful for many nurses. Benefits of online learning include:
More flexibility
Reduced travel time
Self-directed learning
Self-paced learning
See our compiled list of available ACNP programs available to you.
Acute Care Nurse Practitioner Education Requirements and Training
Nurses who are skilled in critical thinking, rapid decision-making, and technology make excellent acute care nurse practitioners. Flexibility, an aptitude for working in chaotic and ever-changing environments, and the capacity to problem-solve are also essential characteristics of an ACNP.
Educational Prerequisites
A BSN is a minimum requirement for entry into a graduate program. There are many opportunities for associate's degree nurses to "bridge" to a bachelor's degree via an RN to BSN program. The bridge process can take about two years.
Additionally, many advanced-practice programs require experience working as an acute care RN prior to admission. Some schools allow nurses to work in acute care concurrently through the graduate program. Prior experience in acute care is crucial in that it helps build the skills needed to practice as an ACNP.
Graduate programs consist of core advanced-practice courses, which include:
Health promotion and maintenance
Clinical reasoning (studying abnormal/normal test results to formulate diagnoses)
Research in health care
Some programs have acute care "tracks" that nurse practitioner students can choose as an area of focus. Acute care coursework specifics may vary between schools, but typically include:
Advanced health assessment specific to acute care
Pathophysiology in the acute care setting
Advanced pharmacotherapeutics
Areas of study for acute care nurse practitioners can be further specialized, to include courses in:
Critical care
Cardiac care
Emergency care
Transplant care
Trauma
Hospitalist Acute Care
Intensivist Acute Care
Along with coursework, a clinical practicum in acute care is also required.
Examination, Licensure, and Certification
Certification in acute care can be obtained within the graduate program or through independent study. The American Association of Critical-Care Nurses (AACN) offers entry-level certification for acute care nurse practitioners. Eligibility requirements include:
Hold an unrestricted RN or NP license
Completion of an accredited, graduate-level advanced-practice education program that includes supervised clinical and didactic coursework in adult-gerontology
Nurse practitioners must complete an online or paper application, after which they will receive information on testing. Certification is by exam and can take up to three and a half hours. The credential awarded is the Acute Care Nurse Practitioner Certification-Adult-Gerontology (ACNPC-AG) and is valid for five years.
The AACN also offers specialized acute care certifications for advanced-practice nurses such as:
Critical Care Nursing (CCRN)
Critical Care Nursing-Pediatric (CCRN)
Critical Care Nursing-Neonatal (CCRN)
Critical Care Knowledge Professional -Adult (CCRN-K)
Critical Care Knowledge Professional-Pediatric (CCRN-K)
Critical Care Knowledge Professional-Neonatal (CCRN-K)
Telemetry-ICU Critical Care Nursing- Adult
Progressive Care Nursing-Adult (PCCN)
Progressive Care Knowledge Professional (PCCN-K)
Cardiac Medicine (CMC)
Cardiac Surgery (CSC)
CNS Wellness through Acute Care-Adult Gerontology (ACCNS-AG)
CNS Wellness through Acute Care-Pediatric (ACCNS-P)
CNS Wellness through Acute Care-Neonatal (ACCNS-N)
In addition to acute care and specialized acute care certification, ACNPs may be required to complete other certifications such as:
Basic Life Support (BLS)
Advanced Cardiac Life Support (ACLS)
Pediatric Advanced Life Support (PALS)
Neonatal Advanced Life Support (NALS)
After graduating from an MSN or DNP program, ACNPs can apply to their state boards for licensure. Since licensure requirements can vary from state to state, nurse practitioners are encouraged to check their state board's specific requirements.
Acute Care Nurse Practitioner FAQs
The answer is that it depends - on the facility and department as well as the title (nurse or NP). For nurses, some departments only hire those with acute care experience, and often set a time frame for experience, such as "six months of acute care experience in the last five years required." However, some employers offer cross-training programs for nurses. Cross-training programs are set up similar to new grad programs, although they may be shorter in duration. Off-site as well as on-the-job training is common, depending on the department.
Nurse practitioners looking to gain acute care experience may have a longer path, depending on their background and certification. In most states, specialty certification is required for licensure as a nurse practitioner. NP graduates can become certified in family medicine, women's health, acute care, etc. Those looking for a career change may be required to complete another NP program in their new area of interest. For example, a nurse practitioner who holds certification in family medicine is trained in caring for patients of all age groups, but with a preventive care approach. An FNP looking to work in acute care may need to complete an NP program to become certified as an acute care NP.
Acute care nurse practitioners can work in a variety of inpatient settings. They can choose to work in ICU, ERs, Trauma, and can specialize in hospitalist or intensivist acute care. The question of whether ICU experience is necessary has variable answers.
In short, the answer is that it depends.  Specifically, it depends on the school, NP program, and desired end goal for the NP student. Some schools require 1-3 years "acute care experience." This pretty much means any area of acute care - med/surg, telemetry, orthopedic, peri-operative care, etc. ICU means critical care as well as acute care. Depending on the desired specialty, NPs must be able to care for patients in any acute care setting- whether it's med/surg or ICU (for example, if working as a hospitalist).
Nurses who know they want to advance their career and become acute care NPs are advised to find positions in critical care settings to get a jump on NP program admissions. As well as gain essential skills in both critical and acute care. However, prospective NP students should research schools to determine the specific admission requirements.
Career and Outlook
As the United States faces a growing physician shortage, nurse practitioners are highly valued in their ability to deliver high-quality, comprehensive care. According to the American Association of Nurse Practitioners (AANP), 49.9% of NPs hold hospital privileges which allow them to meet the demand of a growing population seeking health care. Moreover, malpractice rates among nurse practitioners remain low; only 1.9% have been named as primary defendants in a malpractice case. Essentially, nurse practitioners are safe, highly educated, and qualified members of the health care team.
Working Conditions
Acute care nurse practitioners can work in the following areas:
Teaching, general, trauma, and community hospitals

Emergency department
Intensive care units
Operating rooms
Subspecialty sectors such as:

Cardiology
Pulmonology
Neurology
Cardiothoracic surgery
Interventional radiology

Long-term acute care facilities
Urgent care
Surgery centers
The working conditions of acute care nurse practitioners can be demanding. ACNPs must make quick but accurate decisions, be prepared for changing conditions, and be able to problem-solve challenging cases. Working well under pressure is a necessity.
Additionally, working as an ACNP can be emotionally draining. Working in critical care means that sometimes, despite a practitioner's best efforts, patients may not make it. Caregivers can feel a sense of guilt, along with a sense of loss. Having a healthy outlet for emotionally trying cases is necessary for ACNPs.
The working hours can also vary. Nights, weekends, and holidays may be required, as is having to be on-call.
Working in acute care is also rewarding. Facing challenging diagnoses and being able to resolve acute illnesses can result in the sense of fulfillment. In short, ACNPs save lives, and there is no higher reward than that.
Acute Care Nurse Practitioner Responsibilities & Duties
Acute care nurse practitioner duties may vary depending on the particular areas of work. Duties may include:
Evaluating patients who present with acute illness or injury
Ordering and interpreting diagnostic procedures/labs/imaging tests
Diagnosing medical conditions
Admitting patients to nursing units
Stabilizing patients in critical care areas
Operating medical machines/monitors
Prescribing medications
Performing procedures such as:

Placing sutures/staples
Performing incision & drainage
Wound care/debridement
Intubation
Placement of peripheral or central intravenous lines
Chest tube insertion
Lumbar puncture
Splinting injuries
Sedation

Monitoring hospitalized patients and tracking progress
Setting patient goals to lead patients toward discharge
Providing patient and family-centered education
Collaborating with the interdisciplinary team to ensure all facets of patient care are addressed (i.e. nutrition services, physical therapy, occupational therapy, nursing staff, etc.)
Referring to specialists
Collaborating with physicians to ensure patient care needs are met
Collaborating with discharge planners to ensure adequate placement and follow-up are arranged upon discharge
Discharging patients
Acute Care Nurse Practitioner Salary & Employment
The average salary of an acute care nurse practitioner is currently around $101,342 annually, according to PayScale. Salaries can range from approximately $86,000 to $125,000 per year. Exact salary figures will depend on city/state of residence, amount of experience, certifications/credentials held, and place of employment, among other factors. According to the latest data from the Bureau of Labor Statistics, the top-paying states for nurse practitioners, in general, are:
California
Washington
Hawaii
New Jersey
Minnesota
The career outlook for acute care nurse practitioners is promising. The Bureau of Labor Statistics projects a 45% growth for nurse practitioners in general until 2030. The demand for nurse practitioners is all-encompassing but is especially high in medically underserved and rural areas. This big demand is primarily due to the physician shortage relative to an increased demand for health care services and an aging "baby-boomer" population. The states with the highest employment level are:
New York
California
Texas
Florida
Ohio
Specifically, general medical and surgical hospitals have the second-highest employment level for nurse practitioners—which is favorable for acute care nurse practitioners. Everything considered, ACNPs make up some of the highest-paid nursing specializations on the market.
Helpful Organizations, Societies, & Agencies