Best Nursing Schools in Michigan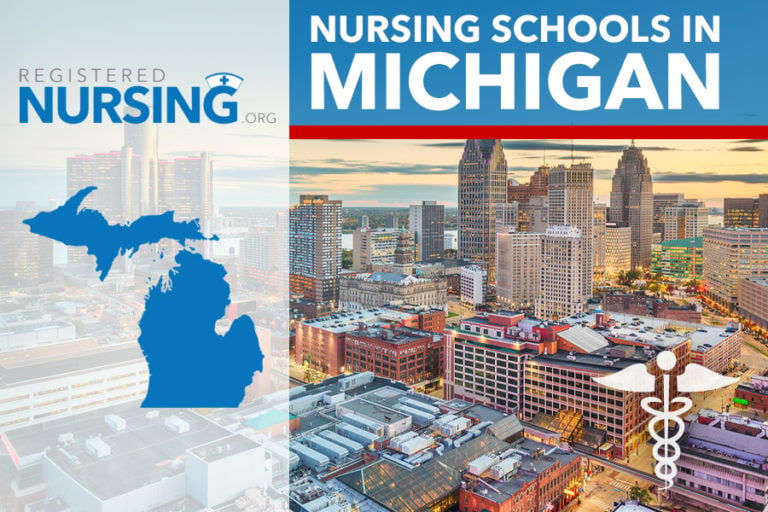 Michigan state nurses have called on their industry to push toward a better-educated workforce and are encouraging new candidates to go further in their education. The employment trend for nurses in Michigan continues to grow, with the estimated job opportunities at an astounding rate of close to 3,000 jobs per year over the next 5 years. Nurses in the state also have the opportunity to reach increasing salary goals, as the Bureau of Labor Statistics reports the average annual salary for a registered nurse (RN) is currently $67,690.
For RN bridge programs visit:
Best RN Programs in Michigan
ADN Programs in Michigan
Those looking to enter the world of registered nursing with a short educational program are encouraged to consider an Associate's Degree in Nursing (ADN). At just 2 years in length, this degree program is one of the fastest available and appeals to those who want to start working as an RN as quickly as possible. ADN programs are commonly found at junior colleges, technical schools, and other institutions throughout the state.
There are over 25 schools in Michigan that offer well-qualified and accredited ADN programs.
What to Look For in an ADN Program in Michigan
With so many ADN programs in the state, you will undoubtedly want to make the right choice. Here are a few recommendations of important things to look for as you compare schools and programs:
Accreditation
One of the easiest ways to find a quality ADN program is to look for one that holds accreditation from some of the major nursing education associations. The Commission for Education in Nursing (ACEN) and the American Association of Colleges of Nursing's Commission on Collegiate Nursing Education (CCNE) are two of the big ones to keep an eye out for as you peruse programs. Locally, you'll want to be sure that your school and program is fully approved by the Michigan Board of Nursing.
Licensing
After you complete your ADN program, you'll be eligible to take the National Council Licensure Examination (NCLEX) for registered nursing. You must pass this exam in order to receive a nursing license from the Michigan Board of Nursing. Check your school's NCLEX-RN pass rates to give you a good idea of how many graduates go on to pass the exam. The American Association of Colleges of Nursing reports that in 2015, 85.9% of nursing grads in Michigan passed the NCLEX and received licenses.
Program Outcomes
Statistics from prior graduates can help a lot in deciding whether a school's ADN program is worth your time and money. Many schools will provide reports on program outcomes. Pay particular attention to favorable stats regarding the following:
Graduation rates
NCLEX-RN pass rates
Graduate satisfaction
Employment rates
Mott Community College in Flint is a great example of a school that offers a fully accredited ADN program in Michigan.
ADN Program Admission Requirements in Michigan
In order to be admitted into an ADN program, you'll need to complete all of your school's entrance requirements. While these will vary depending on the program, here is an example of common requirements in the state:
Must have a high school diploma or GED
Cumulative GPA of 3.0 or higher
Complete HESI Admission Assessment with satisfactory scores
Complete all prerequisite courses
Tuition and Costs of ADN Programs in Michigan
One of the biggest concerns most students have when they decide to enter an ADN program is how much it will cost, and how they will pay for it. You will need to account for tuition costs, mandatory fees, textbooks, uniforms, equipment, and other expenses. Don't forget indirect costs like transportation and/or room and board. If you are worried about paying for your ADN education, numerous financial aid and scholarship options are typically available for those who qualify. Your school's financial aid department can help you with this.
As an example regarding cost, the total estimated cost of an ADN at Kirtland Community College is roughly $18,750 for in-district students and $23,200 for out-of-district students.
Advantages of ADN Programs
Choosing to become a registered nurse via an ADN is advantageous for many reasons. This program is accessible to lots of individuals, as many times the main criteria for attendance are a high school diploma, a minimum GPA, and completion of a selection of prerequisite courses. The 2-year timeframe of the program is also appealing to those who want to be established in their nursing career before those in longer programs are even done with their schooling. If you have budget or time constraints, an ADN is a really ideal nursing degree to pursue.
BSN Programs in Michigan
Though it takes a little longer to complete, the next nursing degree option beyond an ADN is a Bachelor's of Science in Nursing (BSN). This is a traditional 4-year degree that's commonly found at larger universities throughout the state. A BSN can lead to a wider variety of nursing opportunities as well as a higher paycheck. Many schools also offer an accelerated BSN program, designed for those who hold a bachelor's degree or higher in another field, as well as an RN to BSN bridge program for current registered nurses.
Michigan boasts over 25 different schools (some with campuses in multiple cities) that offer an approved and accredited BSN program.
What To Look For in a BSN Program in Michigan
It's important to find a quality school from which to earn your BSN degree. Not only will this help you to pass your licensure exams, but it will also boost your resume as well. A properly accredited program is crucial, along with one that fits into your budget, has favorable program outcomes, and has knowledgeable and well-educated instructors. Most schools with nursing programs offer a general, pre-licensure BSN program, but a handful of schools will also offer specialized BSN programs. The accelerated BSN program is one of these, catering to those who already have a non-nursing degree. There is also special RN to BSN programs at some schools, designed for current RNs who want to build upon their education with a BSN.
One example of a school that offers a properly accredited BSN program in the state is Finlandia University in Hancock, MI.
BSN Program Length in Michigan
A traditional, pre-licensure BSN program will take 8 semesters (4 years) to complete. For those eligible for the accelerated program, the length is around 15 months. Registered nurses interested in an RN to BSN can also expect a shorter timeframe, as this program clocks in at roughly 2 years from start to finish, depending on prior coursework completed. With so many different program variations, it's advised to check with your preferred school to get a full picture of program options and lengths.
BSN Program Admission Requirements in Michigan
BSN program enrollment is often limited; some even have waitlists. To ensure that you have the best shot at being admitted into your preferred program, you'll want to make sure you meet or even exceed each requirement. Below is a sampling of common BSN admission requirements:
Completion of pre-nursing prerequisite courses with a grade of 2.0 or higher for each course
Cumulative GPA of 2.75 or higher
Submission of application, two completed reference forms, essay, resume, and evidence of relevant community service and/or work experience
Tuition and Costs of BSN Programs in Michigan
Costs and fees can fluctuate wildly depending on the school you choose. Typically, though, you can expect to pay for tuition, school fees, textbooks, transportation, uniforms, equipment, and more. Keep in mind that tuition is often more expensive if you are an out-of-state student. Many students receive financial aid in the form of student loans in order to pay for their program; scholarships are also an option.
To provide an idea on cost, tuition for the BSN program at the University of Michigan-Flint is estimated at $575.25 per credit hour for in-state students and $1,145.25 per credit hour for out-of-state students. Mandatory and additional course-related fees are not included in these tuition costs.
Advantages of BSN Programs
A BSN degree is an excellent nursing degree that can be earned in a variety of different ways (traditional, accelerated, RN to BSN), making it a very versatile program. It's especially attractive for those who know they want a more advanced nursing career, as many nursing jobs require a BSN or higher. In addition to this, it's a great "stepping stone" degree that can be built upon with a graduate degree in nursing at a later date.
MSN Programs in Michigan
Those wanting to enter into certain advanced specialties in nursing will want to consider a Master's of Science in Nursing (MSN). This graduate-level degree is required for jobs including Clinical Nurse Specialist, Family Nurse Practitioner, and more. If you are interested in entering educational or administrative nursing professions, an MSN is definitely an option to look into. Keep in mind that you'll need to be an RN with a BSN degree in order to pursue an MSN.
There are a handful of schools to choose from in the Michigan area that offers approved MSN programs.
MSN Program Length in Michigan
In general, you can expect an MSN program to last approximately 2-3 years. This can veer on the longer or shorter side depending on things like prior coursework taken and the type of schedule chosen. Many MSN programs offer a degree of flexibility with part-time schedules, online courses, and more to accommodate busy working nurses. If you are going into a specialty, like Nurse-Anesthesia, you may be required to take additional coursework.
MSN Admission Requirements in Michigan
Advanced graduate programs such as the MSN have rigorous standards for admission. While you should check with your preferred school for their specific requirements, you can expect to find something similar to the following:
Must have a BSN from an accredited college or university
Current licensure to practice as an RN in Michigan
Minimum GPA of 3.0
One year of clinical practice as an RN
Submission of a written essay
Submission of three letters of recommendation
Complete a personal interview with nursing faculty
Tuition and Costs of MSN Programs in Michigan
MSN programs, while costly at some schools, offer an excellent opportunity for high-responsibility nursing careers and increased salary. Like other nursing programs, costs will include tuition, fees, textbooks, equipment, and more. Tuition costs for the MSN program at Grand Valley State University in Allendale, for example, will run you approximately $661 per credit hour, not including additional fees.
For NP programs visit:
Getting a Michigan Nursing License
Michigan board of nursing licensure program by either examination or endorsement requires the following information to be submitted for consideration:
Completed application forms
Official transcripts - direct submitted by an approved nursing program to the state board
Criminal Background check
Fingerprint Report
Passing score on NCLEX exam
Good moral character
If inquiring on being licensed under endorsement, you must submit all the aforementioned documents, as well as:
Verification of licensure from outside the state
NCLEX or State Board Test Pool Exam - completion
Accelerated Nursing Programs in Michigan
Entering into the world of nursing can be an easy transition. Accelerated BSN programs and bridging programs can be options for someone with a BA, but looking to transition into nursing. These programs can be taken at a few different colleges over the state of Michigan, and an accelerated program can be completed in as little as 12 to 18 months. This timeframe is for candidates that have no required courses to complete before entrance into the degree program. If there are course you must complete this will add to the amount of time to completion, as well as overall costs associated with a degree program.
Continued List of All RN Programs in Michigan
Here is a continued list of all RN Programs a continued list of all RN Programs a continued list of all RN Programs a continued list of all RN Programs a continued list of all RN Programs a continued list of all RN Programs.
Are we missing your school's program or need to update information listed? Please contact us so we can make the necessary changes.