Nurse Practitioner Programs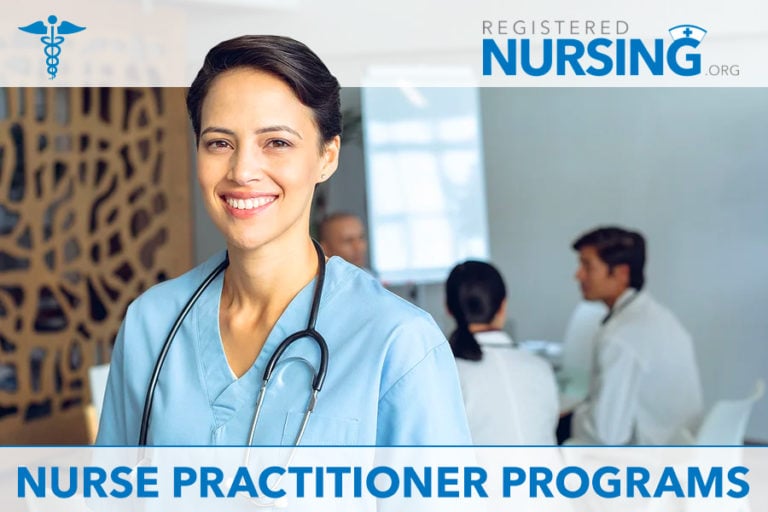 The decision to become a nurse practitioner is an important one, and with it comes a host of questions: what type of degree should you obtain? What specialty or area of medicine are you interested in? With a variety of different program types and concentration options, those considering advancing their education and career by becoming an NP have a lot of decisions to make. Below, we break down the nurse practitioner essentials to help you reach your full potential as a future NP.
Nurse Practitioner Schooling & Education Requirements
A nurse practitioner is considered an advanced practice nursing role. Therefore, you must hold either a Master's of Science in Nursing (MSN) or Doctor of Nursing Practice (DNP) degree. Most NP jobs require an MSN, but those looking to advance to the highest levels of nursing practice may opt for a DNP. There are accelerated bridge programs available for both ADN and BSN-educated RNs to pursue post-graduate nursing degrees, as well as Master's Entry to Nursing Practice (MENP) programs for those who hold a non-nursing bachelor's degree.
To be eligible for entry into an MSN or DNP nurse practitioner program, most schools require the following:
BSN degree from an accredited institution (ADN degree may be accepted for some specialty bridge programs)
Cumulative GPA of 3.0 or higher
Professional nursing experience (one year recommended for most programs, additional experience required for some programs)
Active, unencumbered RN license in the school's state
Resume or curriculum vitae
Personal statement or essay
For MSN-educated NPs who want to change specializations, a post-master's certificate program in their specialty of choice is an option. Nonetheless, NP schooling is vital to the nursing industry and nurse practitioners are continually given extended practice and full authority growth.
Credentialing Process for Nurse Practitioners
After completing the degree program, NPs will want to get certified in their specialty. The American Nurses Credentialing Center offers a wide variety of nurse practitioner certifications. Not only do they need to be licensed in the state in which they practice, but they must also undergo credentialing as well.
The credentialing process is rather complex. It involves verifying education, licensure, and certifications. It's important that organizations move through the credentialing process to ensure the nurse practitioner is qualified to provide care. It also allows the organization to bill insurance companies and government agencies (such as Medicare). Credentialing is required for nurse practitioners to be reimbursed for healthcare services.
How Long to Get Credentialed?
Nurse practitioners can expect about one or two months for credentialing to be completed. It helps to have certain things ready to go to prevent delays. Keeping documents in order such as a diploma, NP license, DEA certification, and specialty certification will help the process. It's also a good idea to keep a copy of transcripts from the school in case they are needed; having to contact the school and wait for transcripts to be transferred adds unnecessary time to the credentialing process.
Keeping track of employment history along with contact numbers of previous employers is also beneficial. Some credentialing companies also ask for malpractice insurance carriers. In some cases, references may also be required, so it's a good idea to keep at least three handy for the credentialing process.
While credentialing can be a lengthy process, the nurse practitioner can help keep it on track by ensuring all the necessary documents are in order.
Nurse Practitioner FAQs
One career change that we see in the world of nursing is non-nurses looking to become advanced-practice registered nurses. While it may seem difficult, if not impossible, for a non-nurse to become a nurse practitioner, there are options out there for students - including online pathways.
The most popular route for non-nurses to enter an online Nurse Practitioner program is through a Master's Entry to Nursing Program (MENP). Admission to this type of program typically requires that the non-nurse holds a minimum of a bachelor's degree in any non-nursing discipline. Beyond this, prospective students usually need to provide:
Resume/CV
Written statement of purpose
Letters of recommendation
Complete any pre-requisite courses related to nursing, if required. Courses may include:

Anatomy/physiology
Nutrition
Statistics
Psychology
Upon completion of core coursework, the student may begin their specialty track. Schools offer different tracks for NPs, including Adult-Gerontology, Pediatrics, and more.
It's important to recognize that while an NP program may advertise an "online" curriculum, nurse practitioner students must complete a specific number of supervised clinical hours to graduate. This is usually done on their own time. Additionally, some programs prepare students to earn an RN along the way.
Types of Nurse Practitioner Programs
There are two main program types for those interested in becoming a nurse practitioner:
MSN: Nurse Practitioner
Many NPs choose to earn an MSN in order to enter this advanced nursing career. An MSN is a post-graduate degree that offers a variety of specialization areas for NPs, and those who already have a BSN can typically complete the program in about 2 years. With many schools offering an MSN: Nurse Practitioner program in both online and classroom-based formats, this degree option is an excellent choice for those who want to enter the field as quickly as possible.
DNP: Nurse Practitioner
For those who already hold an MSN degree, or for those who want to earn an even more advanced education and hold the most prestigious NP positions, Doctor of Nursing Practice: Nurse Practitioner options are available. BSN to DNP programs take roughly 3 to 4 years to complete, while MSN to DNP programs can be completed in around 2 years. DNP nurse practitioner programs also allow students to enter a variety of advanced specializations. A DNP is not to be confused with a Ph.D. in Nursing, which is a research-focused degree.
Browse through all the nurse practitioner programs offered by state. These include campus, online, and hybrid programs for all nurse practitioner specialties.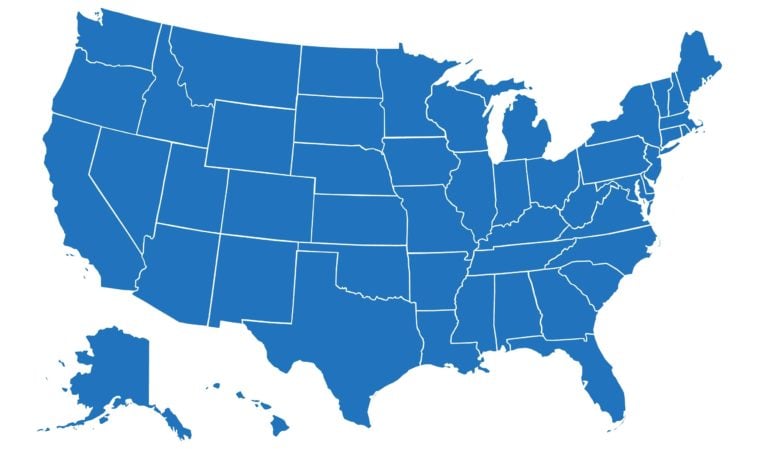 Nurse Practitioner Program Concentrations
A big advantage of going into the nurse practitioner field is that it allows you to specialize in a particular area of medicine. Most MSN and DNP nurse practitioner programs offer the ability to go into a number of APRN (advanced practice registered nurse) roles and population foci, including:
Adult Gerontology Nurse Practitioner
Adult gerontology NPs care for patients from early teenage years through old age. There are two main adult gerontology pathways: adult gerontology acute care NP, and adult gerontology primary care NP. The acute care NP works in emergency, surgery, and other acute settings, while the primary care NP works mainly in an ambulatory setting. Adult gerontology NPs can prescribe medication, order and interpret diagnostic tests, and evaluate the overall effectiveness of a patient's treatment plan. Education is another main task, as this type of NP communicates with patients and their families regarding self-management of conditions and preventative health techniques.
Find out more about adult gerontology nurse practitioner programs.
Family Nurse Practitioner
One of the most popular NP specialties, the family nurse practitioner (FNP) cares for families across the lifespan. Many FNPs are the main primary care providers for their patients, building lasting relationships and working with a high level of autonomy. FNPs promote health and wellness by educating patients about disease prevention, but they also treat illnesses and injuries that can range in severity. Each state has guidelines about what tasks an FNP can complete, so they may work independently or alongside a physician depending on where they are located.
Find out more about family nurse practitioner (FNP) programs.
Neonatal Nurse Practitioner
Neonatal nurse practitioners provide care for preterm and term infants, as well as children up to 2 years of age. The program builds upon the baccalaureate maternal-child nursing content and the student's clinical experience. Neonatal nursing breaks down the role into distinct levels, with most nurses working in either intermediate or intensive care nurseries. Aside from caring for infants and very young children, some of whom may have severe health issues, neonatal NPs also attend high-risk births and perform neonatal resuscitation if necessary.
Find out more about neonatal nurse practitioner programs.
Pediatric Nurse Practitioner
With both acute and primary care options, pediatric nurse practitioner programs prepare nurses to provide care to both healthy and chronically ill children in a variety of settings. They diagnose and treat childhood illnesses and injuries, administer immunizations, and perform annual physicals. Patience, the ability to communicate, and a desire to work with kids are a must for the role. They typically work alongside pediatricians or independently to provide quality care to infants, children, and young adults.
Find out more about pediatric nurse practitioner programs.
Psychiatric Nurse Practitioner
The psychiatric or mental health nurse practitioner assesses patients for psychiatric disorders, implements psychotherapy with individuals and groups, and provides mental health rehabilitation services. They work with patients of all ages to treat cognitive and behavioral disorders, and may also work with abuse or trauma victims as well. They also prescribe and monitor medication regimens and track patients' progress over time. Psychiatric NPs can find employment in hospitals, mental health facilities, clinics, and more.
Find out more about psychiatric nurse practitioner programs.
Women's Health Nurse Practitioner
The women's health NP program prepares nurses to provide advanced care to women throughout their lifespans. They educate women on reproductive health and prevention techniques and also provide primary care for chronic or acute illnesses. Women's health NPs provide a variety of gynecological health services and may assist with prenatal and postpartum care. They can be found in hospitals, outpatient care facilities, community-based settings, and other types of healthcare centers.
Find out more about women's health nurse practitioner (WHNP) programs.
Other Nurse Practitioner Specializations
According to the American Nurses Association APRN Consensus Model, NPs have the option of specializing in areas beyond the population foci categories described above. This means that they must gain licensure as an NP in an APRN role or population focus, and can then gain specialized certification. These specialty areas may include oncology, nephrology, and more. The following is a popular and growing NP specialty:
Emergency Nurse Practitioner
The emergency nurse practitioner program prepares nurses for an advanced career in an emergency or primary care setting, caring for patients with acute, life-threatening injuries and illnesses. They can work independently or alongside a physician or care team, performing physical examinations and ordering diagnostic tests and treatments. Emergency NPs may also perform minor procedures. This type of specialty is suited for nurses with military, emergency, or disaster management experience.
Find out more about emergency nurse practitioner programs.
Online Nurse Practitioner Programs
With today's overpacked schedules and busy lifestyles, online NP programs have consistently grown in popularity. Many schools offer online options for both MSN and DNP nurse practitioner programs. Since some RNs continue to work during school, online programs are a flexible and convenient way to complete the coursework. They are also excellent options for those who don't live within reasonable commuting distance of a university. Be sure to check if your school of choice requires any on-campus visits before committing to the program. While supervised clinical hours are usually required for NP programs, most online options allow you to arrange them locally.
Program Accreditation
With so many different MSN and DNP programs available for nurse practitioners, choosing the right one can be daunting. Ensuring that your school and program of choice are properly accredited by a respected agency is imperative to making an informed decision, as this shows that the school upholds certain standards. Both online and classroom-based programs can be accredited. Common accreditation organizations to look for include:
Costs and Length
Depending on the degree level you start with, obtaining the education to become a nurse practitioner can take anywhere from two to four years. Those starting with a BSN can complete an MSN in about two years, or a DNP in roughly three to four years. Some specialties will require more credit hours than others, so it's a good idea to thoroughly check your program of choice's curriculum to see what kind of time commitment will need to be made. Many programs offer online courses for maximum flexibility, and most have part-time or full-time study options available as well so that RNs can customize their schooling to their unique needs.
While each school and program comes with its own costs, every student can expect to pay for tuition, mandatory fees, and course materials. For example, the total cost of the MSN: Family Nurse Practitioner program at Roseman University of Health Sciences is estimated at $39,000. For the DNP: Nurse Anesthesia resident program at the University of Texas Health Science Center at Houston, the cost is approximately $21,150.84 including tuition and fees, but not including indirect costs like books, room and board, and transportation.
List of Online Nurse Practitioner Programs
Jump to Your State Listings
Alabama
Alaska
Arizona
Arkansas
California
Colorado
Connecticut
Delaware
Florida
Georgia
Hawaii
Idaho
Illinois
Indiana
Iowa
Kansas
Kentucky
Louisiana
Maine
Maryland
Massachusetts
Michigan
Minnesota
Mississippi
Missouri
Montana
Nebraska
Nevada
New Hampshire
New Jersey
New Mexico
New York
North Carolina
North Dakota
Ohio
Oklahoma
Oregon
Pennsylvania
Rhode Island
South Carolina
South Dakota
Tennessee
Texas
Utah
Vermont
Virginia
Washington
Washington, DC
West Virginia
Wisconsin
Wyoming
Are we missing your school's program or need to update information listed? Please contact us so we can make the necessary changes.