What Is a Medical Assistant?
A medical assistant is an allied health professional who supports physicians, nurses and other health professionals, mainly in medical offices and in clinics. It's the medical assistant's job to perform routine administrative and clinical tasks to keep the offices they're working in running smoothly.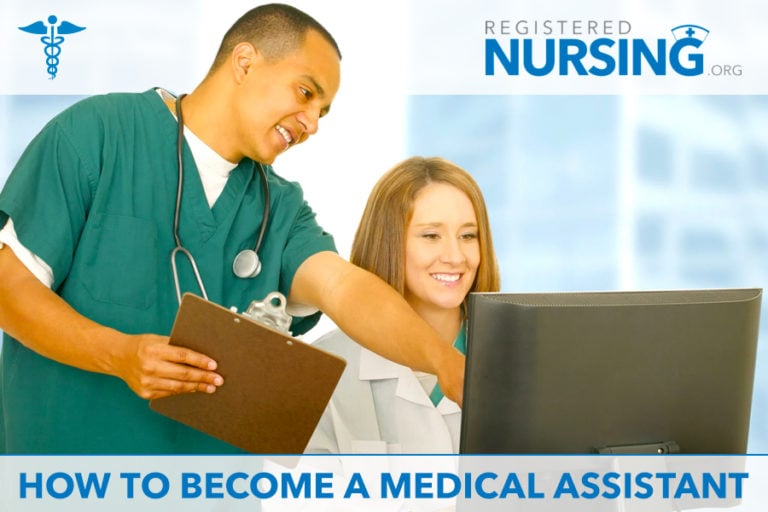 Becoming a Medical Assistant
Individuals considering a career as a medical assistant should have excellent communication skills and can translate medical terminology into layman's terms for patients and their families. Additionally, they should exhibit compassion for their patients while being nonjudgmental and good listeners. Prospective medical assistants should also know how to follow directions, be self-controlled, learn to solve problems, and be adaptable and organized.
Sponsored Listings
What Are the Education Requirements for a Medical Assistant?
Generally, medical assisting is not a state-licensed or certified profession. Medical assistants do not typically need specific education or credentials to practice. However, at the very least, they should have obtained their high school diploma. Exceptions include medical assistants who perform special duties like x-rays or phlebotomy. State laws require specific training and certification in these areas.
Medical assistants can set themselves apart as highly qualified professionals with a certain degree of knowledge and expertise through a voluntary national certification process. Employers often seek medical assistants with national certification. For example, the AAMA has reported that more managed care organizations are now placing specific mandates on employers to hire certified medical assistants.
RELATED: Medical Assistant Programs Online
Any Certification or Credentials Needed?
The most widely recognized national certification for medical assistants is the Certified Medical Assistant (CMA) through the American Association of Medical Assistants (AAMA).
To become a Certified Medical Assistant, individuals must be able to meet several requirements:
Candidates are required to have graduated from a medical assisting program (maybe a one-year certificate or diploma program or a two-year associate degree program) that is accredited by either:
Candidates must take and pass the CMA Certification Examination
What Is the Difference Between Registration and Certification for Medical Assistants?
Medical Assistants (MAs) are not required to earn certification or register once they complete an MA program. However, some employers preferentially hire or even require certification. So, which should a new MA choose?
The bottom line is that the Registered Medical Assistant (RMA) and Certified Medical Assistant (CMA) are essentially the same. The difference is in the certifying organization and exam. The American Association of Medical Assistants (AAMA) offers a certification exam that will allow medical assistants to earn the credential "CMA" (Certified Medical Assistant).
The American Medical Technologists (AMT) also offers a certification exam for MAs to earn the credential "RMA" (Registered Medical Assistant). The exam covers much of the AAMA certification exam, including both clerical and clinical concepts. Membership is also available, allowing MAs to attend annual conventions and seminars and access publications and online continuing education. Additionally, members can have access to career opportunities around the country.
Whether earning certification as a CMA or RMA, both demonstrate that the medical assistant has met educational and professional standards in the field and is considered an "expert". Becoming certified also gives MAs an advantage when seeking a new career or leadership position.
If you're already a medical assistant, consider an MA to RN program.
Where Do Medical Assistants Work?
Medical Assistants work in a variety of healthcare settings, including but not limited to the following:
Hospitals
Outpatient care centers
Colleges and universities
Medical research centers
Diagnostic laboratories
Insurance carriers
Nursing care facilities
What Does a Medical Assistant Do?
The duties of medical assistants vary from office to office, state to state, and depend on the location and size of the practice and the practitioner's specialty.
What Are the Roles & Duties of a Medical Assistant?
Clinical Duties:
Taking medical histories
Explaining treatment procedures to patients
Preparing patients for examination
Assisting the physician during exams
Collecting and preparing laboratory specimens
Performing basic laboratory tests
Instructing patients about medication and special diets
Preparing and administering medications as directed by a physician
Transmitting prescription refills as directed
Drawing blood
Taking electrocardiograms
Removing sutures and changing dressings
Administrative Duties:
Using computer applications
Answering telephones
Greeting patients
Updating and filing patient medical records
Coding and filling out insurance forms
Scheduling appointments
Arranging for hospital admissions and laboratory services
Handling correspondence, billing, and bookkeeping
Who Do Medical Assistants Report To?
Medical Assistants work under a supervising clinician such as a licensed physician, podiatrist, physician assistant, nurse practitioner, or nurse midwife.
Supervision is considered to be where the supervising licensed clinician is readily available to the unlicensed staff in case of any untoward occurrence. As the MA is unlicensed, the technical term of supervision relates to clinicians with advanced degrees and clinical competency as a 'supervising clinician'. The time "supervision," as described above, is not in the same context as oversight or delegation of tasks.
Each state's Medical Board is responsible for classifying and governing the medical assistant's role. The Medical Practice Act, a provision of the Medical Board, defines MA training and role expectations. For example, the California Medical Board lists two ways in which a Medical Assistant can gain training:
1. Directly from a physician/podiatrist or through other qualified medical personnel under the direction of the physician/podiatrist or
2. Through a formal education program that meets the defined criteria.
Some states do not recognize a formal Scope of Practice for unlicensed medical personnel. The supervising physician or podiatrist is responsible for having written job duties and expectations available for the MA as more of a "scope of employment" rather than practice. The American Association of Medical Assistants offers state-by-state descriptions of practice issues and questions. For example, an MA in Idaho may be delegated the task of intramuscular injections once the MA has been trained and is proven competent to perform the job as long as the supervising clinician has verified the patient-specific order, dose, and route before the MA administers the medication.
Through the Nurse Practice Act, each state's Board of Nursing allows nurses to delegate tasks and oversee unlicensed assistive staff such as medical assistants. Nurses are also authorized to assess staff competency to ensure the tasks are delegated and performed safely for the patient. Written permission by the supervising physician, often in the form of a policy, can grant a registered nurse the ability to delegate technical support services, which are routine and straightforward medical tasks/procedures.
Medical Assistant Salary & Employment
Medical assisting is one of the national careers growing much faster than average for all occupations, according to the United States Bureau of Labor Statistics, attributing job growth to the following:
Advances in technology
Many elderly Americans (i.e., "baby boomers") will require medical treatment.
Predicted surge in the number of outpatient care clinics and doctors' offices
Because medical assistants can work in various health centers, salaries will likely differ from industry to industry. According to the Bureau of Labor Statistics, the median annual wage for medical assistants in 2022 was $38,270. The lowest 10 percent earned less than $30,390, while the highest 10 percent earned more than $51,710.
RELATED: Find out more about MA Salaries
From 2022 to 2032, medical assisting employment is projected to grow 14 percent faster than the national average. As the baby boomer population ages, there will be an increased demand for preventive medical care. As a result, doctors will expand their practices to hire more medical assistants to handle administrative and clinical duties, allowing care centers to see more patients.
Helpful Medical Assistant Organizations, Societies, and Agencies
Sponsored Listings