Accelerated BSN Programs
If you already hold a non-nursing Bachelor's degree and wish to enter practice as a registered nurse, an Accelerated BSN (also known as a second-degree BSN or direct-entry BSN) may be right for you. Students who opt for this pathway can finish their nursing degree in about half the time it takes to complete a traditional full BSN degree, allowing them to enter the employment field on the fast track.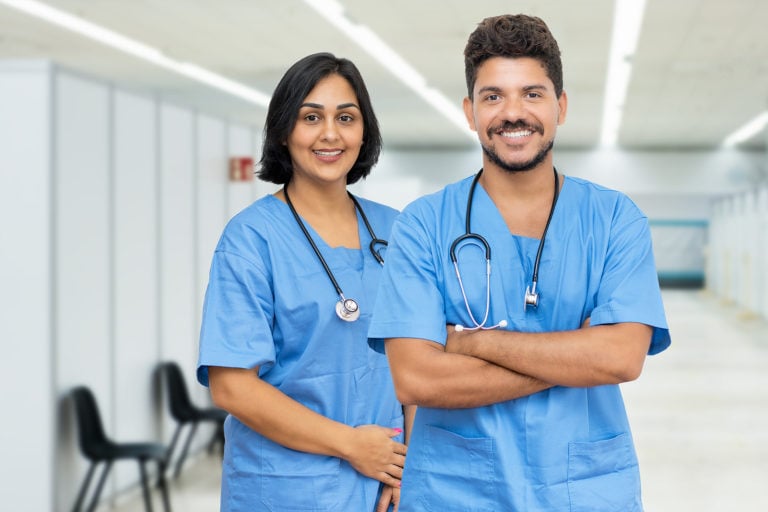 The Role of the BSN-Educated RN
Registered nurses perform a wide variety of duties and have many responsibilities. Education for RNs is purposely orchestrated to allow RNs to choose from a variety of specialties by teaching a broad spectrum of skills.
RNs are qualified to care for all patient populations and for all illnesses on a broad level. New graduate RNs will need to complete an internship program to learn the complexities of the specialty.
What's an Accelerated BSN Program Like?
While a shortened program may be a big draw, keep in mind that accelerated BSN programs are usually quite intensive and require a full-time commitment. Beyond this, prospective students will need to be aware of program costs, admissions requirements, and much more.
Tuition
The cost of an accelerated BSN program is usually between $50,000 and $90,000, and being employed during the program is generally not allowed. This is due to the demanding course schedule and complexity of courses that require many hours of homework a week.
Financial aid is available through most schools and federal grants and scholarships are often available. To apply for financial aid the student will need to visit the financial aid office at the school and complete a FAFSA form.
Program Length
The Accelerated BSN program will take approximately 11 to 18 months – some going up to 2 years – to complete, with prerequisite classes included. Clinical hours are required and the graduate will need to pass the NCLEX-RN to become licensed as an RN.
Accelerated BSN Degree Admission Requirements
Requirements for Accelerated BSN courses vary, but generally include:
Bachelor's degree in any major from an accredited college or university
Minimum GPA of 3.0
In addition, some programs require certain prerequisite courses prior to admission for those schools where prerequisites are not included in the curriculum. For many science majors, these may have been completed already. These are usually:
Human Anatomy and Physiology
Microbiology
Statistics
Human Growth and Development
Exam and Licensing
In order to work as an RN each graduate must be licensed by the state in which they wish to practice and to become licensed he or she must pass the NCLEX-RN exam.
The state will verify the student meets all the requirements and is eligible to take the NCLEX-RN examination through the application process. These requirements vary by each state but may include:
AIDS Awareness class completion
Fingerprints and FBI Background check
Nursing School Completion
Once the NCLEX-RN exam is passed successfully the RN will receive his or her license in the mail and can begin looking for work as an RN.
List of All Accelerated BSN Programs
See a full list of accelerated BSN programs by State.
Jump to Your State Listings
Alabama
Arizona
Arkansas
California
Colorado
Connecticut
Delaware
Florida
Georgia
Idaho
Illinois
Indiana
Iowa
Kansas
Kentucky
Louisiana
Maine
Maryland
Massachusetts
Michigan
Minnesota
Mississippi
Missouri
Montana
Nebraska
Nevada
New Jersey
New Mexico
New York
North Carolina
North Dakota
Ohio
Oklahoma
Oregon
Pennsylvania
Rhode Island
South Carolina
South Dakota
Tennessee
Texas
Utah
Vermont
Virginia
Washington
Washington, DC
West Virginia
Wisconsin
Wyoming