Aesthetic/Cosmetic Nurse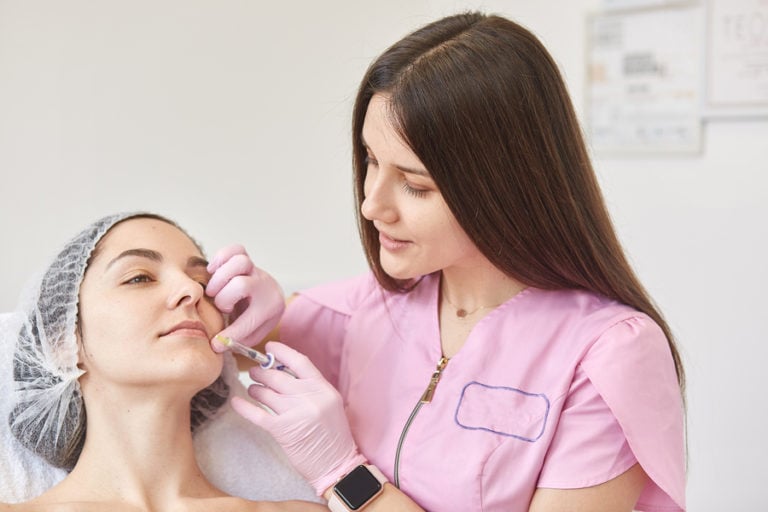 What Is an Aesthetic/Cosmetic Nurse?
Nursing is an extremely versatile field, encompassing many different types of specialties. The one common denominator in any nursing specialty is that the nurses help patients maintain their overall health and well-being. Aesthetic/cosmetic nurses help patients feel their best and boost confidence. This, in turn, allows patients to live their best life. An aesthetic/cosmetic nurse performs many non-surgical procedures and therapeutics to assist patients in their cosmetic appearance. They assess a patient's response to treatments and educate patients on aftercare. They may focus on procedures such as anti-aging fillers and injectables, dermabrasion, acne treatments, and laser removal. This role is similar to a plastic surgery nurse, though the aesthetic nurse is typically more involved with non-invasive, in-office cosmetic treatments rather than surgical procedures.
Becoming an Aesthetic/Cosmetic Nurse
Aesthetic/cosmetic nursing can be a rewarding and fulfilling career. When one thinks of cosmetic procedures, they may just think of a nurse injecting Botox and lip fillers for patients who want to look younger. However, the reality is that aesthetic nursing is much deeper. Patients who seek cosmetic procedures may be suffering from body image disturbances, depression, and anxiety. Aesthetic/cosmetic nurses should demonstrate a calm, caring, and compassionate demeanor as well as empathy for the patients they serve.
What Are the Education Requirements for an Aesthetic/Cosmetic Nurse?
Those interested in aesthetic/cosmetic nursing should first earn their RN degree through a university that offers either a two-year Associate's Degree in Nursing (ADN) or four-year Bachelor's of Science in Nursing (BSN). However, some organizations preferentially hire BSN-prepared nurses, so students should always determine what their goals and needs are before choosing an educational program pathway.
Following completion of an accredited ADN or BSN program, nurses must complete the NCLEX-RN exam to become licensed in their state.
Though it's not typically a requirement for the job, some aesthetic nurses may wish to advance to a Nurse Practitioner (NP) role. In this case, they will need to earn a Master's of Science in Nursing (MSN) degree or higher. NPs are typically given more responsibility and autonomy, though this will vary based on state.
Any Certification or Credentials Needed?
While not required, certification for aesthetic/cosmetic nursing is available through the Plastic Surgical Nursing Certification Board (PSNCB). Nurses can earn a Certified Aesthetic Nurse Specialist credential. Requirements for certification include:
Have a current RN license
Have accrued at least 1,000 hours in core competency specialties in the last 2 years
Have a minimum of 2 years of nursing experience within the designated 4 core competencies with a board-certified physician within a core specialty (Plastic/Aesthetic Surgery, Ophthalmology, Dermatology, or Facial Plastic Surgery)
Must have a supervising core physician endorse the applicant's application
Where Do Aesthetic/Cosmetic Nurses Work?
Aesthetic/cosmetic nurses don't usually work in a hospital setting. The treatments and procedures they perform are not considered "acute" to where extended observation and monitoring is needed. Rather, they mainly work in outpatient medical clinics, medical spas, private offices, and occasionally in outpatient surgery centers.
No matter where aesthetic nurses work, they need to be prepared for the occasional emergency or reaction to treatments. They also are quite busy, managing a full schedule of patients.
What Does an Aesthetic/Cosmetic Nurse Do?
Aesthetic nurses perform many different procedures and treatments. Examples include:
Injections

Botox
Collagen/other fillers
Sclerotherapy

Skin treatments

Microdermabrasion
Tattoo removal
Chemical peels
Photo facials
Light therapy

Laser treatments

Hair removal
Skin rejuvenation laser treatments
What Are the Roles & Duties of an Aesthetic/Cosmetic Nurse?
Aesthetic/cosmetic nurses have several roles and duties they are responsible for. Working under the direction of a physician and following their state's Nurse Practice Act, aesthetic nurses are responsible for:
Taking and assessing a patient's medical history
Checking a patient's vital signs
Educating patients on procedures and treatments, to include what to expect and aftercare
Preparing the procedure area and equipment
Maintaining a clean/sterile environment
Monitoring patients during a procedure
Assessing healing and identifying adverse responses to treatment
Managing emergent situations in which patients become clinically unstable
Aesthetic/Cosmetic Nurse Salary & Employment
According to the U.S. Bureau of Labor Statistics (BLS), registered nurse employment is expected to increase 12% until 2028. Additionally, the BLS reports that the median salary for RNs is $71,730 annually. Salary can vary greatly depending on the state, city, years of employment, degrees and certifications held, and employer. For example, ZipRecruiter reports that the average annual salary for an aesthetic nurse lands around $90,142. The average hourly wage is roughly $43.00 per hour.
Helpful Organizations, Societies, & Agencies