Pediatric Nurse Practitioner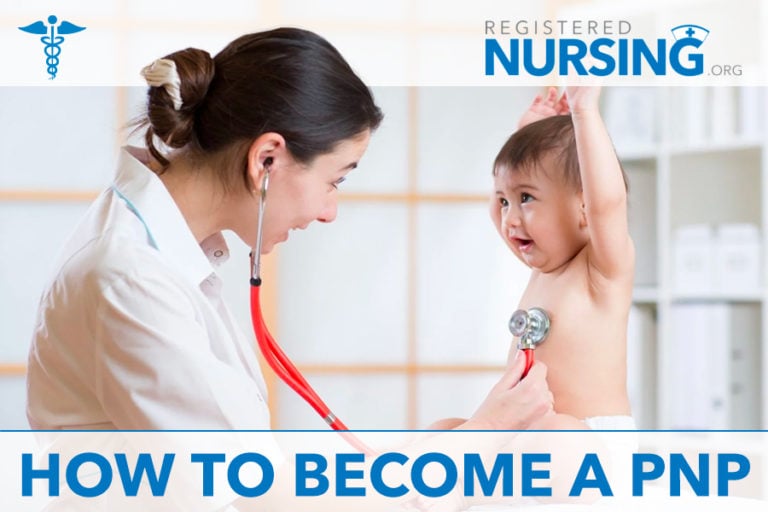 What Is a Pediatric Nurse Practitioner?
A pediatric nurse is a registered nurse or nurse practitioner that specializes in the care of children from birth to young adulthood. They focus on primary care and preventive health, as well as growth and development, along with managing acute and chronic illnesses. Pediatric nurse practitioners (PNPs) are first and foremost nurses, which means patient education and holistic care are a significant part of their practice. Depending on the state in which they practice, oversight by physicians may or may not be required.
Why Are Pediatric Nurse Practitioners So Important?
Pediatric nurse practitioners are essential to the healthcare team because they improve patient outcomes by utilizing the nursing processes of assessing, analyzing, planning, implementing, and evaluating various facets of care. They are the eyes and ears of physicians and provide valuable patient education, comfort, and reassurance to parents and children in specific aspects of care.
Pediatric nurse practitioners can diagnose and treat patients as well as perform procedures. They differ from physicians in that their patient care approach is more holistic. Nurses gather information about a patient not only including physical symptoms but psychosocial and environmental information as well. They are skilled in education and therefore can spend time teaching patients and caregivers about disease processes, treatments, and healthcare prevention as well as diagnosing acute health issues.
According to the American Association of Nurse Practitioners, nurse practitioners can also help lower the cost of health care, as patients who use nurse practitioners as their primary care provider have fewer emergency room visits, and shorter hospital stays. Additionally, they help to fill the gap in the primary care physician shortage in the United States. They also tend to have high patient satisfaction.
Becoming a Pediatric Nurse Practitioner
Those interested in working in the specialty of pediatrics should first complete an accredited nursing program and obtain a degree in nursing. Students can either earn an associate's degree in nursing (ADN) or a bachelor's degree in nursing (BSN). Successful completion of the NCLEX-RN is needed for licensure.
Pediatric nurse practitioners are advanced practice registered nurses (APRNs) who have completed a master's program in nursing (MSN) or doctoral degree program (DNP). Based on the starting point of the RN, it can take two to four years to obtain an MSN or DNP.
There are online MSN/DNP programs as well as traditional classroom programs. Nurses are encouraged to weigh the pros and cons to decide which program is best for them.
Pediatric Nurse Practitioner Education Requirements and Training
Those interested in the field of pediatrics should enjoy working with both children and families. Pediatrics focuses on family-centered care, which means involving parents, grandparents, and siblings when caring for a patient. PNPs should also be unbiased and accepting, as parenting styles and family values may differ from their own. Patience is also a key attribute of pediatric nurse practitioners, as children are often less than cooperative with various aspects of care.
Nurses who enjoy practicing independently and who wish to diagnose and prescribe while still utilizing nursing skills can progress to the field of advanced practice nursing. Nurses who seek to pursue their nurse practitioner license should value autonomy, integrity, and leadership. Pediatric nurse practitioners should enjoy tracking the growth and development of children and recognize the importance of family-centered care.
Educational Prerequisites
Most undergraduate nursing programs have semesters devoted to the care of pediatric patients which include clinical experience, and many nursing students graduate and become employed in the field right away. Nursing programs can also allow time for externship/precepting in the specialty of choice, so nursing students interested in the field of pediatrics can choose that area to gain added clinical skills before joining the workforce.
For nurse practitioners, some graduate programs require obtaining one to two years of clinical experience before enrollment, while some programs allow nurses to work concurrently through the graduate program. This is to help the nurse build clinical and critical thinking skills related to the field of pediatrics, which will better prepare them for advanced practice nursing roles.
Nurses looking to advance from RN to NP are also required to have a bachelor's degree in nursing (BSN) first. Nurses who hold an associate's degree in nursing (ADN) will need to obtain a BSN. There are many RN to BSN programs available. Many healthcare organizations also assist employees in advancing degrees and assist in tuition reimbursement, the cost of books, and granting time off for nurses.
Examination, Licensure, and Certification
For pediatric nurse practitioners, certification in pediatrics can be completed concurrently within the MSN/DNP program or obtained via independent study via the American Nurses Credentialing Center (ANCC) or other learning institutes. The ANCC offers a Pediatric Primary Care Nurse Practitioner-Board Certified (PPCNP-BC) credential. Eligibility for this certification includes:
Current, active RN license
Hold an MSN/DNP from an accredited pediatric primary care nurse practitioner program, to include a minimum of 500 faculty-supervised clinical hours
Have completed courses in advanced physiology/pathophysiology, advanced health assessment, and advanced pharmacology with content in health promotion, differential diagnosis, and disease management (including prescribing pharmacologic and nonpharmacologic treatments)
Certification is by exam and is valid for five years.
The Pediatric Nursing Certification Board (PNCB) also offers certification. Eligibility is similar to the ANCC's. Recertification is annual, and applicants will need to complete four pediatric update education courses and 15 hours of pediatric pharmacology within a 7-year period as part of the recertification process.
The PNCB also offers certification for NPs in pediatric acute care. Eligibility for certification includes:
Current, active RN license
Hold an MSN/DNP from an accredited pediatric primary care NP program or dual primary care/acute care program, to include a minimum of 500 faculty-supervised clinical hours in acute care pediatrics
Have completed courses in advanced physiology/pathophysiology, advanced health assessment, and advanced pharmacology
Recertification is also completed annually.
Additional certification in Pediatric Advanced Life Support (PALS), Neonatal Advanced Life Support (NALS), or Pediatric Emergency Assessment, Recognition and Stabilization (PEARS) may also be required depending on the health care setting. Read more for further clarity on pediatric nurse certifications.
Research PNP programs, post master's PNP graduate certificate programs, and RN to NP programs.
Pediatric Nurse Practitioner FAQs
Caring for children with cancer is extremely delicate. Parents and families are usually understandably in shock after a diagnosis is made. Pediatric oncology NPs can assist families in managing the diagnosis by offering resources such as support groups, social work referrals, financial planning, and even arrange care with a psychiatrist as needed. Stress, anxiety, and grief are common in families of children with cancer, so a pediatric oncology NP needs to be able to utilize the available resources to support a patient's medical as well as psychosocial needs.
While pediatric oncology can be an emotional challenge for NPs, it is also extremely rewarding. The NP can help support families on their journey by acting as a lifeline. Having a "constant" in the chaos of cancer treatment is extremely necessary for parents. Moreover, assisting patients and families during the grief of a terminal diagnosis as well as during the joy of remission is invaluable.
Pediatrics is a specialized population.  There are differences in anatomy, disease processes, and treatments that are not the same as in the care of adults. Therefore, prior experience is critical to becoming a pediatric nurse practitioner.
When nurses enroll in an advanced degree nurse practitioner program, they must choose a specialty track to focus on. It could be adult-gerontology, pediatrics, acute care, or family medicine. Some programs require a year or two of previous staff nurse experience in pediatrics before enrollment, while others allow for concurrent experience. Students are encouraged to check the school website to determine specific admission criteria.
Staff nurses who have no pediatrics experience and who wish to become pediatric nurse practitioners should consider cross-training to pediatrics. The more experience attained, the smoother the transition to a pediatric nurse practitioner in the future.
Pediatric nurses differ from pediatric nurse practitioners in many ways. Pediatric nurses perform essential nursing functions to care for pediatric patients. This includes physical assessment, developing a nursing care plan, implementing nursing care and treatment, and evaluating response. They administer medications and vaccines as well as other procedures in the hospital or ambulatory care setting.
Pediatric nurse practitioners are advanced-practice nurses. This means they have earned a bachelor's degree and moved on to a master's or doctoral degree nurse practitioner program. Pediatric nurse practitioners have also completed a pediatric NP "track" within their advanced-degree program, which prepares them to care for the pediatric population. Additionally, they must obtain pediatric nurse certifications.
Pediatric nurse practitioners can perform the same functions as a pediatric nurse, but they mainly are responsible for the overall management of care of pediatric patients. They conduct physical exams, take a history, diagnose, and can prescribe medications. They can also act as a patient's primary care provider.
Both pediatric staff nurses and pediatric NPs are highly specialized. Children are not just "small adults." They have anatomical differences and specific disease processes that require specially trained nurses and NPs to care for them.
Pediatric Nurse Practitioner Responsibilities & Duties
PNPs have a wide variety of duties, such as:
Performing well-child exams
Immunization counseling/administration
Developmental assessment and screening
School/Sports physical exams
Care and treatment of common childhood illnesses such as:

Asthma
Bronchiolitis/RSV
Cough/cold/flu
Injuries
Rashes

Care and treatment of chronic conditions such as:

Type 1 diabetes
Epilepsy
Spina Bifida
Cerebral Palsy
Childhood cancer

Prescribing medications, labs, and imaging studies to treat illnesses
Newborn and lactation education
Teen birth control counseling
Performing procedures to care for pediatric patients which can include:

Suturing
Starting IVs
Administering medications
Dressing changes/wound care
Ear washes
Strep screens
Additionally, overall responsibilities include:
Acting as a liaison between patients, families, and physicians
Educating patients and families in a multitude of health-related areas
Providing resources to patients and families
Screening and reporting concerns such as developmental delays, abuse, and neglect
Collaborating with specialties as needed, referring appropriately
Pediatric Nurse Practitioner Career and Outlook
Pediatric nurse practitioners are valuable members of the healthcare team. As caregivers, providers, teachers, leaders, and patient advocates, PNPs promote family-centered care to ensure the child's needs are met at every touch-point in the health care spectrum, from ambulatory to acute care.
Working Conditions
Pediatric nurse practitioners can work in a variety of health care settings, including:
Pediatric medical offices
Acute care hospitals

Nursing units
Pediatric intensive care
Neonatal intensive care
Peri-operative

Community health care clinics
Surgical centers
The working conditions of PNPs have both positive and negative aspects. Pediatric nurse practitioners can suffer from stress, as they may carry a heavy patient load and have many critical decisions and diagnoses to make. As with physicians, there is no room for error, which can place a heavy load on the PNP. Additionally, some pediatric nurse practitioners must work swing or graveyard shifts, and some may need to be on call.
It can be emotionally draining to care for pediatric patients. While it is difficult caring for sick adults, caring for ill children can be especially heart-wrenching. Dealing with a terminal illness and the loss of young patients can be challenging; nurses must provide comfort to families while confronting their own sense of loss.
The field of pediatrics can be rewarding, however. Providing comfort to sick children, making their hospital stay as positive as possible, educating patients and families in preventive care and maintenance, and watching children grow makes the pediatric specialty an excellent choice in healthcare.
Nurses and NPs may work in high-risk areas that may expose them to workplace violence, bloodborne pathogens, and chemicals. However, most organizations are required to provide workplace safety training to protect the health and safety of their workers.
Not all work areas are risky, such as research and education. This is an equally important area in healthcare, as it assists in developing evidence-based policies and procedures which lead to the best outcomes for patients.
Pediatric Nurse Practitioner Salary and Employment
According to the Bureau of Labor Statistics (BLS), the average salary for a nurse practitioner is $110,030. As of May 2019, the BLS reports the highest-paying states for nurse practitioners are:
California
Washington
Hawaii
New Jersey
Minnesota
For both registered nurses and nurse practitioners, salary is also dependent on any additional specialty certifications held, years of experience, local demand, and the organization in which the NP is employed.
While the Bureau of Labor Statistics does not specifically report pediatric nurse practitioner growth, the employment of registered nurses, in general, is expected to rise 12 percent until 2028. Growth is primarily due to demand for healthcare services – an aging population, a significant number of nurses retiring, and recent healthcare legislation creating a higher demand.
The job outlook for nurse practitioners, in general, is also promising. The Bureau of Labor Statistics reports that nurse practitioner employment is expected to rise 26 percent by 2028, which is faster than average. There will be an expected 171,700 job opportunities that will be available by 2024.
The American Association of Medical Colleges (AAMC) reports there will be a projected shortage of physicians by the year 2030, ranging between 40,800 and 104,900 physicians. Nurse practitioners are already beginning to fill the gaps to meet the needs of the growing and aging population, especially in primary care. The American Association of Nurse Practitioners reports that 89.2 percent of NPs are certified in primary care medicine; 62.4 percent in family medicine and 4.8 percent are certified in pediatric medicine. The addition of NPs in pediatric primary care help to offload primary care physicians and increase access to care.
Learn more about nurse practitioner salaries and APRN career options.
Helpful Organizations, Societies, & Agencies