Best Paramedic to RN Programs – 2023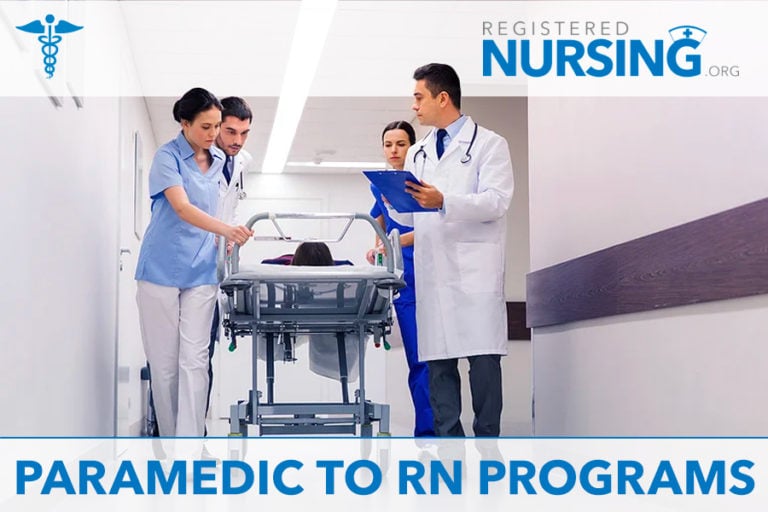 For paramedics looking to expand the scope of their careers, many find that becoming a registered nurse is an excellent progression. With paramedic to RN bridge programs popping up all over the country, current paramedics can build upon their skills and knowledge with an accelerated curriculum designed specifically for them. Registered nursing offers more money, a wider array of job opportunities, and the option of a more regular work schedule, which can appeal to paramedics looking for a change of pace.
2023 - Best Paramedic to RN Programs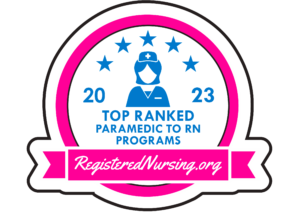 For paramedics who wish to advance their careers by earning a nursing degree, specialized pathways exist to help achieve this goal efficiently. Paramedic to RN programs are popping up all over the country to transition paramedics into the world of registered nursing by building upon the education and experience they already possess. For those pursuing this educational pathway, choosing the best program possible is a high priority. That's why we have compiled a list of top Paramedic to RN programs to help students make the right decision for their future.
For more information on our rankings, check out our Methodology Page (https://www.registerednursing.org/rn-ranking-methodology/)
How Does a Paramedic Become an RN?
For a paramedic to become an RN, they must first possess a good deal of experience as a licensed professional paramedic, as many bridge programs require at least one year in order to be eligible for the RN bridge program. Beyond this, a prospective student must meet all the requirements to be accepted into and graduate from a classroom-based or online paramedic to RN bridge program. Upon successful completion of the program, a student will be eligible to take the proper examinations to gain licensure as an RN.
Education and Certifications
The paramedic to RN bridge program is tailor-made to help paramedics gain the education and training they need to transition into a nursing career. They are typically accelerated transitional programs that build upon a paramedic's existing medical knowledge. Students will be introduced to nursing theory, patient care planning, mental health nursing, and more via courses and clinical experiences. Once the program is completed, the student will typically be awarded an Associate's Degree in Nursing (ADN) (or in some cases a BSN) and can then take the NCLEX-RN exam to become certified as a registered nurse. If this exam is passed, an RN license will be granted through the Board of Nursing in the student's state.
Are There Paramedic to RN Bridge Programs Online?
Paramedics interested in becoming RNs as swiftly as possible can opt to take an online paramedic to RN training program via credit-by-examination. This unique fast-track program allows students to get full credit for college courses through standardized exams. For busy working paramedics, the flexibility of this option may be of paramount importance, as students can work at their own pace and access the program anytime, from anywhere. The credits gained from these affordable programs can then be transferred to a variety of accredited colleges nationwide.
Paramedic to RN Bridge Program Requirements
While each school may have its own set of specific requirements, most paramedic to RN bridge programs require the following in order to gain admittance:
High school diploma or GED
Transcripts from all high schools, colleges, and universities attended
Completion of a variety of prerequisite courses with a grade of B or higher
Copy of current, valid and unrestricted state or National Paramedic Registry Certificate
Minimum of one year of paramedic work experience within the last 3 years
Professional references
HESI test results with satisfactory scores
Proof of up-to-date immunizations and CPR certification
Paramedic to RN Classes and Courses
Students enrolled in a paramedic to RN bridge program can expect to take a variety of nursing courses designed to expand upon existing healthcare knowledge. Both academic classes and clinical experiences are utilized as a part of the curriculum. For example, Texas' Hill College structures its paramedic to RN program into three semesters. Semester 1 introduces the paramedic to registered nursing, semester 2 involves classes on comprehensive nursing care for diverse patients across the lifespan, and semester 3 focuses on applying client assessment and critical thinking skills.
To provide another example of a paramedic to RN curriculum, Dyersburg State Community College in Tennessee offers the following courses as part of its program:
Transition to Professional Practice
Fundamentals of Nursing
Mental Health Nursing
Medical-Surgical Nursing
Women's Health and Childbearing Family
Pediatric Nursing
Professional Practice in Nursing
Length and Cost of Paramedic to RN Bridge Programs
Due to their accelerated status, most paramedic to RN bridge programs can be completed in 12-16 months. For example, Illinois' Parkland College program can be completed in three semesters of 11-14 credit hours per semester, after prerequisite courses have been taken. Many students find that they can complete the program with 1 year of dedicated study.
With only a few semesters of study needed to complete the program from start to finish, paramedic to RN bridge programs tend to be relatively affordable. For those struggling with finances, financial aid and scholarships are available. The estimated total cost of the paramedic to RN bridge program at Southern Union State Community College in Alabama, for example, is roughly $8,292, which includes tuition, fees, and course materials. Program fees can and will vary from school to school, so students should inquire about all related expenses from the school of their choice.
Job Outlook for Paramedics Becoming RNs
The employment outlook is extremely favorable for new grad RNs. In fact, the Bureau of Labor Statistics predicts a 7% growth for the profession through 2029. Students who have gone through the paramedic to RN program have the special advantage of being able to draw on their prior experience in the medical field, particularly in emergency and trauma situations. This may make them more desirable hires for hospitals, clinics, and other healthcare offices, as employers may prefer candidates with prior experience. With the aging population comes a growing need for highly skilled RNs, and those with paramedic experience have the foundation to gain employment in a wide variety of settings.
Potential RN Careers
Once a paramedic completes the bridge program and gains licensure as an RN, they will be poised to hold a variety of rewarding nursing jobs, including (but not limited to):
Keep in mind that some of these specialty nursing careers do require additional certification. RNs can work in hospitals, clinics, medical centers, nursing homes, schools, home health agencies, and other environments. RNs with a paramedic background may be particularly suited for roles that include emergency or trauma care.
Paramedic to RN Salary Comparison
While paramedics and registered nurses both have rewarding careers, RNs come out on top when it comes to salary. As of May 2020, paramedics in the country earn between $24,650 and $62,150 annually, with a median annual wage of $36,650. Once a paramedic completes training to become an RN, however, they can earn between $53,410 and $116,230, with a median annual wage of $75,330. This is why many paramedics looking to expand their careers are choosing to invest in a paramedic to RN bridge program; the increased earning potential makes it a worthwhile endeavor.
List of Paramedic to RN Bridge Programs
Listed below are Paramedic to RN bridge programs from across the country, get more details about each program by visiting the school's webpage.
Jump to Your State Listings
Alabama
Arizona
Arkansas
California
Florida
Georgia
Illinois
Indiana
Kansas
Kentucky
Maryland
Massachusetts
Michigan
Mississippi
Missouri
North Carolina
North Dakota
Ohio
Oklahoma
Tennessee
Texas
Wisconsin
Are we missing your school's program or need to update information listed? Please contact us so we can make the necessary changes.
Helpful Links
OTHER RN BRIDGE PROGRAMS