Best Paramedic to RN Programs – 2021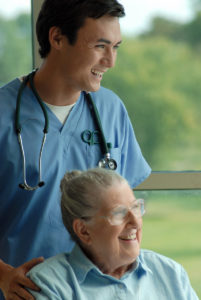 For paramedics looking to expand the scope of their careers, many find that becoming a registered nurse is an excellent progression. With paramedic to RN bridge programs popping up all over the country, current paramedics can build upon their skills and knowledge with an accelerated curriculum designed specifically for them. Registered nursing offers more money, a wider array of job opportunities, and the option of a more regular work schedule, which can appeal to paramedics looking for a change of pace.
2021 - Best Paramedic to RN Programs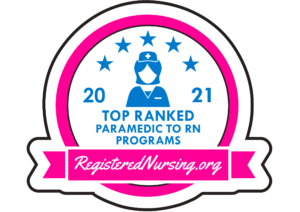 For paramedics who wish to advance their careers by earning a nursing degree, specialized pathways exist to help achieve this goal efficiently. Paramedic to RN programs are popping up all over the country to transition paramedics into the world of registered nursing by building upon the education and experience they already possess. For those pursuing this educational pathway, choosing the best program possible is a high priority. That's why we have compiled a list of top Paramedic to RN programs to help students make the right decision for their future.
For more information on our rankings, check out our Methodology Page (https://www.registerednursing.org/rn-ranking-methodology/)
How Does a Paramedic Become an RN?
For a paramedic to become an RN, they must first possess a good deal of experience as a licensed professional paramedic, as many bridge programs require at least one year in order to be eligible for the RN bridge program. Beyond this, a prospective student must meet all the requirements to be accepted into and graduate from a classroom-based or online paramedic to RN bridge program. Upon successful completion of the program, a student will be eligible to take the proper examinations to gain licensure as an RN.
Education and Certifications
The paramedic to RN bridge program is tailor-made to help paramedics gain the education and training they need to transition into a nursing career. They are typically accelerated transitional programs that build upon a paramedic's existing medical knowledge. Students will be introduced to nursing theory, patient care planning, mental health nursing, and more via courses and clinical experiences. Once the program is completed, the student will typically be awarded an Associate's Degree in Nursing (ADN) (or in some cases a BSN) and can then take the NCLEX-RN exam to become certified as a registered nurse. If this exam is passed, an RN license will be granted through the Board of Nursing in the student's state.
Are There Paramedic to RN Bridge Programs Online?
Paramedics interested in becoming RNs as swiftly as possible can opt to take an online paramedic to RN training program via credit-by-examination. This unique fast-track program allows students to get full credit for college courses through standardized exams. For busy working paramedics, the flexibility of this option may be of paramount importance, as students can work at their own pace and access the program anytime, from anywhere. The credits gained from these affordable programs can then be transferred to a variety of accredited colleges nationwide.
Paramedic to RN Bridge Program Requirements
While each school may have its own set of specific requirements, most paramedic to RN bridge programs require the following in order to gain admittance:
High school diploma or GED
Transcripts from all high schools, colleges, and universities attended
Completion of a variety of prerequisite courses with a grade of B or higher
Copy of current, valid and unrestricted state or National Paramedic Registry Certificate
Minimum of one year of paramedic work experience within the last 3 years
Professional references
HESI test results with satisfactory scores
Proof of up-to-date immunizations and CPR certification
Paramedic to RN Classes and Courses
Students enrolled in a paramedic to RN bridge program can expect to take a variety of nursing courses designed to expand upon existing healthcare knowledge. Both academic classes and clinical experiences are utilized as a part of the curriculum. For example, Texas' Hill College structures its paramedic to RN program into three semesters. Semester 1 introduces the paramedic to registered nursing, semester 2 involves classes on comprehensive nursing care for diverse patients across the lifespan, and semester 3 focuses on applying client assessment and critical thinking skills.
To provide another example of a paramedic to RN curriculum, Dyersburg State Community College in Tennessee offers the following courses as part of its program:
Transition to Professional Practice
Fundamentals of Nursing
Mental Health Nursing
Medical-Surgical Nursing
Women's Health and Childbearing Family
Pediatric Nursing
Professional Practice in Nursing
Length and Cost of Paramedic to RN Bridge Programs
Due to their accelerated status, most paramedic to RN bridge programs can be completed in 12-16 months. For example, Illinois' Parkland College program can be completed in three semesters of 11-14 credit hours per semester, after prerequisite courses have been taken. Many students find that they can complete the program with 1 year of dedicated study.
With only a few semesters of study needed to complete the program from start to finish, paramedic to RN bridge programs tend to be relatively affordable. For those struggling with finances, financial aid and scholarships are available. The estimated total cost of the paramedic to RN bridge program at Southern Union State Community College in Alabama, for example, is roughly $8,292, which includes tuition, fees, and course materials. Program fees can and will vary from school to school, so students should inquire about all related expenses from the school of their choice.
Job Outlook for Paramedics Becoming RNs 
The employment outlook is extremely favorable for new grad RNs. In fact, the Bureau of Labor Statistics predicts a 7% growth for the profession through 2029. Students who have gone through the paramedic to RN program have the special advantage of being able to draw on their prior experience in the medical field, particularly in emergency and trauma situations. This may make them more desirable hires for hospitals, clinics, and other healthcare offices, as employers may prefer candidates with prior experience. With the aging population comes a growing need for highly skilled RNs, and those with paramedic experience have the foundation to gain employment in a wide variety of settings.
Potential RN Careers
Once a paramedic completes the bridge program and gains licensure as an RN, they will be poised to hold a variety of rewarding nursing jobs, including (but not limited to):
Keep in mind that some of these specialty nursing careers do require additional certification. RNs can work in hospitals, clinics, medical centers, nursing homes, schools, home health agencies, and other environments. RNs with a paramedic background may be particularly suited for roles that include emergency or trauma care.
Paramedic to RN Salary Comparison
While paramedics and registered nurses both have rewarding careers, RNs come out on top when it comes to salary. As of May 2020, paramedics in the country earn between $24,650 and $62,150 annually, with a median annual wage of $36,650. Once a paramedic completes training to become an RN, however, they can earn between $53,410 and $116,230, with a median annual wage of $75,330. This is why many paramedics looking to expand their careers are choosing to invest in a paramedic to RN bridge program; the increased earning potential makes it a worthwhile endeavor.
List of Paramedic to RN Bridge Programs
Listed below are Paramedic to RN bridge programs from across the country, get more details about each program by visiting the school's webpage.
Select State from the Menu:
Alabama
Program
Website

Calhoun Community College

6250 Hwy. 31 North

Tanner

,

AL

(256) 306-2500

calhoun.edu

Coastal Alabama Community College

Campus

1900 US-31

Bay Minette

,

AL

(251) 580-2200

catalog.coastalalabama.edu

Southern Union Community College

1701 Lafayette Pkwy

Opelika

,

AL

(334) 745-6437

suscc.edu
Arizona
Program
Website

Glendale Community College

6000 West Olive Avenue

Glendale

,

AZ

(623) 845-3000

www2.gccaz.edu

Mesa Community College

1833 West Southern Ave

Mesa

,

AZ

(480) 461-7000

mesacc.edu

Northland Pioneer College

1001 W. Deuce of Clubs

Show Low

,

AZ

(928) 532-6111

npc.edu

Paradise Valley Community College

Campus

18401 N 32nd St

Phoenix

,

AZ

(602) 787-6500

paradisevalley.edu
Arkansas
Program
Website

Arakansas State University - Mountain Home

1600 South College St.

Mountain Home

,

AR

(870) 508-6100

asumh.edu

Baptist Health College Little Rock

11900 Colonel Glenn Road

Little Rock

,

AR

(501) 202-6200

bhclr.edu

College of the Ouachitas

One College Circle

Malvern

,

AR

(501) 337-5000

coto.edu

University of Arkansas - Little Rock

2801 S University Ave

Little Rock

,

AR

(501) 569-3000

ualr.edu
California
Program
Website

College of the Redwoods

7351 Tompkins Hill Rd

Eureka

,

CA

(707) 476-4100

redwoods.edu
Florida
Georgia
Illinois
Program
Website

Parkland College

Campus

2400 West Bradley Ave

Champaign

,

IL

(217) 351-2200

parkland.edu
Indiana
Program
Website

Ivy Tech Community College - Indianapolis

50 W Fall Creek Pkwy N Dr

Indianapolis

,

IN

(888) 489-5463

ivytech.edu

Ivy Tech Community College - Terre Haute

8000 Education Dr

Terre Haute

,

IN

(812) 299-1121

ivytech.edu
Kansas
Program
Website

Coffeyville Community College

400 W 11th St

Coffeyville

,

KS

(620) 251-7700

coffeyville.edu

Hutchinson Community College

Campus

1300 North Plum

Hutchinson

,

KS

(620) 665-3500

hutchcc.edu

Kansas City Kansas Community College

7250 State Avenue

Kansas City

,

KS

(913) 334-1100

kckcc.edu

MidAmerica Nazarene University

2030 E. College Way

Olathe

,

KS

(913) 782-3750

mnu.edu

Pratt Community College

348 NE SR 61

Pratt

,

KS

(620) 672-5641

prattcc.edu
Kentucky
Program
Website

Morehead State University - Morehead Campus

150 University Blvd.

Morehead

,

KY

(800) 585-6781

moreheadstate.edu

Morehead State University - Mt. Sterling Campus

3400 Indian Mound Dr.

Mt. Sterling

,

KY

(859) 499-0780

moreheadstate.edu
Maryland
Program
Website

Anne Arundel Community College

101 College Parkway

Arnold

,

MD

(410) 777-2222

aacc.edu

Anne Arundel Community College

101 College Parkway

Arnold

,

MD

(410) 777-2222

aacc.edu

Chesapeake College

1000 College Cir

Wye Mills

,

MD

(410) 822-5400

chesapeake.edu

Community College of Baltimore County

800 S Rolling Rd

Catonsville

,

MD

(443) 840-2222

ccbcmd.edu

Hagerstown Community College

11400 Robinwood Dr

Hagerstown

,

MD

(240) 500-2000

hagerstowncc.edu

Howard Community College

10901 Little Patuxent Parkway

Columbia

,

MD

(443) 518-1000

howardcc.edu

Prince George's Community College

301 Largo Rd

Largo

,

MD

(301) 546-7422

catalog.pgcc.edu
Massachusetts
Program
Website

Quinsigamond Community College

670 West Boylston Street

Worcester

,

MA

(508) 853-2300

qcc.edu
Michigan
Program
Website

Delta College

Campus

1961 Delta Road

University Center

,

MI

(989) 686-9000

delta.edu

Lansing Community College

309 N Washington Square

Lansing

,

MI

(517) 483-1957

lcc.edu
Mississippi
Program
Website

Hinds Community College

Campus

1750 Chadwick Drive

Jackson

,

MS

(601) 857-5261

hindscc.edu
Missouri
Program
Website

Mineral Area College

5270 Flat River Road

Park Hills

,

MO

(573) 431-4593

mineralarea.edu

SEH College of Nursing & Health Sciences

2001 William St

Cape Girardeau

,

MO

(573) 334-6825

sehcollege.edu

Southwest Baptist University

Campus

501 S Grand St

Salem

,

MO

(573) 729-7071

sbuniv.edu
North Carolina
Program
Website

Southwestern Community College

447 College Drive

Sylva

,

NC

(828) 339-4000

southwesterncc.edu
North Dakota
Program
Website

Bismarck State College

500 E Front Ave

Bismarck

,

ND

(701) 224-2468

dakotanursing.org

Dakota College at Bottineau

105 Simrall Blvd

Bottineau

,

ND

(701) 228-5433

dakotanursing.org

Lake Region State College

1801 College Drive N

Devil's Lake

,

ND

(701) 662-1600

dakotanursing.org

Williston State College

1410 University Ave

Williston

,

ND

(701) 774-4290

dakotanursing.org
Ohio
Program
Website

Belmont College

Campus

68094 Hammond Rd

St Clairsville

,

OH

(740) 695-9500

belmontcollege.edu

Clark State Community College

Campus

3775 Pentagon Blvd

Dayton

,

OH

(937) 429-8819

clarkstate.edu

Kent State University at Ashtabula

3300 Lake Rd W

Ashtabula

,

OH

(440) 964-3322

kent.edu

Lorain County Community College

1005 N Abbe Rd

Elyria

,

OH

(800) 995-5222

catalog.lorainccc.edu

Stark State College

6200 Frank Ave. NW

North Canton

,

OH

(330) 494-6170

starkstate.edu
Oklahoma
Program
Website

Connors State College - Three Rivers Port Campus

2501 N. 41st Street East

Muskogee

,

OK

(918) 684-5436

connorsstate.edu

Murray State College

Campus

1 Murray Campus Dr

Tishomingo

,

OK

(580) 371-2371

mscok.edu

Northeastern Oklahoma A&M College

200 I Street NE

Miami

,

OK

(888) 464-6636

neo.edu

Oklahoma City Community College

7777 South May Avenue

Oklahoma City

,

OK

(405) 682-1611

occc.edu

Rogers State University

1701 W Will Rogers Blvd

Claremore

,

OK

(918) 343-7777

rsu.edu

Rose State College

6420 S.E. 15th Street

Midwest City

,

OK

(405) 733-7673

rose.edu

Tulsa Community College Metro Campus

909 S Boston Ave

Tulsa

,

OK

(918) 595-7000

tulsacc.edu

Tulsa Community College Owasso Campus

3727 E Apache St

Tulsa

,

OK

(918) 595-7000

tulsacc.edu
Tennessee
Program
Website

Chattanooga State Community College

4501 Amnicola Highway

Chattanooga

,

TN

(423) 697-4400

chattanoogastate.edu

Dyersburg State Community College

Campus

1510 Lake Rd

Dyersburg

,

TN

(731) 286-3200

dscc.edu

Pellissippi State Community College

10915 Hardin Valley Rd

Knoxville

,

TN

(865) 694-6400

pstcc.edu
Texas
Program
Website

Central Texas College

6200 W Central Texas Expy

Killeen

,

TX

(254) 526-7161

ctcd.edu

El Paso Community College

Campus

100 West Rio Grande Ave.

El Paso

,

TX

(915) 831-3722

epcc.edu

Hill College - Cleburne

Campus

2112 Mayfield Pkwy

Cleburne

,

TX

(817) 760-5500

hillcollege.edu

Hill College - Hillsboro

Campus

112 Lamar Dr

Hillsboro

,

TX

(254) 659-7500

hillcollege.edu

Lone Star College - Kingwood

20000 Kingwood Dr

Kingwood

,

TX

(281) 312-1600

lonestar.edu

Lone Star College - Montgomery

3200 College Park Dr

Conroe

,

TX

(936) 273-7000

lonestar.edu

Lone Star College - North Harris

2700 W W Thorne Dr

Houston

,

TX

(281) 618-5400

lonestar.edu

San Jacinto College

4620 Fairmont Pkwy.

Pasadena

,

TX

(281) 991-2659

sanjac.edu

South Texas College

Campus

1101 E Vermont Ave

McAllen

,

TX

78503

(956) 872-3100

nah.southtexascollege.edu

Tarrant County College

1500 Houston St

Fort Worth

,

TX

(817) 515-8223

tccd.edu

Trinity Valley Community College

Campus

100 Cardinal Dr

Athens

,

TX

(903) 675-6200

tvcc.edu

Tyler Junior College

1327 S Baxter Ave

Tyler

,

TX

(800) 687-5680

tjc.edu
Wisconsin
Program
Website

Fox Valley Technical College

1825 N. Bluemound Drive

Appleton

,

WI

(800) 735-3882

fvtc.edu

Madison Area Technical College

1701 Wright Street

Madison

,

WI

(608) 246-6100

madisoncollege.edu

Mid-State Technical College

500 32nd Street North

Wisconsin Rapids

,

WI

(715) 422-5300

mstc.edu

Northeast Wisconsin Technical College

Campus

2740 West Mason St,

Green Bay

,

WI

(920) 498-5444

nwtc.edu

Waukesha County Technical College

327 E Broadway

Waukesha

,

WI

(262) 695-6500

wctc.edu
Are we missing your school's program or need to update information listed? Please contact us so we can make the necessary changes.
Helpful Links
OTHER RN BRIDGE PROGRAMS