RN Licensure: Get a Nursing License in Your State
Working as a Registered Nurse (RN) is one of the most rewarding careers in healthcare. According to the U.S. Bureau of Labor Statistics (BLS), there are some 5.3 million RNs in the USA with 275,000 joining the workforce every year. Most of these will go on to work in hospitals and clinics (around two thirds).
While an associate or bachelor's degree in nursing is the first step, it is not where the process ends. In order to work as an RN, you will need to go through a licensing process. This process and its requirements may vary by state, which we will detail below.
Only when you have obtained this license can you work in a healthcare setting as a registered nurse.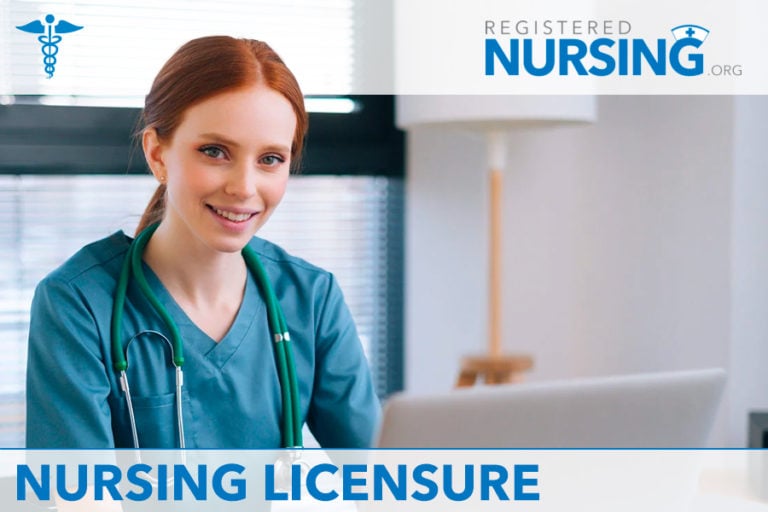 How to Get Licensed as an RN
How you go about getting an RN license will differ slightly depending on your state of residence or intended employment. There are, however, some elements that apply to every state, as these are set at the federal government level or by medical regulators.
Firstly, the qualifications you attained to qualify as a Registered Nurse must be approved by the relevant state nursing board. To achieve this, they must meet and maintain a minimum set of educational standards which are partly set by the state, and partly by various medical regulation and governance bodies. You may study for an associate's degree or bachelor's degree in nursing, or pursue a nursing diploma.
The next step is to pass the NCLEX-RN exam (National Council Licensure Examination for Registered Nurses). Only when you have fulfilled these two steps will you be permitted to begin the licensing process.
Currently, twenty-five states issue nursing licenses that only apply in that one state. The other twenty-five states take part in what is called "The Nurse Licensure Compact" which allows you to practice in multiple states.
You should always check state regulations for any further requirements before applying.
Read our RN License Transfer & NLC Guide
Looking to transfer your nursing license to a new state, or find out more about which states participate in the Nurse Licensure Compact (NLC) for multi-state licensure? Find out everything you need to know in our handy guide.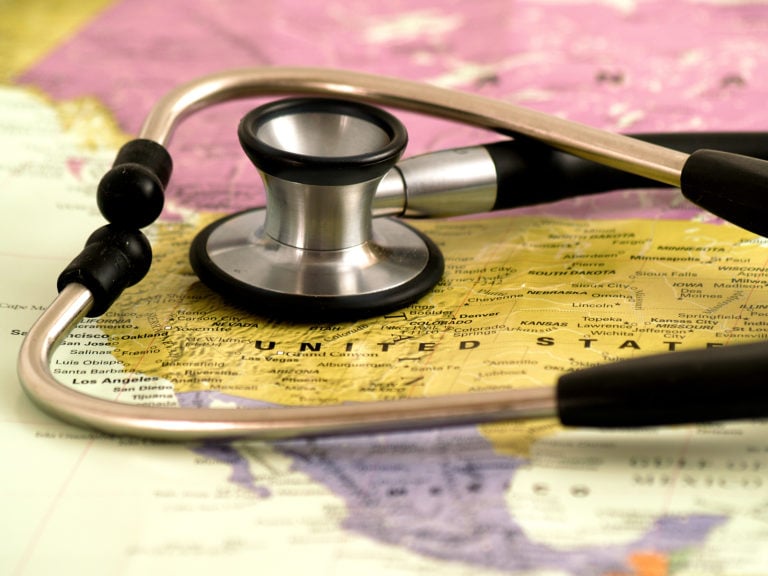 What You Need to Know About the NCLEX-RN Exam
Only when students have successfully completed an accredited nursing degree program will they be allowed to apply for the NCLEX examination (also known as NCLEX-RN). This is a vital step on the road to becoming a registered nurse – you will not be able to legally practice without passing it. The NCLEX-RN is a computerized test consisting of between 75 and 265 questions encompassing different aspects of nursing theory and practice, and test-takers will have up to six hours to complete the exam.
More details about the NCLEX-RN exam are available here.
Registered Nursing License Renewals
In most states, your RN license will last two years. However, you should always check the relevant state licensing information, as some states require annual licensing while others have three or four-year terms.
You will need the official renewal form available online from the state's licensing body. Typically, you will need your current license and your unique number along with any certificates. The form will also ask for employment details, as the license requires that you have a minimum number of practice hours and evidence of continuing education courses.
If you have been out of practice for several years and now wish to re-enter the industry as a registered nurse, the process may be slightly different. Depending on state requirements, you may need to complete a continuing education program and/or pass an exam.
State-by-State RN Licensure Information
Below is our state-by-state guide to the Registered Nurse licensing process and what you need to be eligible in each state. In all cases, we're presuming you are newly qualified.
Each state may have different requirements for becoming a Registered Nurse. To find out specific requirements, click on your state.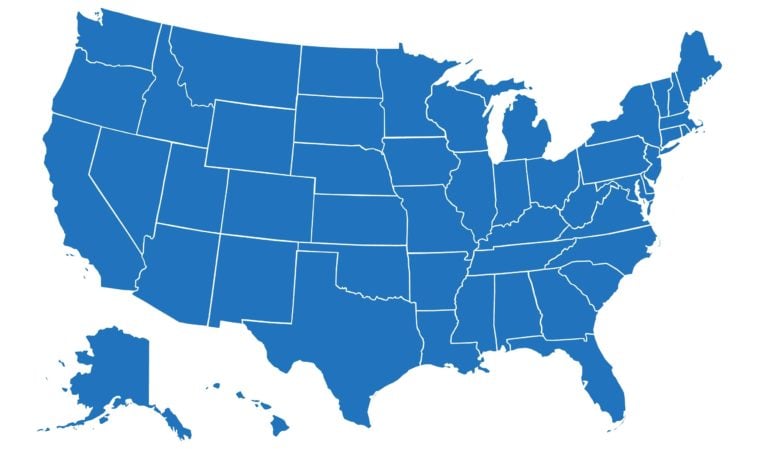 Alabama RN Licensing Requirements
Graduate with a regionally accredited nursing program or one which substantially meets state requirements if from elsewhere – submit transcripts
Application fee and forms
Social Security Number and citizenship / legal presence document
Submit fingerprints
Link: Alabama Board of Nursing (Alabama permits single and multistate compact)
Alaska RN Licensing Requirements
Complete a regionally accredited nursing degree or other program
Send application fee with the forms at time of application
Provide your SSN and fingerprint details
Register with the Pearson testing company to take the RN exam (if licensing by exam)
Link: Alaska Board of Nursing Licensure
Arizona RN Licensing Requirements
Successful graduate of an accredited educational program in nursing.
Forms and application fee
Provide SSN and proof of legal residence
English proficiency exam for non-native speakers and English as a second language
Submitted fingerprints to state and Federal checks
Link: Arizona State Board of Nursing
Arkansas RN Licensing Requirements
Successful completion of accredited nursing study program
Send the application fee along with the form
Provide SSN and proof of Arkansas as a primary residence
Submit fingerprints and other security information for the purpose of legal checks
Link: Arkansas Department of Health
California RN Licensing Requirements
Graduate from a relevant and accredited study program – provide transcripts
Register for a BreEZe account to apply and take the exam
Obtain criminal record clearance and submit fingerprints
Pass communication courses; non-native English speakers will need to prove formal competency
Pay application fee at the time of filling out the form
Link: California Board of Registered Nursing
Colorado RN Licensing Requirements
Complete a state-approved RN program
Declaration of primary residence in Colorado
Submit fingerprints and details for background checks
Two routes – by endorsement, and by examination
Link: Department of Regulatory Agencies
Connecticut RN Licensing Requirements
Successful completion of a board-approved study program (a bachelor's or associate degree, or an LPN to RN)
Send transcripts and application fee
Out-of-state graduates will be considered individually; international students to complete CGFNS
Register with Pearson Vue (for examination pathway)
Legal checks, including fingerprints
Link: Connecticut State Department of Public Health
Delaware RN Licensing Requirements
Graduation from a state-accredited study program
A State and Federal criminal background check
Transcripts along with application fee
Copies of driver's license or DMV identification
CGFNS CES for international students
Link: Delaware Division of Professional Regulation
Florida RN Licensing Requirements
Successful completion of a state-endorsed education program – degree, military, certificates and other relevant pathways
Submit to electronic fingerprinting
Criminal background check and health history check
Application form and fee submission
Link: Florida Board of Nursing
Georgia RN Licensing Requirements
Graduate from a program endorsed by the state and submit transcripts
Submit all required documents along with the fees
Register with Pearson Vue for the exam
Submit to all state-required background checks
Link: Georgia Board of Nursing
Hawaii RN Licensing Requirements
Graduation from a state-authorized education program – a degree, diploma, certificate
Send copies of transcripts
Submit copies of government-issued forms and Social Security card
Submit to criminal history check and fingerprint checking (you will pay the cost)
Link: Hawaii Department of Commerce and Consumer Affairs Professional & Vocational Licensing
Idaho RN Licensing Requirements
Complete a state-approved nursing study program
Criminal records check and fingerprints (applicant pays)
Application form and fee (applicant pays)
Register with Pearson Vue for the examination
Link: Idaho Board of Nursing
Illinois RN Licensing Requirements
Complete a valid nursing program authorized by the state
Send fees, application form, and submit to security checks
Examination and endorsement options available
Link: Illinois Department of Financial and Professional Regulation
Indiana RN Licensing Requirements
Complete a state-approved education and training program – transcripts required
Pass the state exam to qualify as an RN
Application form along with fees – multiple fees which may apply at different times
Provide copies of state ID
Link: Indiana State Board of Nursing
Iowa RN Licensing Requirements
Successfully graduate from a regionally accredited study program
Pass the licensing exam
Submit to fingerprinting and criminal background checks as stated on the IBN website
Link: Iowa Board of Nursing
Kansas RN Licensing Requirements
Graduated from a state Board of Nursing education program (or internationally recognized equivalent)
State background check including fingerprints
No felony convictions or pending
Is not participating in another program (multi-state license)
Link: Kansas State Board of Nursing
Kentucky RN Licensing Requirements
Completed a Kentucky-approved educational program – bachelor's or associate's degree, typically
Pass the NCLEX-RN through Pearson Vue before application
Background checks including criminal records and fingerprints
Pay all fees by each subsequent deadline
Link: Kentucky Board of Nursing
Louisiana RN Licensing Requirements
Successfully complete a training and education program as approved by the state of Louisiana
Send transcripts and application fee with each subsequent stage
Pass the NCLEX-RN exam
Submit to all background checks and fingerprinting
Link: Louisiana State Board of Nursing
Maine RN Licensing Requirements
Application system is now fully online – internet access required
Graduate from a nursing program through an accredited school
Criminal background checking plus fingerprint submission
Take and pass the state exam (for those applying by license by exam pathway)
Link: Maine State Board of Nursing
Maryland RN Licensing Requirements
Successful graduation from a state-approved education program
International students will need to send transcripts for evaluation
Complete oral English test (TOEFL) for non-native and English as a foreign language applicant
Fingerprinting and background checks
Application form and passport-sized photo along with fees
Link: Maryland Board of Nursing
Massachusetts RN Licensing Requirements
Successful completion of an accredited nursing program
Send the application form along with all required fees to each deadline
Evidence of mandatory Continuing Education for nurses
Background checks, including criminal records (to include fingerprint checking)
International applicants to send transcripts; non-native English speakers provide evidence of proficiency
Link: Massachusetts Board of Registration in Nursing
Michigan RN Licensing Requirements
Graduation from a Michigan state-approved training program
Non-native speakers are required to provide evidence of English proficiency
Foreign nationals will also be required to provide a report from CGFNS
Provide your SSN
Submit to a criminal background check
Fill out a questionnaire of moral character
Link: Michigan Bureau of Professional Licensing – Board of Nursing
Minnesota RN Licensing Requirements
Complete an approved nursing degree or other education program
Send fees along with application form
Submit to a fingerprint check for the purpose of criminal records and safety check
Pass the NCLEX-RN before licensing is permitted
A competency evaluation exam
Link: Minnesota Board of Nursing
Mississippi RN Licensing Requirements
Valid nursing qualification such as a bachelor's degree or associate's degree
Provide fees with the application
Supply valid SSN
A discipline survey followed by criminal background checks including fingerprints
Link: Mississippi Board of Nursing
Missouri RN Licensing Requirements
Completed and notarized form (no fee for first-time applicants)
Evidence of U.S. citizenship or right to live in the U.S. (send copies, not originals)
Transcript proving right to work as a Registered Nurse
Submit to criminal background checks plus fingerprint
Link: Missouri Board of Nursing
Montana RN Licensing Requirements
Enroll and complete a fully accredited or equivalent state-approved nursing study program
Submit application form and fees
Register with Pearson VUE to take the NCLEX-RN
Fingerprint checks and other security protocols to ensure no criminal history or pending convictions
Link: Montana Board of Nursing
Nebraska RN Licensing Requirements
Complete a relevant education program and pass the NCLEX-RN
Submit the relevant application form along with fees (vary)
SSN and proof of state residence
Submit to all required security checks including fingerprints
International applicants should use an official organization to convert their qualification for U.S. relevance
Link: Nebraska Department of Health and Human Services
Nevada RN Licensing Requirements
Graduate a Nevada-approved nursing program permitting practice as an RN
Submit to security checks, including fingerprints
Mandatory cultural competency continuing education
Pass the NCLEX-RN exam
Submit the application form and fees to each required deadline
International applicants should translate their qualifications for the US for consideration
Link: Nevada State Board of Nursing
New Hampshire RN Licensing Requirements
An approved qualification enabling you to work as an RN, plus transcripts
Pre-register with Pearson Vue for NCLEX exam
Provide a copy of your state-issued driver's license
Submit to security and criminal background checks
Link: New Hampshire Board of Nursing
New Jersey RN Licensing Requirements
Graduated from a New Jersey nursing board-approved education program (international students eligible)
Pass NCLEX-RN
English proficiency examination proof for international students where English is not the first language
Unencumbered license
Criminal checks, fingerprint submission
Valid Social Security Number
Link: New Jersey Division of Consumer Affairs
New Mexico RN Licensing Requirements
Completion of a New Mexico board-approved program
The application form and all fees (multiple fees apply at various stages of the process)
Take and pass the licensing exam
Criminal background checks and mandatory fingerprint checks
TOEFL, IELTS, and TOEIC for international applicants for whom English is not the first language
Link: New Mexico Board of Nursing
New York RN Licensing Requirements
Graduated from a nursing education program acceptable to the board
Complete NY state infection control program
Pass the NCLEX-RN or similar (subject to board approval)
Background checks will be carried out to include fingerprints
Application form and fees, which are spread out throughout the process
Link: New York State Education Department
North Carolina RN Licensing Requirements
Qualified with a state-approved program to practice as an RN
Transcripts will be required for out-of-state applicants; international students will need to convert their qualifications
Application form and relevant fees to each required deadline
Criminal background checking which includes fingerprints
Link: North Carolina Board of Nursing
North Dakota RN Licensing Requirements
Completed an authorized study program as listed by the state board
International students may apply but should convert their qualifications and provide transcripts
A Social Security Number
Application and fees
Complete a CHRC (Criminal History Record Check)
Take and pass the state's CNA competency evaluation
Link: North Dakota Board of Nursing
Ohio RN Licensing Requirements
Completion of a state-authorized education program
International students are eligible but must use a formal service to convert their qualifications for consideration
Social security number, government ID, and address in the state
Check the website for disqualifying offenses
Application form(s) and all relevant fees
Criminal records check (which will include fingerprints)
Link: Ohio Board of Nursing
Oklahoma RN Licensing Requirements
Completion of a state board-approved nursing program
Application and fees to be sent on time
Pass the NCLEX-RN
Submit to a criminal records check
Link: Oklahoma Board of Nursing
Oregon RN Licensing Requirements
Complete a state-authorized program no longer ago than two years prior to application
Provide verification of qualifications – transcripts for example
State any endorsements or convictions – actual and pending
Submit to security investigation which will include fingerprints
Link: Oregon State Board of Nursing
Pennsylvania RN Licensing Requirements
The completion of a state-approved nursing program
A passing grade on the NCLEX-RN
Three hours of continuing education (provide proof)
License fee
State security checks which also include fingerprints
Link: Pennsylvania Department of State
Rhode Island RN Licensing Requirements
Completed state-approved education – a degree or diploma with significant experience
Evidence of continuing education and training
Take and pass the NCLEX-RN
Security checks which will include criminal records check for pending convictions and current convictions
International students may apply but will need to "convert" grades
Link: State of Rhode Island Department of Health
South Carolina RN Licensing Requirements
Graduate from a state-approved education program – either in the state or another state (must be approved)
Proof of ongoing competency
Pass the NCLEX-RN
Criminal records check – including fingerprints
International students may apply but must translate grades and other eligibility requirements
Link: State Board of Nursing for South Carolina
South Dakota RN Licensing Requirements
Successful completion of a relevant education program suitable for working as an RN in SD according to the Board of Nursing
Application fee and form (check the website for current costs)
Criminal background checks – fingerprints mandatory
Register with Pearson Vue for the NCLEX exam (if not already passed)
Link: South Dakota Department of Health Board of Nursing
Tennessee RN Licensing Requirements
Complete a study program enabling you to work as an RN including transcripts
Application form, fee, and a signed passport photograph
Declaration and proof of citizenship
Register with Pearson Vue for the NCLEX exam
Criminal records check – past felonies will require a letter of explanation and court documents
Link: Tennessee Department of Health Board of Nursing
Texas RN Licensing Requirements
Graduation from a Texas state-authorized education program (Associate's Degree, Bachelor's Degree, or other pathways)
Criminal background checks through the Department of Public Safety – fingerprints required
Nursing jurisprudence exam
Register with Pearson Vue 30 days before graduation to take the NCLEX-RN
Application and fees required
If your qualifying program was not taught in English, you will be required to provide proof of English proficiency
Link: Texas Board of Nursing
Utah RN Licensing Requirements
Successful completion of an approved program permitting practice as a registered nurse
Take and pass the NCLEX-RN exam
Non-native English speakers are required to complete a CGFNS and CES report
All forms and fees by the respective deadlines
Criminal records check including fingerprints
Link: Utah Department of Commerce Division of Occupational and Professional Licensing
Vermont RN Licensing Requirements
Graduation from a relevant and authorized training and education program
Application form and fees
Criminal background checks are now mandatory for all – fingerprints required
Take and pass the NCLEX
Non-native English speakers must provide official proof of English proficiency
Link: Vermont Secretary of State – Nursing
Virginia RN Licensing Requirements
Graduation from a state-approved nursing education program
Criminal background check along with fingerprints
NCLEX testing, register with Pearson Vue
Completed application form and relevant fees with each deadline
Link: Virginia Board of Nursing
Washington RN Licensing Requirements
Graduate from an education program approved by Washington state
Register for the state government registration service – you will need your SSN and other personal details
Fees apply
Criminal background checks, including submission of fingerprints
Register for and pass the NCLEX-RN exam
Link: Washington State Department of Health
Washington DC RN Licensing Requirements
Completion of a fully accredited degree or another relevant program
Submit your SSN and other personal details
Application form and fees apply
International nurses need to convert their qualifications to the US system for consideration and prove English proficiency
Criminal background checks including fingerprint checking
Link: DC Health Board of Nursing
West Virginia RN Licensing Requirements
Graduate from a state-approved education program such as a nursing degree
All transcripts in support of your qualifications
Completed application form and fees (multiple with varying deadlines)
Citizenship declaration and proof of right to be in the US
Evidence of English proficiency for non-native speakers
Link: West Virginia RN Board
Wisconsin RN Licensing Requirements
Complete a fully accredited nursing program as approved by the state nursing board
Send copies of transcripts to support your qualifications
Application form and all relevant fees
Proof of citizenship/right to remain and work in the US
If English is not your first language or you studied your program in a language other than English, you will need to provide certification of proficiency
Link: Wisconsin Department of Safety and Professional Services
Wyoming RN Licensing Requirements
A completed state-approved education program such as a degree in nursing
Transcript copies to support your application – along with the form and fees
Proof of US citizenship or right to live and work in the US, along with Social Security Number
Submit details for a security screening, including fingerprints
English proficiency certification for those who do not speak English as a first language