Adult Gerontology Nurse Practitioner (AGNP)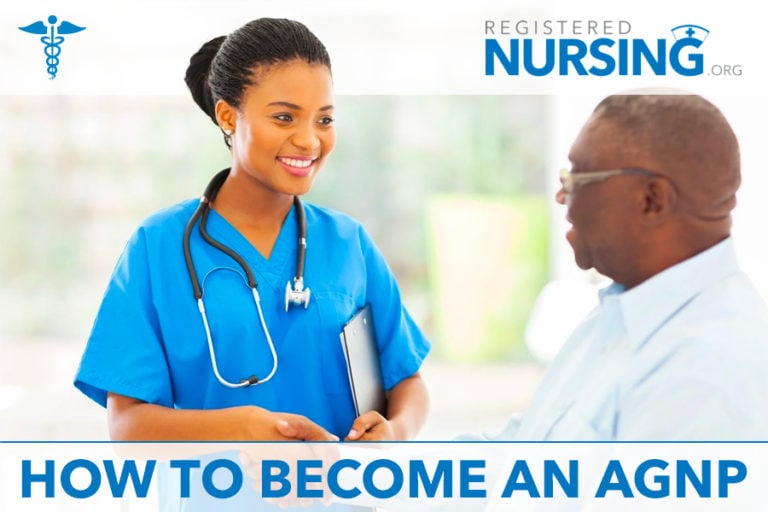 What Is an Adult Gerontology Nurse Practitioner?
An adult gerontology nurse practitioner (AGNP) is an advanced practice registered nurse (APRN) with a clinical focus on treating patients from adolescence through adult ages and into advanced age and geriatrics. Requiring an advanced degree and training, the adult gerontology nurse practitioner works with a broad patient population in a variety of settings, from private practices and clinics to hospitals and treatment centers, and has more independence as a practitioner than a typical registered nurse. Unlike most RNs, an adult gerontology nurse practitioner has the authority to prescribe medicines, order and analyze diagnostic tests and develop and implement full treatment plans for their patients.
There are two types of adult gerontology nurse practitioners (AGNP):
Adult Gerontology Acute Care Nurse Practitioner (AGACNP)
This type of nurse practitioner, known as an AG-ACNP, works with adult patients who are acutely ill. They may practice in areas of critical care, cardio-pulmonary, emergency/trauma care, oncology, surgery, and more. They are important members of the healthcare team and have the ability to diagnose and treat a wide variety of medical conditions. They are commonly found in emergency rooms, ICUs, and other acute inpatient or hospital settings. Many schools have programs specifically designed for the AGACNP.
Adult Gerontology Primary Care Nurse Practitioner (AGPCNP)
The adult gerontology primary care nurse practitioner, or AG-PCNP, focuses on the primary health management of adults and adolescents. Their duties include educating on maintaining healthy lifestyles, disease prevention, and managing chronic illnesses. They can work in a variety of healthcare settings, including internal medicine, student health, clinics, ambulatory care centers, and more. Community-based care is a big part of their healthcare role. Students can opt to take a specific AGPCNP program.
Becoming an Adult Gerontology Nurse Practitioner
In order to become an adult gerontology nurse practitioner, students must first complete their Bachelor of Science degree and pass the NCLEX-RN exam. RNs must then complete a Master's of Science degree program, in which they will take advanced courses in pathophysiology, clinical assessment, and pharmacology. The final step in becoming an adult gerontology nurse practitioner is obtaining a nurse practitioner certification from the American Academy of Nurse Practitioners or the American Nurses Credentialing Center.
Read more about adult gerontology NP programs, adult gerontology post master's NP graduate certificates, and RN to NP programs.
A typical job posting for an adult gerontology nurse practitioner position would likely include the following qualifications, among others specific to the type of institution and patient population:
Current, unencumbered RN license
Master's degree level education and nurse practitioner certification
Prior professional experience as an RN or nurse practitioner
Strong interpersonal and communication skills for working with patients and caregivers
Basic computer skills and strong attention to detail are required for maintaining patient records
To search and apply for current adult gerontology nurse practitioner positions, visit our job boards.
What Are the Education Requirements for Adult Gerontology Nurse Practitioners?
An advanced specialty, the adult gerontology nurse practitioner position requires a minimum of a master's degree in addition to an active RN license. Some aspiring AGNPs may choose to earn a Doctor of Nursing Practice (DNP) degree, but typically an MSN is a minimum requirement. Due to the high level of responsibility and authority of this position, healthcare employers require prior professional nursing experience. Professional certification is also usually required of adult gerontology nurse practitioners.
Learn about post-master's adult gerontology certificate programs.
Are Any Certifications or Credentials Needed?
Most adult gerontology nurse practitioner positions require certification as a nurse practitioner, offered by the American Nurses Credentialing Center (ANCC) and the American Academy of Nurse Practitioners (AANP). The ANCC offers two certifications for adult gerontology NPs: one in acute care and one in primary care. Eligibility requirements for the ANCC certification include an active RN license, completion of a master's, postgraduate or doctoral degree in nursing with an emphasis on adult gerontology nursing, and a minimum of 500 faculty-supervised clinical hours in the adult gerontology nurse practitioner role.
Adult Gerontology Nurse Practitioner FAQs
Each family and its dynamics are different, as familial structures are different. Some families are close-knit while others may have estrangement. In this case, hostility, strife, and disagreement can interfere with the care of a patient. Nurse practitioners must utilize the nursing process to identify the individual needs of families and address the concerns they may have. They must:
Assess - It's important to listen objectively and validate concerns. When meeting with the patient and family, NPs can assess the family's knowledge base, willingness to learn, and even the stage of the grieving process.
Educate - It's also important to educate the patient and family, whether it is regarding the disease process, treatment, or prognosis. Every attempt should be made to involve the family in developing a plan of care as feelings of loss of control are common, especially in end-of-life care. Ultimately, NPs must uphold the patient's health care wishes, even if they differ from what the family wants.
Implement treatment - NPs must implement treatment plans that align with the patient's wishes - whether it is to stop all treatment or to employ every treatment possible. Bringing in assistance from counselors or social workers also may be necessary.
Evaluate - Gerontology nurse practitioners should continuously evaluate not just the patient's response to the treatment plan, but the family dynamics as well to identify any additional needs.
Where Do Adult Gerontology Nurse Practitioners Work?
In addition to working with patients in private practices, specialty clinics and hospitals, adult gerontology nurse practitioners are in demand in rural areas with limited access to physicians, community health centers, and college campuses. AGNPs also work for healthcare technology companies, perform healthcare research, teach in schools and a significant number have their own private practices.
RELATED: The States with the Largest Nursing Shortages
What Does an Adult Gerontology Nurse Practitioner Do?
An adult gerontology nurse practitioner cares for patients from adolescence, through adulthood, and into advanced age. AGNPs conduct patient exams, diagnose health problems, develop patient treatment plans, order diagnostic tests and interpret results as well as prescribe medications. The AGNP also evaluates the performance of prescribed treatment plans, adjusts as necessary, and keeps detailed records of a patient's medical history and progress. The adult gerontology nurse practitioner also educates patients and caregivers about the ongoing management of their illnesses and diseases.
What Are the Roles and Duties of an Adult Gerontology Nurse Practitioner?
Analyzes patients' health histories, symptoms, and diagnostic information to develop appropriate diagnoses and develops comprehensive treatment plans accordingly
Prescribes medication dosages, routes, and frequencies and educates patients on the risks and side effects associated with medication
Orders and interprets the results of diagnostic tests such as blood counts, electrocardiograms, and X-rays
Educates patients and caregivers about self-management of acute or chronic illnesses and conditions
Diagnoses and treats common acute health care problems such as illnesses, infections, and injuries
Evaluates the effectiveness of a patient's treatment plan and make changes to the plan if needed
Adult Gerontology Nurse Practitioner Salary & Employment
Adult gerontology nurse practitioners earn an average annual wage of $96,063. Salaries can range from around $88,000 up to $113,000 per year, according to PayScale. Salaries are generally dependent on things like geographical location (state/city), the nurse's level of experience, the type of employer, and other factors.
Employment of advanced practice registered nurses, a segment that includes nurse practitioners, is projected to grow 26 percent from 2018 to 2028, much faster than the average for all occupations in the U.S. This expected growth can be attributed primarily to a large aging population and an increased emphasis on preventative care in the healthcare industry.
Learn more about NP salary and other APRN career options.
Helpful Organizations, Societies, and Agencies