What Are the Challenges Transitioning from Hospital Nursing to Clinic / Ambulatory Care Nursing?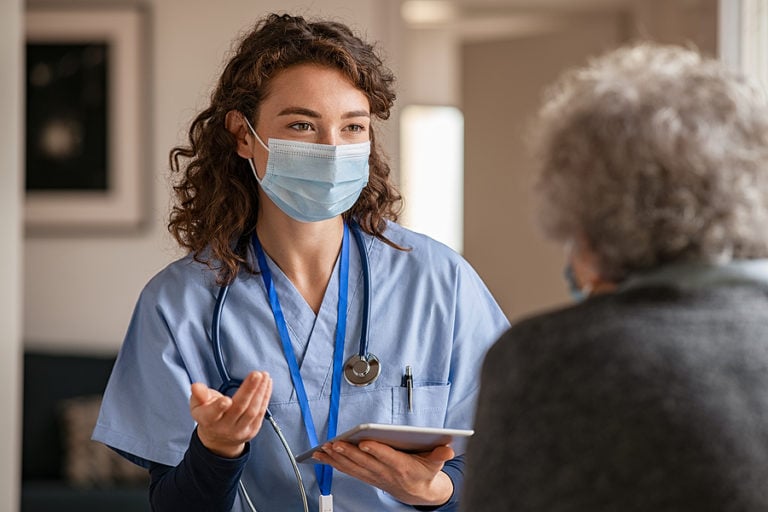 Ambulatory care nurses are nurses who work in the outpatient setting. They take care of patients who are being seen for routine preventive care as well as non-critical, acute concerns. Many nurses are trained in primarily inpatient units. Therefore, when looking to transition to the clinic setting from the hospital setting, many nurses aren't sure what to expect.
Work Environment
The first challenge hospital nurses may face when transferring to the clinic is an "environmental shock." Many hospital units are staffed primarily with nursing staff, whether it's CNAs, LVNs or RNs, and the physicians come and go. In the clinic setting, physicians are usually present. Depending on the department, the staffing mix can include medical assistants, receptionists, clerks, and other administrative staff. Nursing/clinical staff may not be as robust as in the hospital setting.
Autonomy
Additionally, there may be a higher degree of autonomy for nurses in the outpatient setting. In the hospital, nurses follow strict protocols and carry out doctor's orders. Care algorithms are plentiful and must be strictly followed. In the clinic, there can be more "wiggle room" for autonomy. For example, patients arriving to see their physician without an appointment may be triaged by the RN, and home care advice given. Decisions made by the nurse as to which vaccines to administer and when are often done by nurses independent of physicians. This can be a difficult adjustment for nurses because in the hospital, care is directed by the physician. In the clinic, the RN can run the show (within scope and per facility guidelines). The challenge is that the RN would need to find the balance as to what can be done independently to help a physician, and when to consult with a physician or NP.
Patient Volume & Messaging
Another adjustment hospital nurses should be aware of when considering transferring to ambulatory care is volume. It's a common misconception that clinic nurses are less busy than hospital nurses. The truth is that it's like comparing apples to oranges. Hospital nurses can be immensely busy with critically ill patients, teaching, discharges, admits, medication administration, procedures, etc. In the clinic, it's a different type of busy. In ambulatory care, the volume can be extremely high. It can be a continual revolving door of patients. Moreover, the patients coming through can require various levels of care. Ambulatory care nurses must always expect the unexpected, just as hospital nurses do.
An addition to the volume of patients coming in-person through the clinic setting, there can also be high volume of patient messages that come through. Messages from patients are not something hospital nurses routinely deal with. Clinic nurses may need to learn telephone triage and advice as well as how to handle patient emails. It's essential for clinic nurses to follow the established facility guidelines regarding giving advice to ensure no critical piece is missed.
Tasks & Procedures
Another aspect that nurses should consider is technical nursing tasks. For the most part, patients in ambulatory care are not as acutely ill as in the hospital. Many clinic nurses find they miss the technical aspects of care and performing procedures from when they worked in the hospital. For example, going from taking care of patients on ventilators, tube feeds, receiving blood transfusions, etc. to less technical skills can sometimes make nurses feel like they will lose the nursing skills learned in school and out in the field. It's important to remember that while nurses may not perform certain technical skills, they gain skills in other areas, such as patient teaching, preventive care, and giving evidenced-based advice.
Business Focus
Perhaps one of the most significant challenges hospital nurses may face when transitioning to ambulatory nursing is that the clinic has more of a business focus than inpatient. In both private practice and with large organizations, running a medical clinic is like a business. The setting is more of an "office" setting with receptionists, phone calls, filing, mail, and computer work. There is also a customer service aspect- higher patient satisfaction means repeat "business" which translates to potentially more revenue. This applies primarily to primary care and in private practice, but other healthcare settings demonstrate these elements as well (to some degree).
The transition from inpatient to ambulatory care can be a significant change in a nurse's career. It's important to remain flexible and keep an open mind. The worst thing a nurse can do is assume that since they worked inpatient, they can tackle outpatient no problem. It's an entirely different ball game.

Latest posts by Amanda Bucceri Androus, RN, BSN
(see all)