How to Become an Emergency Medical Technician (EMT)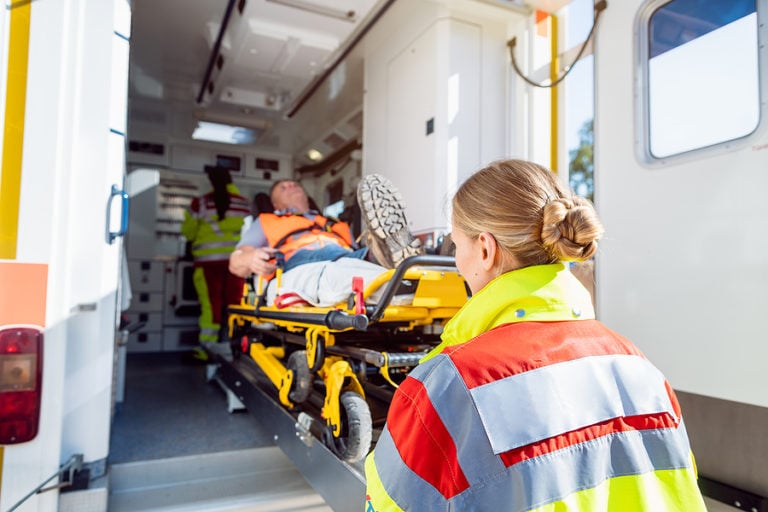 What Is an EMT?
Those who are interested in entering the field fast-paced world of emergency medicine, but who aren't necessarily ready for the educational commitment of an RN degree, may be well suited for a position as an Emergency Medical Technician (EMT). This type of role would likely keep your adrenaline rush at a nice steady level each shift, while also allowing you to get to know your city or community pretty well, interact with patients, and see what goes on outside of the four walls of a hospital.
Becoming an EMT
At the bare minimum, an aspiring EMT must be at least 18 years old and have a high school diploma or GED. This is a fantastic route to an entry-level nursing career. In addition to the education and certification requirements of the job, there are some less obvious EMT skills needed for pre-hospital care jobs like these. For example, a valid driver's license and no criminal history are important, especially if you are working in a civil service position for city or county government. Additionally, good communication skills and interpersonal skills are key, as you will be interacting with different types of people all through your shift each day. You also may be paired with a partner who has a different personality style than you, and it's important that you can work well together.
What Are the Education Requirements?
As far as traditional education requirements, becoming an EMT is a job that often requires less than other health care positions, with just a high school diploma or GED needed. It can also be achieved fairly early in your career – as long as you are 18 and meet the basic requirements. Each state will have an approved EMT course that meets or exceeds the National Education Standards, but these courses can usually be completed in less than one year.
Are Any Certifications or Licenses Needed?
Maintaining licensure is an important part of being an EMT. Before applying to any jobs, you'll need to have your certification and/or license finalized. To be nationally certified as an EMT, you will first need to pass your state-approved EMT course and possess certification in CPR-Basic Life Support. With these in hand, you can apply to take the cognitive and motor skills exam through the National Registry for Emergency Medical Technicians. Passing these will result in your national certification, which you can then use to obtain your license – though since this portion is handled at the state level, the requirements will vary depending on where you live. The best course of action while pursuing certification would be to call the EMS agency within your state to find out more about licensing requirements.
Where Do EMT's Work?
EMTs are in-demand all across the country. Most are employed by an ambulance service or a hospital in a traditional EMT role, but there are other types of environments that need someone with these types of rapid response/basic life support skills as well. Fire departments often need at least a few EMTs on staff, or seasonal jobs working for children's programs may be a possibility. EMTs may also provide advice as a consultant on EMT policy at either the state or federal level through departments of transportation.
What Do EMT's Do?
Basic job duties for first responders at all levels include responding to emergency calls, providing life-saving interventions to patients in various states of medical acuity, and safely transporting patients to a hospital or medical facility. Life-saving interventions in emergency situations may include administering CPR, tending to wounds or broken bones, etc. EMTs can also provide oxygen via face mask or nasal cannula and administer some medications such as epinephrine for an anaphylactic allergy. All of this is usually performed either on-site or in the ambulance during the transfer to a hospital or other healthcare facility. After a call, it is critical to document the actions of the team as well as the behavior and wishes of the patient. Taking careful inventory of ambulance supplies is also an important part of the job, to ensure there is never a time when equipment is needed but not available in an emergency.
What Are the Roles & Duties of an EMT?
Provides life-saving interventions and emergency care to injured or ill patients
Assesses patient in need and obtains full history to determine the care needed and assist health care providers at the patient destination.
Reports observations of the patient and the emergency care administered to the receiving health care personnel at the site of delivery to ensure smooth handoff and full transparency of health issues and concerns for records.
Complies with regulations on handling deceased persons, handles evidence appropriately and notifies the right authorities.
Monitors the condition of the ambulance and inventory to ensure working equipment and proper supplies are stocked and ready
Must also be able to lift stretcher (up to 125 lbs.) and place in an ambulance
EMT Salary & Employment
As of May 2018 (latest available data), EMT and Paramedic salaries were reported at an average of $34,320 annually. While they are grouped together within the U.S. Bureau of Labor Statistics, paramedics often make more on average than EMTs. Generally, the job outlook for this category is favorable, projected to grow 7% from 2018 to 2028, slightly faster than other sectors. Many EMTs will often work odd hours, to include nights, weekends, and holidays, but this can be helpful for those who want to condense many hours within a short time and enjoy a few days off. Trained emergency personnel will always be in need in the event of accidents, health emergencies, and natural disasters.
Helpful EMT Organizations, Societies, Agencies, and Resources