Nurse Practitioner Schools in Arkansas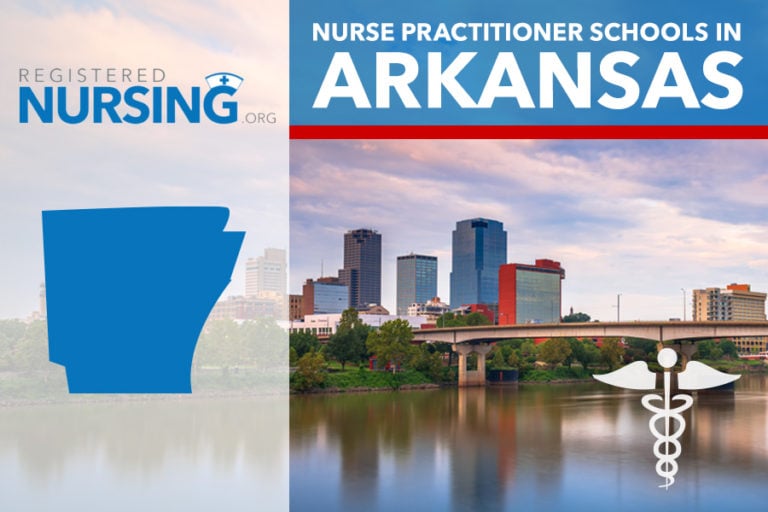 Nurse practitioners (NP) enjoy the benefits of an advanced nursing career, including autonomy, leadership, and elevated salaries. Arkansas nurses who want to advance to this level can do so through one of the state's MSN or DNP level nurse practitioner programs. These programs can be taken online or in person, and even offer sub-specialty areas, such as family nurse practitioner, neonatal nurse practitioner, and others.
Choosing a Nurse Practitioner Program
Prospective nurse practitioner students should keep the following in mind when reviewing programs in order to ensure that they make the best possible choice:
Accreditation- Accrediting bodies such as the Accreditation Commission for Education in Nursing (ACEN) and the Commission on Collegiate Nursing Education (CCNE) are important to look for when comparing programs. Accreditations from these organizations signify quality and trustworthiness, two essential traits in advanced nursing programs.
Program Cost- Arkansas nurse practitioner programs (either MSN or DNP) generally fall into the $500-$700 per credit range for tuition, though this can vary based on school, location, and other factors. Out-of-state residents can expect to pay more. Tuition rates often don't include additional expenses, such as textbooks and mandatory program fees.
Program Length- MSN and DNP nurse practitioner programs generally require students to have already obtained a BSN degree. Therefore, MSN programs can be completed in as little as 2 years, while DNP programs require more credits and can take 3-4 years to complete. Full-time or part-time attendance can drastically influence total program length.
Internship/Externship Opportunities- Most schools have connections with local hospitals and medical centers for students to complete their required hands-on clinical training. Online programs often allow students to complete internship/externships in their own local area upon approval.
Online/Campus Options- Today's busy schedules require a multitude of program options. Students can generally choose between an online program or a campus program, though some schools are now offering hybrid options which combine the two (some coursework is taken online, and some on campus).
Admission and Certification Requirements
Students will typically find the following admissions requirements in Arkansas:
BSN from an accredited college or university
Current, unencumbered RN license
Minimum GPA of 3.0
Completion of a statistics course with grade of 'C' or higher
Personal essay
Professional letters of recommendation
Licensing/Certification
Certification for most of the nurse practitioner specialty areas can be obtained through the American Nurses Credentialing Center (ANCC). Generally, applicants must hold an active RN license and have completed a graduate-level nursing program in an applicable specialty.
Nurse practitioners can apply for an advanced practice registered nurse license through the Arkansas State Board of Nursing. Eligibility requirements include:
Hold a current Arkansas RN license
Submit a completed application
Submit copies of official transcript from the university the applicant completed their advanced nursing degree
Submit evidence that the applicant holds certification in their advanced practice specialty
Must pass a criminal background check
Arkansas Nurse Practitioner Agencies and Organizations
Schools That Offer Nurse Practitioner Programs in Arkansas
Arkansas boasts a number of accredited nurse practitioner programs designed to provide students with a strong foundation for advanced nursing. The demand for nurse practitioners is high, and is projected to grow by 31% through 2024. Entering one of these highly respected programs is an excellent next step for ambitious RNs.
Conway, AR
Fayetteville, AR
Jonesboro, AR
Little Rock, AR
Searcy, AR
State University, AR
Are we missing your school's program or need to update information listed? Please contact us so we can make the necessary changes.